Features
Like Milly Alcock as Rhaenyra in House of the Dragon? You'll Love Her in Tim Minchin Series Upright 
Australian actor Milly Alcock aka Princess Rhaenyra Targaryen is a revelation as Meg in Aussie road trip comedy-drama Upright.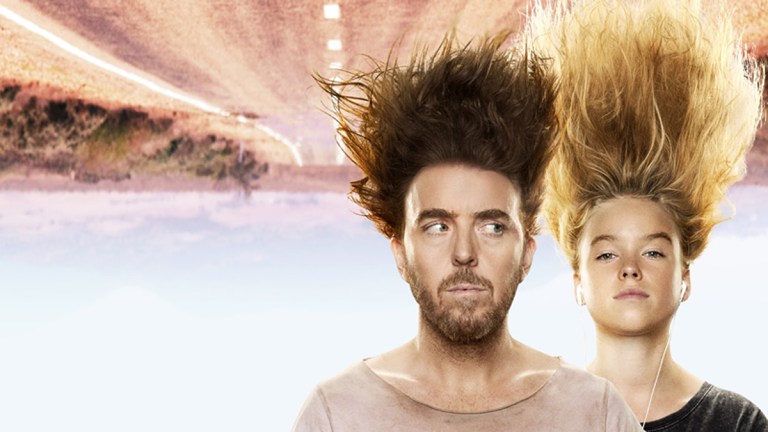 Playing a Targaryen is a tall order. Actors need both regal composure and would-burn-you-alive-if-you-put-a-foot-wrong unpredictability. They have to be fierce, boil with power, and somehow look convincing soaring into a scene on the back of a dragon while wearing a questionable wig.
Playing a Targaryen princess is an even taller order because actors have to do all of the above while also being about 12 years old. (Okay, 15 to 18 in the TV shows). Happily, House of the Dragon's Milly Alcock, who plays the young Rhaenyra, is more than up to that challenge – as anybody who saw her in 2019 series Upright will already know.
Upright is by no means Alcock's first acting job, the 22-year-old has already racked up major roles on Australian TV including spy thriller Pine Gap, Starz crime series The Gloaming and serial killer drama Reckoning. Upright though, is Alcock's first co-lead and the first show to really prove what she's capable of on screen. In the words of her co-star Tim Minchin, "There's never been a character this big for a young woman on Australian television. She has to be funny and gutsy and sad and broken and belligerent and resilient and vulnerable." As Meg in Upright, Alcock's all that and more.
A Sky-Foxtel co-production due to air its second run in December 2022, Upright series one is an eight-episode road trip set along the 1,600 mile journey from Adelaide to Perth. (Fans of The Tourist's vast, desert landscapes and unique Australian small towns should definitely apply.) It was co-created and co-written by comedian, actor and musician Tim Minchin, who plays Lucky Flynn. Lucky's been estranged from his family for years when he's called home to visit his dying mother on the other side of Australia. He sets out for the long drive and quickly crosses paths with teenage runaway Meg.
Why does Lucky drive, and not fly, across the country? Because he's travelling with an upright piano. Why is Lucky travelling with an upright piano? In his words, he doesn't have a choice. Finding out the real answer to that question is one of Upright's mysteries, like the question of why Meg is really running away, and what they've both been running from.
Meg is tough, resourceful and one of the most entertainingly foul-mouthed characters you'll meet on TV. Alcock is terrific in the role. Her comic timing is spot-on, and she gives her character the perfect balance of stay-away grit and flashes of I'm-hurting vulnerability. As the miles clock up, her story starts to unravel and both characters learn about the unspoken secrets in each other's pasts. It's a tightly written, very well-acted tragicomedy that brims with ambition for the future of Australian TV on an international scale.
The producers saw many, many young actors for the role, but Alcock nailed it from her first audition. As well as being able to match Minchin's timing in the rapid-fire dialogue in the cab of Meg's ute, Alcock "just gobbles up those dramatic moments" says creator-producer Chris Taylor.
As one of Upright's two lost souls, Meg's unpredictability is what drives much of the plot. From picking fights in biker bars to showing her steel and damage in every encounter she and Lucky have along the way, Meg is certainly no cutesy sidekick there only to develop Lucky's sense of nurturing. She's a lead in her own right. As Alcock jokes to Tim Minchin in this behind the scenes video, "People are going to watch it because of you, but they're going to stay because of me." He cracks up as intended, but she's not wrong. It's no wonder House of the Dragon's creators looked at Alcock and saw a royal dragonrider.
Stream Upright season one on Sky and NOW in the UK and on AMC+ in the US. Season two is due to arrive in December 2022.