News
Could Batman Appear in HBO's Gotham PD Prequel Series?
HBO Max's Gotham PD series, a prequel to The Batman, is on track for crossover appearances, possibly including Batman himself.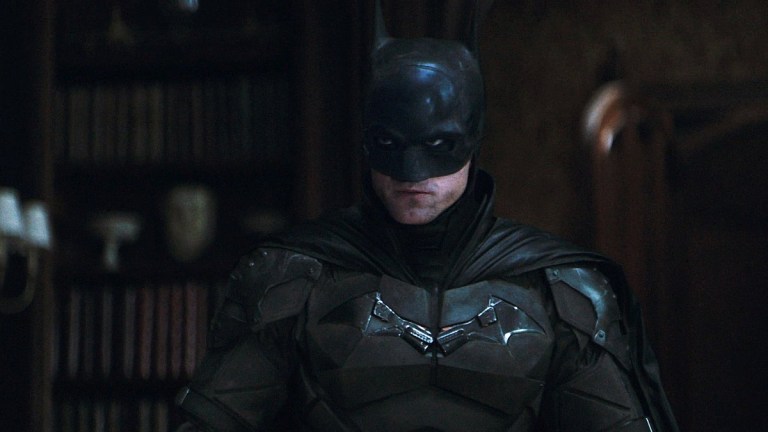 The Batman is set to debut Robert Pattinson's all-new Dark Knight at theaters in early 2022, after which it will be complemented on the small screen—under the creative stewardship of the film's director, Matt Reeves—by HBO Max's untitled prequel television series focused on the Gotham PD. While speculation over crossover potential has been permeating ever since the series was announced, HBO's Casey Bloys seems to (ever so slightly) open the possibility of an appearance from the Dark Knight himself.
The idea that characters from The Batman could appear on the Gotham PD prequel series—which bore the working title, Gotham Central—has always seemed feasible, given the known scope of studio Warner Bros.' shared-continuity aspirations for the DCEU. However, in a recent interview with The Wrap (via CBR), Bloys, the chief content officer for HBO and HBO Max, utilizes ambiguous wording when it comes to the scope of the show's cinematic crossover potential.
"Matt Reeves is obviously a producer on 'Gotham City PD.' We don't want to reserve characters just for films or for TV," Bloys said. There should be kind of some fluidity between them. So that is the idea. I mean, we're in very early stages on that. So, I don't want to suggest that any one character will be. But yes, that is, generally speaking, that is the idea, that there will be crossover."
It's clear from Bloys' comment that characters from The Batman—and not necessarily Batman himself—are all but confirmed for the series. This lends even more strength to the rumor that Jeffrey Wright will reprise his film role as Commissioner James Gordon for the series, due to its GCPD focus. Indeed, with Reeves having previously teased a plot centering on crooked cops dealing with "a masked vigilante" who unsettles the city, there has to be some kind of moral North Star (i.e. Gordon) injected into this dynamic. Thus, even in the event that Pattinson doesn't make an appearance as either Bruce Wayne or Batman, the series could—in a manner akin to DC's Year One storyline—treat Batman shrouded by the police's point of view, depicted as a shadowy boogeyman seen on rooftops. Such a concept wouldn't require Pattinson, although an appearance by him would be a major boost.
However, Bloys is hardly telling tales out of school when discussing the desire for fluidity between the DCEU's multimedia offerings, and his caveat of not wanting to "suggest that any one character" would cross over, gives himself plenty of leeway on the idea of a Batman appearance. Yet, his reiteration of the project's crossover nature remains intriguing in the context of the grandiosity that competitor Marvel Studios has on its small screen slate with Disney+ television shows such as the current WandaVision, March's The Falcon and the Winter Soldier, and developing projects like Armor Wars and Secret Invasion, all of which tout high-profile actors from the films, not to mention new originals like She-Hulk, Moon Knight, and Ironheart. Consequently, the Gotham PD series, which is set during the Year One era of Batman's crimefighting days, has no business existing if it doesn't feature cast members reprising their roles from The Batman, which is set closely during the Year Two era.
Of course, the concept of having Batman shows without Batman is far from new, exemplified by Fox's Gotham, which was an often-campy hodgepodge of Batman-era concepts anachronistically utilized during Bruce Wayne's childhood. Its five-season run concluded with a brief flash showcasing his realization as Batman (which, in its defense, was more than Smallville gave its audience of disappointed Superman fans).
Moreover, Epix is quietly in the midst of the second season of Pennyworth, a madcap 1960s-set crime drama focused on the exploits of a young version of Alfred Pennyworth, joined by old army buddies, also showcasing the very-much-alive, tragedy-destined couple of Thomas Wayne and eventual wife Martha Kane. The latter series skirts around its Batman connections more artfully than the former, and manages to stand on its own. Yet, those two shows aren't touted as bearing DCEU connections like this HBO Max project.
The Gotham PD series experienced a major shift behind the scenes with this past November's exit of showrunner Terence Winter. While he brought seemingly appropriate crime drama sensibilities from experience with The Sopranos and Boardwalk Empire, he allegedly had creative clashes with Reeves, who oversees things as executive producer; a clear indication that the series is being firmly shaped by the direction of The Batman. Up-and-comer Joe Barton was tapped in January to replace Winter. Barton, who created the BBC One/Netflix crime series, Giri/Haji, is now working with Reeves, seemingly tasked with conjuring the DCEU small screen offshoot in a manner that accurately reflects the tone and atmosphere of The Batman. The creative team also consists of co-executive producers Daniel Pipski (From Dusk Till Dawn: The Series), and Tales From the Loop's Adam Kassan and Rafi Crohn.
The Batman will see star Robert Pattinson joined by a stacked supporting cast consisting of Colin Farrell, Paul Dano, Zoë Kravitz, Peter Sarsgaard, John Turturro, Andy Serkis and, of course, Jeffrey Wright. After overcoming setbacks such as multiple pandemic-era reshuffles and September's positive COVID case of the star himself, the film is currently set to hit theaters on Mar. 4, 2022. The Gotham PD prequel series is intended to premiere on HBO Max sometime afterward.