News
Secret Invasion: Nick Fury Disney+ Series May be Biggest Marvel Event of All
Samuel L. Jackson will return as Nick Fury alongside Ben Mendelsohn's Talos in Marvel's Secret Wars on Disney+, a series that may have tremendous implications for the MCU down the road.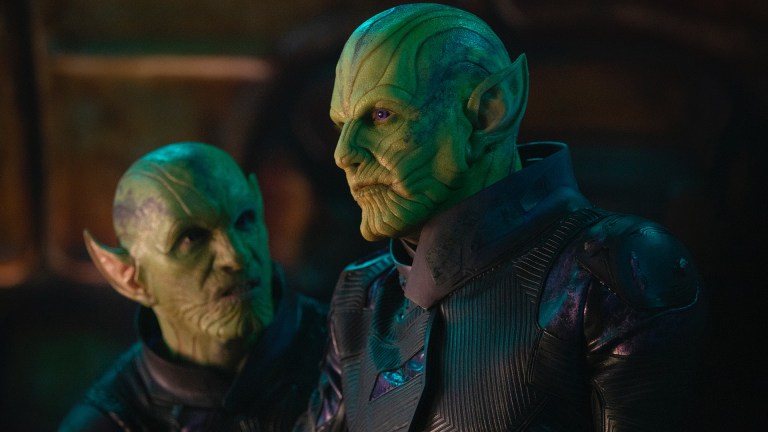 Back in September news broke that Marvel was bringing a Nick Fury TV series starring Samuel L. Jackson to Disney+. At the time, it wasn't clear what shape the series would take, since Fury had last been seen in Spider-Man: Far From Home zipping off into the depths of space on a Skrull ship. Despite the fact that Jackson's Fury had a prominent role in that film (in terms of the stuff going on on Earth), it was revealed that it wasn't Fury at all…but rather the shape-shifting Skrull Talos played by Ben Mendelsohn who Fury had aided and befriended during the events of Captain Marvel.
So with Fury off-world and a Skrull stepping into the shoes of one of the most important superspies on the planet, fans immediately began wondering if Marvel was looking to bring Secret Invasion to the screen. It turns out, they were.
The Disney+ Nick Fury series won't be a Nick Fury: Agent of SHIELD show, or anything that steps on the toes of the recently completed Agents of SHIELD TV series after all. In fact, the series is Secret Invasion, and Mendelsohn will join Jackson, reprising his role as Talos for the series.
Secret Invasion was one of MANY new Marvel series announced for Disney+, including the War Machine centric Armor Wars, and a series that will introduce Riri Williams, Ironheart, as the new armored genius of the MCU. And it joins a roster that already includes WandaVision, Falcon and the Winter Soldier, Loki, Ms. Marvel, Moon Knight, She-Hulk, and more.
But Secret Invasion may be the most important of all of these series. In fact, it's likely to do for the Disney+ roster of MCU shows what The Avengers did for phase 1 of the films. Marvel's Secret Invasion comic series deals with, well, the quiet infiltration of Earth by Skrulls assuming the shapes of high ranking individuals and various Marvel heroes and villains. It's a sprawling story that by definition requires a massive roster of characters in order to work properly. And with the first wave of Marvel shows (as well as the next batch of movies) introducing a tremendous range of brand new characters, it's a perfect opportunity to see how well they work together (or don't), especially if they have less reason to trust each other than they normally might.
But in the comics, the Skrulls were a generally much more malevolent force than we've seen them portrayed as in the MCU thus far. So is it then possible that some heroes who have sacrificed themselves in battle over the years could turn out to have been Skrulls? Well, in fairness, there haven't been all that many of them, and any hope of a Robert Downey, Jr. return as Tony Stark would appear to have been crushed by Disney's announcement of an Ironheart series starring Dominique Thorne as Riri Williams and an Armor Wars one with Don Cheadle's War Machine taking center stage.
But you don't do something on the scale of Secret Invasion if it isn't to shake things up and make the audience doubt everything they've seen, so don't rule anything out.
There's currently no premiere date for Secret Invasion, and the earliest we could probably expect to see it is in 2022.