News
The Batman Movie Gets DC TV Spinoff on HBO Max
Matt Reeves will team with Boardwalk Empire creator Terrence Winter for an HBO Max series set in the Gotham City of the new Batman movie.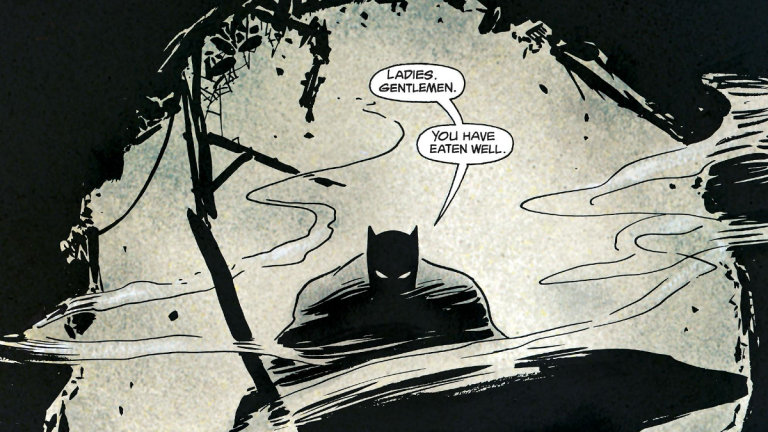 HBO Max just announced another big entry in their DC TV sweepstakes with an untitled series set in the world that we'll start to explore in Matt Reeves' upcoming The Batman movie. The series is intended to launch a shared Batman universe that will operate between both TV and movies. The series will be written by Boardwalk Empire creator Terrence Winter, with Reeves, Winter, and Dylan Clark serving as executive producers.
This is now the third confirmed live action DC series confirmed for HBO Max. Geoff Johns and Greg Berlanti are developing a Green Lantern Corps show for the network, and an Adam Strange-themed anthology called Strange Adventures is also in the works. More announcements are likely coming soon.
Here's the official synopsis for the untitled Batman series:
"The groundbreaking television series to be written by Winter is set in the world Reeves is creating for The Batman feature film and will build upon the motion picture's examination of the anatomy of corruption in Gotham City, ultimately launching a new Batman universe across multiple platforms. The series provides an unprecedented opportunity to extend the world established in the movie and further explore the myriad of compelling and complex characters of Gotham. "
A series that examines "the anatomy of corruption in Gotham City" sounds an awful lot like what many of us had hoped Fox's Gotham TV series would have been: a show focusing on the organized crime, political corruption, and deep rot within the Gotham City police department, rather than "just" a Batman prequel.
The expansive cast list for The Batman includes plenty of villains and mob bosses, which among other things, has made fans speculate that the movie is based in part on Jeph Loeb and Tim Sale's Batman: The Long Halloween, a series which itself took inspiration from the corruption depicted in Frank Miller and David Mazzucchelli's Batman: Year One.
Does this mean big screen Jim Gordon (and HBO drama vet) Jeffrey Wright could reprise his role for the small screen? What about John Turturro's Carmine Falcone? Colin Farrell's Penguin apparently is only in the film briefly, does that mean he could have a larger role on the TV series? We can certainly hope!
It also would appear to confirm Warner Bros.' desire to keep The Batman portions of their live action universe separate from their ongoing DCEU efforts, although those will continue to have a Bat-presence of their own.
"This is an amazing opportunity, not only to expand the vision of the world I am creating in the film, but to explore it in the kind of depth and detail that only a longform format can afford — and getting to work with the incredibly talented Terence Winter, who has written so insightfully and powerfully about worlds of crime and corruption, is an absolute dream," Reeves said in a statement.
"We are so fortunate to have such great partners in Matt, Dylan, and Terry and unprecedented access to a wealth of IP from our partners at Warner Bros. and DC," said Sarah Aubrey, head of original content, HBO Max.
"Our collaboration with Warner Bros. and DC allows us to elaborate and grow fan connections across these powerful brands for years to come. This is Batman as most audiences have never seen before and we know fans will want to spend more time in this new world inspired by the film," added Kevin Reilly, chief content officer, HBO Max, president TNT, TBS, and TruTV.
Daniel Pipski (From Dusk Till Dawn: The Series), Adam Kassan (Tales from the Loop), and Rafi Crohn (Tales from the Loop) will co-executive produce.
The Batman is scheduled to open in Oct. 1, 2021, so the earliest we'll see this untitled Gotham TV series on HBO Max is likely to be 2022.