News
Oscar Isaac in Talks for Marvel's Moon Knight on Disney+
Oscar Isaac is in talks to jump from one Disney franchise to another as he leaves behind Star Wars and suits up as Moon Knight.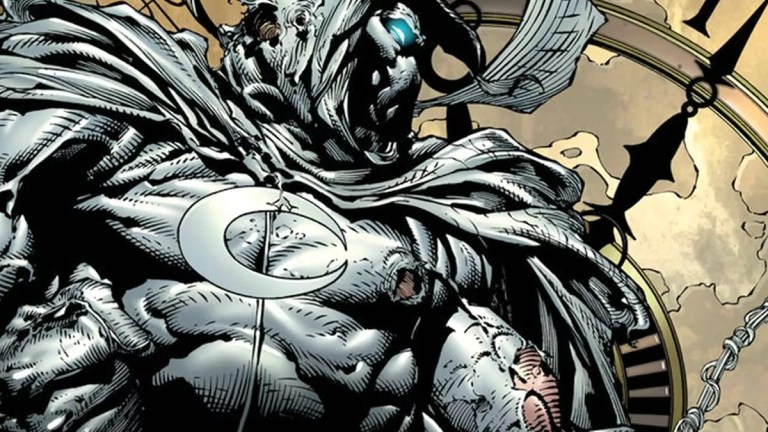 Oscar Isaac is in talks to join the Marvel screen universe as Moon Knight, according to Deadline. Isaac, who starred as Poe Dameron in the latest Star Wars trilogy for LucasFilm and Disney, will now stay with the Mouse House if he signs up to star in Marvel's Moon Knight series, which has been announced for the Disney+ streaming service.
Moon Knight, a.k.a. Marc Spector, was created by writer Doug Moench and artist Don Perlin and made his Marvel Comics debut in the August 1975 issue of Werewolf by Night. The son of a rabbi, a former CIA agent and mercenary, Spector is betrayed by an employer and left for dead near an archaeological dig, where he is approached by the Egyptian moon god Khonshu. The supernatual being offers the dying Spector a second chance at life if he becomes Khonshu's avatar on Earth, investing him with superhuman abilities.
Returning to life, Spector uses the vast fortune he earned through investing his money from his mercenary work to create an array of equipment in his new guise as Moon Knight. He also conceives of multiple identities, including millionaire Steven Grant and taxi driver Jake Lockley, to aid him in his new life as a crime fighter.
Moon Knight has often been cited as Marvel's answer to Batman, with his wealthy alter-ego, lineup of devices and expertise as a detective, although Batman/Bruce Wayne was not imbued with superhuman abilities like Moon Knight/Marc Spector. And while Wayne has been motivated by the death of his parents to fight crime, Spector's motivation comes more from the fact that he is the human embodiment of a god of vengeance.
Spector's split personality is also an actual psychological disorder, as he contends with having at least three different identities that have wreaked havoc on his mind over the years.
No director has been named for the Moon Knight series yet, although Jeremy Slater (The Umbrella Academy) is developing the show and leading the writer's room.
Isaac finished up his work on the Star Wars films last year with The Rise of Skywalker, and is set to appear in another big sci-fi franchise, Dune, in 2021. His other upcoming projects include director Paul Schrader's The Card Counter and the HBO series Scenes from a Marriage alongside Jessica Chastain.
The actor has also been lauded for his work in movies like Ex Machina, Inside Llewyn Davis, A Most Violent Year and others. His previous superhero experience came as the title villain in X-Men: Apocalypse. Isaac is the latest high-profile star to join Marvel's expanding Disney+ slate, following in the footsteps of Tatiana Maslany (Orphan Black) reportedly signing up for She-Hulk.