Features
Wakanda Forever's Ironheart Could Set Up Shang-Chi 2
Black Panther: Wakanda Forever sets up Riri Williams' connection to the Ten Rings of Shang-Chi with a throwaway line that has deep roots in her Marvel Comics history.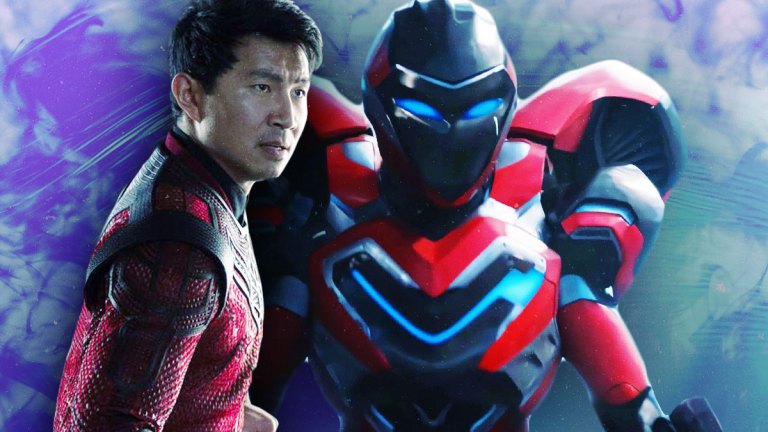 It might seem like only yesterday we were listening to Tems' rendition of "No Woman, No Cry," but just two months after Black Panther: Wakanda Forever roared its way to the top of the box office, Ryan Coogler's superhero showstopper has landed on Disney+. As well as securing Letitia Wright's Shuri as the new Black Panther, we had an Oscar-worthy turn from Angela Bassett and the introduction of Tenoch Huerta as Namor (dropping the Sub-Mariner suffix).
Doing what the MCU does best, it also queued a ton of potential projects. Alongside another war with the Talokan people in the mythical Black Panther 3, there was the tease of Phase 5's Thunderbolts and a possible Midnight Angels spin-off. One arc (reactor) we know is directly tied to Wakanda Forever is Chinaka Hodge's Ironheart. However, is the technological whizz-kid also setting up the return of the original MCU foe?
Alongside Namor, Wakanda Forever introduced Riri Williams (Dominique Thorne) to the MCU. Although we know Thorne will lead Ironheart, her debut could also tie into the return of the Ten Rings for Destin Daniel Cretton's Shang-Chi 2. For those who've read the comics, you'll know Riri has had a surprising tie to the Ten Rings and several run-ins with the conniving cabal since she was introduced in 2016.
Riri's typically tragic backstory involves more than just her genius-level intellect, designing her own Iron Man suit, and taking over from Tony Stark when the Avengers staple is in a coma. Riri's hero story is triggered by a drive-by where her best friend and stepfather are gunned down in 2016's Invincible Iron Man #1. In the comics, it's the death of her stepfather that spurs her to create an Iron Man-inspired suit for defence. The real twist comes in 2019's Iron Heart #10. Here, Williams finds out her absentee birth father is alive – serving as a member of the Ten Rings.
Demetrius Williams was supposedly killed in a gas station robbery, but it turns out he's faked his death. He's now going under the villainous moniker of Dune and has the power of geokinesis (controlling sand and stone). Wakanda Forever has a throwaway line that sets up Demetrius this, with Riri saying her red muscle car was left to her by her dad. When she meets him in the comics, the Ten Rings are trying to reopen the Wellspring of Power in Wakanda for selfish reasons, leading to Riri recruiting Shuri and Okoye to help her defeat them.
The whole dead daddy thing might sound as cliche as Richard Parker's return in The Amazing Spider-Man 2, but would work to further tie Riri into the wider MCU mythos. Wakanda Forever established a bond between Riri, Shuri (Wright), and Okoye (Danai Gurira), so apart from the pretty fanciful Wellspring, none of this is much of a reach for Ironheart or Shang-Chi 2. Then again, tacking Riri's story onto the latter would only reignite complaints she was shoehorned into Wakanda Forever. Even though Ironheart's plot is shrouded in mystery, any number of A-list actors could be recruited to play her father in the six-episode series. Apart from Anthony Ramos playing the Hood, most of the characters are currently unknown.
Riri more recently gained control of the Mandarin's rings in 2022's Iron Man #24. Here, Iron Man and War Machine learned the Ten Rings were up for sale and clashed with Riri over the artifacts. Riri said she'd earned the right to study them, and having observed the Ten Rings for years, believed she could use them for good. Much like Kamala Khan's mysterious bangles, it's clear the MCU's Ten Rings are more than just jewellery that Wenwu (Tony Leung) wore for decoration. Like we had the Infinity Stones, the Ten Rings are teased as the franchise's next MacGuffin. Simu Liu confirmed to Complex we'll explore his "newfound power" in Shang-Chi 2, and by then, Riri will have had her series that might've introduced her father.
The MCU's Ten Rings organization dates back to 2008's Iron Man and was a divisive background group up until Shang-Chi. There was the maligned Mandarin twist of Iron Man 3, while a scene involving a mysterious member was cut from Ant-Man. We know the Ten Rings is alive and kicking, with Xialing (Meng'er Zhang) taking over as leader in a shocking Shang-Chi post-credits scene. Confirmation of Shang-Chi 2 aside, a teaser saying "The Ten Rings Will Return" reiterates its imminent homecoming. Whether that's in a cinematic sequel, its own TV series, or Ironheart, remains to be seen.
More recently, the Ten Rings' signature symbol appeared in the temple where Kamala Khan's magical bangle is found in Ms. Marvel. Shang-Chi's other post-credit scene had a worried Wong (Benedict Wong) claiming the physical Ten Rings had been calling out to something in space, and even though these strands seem a million miles away from Riri's story, things move fast in the MCU. After all, who'd have guessed WandaVision would end with Monica Rambeau (Teyonah Parris) heading into space?