News
Tenet Screening Draws Rave Reviews from IMAX Employees
Staffers for IMAX got a first look at Christopher Nolan's Tenet and were apparently blown away.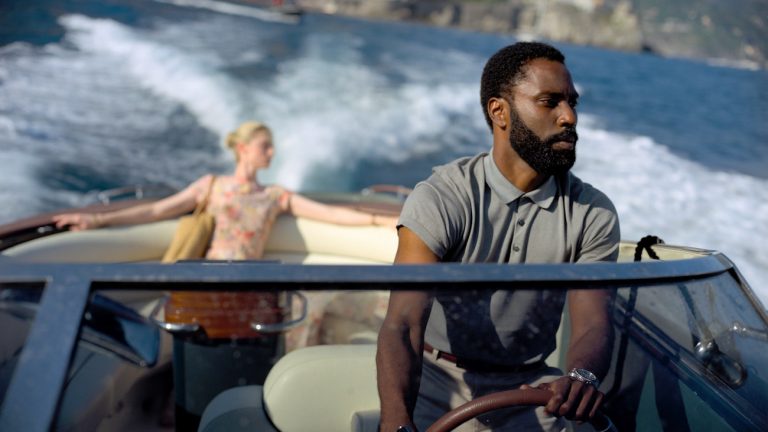 Staffers for the large-screen theatrical format IMAX were among the lucky first viewers to get a look at Christopher Nolan's Tenet, his sci-fi action thriller which will arrive in theaters on September 2 in North America (a week earlier internationally), pending coronavirus developments.
According to Deadline, IMAX employees were given a chance to see the film in post-production due to Nolan's longstanding ties with and strong support of the format. The director has filmed major portions of each of his films (starting with 2008's The Dark Knight) using the massive IMAX cameras, with Tenet shot entirely in the format.
The news about the screening was dropped by IMAX CEO Rich Gelfond during a conference call with Wall Street analysts, and according to Gelfond, the response to Nolan's enigmatic epic was ecstatic across the board — both for the content of the film and for the experience of watching it after months of movie theater shutdowns due to COVID-19.
Gelfond said, "Several people at IMAX were involved with Tenet at the post-production phase. Their reaction was, 'Oh my God – I forgot how great it was to be in a movie.' Tenet is just a beautifully filmed, beautifully made, wonderful movie…It wasn't just one person, at one age. It was a number of IMAX employees who spontaneously said that to me."
IMAX plans to reopen around 90% of its 1400 screens worldwide by the end of August, keeping the company in line with the relaunch of the AMC and Regal chains late next month as well. Nolan reportedly wants as many viewers as possible to see his 11th feature film on the giant-sized IMAX screens. Gelfond noted on the conference call that Nolan's movies often overperform on IMAX.
Also on the call was IMAX CFO Patrick McClymont, who revealed that the company had reopened around 409 locations in China and described how the experience felt for employees who tried them out with new safety protocols in place.
He explained, "There are increased safety protocols. You certainly notice that. Once you sit down and the movie begins, it feels like it always has. It was a fun, immersive experience. Prior to getting into your seat, there were differences, but once you were there, it felt quite normal."
Gelfond added that "Masks are absolutely crucial," noting that IMAX is urging its exhibition partners to make them a requirement for all customers. He added that the size of IMAX rooms, the ability to practice social distancing inside them and the management of capacity and customer traffic essentially make them a safer bet than live shows and sporting events.
Whether that is encouraging enough to draw moviegoers back to theaters later this summer to see Tenet — which has already changed its release date three times — is the critical question facing studios and theater owners. Based on this first review, Nolan has made a movie worth seeing on the big screen. Whether it's worth risking one's health — that's another matter entirely.
Tenet arrives internationally on August 26 and in select North American theaters on September 2.