Features
Theater Camp Cast: Meet the Stars of the New Comedy on Hulu
Get to know the cast of the good-natured comedy comedy Theater Camp, now streaming on Hulu.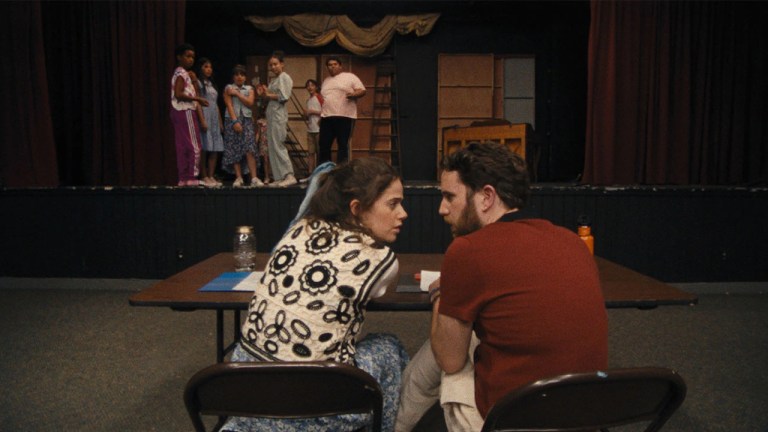 Anyone who knows and loves a theater kid understands that they can be… a little much. To their credit, theater kids accept and embrace this reputation. Both the excessiveness of theater kids and their willingness to celebrate their extremities can be seen in the comedy Theater Camp, directed by Molly Gordon and Nick Lieberman. After winning over critics and earning a strong, if limited, return in theaters, Theater Camp has come to Hulu.
Based on a short film that Gordon and Lieberman made with Ben Platt and Noah Galvin, Theater Camp features a group of theater kids trying to save their camp from the founder's jerky son, who wants to sell it off for something more profitable. Both self-aware and sincere, Theater Camp is a love letter to the over-the-top nerds who can sing every word of A Chorus Line and know that Andrew Rannells was in Street Sharks.
Here are the stars who bring Theater Camp to life.
Molly Gordon as Rebecca-Diane
Although she's not even 30 yet, Molly Gordon has built an exciting career, appearing in some of the best comedies of the past decade. Television fans probably recognize Gordon as Claire, Carmy's love interest on The Bear, or as Linda Zafrani on Winning Time.
Gordon got her start with bit parts in movies I Am Sam and Bewitched, before breaking out as Nicky Belmont in the first three seasons of Animal Kingdom. Her next big movie roles came as smart girl Triple A in Booksmart, bad girl Hannah in Good Boys, and former girlfriend Maya in Shiva Baby.
Ben Platt as Amos Klobuchar
If you're in the primary audience for Theater Camp, you probably already know Ben Platt. Heck, if you were on the internet in 2021, you probably know of Ben Platt as a man in his mid-20s trying to play a middle schooler in the movie adaptation of Dear Evan Hansen.
But outside of that misstep, Platt has had a remarkable career, especially for someone so young. In addition to originating the title role in Dear Evan Hansen on Broadway, Platt also starred in The Book of Mormon and Parade on stage. Platt's film breakout came as nice guy Benji Applebaum in the Pitch Perfect franchise and he held a leading role in the Ryan Murphy comedy The Politician for Netflix.
Noah Galvin as Glenn Wintrop
Like Platt, Galvin made a name for himself playing Evan Hansen on stage. And like Gordon, he appeared in Booksmart, as party host George. On television, Galvin starred as Kevin, the teenage son of the titular family in the sitcom The Real O'Neals. Galvin has also held a recurring role as Dr. Asher Wolke in the medical drama The Good Doctor.
But Galvin's most important work has happened on stage, where he played the supporting part of Ogie in the Broadway production of Waitress and Joseph in a concert recording of Joseph and the Amazing Technicolor Dreamcoat.
Jimmy Tatro as Troy Rubinsky
As the primary antagonist in Theater Camp, Jimmy Tatro works best when he infuriates the audience. He honed that skill while playing Dylan Maxwell, the suspected school defacer in the Netflix cult hit American Vandal, Xander in the satire The Real Bros of Simi Valley, Leaf on the animated series The Mighty Ones, and Conner on Home Economics.
Tatro has brought his angry frat boy schtick to the big screen in movies such as Jim Cummings's The Wolf of Snow Hollow, the Dave Bautista and Kumail Nanjiani comedy Stuber, and most recently as comedian Burt Kreischer in The Machine.
Patti Harrison as Caroline Krauss
Marvel fans will recognize Patti Harrison as the Bridezilla who reconnects with Jen Walters in the She-Hulk: Attorney at Law episode "Just Jen." But Harrison's career goes far beyond that memorable episode, as the comedian has appeared in several skits in I Think You Should Leave, as well as favorites such as Bob's Burgers, Search Party, and Tuca & Bertie.
While her film career has been less varied, Harrison caught the critics' eyes as the potential surrogate for Ed Helms's sad middle-aged man in Together Together.
Ayo Edebiri as Janet Walch
Just a few years ago, Ayo Edebiri was best known as the co-host of the podcast Iconography with Olivia Craighead. Today, Edebiri is recognized as one of the most exciting actors of her generation. In addition to taking over the voice of Missy in Big Mouth, Edebiri has received nothing but praise for playing young chef Sydney on The Bear.
This year alone, Edebiri not only appears in Theater Camp but also co-stars in the comedy Bottoms and the drama The Sweet East, as well as voicing Glory Grant in Spider-Man: Across the Spider-Verse and April O'Neil in Teenage Mutant Ninja Turtles: Mutant Mayhem.