Features
Summer Is Actually the Scariest Time of the Year For Horror Movies
The whole idea of "spooky season" at the movies is overrated. And when you look back at it, the summer movie season has given us as many horror classics as October.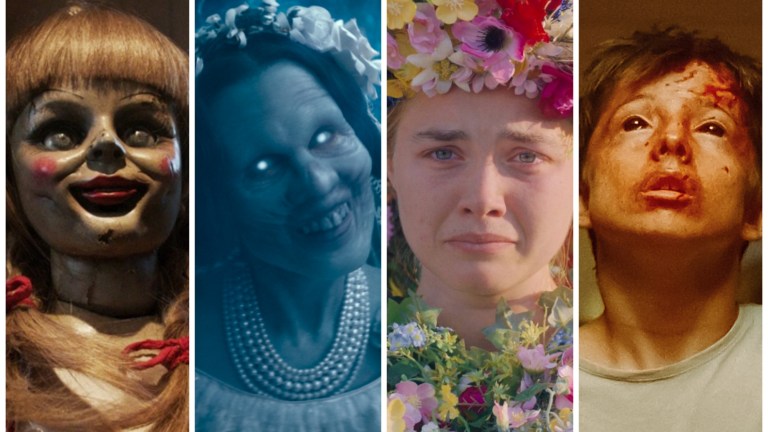 With all the hoopla, excitement, and massive box office last week due to the combined cinematic juggernaut known as Barbenheimer, it would not be remiss on the part of audiences if they completely ignored another new movie that opened the same weekend: a horror film called Cobweb from Lionsgate Films. The movie was released on less than 2,000 screens (the exact number is hard to find), and the box office did not even register enough to land the movie in the week's Top 10.
Cobweb did generate some good reviews, though, albeit not enough to create any kind of buzz online. And generally we have to agree with the overall negative reception: despite the welcome presence of Lizzy Caplan (Fatal Attraction) and Antony Starr (The Boys), the movie is tedious to watch and murky to look at, following the current trend of some horror films to pretend that ultra-dark visuals are a metaphor for the scenario that the characters find themselves in. Nevertheless, Cobweb is a horror film that, at a first glance, can fit into the recent few years of successful genre outings that extrapolate horror out of personal or family trauma, and in a different environment, might have eked out a decent win for Lionsgate.
More Interestingly, however is that three additional genre (or genre-adjacent) entries are in the offing: Disney's family-friendly Haunted Mansion, and more acutely important to genre aficionados, A24's genuinely creepy Talk to Me, arrive this week in much wider release. Both release this weekend, and even if either/or is steamrolled by Barbie and Oppenheimer in its second week, they continue a trend that's already been going strong this summer: audiences love horror. We had a glimpse of that at the beginning of the month when Insidious: The Red Door overperformed and beat Indiana Jones and the Dial of Destiny in Insidious' first weekend (it was Indy's second). Meanwhile, let's also not forget the year's second Dracula-inspired movie, The Last Voyage of the Demeter, is out August 11.
At a glance, this might seem like a strange anomaly to some. Surely, studios should be releasing horror in the Halloween corridor we now now know as "spooky season," yes? (And like the Christmas holidays, it even seems that spooky season extends itself backward every year, with it beginning these days in September.) It's an easy assumption to make, one that we were preparing to write ourselves until we stopped, took a closer look, and realized that, in fact, summer may be the best time for scary movies, at least in terms of box office.
The History of Summer Horror
The truth is that horror has always done well historically when released in the summer months. For proof you can go back all the way to 1968 when Rosemary's Baby opened in North American theaters on June 12 and earned $33 million at the box office—almost $290 million in 2023 dollars. Eight years later, in 1976, another Satanic classic, The Omen, also opened in June and tallied a final gross of $61 million in North America, which is $326 million in today's numbers and clearly a blockbuster. The list from the '70s alone, to name a few, includes Race with the Devil (June 1975), The Hills Have Eyes (July 1977), Damien: Omen II (June 1978), The Amityville Horror (July 1979), and Dracula (also July 1979), all of which did respectable to exceptional business. Even the original Friday the 13th was a smash in May 1980, foreshadowing the earlier start of the summer movie season.
Of course let's not forget the ultimate summer horror movie, Jaws, which opened in June 1975 and became the highest grossing movie of all time for two years, until it was later harpooned by Star Wars.
The trend has carried on through the years, as well. In 1999, The Blair Witch Project opened on July 14 and raked in $248 million globally on its way to becoming a pop culture phenomenon. Less than a month later, The Sixth Sense blew the doors off the box office with an Aug. 6 arrival and a massive $672 million worldwide haul, in addition to later earning six Oscar nominations.
More recently, James Wan scored two big summer horror hits with The Conjuring ($319 million) and The Conjuring 2 ($322 million), which came out in July 2013 and June 2016, respectively. He also produced June 2019's Annabelle Comes Home ($232 million) and this summer's Insidious: The Red Door, which has earned a respectable $158 million worldwide at press time. And although he stumbled recently with Beau Is Afraid, director Ari Aster scored indie summer horror hits with his first two movies via June 2018's Hereditary ($82 million) and July 2019's Midsommar ($48 million). Relative to budget and size, both films did impressive business.
We're sure there are other examples of horror movies hitting it big in the summer, as well as cases where they flopped. But the season in which a movie opens, in reality, probably has little to do with its success. Hell, The Exorcist opened on Dec. 26, 1973, one day after Christmas, for the love of Christ. While nominally a movie in which the Catholic Church triumphs over evil, one would hardly think of William Friedkin's unnerving masterpiece as the kind of fare marketed as a "holiday film."
Movie 'Seasons' Are Overrated
There are many reasons why movies succeed with audiences, and some of them are often inexplicable to critics, filmmakers, and studio execs—especially the latter, who in theory come up with carefully planned marketing schemes for every film their companies release. Again, a perfect example is how the Barbie/Oppenheimer phenomenon was an incredible confluence of audience awareness, solid marketing, and most importantly, a coming together of the pop culture hive mind to create a massive wellspring of interest. But most importantly it wouldn't have happened if both films weren't bold, audacious, original projects, wildly different from each other, yet at the same time both born out of a singular vision.
And really, that's what it takes. This week, it's likely that Haunted Mansion will underperform because it looks overly familiar—like a lot of other Disney live-action films—and there's been at least one movie with that title already. On the other hand, Talk to Me looks original, more handcrafted, and has a viral feel to it that may translate into modest box office success for an indie pic.
The kind of movie that is being served up is almost irrelevant, as long as it's something that captures an audience's imagination before they even walk in the theater. Nobody said, "Gee, The Blair Witch Project looks like a shaky little homemade art film, that's not what I like to see in the summer." Instead the public was gripped by the concept behind this faux-documentary and whether it was real or not.
If a horror movie looks scary—like, say, The Conjuring—moviegoers are not going to stop and say, "I wish they'd release it in October, that's when I want to watch a horror movie." They'll want to watch that thing right this second. For horror fans in particular, it's Halloween all year round. We watch a constant diet of genre outings old and new.
That's not to say that the fall's so-called "spooky season" isn't full of genre success stories as well. Look at anything from Saw to the almost unbelievably high grosses of It: Chapter One in 2017. But holding back a horror movie from a peak summer release is pointless. It's a fact that audiences once flocked to movie theaters in the summer as much for the free air conditioning as for what was on the screen; adding a few visceral or existential chills during the sultry summer months seems to keep them coming back.
Haunted Mansion and Talk to Me are in theaters now.