Features
Shazam: Fury of the Gods – Helen Mirren, Lucy Liu, and Rachel Zegler Are DC's New, Formidable Villains
What if the goddesses in Shazam: Fury of the Gods actually have a point? That's the starting line for the three massive stars who embody the DC movie's antagonists. Helen Mirren, Lucy Liu, and Rachel Zegler told us all about it.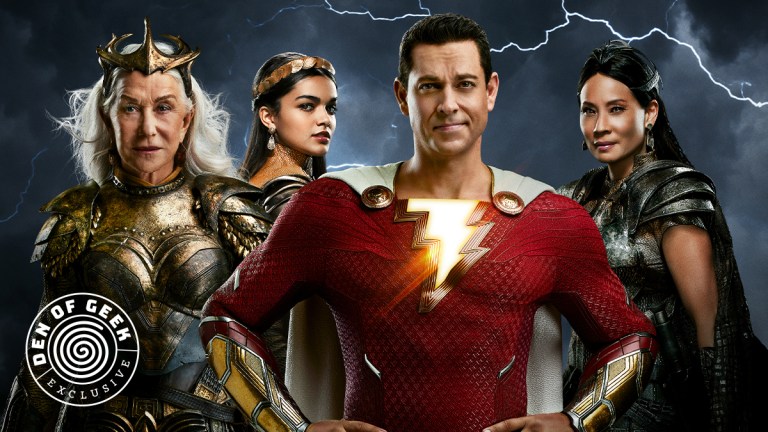 Crafting brand new villains for a superhero movie extravaganza like Shazam: Fury of the Gods is no easy feat. But in the highly-anticipated sequel, director David F. Sandberg enlisted three Hollywood icons to bring these original antagonists to life. Looking to the mythological origins of the hero Shazam, Sandberg and writers Henry Gayden and Chris Morgan introduce the Daughters of Atlas; Hespera (Helen Mirren), Kalypso (Lucy Liu), and Anthea (Rachel Zegler), who are less than happy to have seen their father's powers stolen by the titular superhero. For Sandberg, it was a logical choice. "It was just such a cool idea," the director tells us. "If those powers came from these gods, what if they were actually taken from them? What if they didn't want to give up their powers and now they're coming to Earth to take them back and they're pissed off about it?"
It's an intriguing prospect and one that excited Oscar-winner Helen Mirren. So how does a Dame prepare to play a god like Hespera? "It's very interesting because no human psychology can come into it," Mirren shares. "You have to take yourself away from senses of morality or senses of desire or all of the things that you normally would be investigating in a character. You just have to say no, none of that comes into it."
"It was quite an interesting headspace to be in. Right at the top of the film, there was a little tiny section [where] I had to sort of teach [my stunt double] how to walk like a goddess. You have to walk as if you know people are going to step aside. You have to walk in a way that is utterly confident, utterly grounded, just absolutely knowing that you know that's your way you're going and nothing's going to stop you."
Joining Mirren on this wild ride into the world of Shazam is Lucy Liu. With a catalog of iconic action roles and multiple award-winning performances, Liu's arrival in a superhero movie feels long overdue. But it's something she took in stride, explaining that for her to get into Kalypso's headspace she just had to go with the flow. "I think the important thing about playing a goddess is not to overthink it and just enjoy yourself," she smiles, "You're playing a goddess, and you know that you come with this power already. You're born into it. The things that we're asking for seem like they should be quite natural. I need to bring my world back to life! It's gonna happen! Let's go!"
At the heart of the Daughters of Atlas' journey is a righteous mission, and that was another thing that helped her tap into the omnipotent mindset of the goddesses. "I also think that understanding where they came from and what their mission is—that's important to set the tone," Liu says. "There's something kind of lofty about that, you know? It's not just for individual satisfaction; it's for a greater good. Fighting alongside your sisters to avenge your father, I think that's a very powerful foundation to go off of."
Mirren agrees. "You know people say, 'What's it like to play the villainess?' But Hespera doesn't see herself as the villainess, no, no, no! She's doing what is righteous as far as she's concerned. And as a god, she has every right to do that."
While Mirren and Liu are both cinema stalwarts with expansive careers, their on-screen sister Anthea is played by rising star Rachel Zegler. Only her second film role, Zegler filmed Shazam: Fury of the Gods before her acclaimed star turn in West Side Story had hit screens, making the actress a household name and Golden Globe Award Winner. So how did she approach her godly sophomore outing? "The funny thing is there's really no guidebook. There's no 'How to Play a God for Dummies!' And I didn't really know who I was playing while I was auditioning."
Despite that classic Hollywood secrecy, Zegler landed the role and got the news that she'd be playing Anthea in a hilarious interaction with her soon-to-be director. "When I got the phone call from David Sandberg, I thought he was my GrubHub delivery driver. I answered after one ring. And he said that's the fastest anyone's ever answered the phone."
During the earliest days of shooting, Zegler sat down with her co-stars to really dig into how they'd bring the sisters to life, and it was during that conversation that she found her in to Anthea and how she'd exist on screen. "I turned to Helen and asked, 'Are you just gonna do your accent?' She said yes, and Lucy was like, 'I'm going to talk in a bit more of a grandiose style.' And I thought, okay, so you've got like full fledged British royalty in Helen. Then you have Lucy who's doing a bit more of an emphasis on her voice. I was like, I'm the youngest. I'm not going to change anything. So that was kind of the way that I found her. I thought her speech was going to be really important in the grand scheme of things when it came to being a god."
It's something that shapes Anthea's interactions not just with her sisters but also with the young members of the Shazamily. "There's a difference between the way she talks with her sisters and the way she talks with Freddie Freeman," Zegler says. "I liked that because in real life we code switch all the time. So when I'm talking to my family, it's very different from the way that I'd talk to David Sandberg. It was fun, but really nothing can prepare you for playing a god."
The casting of the goddesses with such immense talent is something that Sandberg still can't believe. "It's a dream come true! We were saying, 'Someone like Helen Mirren,' and then she said, 'Yes.' Then we were like who else can we get? Then we got Lucy Liu! Then Rachel, who just blew us away. West Side Story hadn't come out yet, so she was completely new to me."
It's a sentiment that Shazam himself, Zachary Levi also shares, eager to gush about his new co-stars. "I mean, anytime you can get Helen Mirren and Lucy Liu to come in and be the badass lady bosses kicking ass and taking names, then you're in for a treat."
Working alongside two icons was nothing short of a joy for Zegler. "They were the loveliest women to work with. It's one of those things where you're really hoping that they're going to be that, and you kind of put this pressure unknowingly on the relationship to be like, 'I just hope you're everything that I want you to be.' And they check every box in their own wonderful way."
It also gave the young actress a new and unique experience. "It's really a rare thing to get to come to work and work with only women for the day," Zegler says. "And we had a couple of days like that, just the three of us, which was really amazing. To even hear Helen say that after her long illustrious career, it's really eye-opening. And then it became this beautiful sisterhood."
It's immediately clear speaking to the actors how impactful that bond has become. "What was so wonderful is that we had such great behind-the-scenes chemistry," Liu explains. "We absolutely adore and love each other and spend time together outside of filming."
Liu also describes how that closeness shaped their on screen roles. "Most of our work was together, but our personalities are quite different as goddesses," she says. "You see that dynamic from the very start. I like that there's the sibling interaction and also the engagement of how we attract because it's probably not different from other people's families. So there's power behind the three of us being together on screen. And it shows different layers of how we interact with each other and how there could be a power struggle between us as well."
"It was a perfectly balanced relationship," Mirren shares. "Me, the sort of wise older actress if you like, then Lucy, who is incredibly smart, very hardworking, professional, and wonderful. And then Rachel, who's this wonderful, young, new young talent. At that time, West Side Story hadn't come out. So she was very much the young one that Lucy and I felt we had to guide, protect, and advise. We bonded in a really lovely way, and we will be sisters for the rest of our lives."
Shazam: Fury of the Gods opens on March 17.