Features
Shazam! Fury of the Gods Brings Back the "Shazamily": Inside DC's New Superhero Adventure
Exclusive: Zachary Levi and David F. Sandberg pull back the curtain on Shazam! Fury of the Gods, the electrifying sequel to DC's most joyful and youthful superhero movie.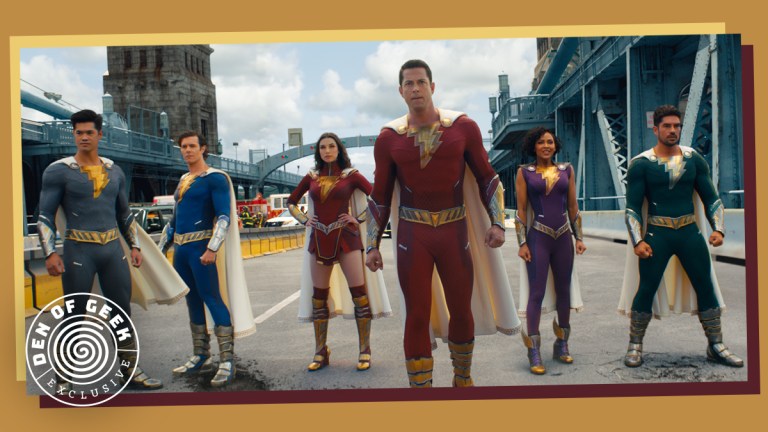 This article appears in the new issue of DEN OF GEEK magazine. Get your copy here.
It was just four years ago when DC's youngest superhero burst onto the screen in David F. Sandberg's delightful Shazam! Since then, the world has changed in unimaginable ways. But when Den of Geek magazine speaks to the director of the comedic superhero romp and its upcoming sequel, he shares that the story of Billy Batson and his superheroic adult alter ego has been his one constant. "It's kind of weird because I haven't done anything else in between. I did Shazam and then [the sequel] straight after—and yeah, there was the Covid break—but it feels like it's just continued on."
After years spent crafting the sequel and living through a pandemic, Sandberg is excited that Shazam! Fury of the Gods is finally finished. "I'm very eager for people to see it," he smiles.
In case you need a refresher on the first film, it introduced viewers to Billy Batson (Asher Angel), a young boy struggling through the foster system, who is chosen by a magical Wizard (Djimon Hounsou) to wield the powers of an array of Greek gods simply by saying the word SHAZAM. That magic word allows Billy to transform into a real-life—and fully adult—superhero (played by Zachary Levi) who takes his name from the acronym that gives him his powers. After battling the nefarious Doctor Sivana, Billy bestows his foster siblings with powers of their own. As Fury of the Gods begins, our teen heroes are finding their place in the world.
At the heart of both films is a magnetic dual performance from Angel as Billy and Levi as Shazam. It's one of the most unusual and unique representations of superheroes that we've seen on screen. As Levi points out when we speak, he's in a singular position. Sharing his performance with Angel, he still has to encapsulate both sides of Shazam. "Even though I look like the hero, I'm still the alter ego inside and still behave like him. So I kind of get to do both, which is really fun and very different."
Playing Shazam means a lot to Levi, who appreciates the rare gift that it is to get to return to a character. "If you're an actor, you're always dreaming that you're doing movies that are good enough that the studio says, 'we're going to make more.' I've never been the lead of a franchise that's doing well enough to be able to do that. So it's a crazy dream come true to have the job, to begin with. Now we get to make more," he says. "What's even cooler is—and I don't say this lightly—I saw a screening of the movie a couple of weeks ago. I think we've made a better movie the second time. I don't know a lot of people that can say that."
It's a huge statement, especially coming from the star of said movie, which has garnered a passionate fanbase. Levi is aware of that and is effusive about the original Shazam! and its fans. "I think we made a really good first movie. I think that's evidenced in the people's response to it, how it's landed, and how it has been received. I'm so grateful and proud of that movie."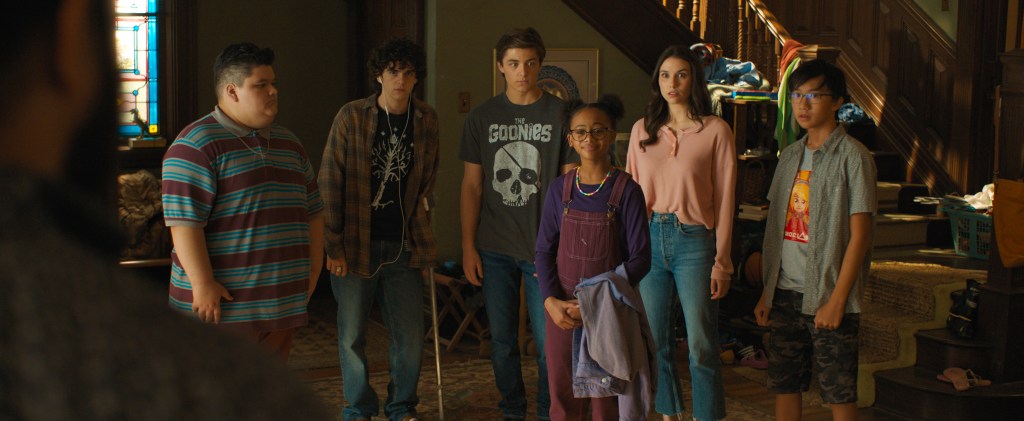 So what's so special about that sequel? "I think we were, all of us actors, just syncing up our relationships and our characters," he says. "The story is fantastic! [Screenwriter] Henry Gayden knocked it out of the park both times. David F. Sandberg, our incredible director! We all had more runway. We had more money. We had more time. We were able to make something really f*&%ing good."
Both Billy and his superpowered siblings have grown up since Shazam! and are now dealing with full-blown teenagehood and having the powers of Solomon, Hercules, Atlas, Zeus, Achilles, and Mercury. "They grow up really fast," Sandberg laughs. "It's pretty crazy looking back at the first one now, and it's like, 'Oh, wow, they were so tiny.' Now they're like little adults. We leaned into it because we can't pretend it's the day after the first movie, you know?"
For Levi, that meant aging up his performance while still keeping the youthfulness that's key to his hero. "The biggest thing I wanted to do was just make sure that I was attempting to behave in a way that was still obviously much younger than I am but still a little older than what Asher and I had to accomplish together in the first one." Going into Shazam! Fury of the Gods, it was that relationship that helped Levi work out how to craft a (slightly) more mature Shazam.
"I'd just try to take my cues off of Asher and be like, 'Okay, where's he at in his life right now?' He's playing a version of himself in a lot of ways," Levi shares. The actor also studied this generation of teens to perfect just how to bring his adolescent adult to life. "Where is our culture now? What is the attitude? What do people think is cool and not cool right now if they're 17?"
Fury of the Gods finds our hero at a crossroads, about to age out of the foster system where he found his family and trying to work out who he is in the world of DC heroes. "This movie's very much about Billy as he's trying to figure out what his place in the world is," Sandberg says. "He's not the only superhero in the [DCU]. So what's his role? What's his worth?"
That also comes with a newfound fear of losing the thing that he values the most. "He's finally found a family, which is what he was searching for his whole life, and he's terrified of letting go. He wants them to do everything together," Sandberg says. "He's holding on very tightly."
That family dynamic is one of the highlights of Shazam!, which ended with the newly monikered Shazamily made up of Billy and his superpowered foster siblings. Billy sharing his powers was an electric sequence that led to an epic final battle, and Sandberg was eager to explore their next evolution in the sequel. "In the last movie, it was just that one moment. Now we get to see more: how they work together, how they are as a team. Now they're all superheroes, they've been superheroes for a while, and they're trying to do their best to be superheroes. But just like Shazam didn't have a manual to be a superhero, they don't have one either. And they haven't really had a big challenge yet."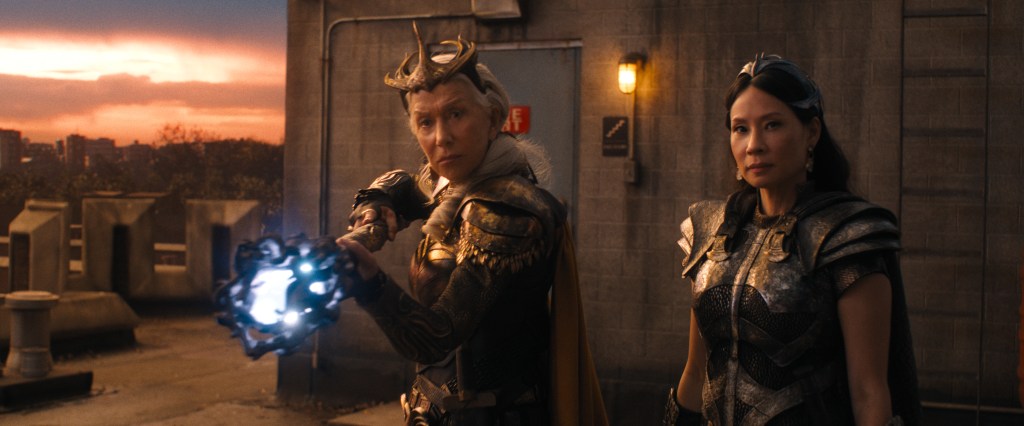 That challenge comes in the form of the film's antagonists, who were created for Fury of the Gods. The Daughters of Atlas, played by Hollywood icons Helen Mirren, Lucy Liu, and West Side Story breakout star Rachel Zegler, are ancient deities furious that Shazam and his siblings stole the powers of the gods. It's an inventive choice and one that strays from the character's comic book canon. To Sandberg, it was a logical choice. "If those powers came from these gods, what if they were actually taken from them? They didn't want to give up their powers, and now they're coming to Earth to take their powers back, and they're pissed off about it."
Levi feels the same way, highlighting his excitement at the goddesses' arrival. "It's a really great take because you're tying into what is very prevalent in Shazam's lineage and canon. I think it just served the story so well… it was the perfect way to go." The actor was also keen to gush about his legendary new co-stars and what they bring to Fury of the Gods. "I think that any time you can get Helen Mirren and Lucy Liu to come in and be the badass lady bosses kicking ass and taking names, then you're in for a treat. They're both fantastic."
In Sandberg's words, it was nothing less than "a dream come true" to work with the trio who brought the goddesses to life. They're not the only mythical beings in the sequel either, as the director teases that the film will feature many fantastical creatures, including Minotaurs, Harpies, and a Ray Harryhausen-inspired Cyclops. That juxtaposition of the magical and the mundanity of real-world Philadelphia was key to the tone but never posed a challenge to Sandberg. "It wasn't really like, 'Oh, it has to be like it's part of our world.' They just had to feel cool."
They also had to feel scary. Sandberg cut his teeth on horror flicks like Annabelle: Creation and Lights Out before entering the DC pantheon. He used that experience to bring a very specific and effective blend of fear and fun to the first film, and he promises that the sequel will continue that thread. "When I was a kid, I loved seeing things that had that edge to them or had a little bit of danger. I love Raiders of the Lost Ark, faces melting off…I love that stuff. So to me, when you bring that little bit of scariness and edge to it, it makes the danger feel more real."
Those unexpected tonal shifts are a large part of what made the first Shazam! movie feel so special. Combining the heart of a family film with the epic scope of superheroes and the spookiness of classics like Gremlins and Dark Crystal, it immediately stood out among its DC peers. So does that give the crew more freedom to tell a different kind of story? "I think so," Sandberg says, "to a certain degree. That's what I love about Shazam, that wish fulfillment you can't do with any other character."
To the man who plays Shazam, that tonal difference reminds him of another famed costumed crusader. "I've always believed that we're kind of like the Deadpool of DC," Levi says. "Not in the same tone exactly. But we are afforded an irreverence, a naivete, this kind of on-the-outside-looking-in perspective where we can almost have a commentary on our world that other movies in our universe don't really have. They're more earnest, they're more serious, they're darker, and we are not that. So we get to be a little sillier sometimes. I think that leads to a lot of really fun options and possibilities when you're doing more stories."
In Fury of the Gods, though, Billy has to make some tough decisions. While Sandberg "wouldn't say he goes dark," the director does tease that "he has to make some real sacrifices to protect not just his family but the world." That more serious conflict allowed him to present a new side of Billy as he embarked on the second movie. "I wanted to have at least some moments where he comes off as kind of badass, especially towards the end."
What's next for Shazam? Well, after the arrival of Dwayne Johnson as Black Adam in 2022, many are wondering if Shazam will ever face down (or team up with) his most famous foe, Levi among them. "That's all way above my pay grade," he laughs. "I was trying to get the same answer." Acknowledging that The Rock is a very busy man, Levi is full of kind words about the previous Warner Bros. leadership under Walter Hamada, as well as being incredibly excited for what's to come. "As fate would have it, we have two new excellent leaders in James Gunn and Peter Safran. They're both friends of mine who I trust very deeply, and I know that they are concocting really cool plans. I don't know what they are, but I will trust wherever they want to take us."
And when it comes to whether he has long-term hopes and plans for the character at the center of the film, Levi is realistic. "There's definitely little ideas here and there that I brought up in the past. I'm sure I'm gonna sit down with James and Peter soon enough, and we'll talk about what we think the trajectory of all this will be. The success of the second movie will determine a lot."
If Fury of the Gods does succeed, then Levi says, "It's just a matter of just trying to figure out what we can do to keep making good material that includes Shazam, staying true to the character and doing right by our fan base and all the people who have supported the comic and the character for coming up on a century. There are all manner of different things that can be done." And that's where Levi shares a glimpse of a dream Shazam project. "Kingdom Come would be amazing," he says.
The iconic story by Mark Waid and Alex Ross is one that comics fans most want to see adapted. Levi understands its power and the fan fervor for a movie version. "It's a great story. I think it's something that fans would devour."
Shazam! Fury of the Gods opens in theaters on March 17.