News
New Batman and Robin Movie, Green Lantern TV Show, and More Announced for Revamped DCU
James Gunn and Peter Safran finally revealed their vision for DC movies and TV, with 10 projects spanning from Superman to Swamp Thing and more. Here's the full breakdown...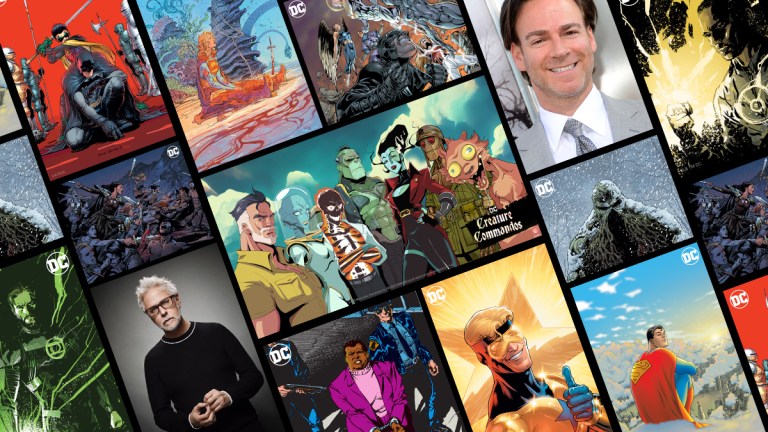 The future is finally here for DC fans. After years of false starts from a parade of creatives, and months of teases, DC Studios heads James Gunn and Peter Safran finally shared their vision for DC movies and TV series going forward, christened, simply enough as the DCU. The pair outlined what they called "the first part of the first chapter" of the DCU, with that first chapter known as "Gods and Monsters." It's a combination of five films and five HBO Max series which will have story elements that weave between each other, and ultimately lay the foundation for a new, cohesive DC Universe.
Of course, it's not as simple as that (it never is). There are still the four DC movies coming out this year, which Gunn and Safran are playing coy about, including who will stick around as their current characters. However, Gunn said that June's The Flash movie "resets everything" and that August's Blue Beetle has no connections to previous DC projects, which presumably means its cast, characters, and mythology could be carried forward into the new DCU vision. And then of course, there's all the Jason Momoa confusion (the pair would not confirm Momoa's post-Aquaman 2 plans, with Safran only offering "he was never gonna play two characters [in the DCU]").
Then there's Matt Reeves' The Batman franchise, which the director envisions as a trilogy plus its own spinoff HBO Max TV shows. Gunn and Safran confirmed Reeves' Gotham will remain separate from the DCU so that the director can complete his "crime saga" vision. Here, Gunn conceded that they won't release a DCU Batman movie (more on that below) "in the same six month period" as one of Reeves' Bat-projects to avoid confusion and to give both time to breathe with audiences.
And then there are other projects which fall even further outside the lines, such as Todd Philips' Joker sequel, or long in-development projects like Ta-Nehisi Coates' Superman (not to be confused with the film Gunn is writing), which will now be clearly be identified under the DC Elseworlds banner to indicate that they take place outside the main story of the new DCU. To help simplify things, Gunn promises that "it's got to be something really special for us to tell that story outside of our regular continuity, and to spend the money to make it."
In other words, there's still a lot to contend with, but these seem like good problems to have if you're a studio looking to mine some of the most fertile IPs in the world. But as for that main DCU slate? Here's the first batch of 10 projects, which they hope to release at a rate of approximately two movies and two HBO Max shows per year.
Let's get into it, with commentary from the men behind DC Studios…
CREATURE COMMANDOS
The first entry in the new DCU is a surprising one. Not only because it's an incredibly obscure group of characters (even by James Gunn standards) but also because it's an animated series set for HBO Max. The seven episode first season has scripts written by Gunn and it's now in production. Gunn and Safran have said from the start that animation would be a key piece of the new DCU, and that it would be part of the main overall storytelling. Kicking things off with a project like Creature Commandos would seem to drive that point home.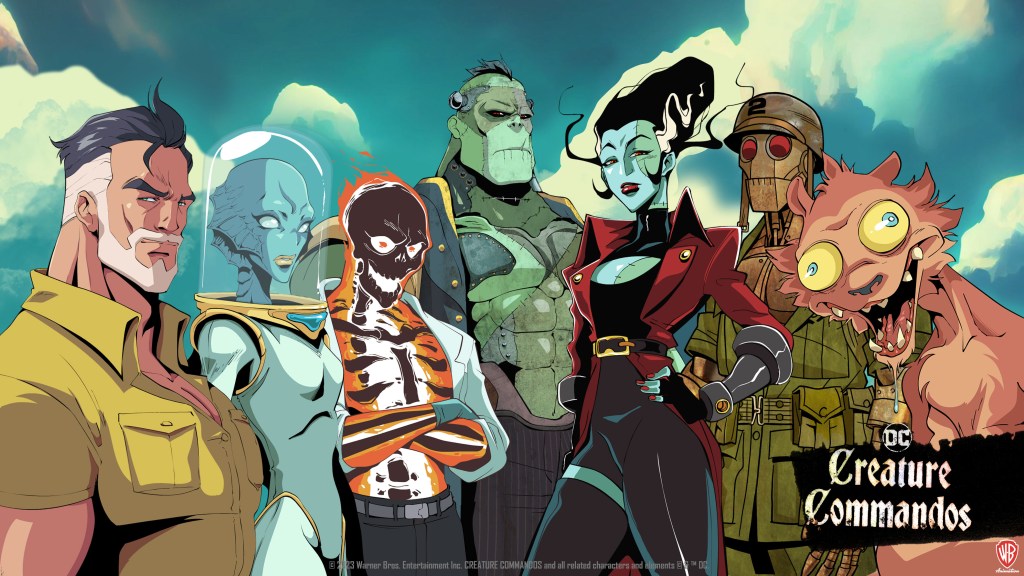 Oh, and that roster? From left to right, we have Rick Flagg Sr. ("Okay, you know he's gonna show up in other stuff," Gunn said), Nina Mazursky, Dr. Phosphorus, Eric Frankenstein (between this and Nina Mazursky, it might be a good time to check out Morrison's Frankenstein, Agent of SHADE book or Jeff Lemire's 2011 follow-up), Bride of Frankenstein ("She's the lead," Gunn said), GI Robot, and Weasel (last seen at the end of The Suicide Squad). Gunn also said that when casting for animated projects, they're looking for folks who can also play the roles in live action. 
Considering that the official word on the series states that "Amanda Waller creates a black ops team out of monstrous prisoners" it makes sense that it will be followed by…
WALLER
Viola Davis is back as Amanda Waller in her own HBO Max series, because really, why would you ever recast a role like this when you already have Davis? Want some more talent? This one has Crystal Henry (who wrote on HBO's superlative Watchmen series) and Doom Patrol showrunner Jeremy Carver working on it.
Safran noted that this takes place between Peacemaker seasons one and two ("Because I don't have time to do Peacemaker season 2 right now," Gunn joked). Between this and Creature Commandos, it seems that at least for now, elements of Gunn's Suicide Squad and surrounding universe will stick around.
SUPERMAN: LEGACY
The big one, the first solo Superman movie since 2013, will be released on July 11, 2025. It's the first of the DCU projects that really seems to draw a line between what came before and the new DCU.
"The one thing that we can promise is that everything from Superman forward … will be canon and will be connected," Gunn said. What that means for the previous two projects and their connections to what came before remains vague (likely deliberately so), and Gunn later hinted at what that continuity might (or might not) look like. "Some things are like a rough memory of what happened in the DCEU, but…once we hit Superman, anything can be changed."
Broadly speaking, this will feature a Superman earlier in his career, and with a characterization that sounds at least partially inspired by Grant Morrison and Frank Quitely's All-Star Superman.
We have more details on Superman: Legacy here.
LANTERNS
We finally have new details on the long-awaited HBO Max Green Lantern series! It's called Lanterns, and it will focus on both Hal Jordan and John Stewart. Safran described this as "a True Detective type mystery with our two Lanterns, terrestrial based."
But it seems like Lanterns will also be the first of the HBO Max shows to have a significant impact on the larger story of this chapter of the DCU, with a mystery "that leads into the overall story that we're telling throughout the different movies and television shows," Gunn said. "We find this ancient horror on Earth and [Hal and John] are basically super cops on precinct Earth."
THE AUTHORITY
Warren Ellis and Bryan Hitch's politically charged, widescreen epic is actually making its way to the big screen. And of course, this is exactly the kind of project that would excite the man who brought Guardians of the Galaxy and The Suicide Squad to the screen.
"This is one of my real passion projects," Gunn said. "I've been working really hard on it with writers and we're starting to put together the entire story. This is a big movie. The Authority is a very different kind of superhero story. They're basically good intentioned, but they think that the world is completely broken. And the only way to fix it is to take things into their own hands, whether that means killing people, destroying heads of state, changing governments, whatever they want to do to make the world better. We'll see how that journey goes for them."
As you can probably gather from Gunn's (accurate) description of The Authority concept, this was a book that came out of the very specific political moment of the early 2000s. "They think the ends justify the means, and they're the ones that decide what the right ends are," Safran added.
PARADISE LOST
While the future of the Wonder Woman film franchise remains unclear after Patty Jenkins' departure, its past is going to be explored in detail in this HBO Max series. "This is a Game of Thrones type story about Themyscira, Paradise Island, home of the Amazons, and the birthplace of Wonder Woman," Safran said, also hinting at plenty of "political intrigue" in the spirit of that other HBO show.
"It's an origin story in a way," Gunn added. "How did this society of women come about? What does it mean? What are their politics like? What are their rules? Who's in charge? What are all the games that they play with each other to get to the top?"
THE BRAVE AND THE BOLD
The DCU's Batman will finally arrive in this movie, and no, it won't be Robert Pattinson or Ben Affleck. This Batman won't be alone, though, as we're finally getting a big screen Robin, this time in the form of Damian Wayne, Bruce's son. "[He] is Batman's actual son, who he didn't know existed for the first eight to 10 years of his life," Gunn said. "He was raised as a little murderer and assassin. He's a little son of a bitch. He's my favorite Robin."
Don't be surprised if this takes a lot of cues from Grant Morrison's brilliant run on Batman, so if you've been looking for an excuse to check that out, now is the time. Since this sounds like it will have a slightly more established Batman, it opens up other possibilities as well. "It's going to feature other members of the extended Bat-family just because we feel like they've been left out of the Batman stories in the theater for far too long," Safran said.
BOOSTER GOLD
Finally, Booster Gold gets the spotlight he knows he deserves in this HBO Max series. Safran calls this the story of "a loser from the future who uses his basic future technology to come back to today and pretend to be a superhero."
"I think of it basically as the story of a superheroes imposter syndrome," Gunn said. "How do you deal with that? How does he try to use this future technology to be loved by people today?"
Apparently they're already "talking to an actor" about this role, so we may hear news on Booster sooner than we think.
SUPERGIRL: WOMAN OF TOMORROW
A movie based on Tom King and Bilquis Evely's Eisner-nominated series of the same name!
"Superman was sent to Earth and he was raised by incredibly loving parents, whereas Kara was on a piece of Krypton that drifted away from the planet, and lived there for the first 14 years of her life in a horrible situation where she watched everybody around her die," Gunn said. "So she's a much harsher and more fucked up Supergirl than we've been used to so far."
Gunn and Safran said they're "figuring all that out" when asked if Sasha Calle would reprise her Supergirl role from The Flash movie on this one.
This is tentatively slated for two years after Superman: Legacy, so we may see Supergirl: Woman of Tomorrow in 2027.
SWAMP THING
There aren't many details on this movie yet other than that it will be an origin story, but Safran said, "It's important to point out that these stories, although interconnected, they're not all tonally the same. So each set of filmmakers brings their own aesthetic to these films, and the fun is seeing how these tonally different works mash up in the future." A horror movie set in the DCU sounds like a good time to us!
While this is a pretty stacked slate, it isn't even the complete first chapter. Throughout the presentation, Gunn and Safran hinted at other projects that are in the early stages. They've planned out an entire second chapter as well. As long as this DCU doesn't go the way of its predecessor (or worse, so many other shared universes that other studios have tried to set up), DC fans may finally have their day.