Reviews
Shang-Chi and the Legend of the Ten Rings Review
Marvel's Shang-Chi and the Legend of the Ten Rings is a thrilling, top tier MCU installment that will fill the tank of your Phase 4 excitement to the brim.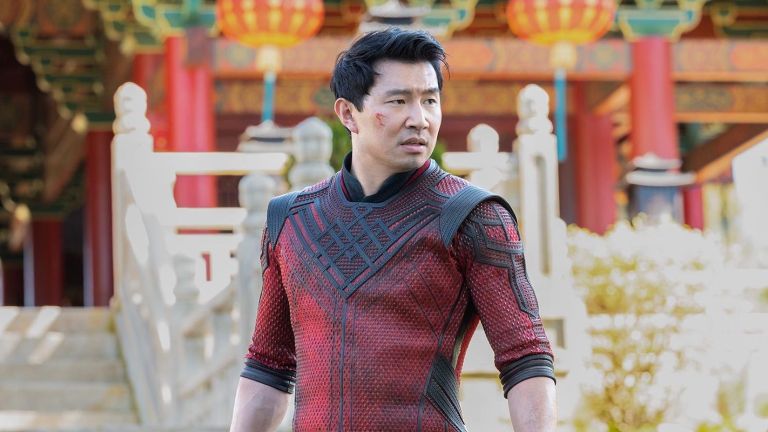 Like most Marvel Studios offerings, Shang-Chi and the Legend of the Ten Rings is a peculiar but polished amalgam of subverted genre tropes, dazzling action sequences, and heartfelt character moments that is ultimately meant to feed the larger MCU monster.
But more importantly, it's a cultural milestone for Asian and AAPI audiences, who have been underrepresented and misrepresented in major motion pictures since, well, the advent of film. Shang-Chi and the Legend of the Ten Rings is another gigantic superhero movie from arguably the biggest studio on the planet, but the fact that it features a diverse cast of Asian characters (what a concept) makes it nothing short of ground-breaking.
At the center of it all is Simu Liu (Kim's Convenience), who proves out of the gate that he has the chops to balance both badassery and buffoonery, a valuable skill that most MCU lead roles call for. He may not seem like superhero-movie material in the early moments of the film, but once he throws that first, rib-shattering punch, it's abundantly clear that he's the man for the job. Whether he's throwing verbal jabs or physical ones, Liu is a natural, and he's more than charismatic enough to carry the franchise forward for years to come. To be the first Asian superhero on the big screen is a high-pressure position to be in, but Liu rises to the occasion.
The spine of the story does follow the familiar MCU formula, but the narrative structure is far from the movie's defining characteristic. What's most notable here is that the film pretty much does everything well. The action is blistering and beautiful, the writing is as fun and hilarious as it is poignant and poetic. As an adventure movie, it hits you with thrills and surprises at almost every turn. And its themes—of generational dissonance, found identity, and forgiveness—are woven into the film elegantly.
Shaun (Simu Liu) and his best friend Katy (Awkwafina, Crazy Rich Asians) are all but sleepwalking through life as valet drivers at an upscale hotel in San Francisco. When a gang of assassins attack Shaun on a bus and he disposes of them with relative ease, it becomes clear to Katy that her ol' drinking buddy has been hiding a dark secret.
Turns out, Shaun is actually Shang-Chi, a cold-blooded killer trained by his father, Wenwu (Tony Leung), a master warrior and possessor of the legendary Ten Rings. The friends travel to China to confront Wenwu, find Shang-Chi's estranged, equally deadly sister Xialing (Meng'er Zhang), and uncover the truth behind his mother Jiang Li's (Fala Chen) death, which could be tied to her mystical homeland, Ta-Lo.
The cast is incredibly well-rounded—each actor brings something unique to the table. Leung gives the film a deep sense of gravity (if you've seen his previous work you'll know that he tends to have this effect on the movies he's in), and his machismo is balanced out by Chen, who exudes the kind of warmth and inner-strength that only mothers possess. Michelle Yeoh, like Leung, is seemingly ageless and brings a measure of legitimacy to the proceedings as Shang-Chi's aunt. Liu and Awkwafina are fine onscreen partners as well, with the latter's explosive personality serving as a nice counterbalance to Liu's pathos. While their chemistry doesn't really click until about halfway through the movie, they certainly arrive at a good place.
There are two kinds of acting going on in Shang-Chi, as there are in every martial arts/action movie. There's acting with the face and voice, which is the conventional kind. And then there's acting with the body–the physical stuff. Great action stars know how to tell a complex story without words, using their entire body, and the actors certainly deliver in this department.
In a flashback, we see Shang-Chi's parents' first date, which just so happens to be a flirty fist fight in an enchanted bamboo forest. Wenwu is balled-up, bro-ed out, and fights with anger; Jiang Li is calm, confident, and diverts his power gracefully. The camera swirls around them as they tussle, and on a purely visual level, their story is laid out clearly–he's an asshole, and she's there to teach him how to not be such an asshole. The visual storytelling going on in the fight scenes is what makes them truly special.
But if it's hard-hitting martial arts action you want, Shang-Chi's got you covered there, too. The hand-to-hand combat sequences are staged and filmed incredibly well and pay homage to different styles of kung-fu movies, from the elemental brutality of Crouching Tiger, Hidden Dragon, to the urban controlled chaos of Jackie Chan. An eye-popping, acrobatic brawl that takes place on scaffolding suspended hundreds of feet above the streets of Macau is simply put one of the best fight scenes the MCU has to offer—it's just breath-taking.
The film's final battle turns into more of a visual effects-driven mess, unfortunately. It lacks the tactility and weight of the earlier fight scenes, and while from an art-design standpoint the environments and characters in the final act look incredible, when the action gets hectic and the camera starts shaking uncontrollably, it becomes a distraction.
Director Destin Daniel Cretton puts a major emphasis on presenting multi-dimensional characters that feel like fleshed-out human beings. While this may not ostensibly seem like a novel idea, it's worth noting that, more often than not, Asian characters in big-budget movies lack depth and aren't portrayed as leaders. Marvel's Shang-Chi and the Legend of the Ten Rings breaks the mold in glorious fashion, with characters that are strong, brave and brilliant, and whose shortcomings are as compelling as their virtues.
Just because a film is on the right side of history doesn't automatically mean it's any good. It was entirely possible for Shang-Chi and the Legend of the Ten Rings to wind up being underwhelming, or gimmicky, or cliched, despite its intrinsically positive cultural relevance. Luckily, this isn't the case whatsoever. It's a supremely entertaining movie on every level, and the fact that it will likely kick in the door for more Asian superheroes to take center stage in the future (Jubilee, please) is icing on the cake.