Features
Shazam: Fury of the Gods – The Story Behind Those Big DC Cameos, Easter Eggs, and More
Director David F. Sandberg breaks down his favorite DC Easter eggs and explains how those massive cameos came together.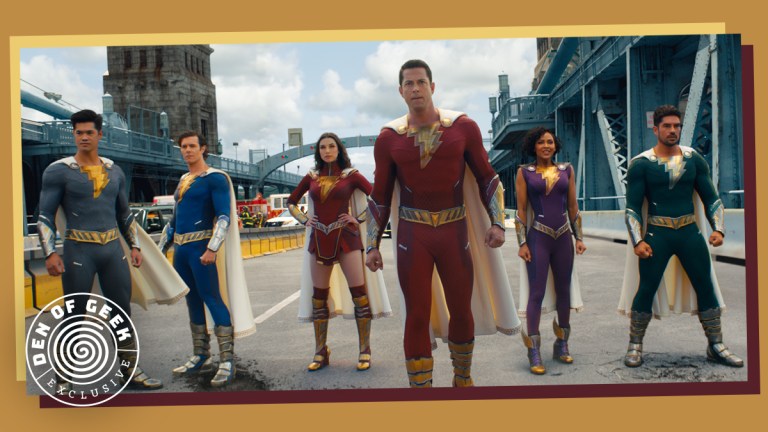 This article contains nothing but Shazam! Fury of the Gods spoilers.
Shazam! Fury of the Gods is a big movie. It's essentially a team movie, with not only Billy Batson, but his entire foster family bringing a total of six superheroes to the table (not to mention the presence of Djimon Hounsou's Wizard). And they're facing off with three villains, in the form of Helen Mirren as Hespera, Lucy Liu as Kalypso, and Rachel Zegler as Anthea. And then there are a menagerie of magical monsters that populate the film's final act. And if all of that ain't enough, there's a massive DC cameo (which has been inexplicably spoiled in commercials for the film), plus some other fun deep cuts from throughout Shazam history.
So with all of this in mind, we sat down with director David F. Sandberg on the latest episode of our DC Standom podcast and he walked us through all of it, including how his own love of and history with horror movies has continued to influence even a family movie about magically powered superheroes.
A VERY DIFFERENT SHAZAM 2
Fans certainly remember that the end of the first film teased a very different Shazam sequel, one in which Sivana teams up with the diminutive Mr. Mind. While this was once again teased in new post-credits scenes, Sandberg reveals that Mr. Mind was almost one of the villains in this film during the earliest stages of Fury of the Gods' development.
"Mr. Mind and Sivana were a part of this plot," Sandberg tells me. "Originally, it was Mr. Mind who enabled the Goddesses to come to Earth. But it was just too much story to tell because even without that part, it's still an over two hour long movie. So it just didn't fit, unfortunately. But I'd love to see more of Mr. Mind."
THE HORROR INFLUENCES
Both movies have little nods to the fact that Sandberg made a name for himself as a horror movie director, with the scary Seven Deadly Sins in the first film, the way the Daughters of Atlas use their powers in this one, and all of the horrific takes on mythological monsters throughout. In fact, one scene almost took it a little further.
"I think it's very important just because it adds a real sense of danger," Sandberg says of the horror elements. "It shows what the threat is that people can actually die and get hurt, so you get more invested in the story. And then, yes, it's fun to just go wild with monsters and things like that. Even in the museum, we actually cut some stuff because it was just kind of too much, because we had like guards getting impaled and stuff like that. It's fine to just turn people into statutes and break them and things like that."
If you look closely throughout the movie, you'll see tributes to some of Sandberg's favorite horror directors. There's a (Lucio) Fulci Theater, a Dr. Bava, and a (Ruggero) Deodato Hotel.
THE BURNING VIOLIN
First glimpsed in the first movie, and back again in Fury of the Gods, there's a mysterious burning violin, which seems to perplex the Shazamily as much as it does audiences.
"That was one that [DC Comics writer and Shazam! Fury of the Gods executive producer] Geoff Johns was like 'there's gonna be like five people in the world who know that one,'" Sandberg says.
In particular, he's referring to a story from 1946's Captain Marvel Adventures #64, and the story "Cult of the Curse: Flames of the Magic Fiddle" where a demon's henchmen named Nero ends up with a magical violin that can shoot flames.
TAWKY TAWNY
The first movie was full of tiger imagery (and if you look closely at the cape clasps on Shazam's suit, they have tiger heads on them). Those were all nods to Tawky Tawny, the talking tiger from a magical realm who would often accompany the Shazam family on adventures. In Fury of the Gods, Darla adopts a kitten who she names "Tawny." So once again, we're getting nods to this beloved character from DC history. But it turns out…we almost really DID get Tawky Tawny in this movie.
"We've been talking about ways of getting like Tawky Tawny into the movie, and there was very early talk [doing it in] this one," Sandberg says. "But you kind of need a little bit of an explanation for it. I don't think you could have something like that just show up, this tiger in a suit who's talking. You need to have a little bit of an explanation for it, I think for audiences to accept that…I think they could if  if he comes from a different world through the room of doors or something like that. But it wasn't really ready for this movie."
THE BIG CAMEOS
Of course, the big cameo that everyone is talking about is…Michael Gray, TV's Billy Batson from the 1970s TV version of Shazam!.
"The funny thing was that for his scene, he had a different line," Sandberg says. "But on the day we shot it I said 'hey, we should do a version where you say, you're the best, Captain Marvel!' So we get to actually call him Captain Marvel. But I figured that they weren't gonna let us use that. But then when I talked to DC, they were like, 'well, Marvel has mentioned DC characters in their movies… so why not? They can't say anything.' So I was really happy. We got to do that reference and then put him in that shirt, so he looks kind of like he did on the old show."
GAL GADOT AS WONDER WOMAN
OK, fine, that's not really the cameo everyone is talking about. That one is Gal Gadot as Wonder Woman, who shows up to resurrect Billy Batson after he sacrifices his life to defeat Kalypso and save the world. Of course, the first film had a fakeout with a Superman cameo that was decidedly not Henry Cavill, so the director was aware of the pressure this time, especially since they tease a cameo with a "headless" Wonder Woman earlier in the movie.
"We could only do that because she actually shows up at the end," Sandberg says. "Otherwise, we would have pissed people off way too much. And even when she does show up, the first shot of her, it's from the neck down. But then we quickly tilt up before people leave the theater in frustration."
But even though the plan was always for Wonder Woman to show up at the end, the director never thought they'd be able to do it.
"It was in the script, right from the start, but I never believed [we'd get to do it] because of what happened on the first movie where we had to do a headless cameo," he says, noting that even while shooting the scene, they had to use a stand-in, because Gadot was unavailable to come to Atlanta at the time. "So I started thinking about plan B. 'What other god can we have to resurrect Shazam? Can we have Helen [Mirren] come back? We're gonna need something when Gal falls through.' But then we actually did it, we got to shoot it. I mean, I had to shoot her separately, and then put it together, but I think it worked out really well. And she was just a pleasure and a dream to work with."
You can listen to the full interview with David F. Sandberg here:
Shazam! Fury of the Gods is in theaters now.