News
New Superman and Supergirl Movies Confirmed for DC's New "First Chapter"
DC Studios' new Superman movie will focus on a Man of Steel who will "never kill anybody" while a Supergirl film will feature a "harsher" Kara. We've got details from James Gunn and Peter Safran...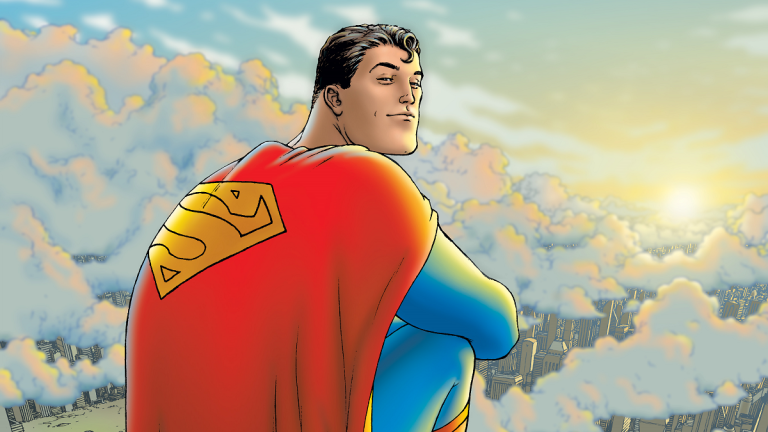 James Gunn and Peter Safran outlined the "first part of the first chapter" of the new DC movie and TV universe, simply dubbed DCU at a press conference on the Warner Bros. lot this week. Amidst a slate of projects that includes everything from Booster Gold to The Authority to Creature Commandos to a new Batman (with Robin) and much more, there was a lot of love for Superman and his world. The first film of the new DCU, which officially has the title of Superman: Legacy, will be released on July 11, 2025. Two years after that, another Kryptonian will join the party, in Supergirl: Woman of Tomorrow, the first solo big screen adventure for Kara Zor-El since Helen Slater wore the cape back in 1984. 
"The one thing that we can promise is that everything from Superman forward … will be canon and will be connected," Gunn explained at the briefing. "We're using some actors from the past. We're not using other actors from the past. But everything from that moment forward will be connected and consistent."
A new Superman movie was the one project that Gunn had already confirmed publicly, but despite serving as a fresh start for the character, "it's not an origin story."
And while Gunn had previously said on social media that this would focus on a younger Superman, he points out that the new Man of Steel is already at least somewhat established. "It's not Superboy," Gunn said. "He's working. He's a reporter at the Daily Planet. We're coming into a world where superheroes exist and have existed."
Other than that, all we know so far is the official line, which is that it will "focus on Superman balancing his Kryptonian heritage with his human upbringing," but it does sound like they're going for a take on the Man of Steel's characterization refreshingly free of cynicism.
"Superman represents truth, justice, and the American way," Safran said. "He is kindness in a world that thinks of kindness as old-fashioned."
To hammer home the size of this Superman's heart, Gunn cited one of the most beloved DC stories of the 21st century as one of the inspirations for his take on the Man of Steel, Grant Morrison and Frank Quitely's All-Star Superman, a modern masterpiece that featured an almost all-powerful version of the character, tempered with an even more powerful empathy.
"I really love the idea of Superman," Gunn said. "He's a big ol' galoot. He's a farm boy from Kansas who is very idealistic. His greatest weakness is that he'll never kill anybody. He doesn't want to hurt a living soul. I liked that sort of innate goodness about Superman as his defining characteristic. It's not All-Star Superman, but I'm a huge fan of All-Star Superman, and it's very inspired by it."
No casting has yet been announced (although, with that July 2025 release date, we expect those discussions to begin heating up pretty soon). One thing is for certain: Henry Cavill won't be the one wearing the cape this time around. But Gunn was quick to clarify, "Henry Cavill was not fired. He just was not hired to be [in Superman: Legacy]."
Details on Supergirl: Woman of Tomorrow are a little more thin at this time, but it does share a title with Tom King and Bilquis Elvy's brilliant Eisner-nominated limited series, which took Kara and Krypto into space for a wild, almost psychedelic adventure. Gunn revealed that King, one of the most decorated comics writers of the last few years, has been helping conceptualize elements of the new DCU, as well.
"Superman was sent to Earth and he was raised by incredibly loving parents, whereas Kara was on a piece of Krypton that drifted away from the planet, and lived there for the first 14 years of her life in a horrible situation where she watched everybody around her die," Gunn said, referencing the character's classic origin story from the comics, which saw the survivors on Argo City die of Kryptonite poisoning before she was sent to Earth to find her cousin, Kal-El. "So she's a much harsher and more fucked up Supergirl than we've been used to so far."
While audiences will meet a new Supergirl in this June's The Flash movie (played by Sasha Calle), it's unclear if this will be the same character. It doesn't sound like any decisions have been made on that front just yet.
While Gunn is hard at work writing the script for Superman: Legacy, no director has yet been attached. But Safran said "we are certainly hoping that [Gunn] will direct it."
Gunn, however, won't commit to the director's chair just yet.
"I only have one me and I only have seven days in the week, all of which are used in the service of DC storytelling," Gunn said. "I'm working all the time. I can only do what I can do. So we're gonna have to make a decision at some point. Is it better for me to write more? I already wrote all of [Creature Commandos]. I've written a lot of [Superman: Legacy]. I've worked a lot on the outline for The Authority myself. What best serves DC? What best serves the fans? Is it me really focusing on Superman and making sure we have a great opening? Or is it me kind of giving a little bit to [lots of other projects]. It's not an easy answer, and I'm figuring it out as I go along. I don't have all the answers. I'm just trying to learn as best as I can how we can keep the quality up, because that's what matters."