Features
Shazam! Fury of the Gods: What Those End Credits Scenes Mean for the DCU
Two Shazam! Fury of the Gods post-credits scenes point the way to two different futures for a possible Shazam 3 and the character's place in James Gunn's new DCU.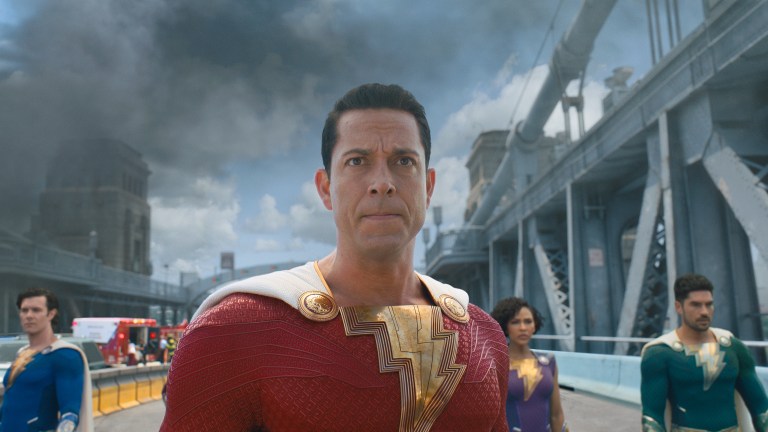 This article contains spoilers for the Shazam! Fury of the Gods ending.
At the end of Shazam! Fury of the Gods, the title superhero (Zachary Levi) seemingly makes the ultimate sacrifice in one final battle against the evil goddess Kalypso (Lucy Liu). With the help of her sister Hespera (Helen Mirren), Shazam turns his full power and that of the Wizard's staff against Kalypso, destroying both her and the many monsters she has summoned to lay waste to Earth.
But the battle also leaves Billy Batson, Shazam's alter ego, dead, and the staff itself bereft of all power. That is, until Wonder Woman (Gal Gadot) makes a brief house call to recharge the staff and bring Billy and Shazam back to life.
The film ends with the Shazam family and their foster parents rebuilding their house (wrecked earlier in the movie), while the Wizard (Djimon Hounsou) stops by and officially bestows Billy with the name Shazam – an honor that had eluded him until now.
It's a happy ending, as Shazam/Billy has put aside his own self-doubts and struggle with impostor syndrome to come into his own as a selfless champion for good – which naturally leads to the first bonus scene that runs halfway through the credits.
The Justice Society, Peacemaker, and Black Adam
As the scene opens, Emilia Harcourt (Jennifer Holland) and John Economos (Steve Agee), last seen in James Gunn's Peacemaker series (although Harcourt appeared briefly in Black Adam too), are walking along a wooded trail and discussing the person they're about to meet, who Amanda Waller apparently thinks has "potential" but is also somewhat "immature."
That analysis is borne out when they rendezvous with Shazam, who is busily blasting bottles with his electrical bolts as they arrive. Wasting no time, Harcourt asks the big red-suited lug if he'd be interested in "joining the Justice—"
"Yes!" Shazam shouts before she can finish, clearly thinking he's been invited into the Justice League. "—Society," continues Harcourt.
A disappointed Shazam admits that he doesn't know what the Justice Society is and wants to be "on the team that Wonder Woman's on." He also makes fun of the name and pleads to get switched to the main team, as a disgusted Harcourt walks away and leaves Economos to deal with it.
Since James Gunn almost certainly had to sign off on that scene, it makes us wonder whether he does in fact see a way forward for both Shazam and the Justice Society (first introduced in Black Adam) in his rebooted DC Studios universe – perhaps not in more solo adventures, but as utility members of a future ensemble.
Mr. Mind and Sivana Return…to Tease Shazam 3?
The second scene, however (which comes at the end of the credits) is a clear setup for a Shazam 3. We find ourselves in the prison cell of the first movie's antagonist, Dr. Sivana (Mark Strong), which is where we left him at the close of that film. He's been there a while and has a long beard. And just like at the end of the first movie, Sivana is paid a visit by the super-intelligent alien centipede Mr. Mind.
Sivana demands to know where he's been, to which Mr. Mind replies that since he's small and can't fly, it takes him a while to get around. But he's finally put together his (no doubt diabolical) plan – except that just as Sivana demands, "Tell me everything," Mr. Mind remembers one last thing he has to do, and slithers off – to Sivana's frustration and rage.
Director David F. Sandberg tells Den of Geek's Mike Cecchini on the DC Standom podcast that both Sivana and Mr. Mind – two of Shazam's classic enemies — were originally involved in the main storyline of Fury of the Gods during the script's early development.
"Actually, Mr. Mind and Sivana were a part of this plot," he revealed. "Originally, it was Mr. Mind who enabled the goddesses to come to Earth. But it was just too much story to tell, you know, because even without that part, it's still an over two-hour-long movie. So it just didn't fit, unfortunately."
Many fans assumed that Shazam 2 would follow up with Dr. Sivana and Mr. Mind and possibly chronicle the formation of the Monster Society of Evil, but the filmmakers decided to go with the (original to the movie) villains the Daughters of Atlas instead. Sandberg says he'd "love to see" Mr. Mind and Sivana team up, and is especially fond of the tiny extra-terrestrial baddie and his immense telepathic powers.
"He's one of the more unique comic book villains because on the one hand, he's kind of silly, because he's a little worm, you know, with a voice box," Sandberg says. "But he's also very, very dangerous, because he's highly intelligent, and he has certain powers and skills. And he has different forms in the comic books as well — like, you can do the Hyperfly, which is way more dangerous. So I think he's unique enough that you could do something really cool with it."
Whether that chance will arrive or has been blown is now up to audiences and the new DC Studios brain trust – but the plot of Shazam 3 is waiting right there if it ever does happen.
Shazam! Fury of the Gods is out now in theaters.