Features
Oscars 2023: Predictions and Analysis
The nominations for the 95th Academy Awards are here, and with it we already have some suspicions about who will win the night's biggest Oscars… and who we think should.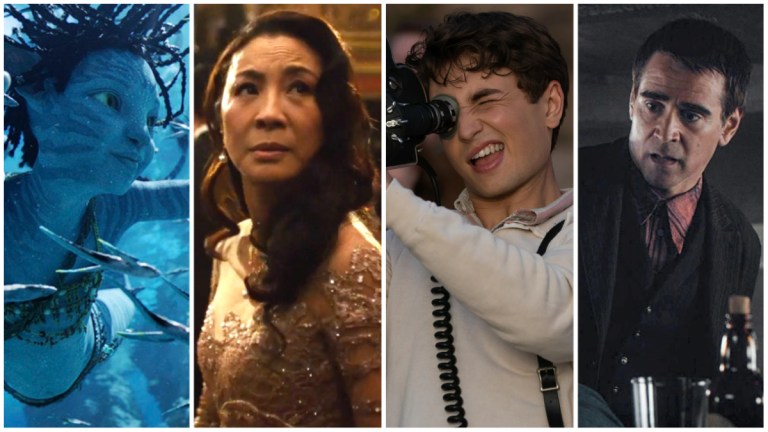 And just like that, the Oscar race has well and truly begun. Yes, technically the case can be made that the season begins as far back as September when the earliest of the fall festivals—Venice, Toronto, Telluride—premiere their wares. Heck, one of this year's Best Picture frontrunners (the Daniels' kinetic Everything Everywhere All at Once) premiered last March!
With that said, we never really know who's in the race until the groggy Tuesday morning where the Academy of Motion Picture Arts and Sciences reveal who they think is worthy of competing for their prizes. We've already analyzed the biggest snubs of the year here, but suffice to say it was a bad morning for women directors, Black leading actresses, and Tom Cruise (among others). Still, it remains a remarkably different Oscar season beyond the usual (and seemingly repeated) controversies and oversights.
For starters, there is the aforementioned Everything Everywhere All at Once, a powerhouse indie film that actually became a bonafide blockbuster, grossing more than $100 million globally largely due to ecstatic word of mouth. Such a trippy sci-fi genre offering would typically be relegated to technical categories, and maybe a nod for Best Original Screenplay (which the Daniels definitely got). However, the original genre offering starring a diverse cast is the unmistakable frontrunner for Best Picture and a host of other awards this year, with the movie leading the Oscar nominee pack with a dazzling 11 nominations.
In a period where the industry is worried about relevancy and longevity with younger audiences, Everything Everywhere shows a sparkling future that could be very appealing to voters. Be that as it may, the film's frontrunner status had become visibly clear over the past month. What is a complete surprise though is how much Academy voters fell for All Quiet on the Western Front, Edward Berger's German-language World War I epic on Netflix. Considered to be the frontrunner for the Best International Film category, it was still perceived as something of a long shot for a Best Picture nomination. Lo and behold though, the film cleaned up in the technical categories, earning a total of nine Oscar nominations.
This ties it with The Banshees of Inisherin, which many might have good reason to speculate is the other Best Picture frontrunner since this more traditional tragicomic drama doesn't feature either multiverse theory or hot dog fingers. It also is a clear winner with the actor wing of the Academy, which helped nominate the movie for four thespian awards: Colin Farrell for Best Actor, Kerry Condon for Best Supporting Actress, and both Brendan Gleeson and Barry Keoghan for Best Supporting Actor.
There were other unsurprising nominations, including Steven Spielberg's The Fabelmans collecting seven nods and Todd Field's Tár picking up six. Nonetheless, I feel it worth noting that for the last 20 years or so, viewers have dismissed the Academy as favoring arthouse and prestige fare that plays to tiny audiences at festivals and on the coasts. However, nearly half the Best Picture race is composed of genuine crowdpleasers—Everything Everywhere, Top Gun: Maverick, Elvis, and Avatar: The Way of Water—and more than a few of them are frontrunners in acting, directing, and writing categories. Could the times be a-changin'?
As for the moment of here and now, we are offering below our best guesses for what we think will win the top prizes of the night… and what we think should. We like to do this when the nominations are announced just to see how much the dynamics of the race are already set more than a month out—or to discover how much egg we can get in our face in March. So without further ado, here are our predictions for the Oscars 2023. Who we think will win will be bolded. Who we think should win will be italicized. And sometimes it will be one and the same.
Best Picture
All Quiet on the Western Front
Avatar: The Way of Water
The Banshees of Inisherin
Elvis
Everything Everywhere All at Once
The Fabelmans
Tár
Top Gun: Maverick
Triangle of Sadness
Women Talking
Despite not picking up a Golden Globe for Best Picture, Everything Everywhere All at Once is the film to beat—and we suspect no one will. This is not unwelcome news. We've been championing this little sci-fi epic for nearly a year. And it is probably the one film on this list (besides maybe Top Gun) that stands the best chance of staying in the pop culture zeitgeist 10 or 20 years from now, simply by virtue of being the most original and satisfying movie to ever tackle the "multiverse" concept. It is both grand, struggling with no less than the existential meaning(lessness) of the universe, and intimate, as seen how this all relates to the relationship between an immigrant mother and her daughter.
It is also the Cinderella story of the year, which will appeal to Academy voters who historically back box office winners for the top prize. The movie brought in moviegoers of all ages for months last spring while the traditional "Oscar movies" (your Fabelmans, Banshees, and Tár) failed to find a major theatrical audience. It connects with younger audiences, including an influx of younger Academy voters.
Granted, the nominations suggest there is a lot of support for The Banshees of Inisherin too, however that movie is an unmistakable downer that comes to a much bleaker and aloof conclusion on the meaning of life. In almost every decade, Academy tastes always steer toward life-affirming messages (see CODA over The Power of the Dog last year). 2023 will be no different.
All that said, my personal favorite is Tár. It may not have penetrated the culture like Everything or offered a completely new spin, however Field's phenomenal film is a masterpiece in ambiguity, aesthetic, and performance with Cate Blanchett giving another knockout turn as the kind of complex protagonist we rarely get anymore. She defies narrative conventions (including among "Oscar movies"), as well as the more current ones applied on art by social media trends. It's the one I'll likely revisit the most.
Best Director
The Banshees of Inisherin, Martin McDonagh
Everything Everywhere All at Once, Daniel Kwan and Daniel Scheinert
The Fabelmans, Steven Spielberg
Tár, Todd Field
Triangle of Sadness, Ruben Östlund
A month ago, Steven Spielberg looked like the favorite, but as the Best Picture race slowly morphs into Everything versus Banshees, his frontrunner status in this category has diminished. The smart money should be on one of those aforementioned films. But while we think those dynamics inform Best Picture and Best Original Screenplay, Spielberg still made the most traditionally satisfying film of the Best Picture frontrunners, and this is where the Academy will reward him.
For that, plus so much else. While the blockbuster maestro denies calling The Fabelmans his valedictorian speech, it nonetheless plays like it. One of the most beloved filmmakers in American history looks back on his influences and origins in a film that ticks every box, save for being a box office success. In this category, we don't think it'll matter so much, especially after Spielberg has proven himself to be on a new streak of creativity after this movie and last year's West Side Story. If The Fabelmans is a movie in which Spielberg takes stock of his legacy, it is also an easy one for the Academy to do the same.
Best Actor
Austin Butler in Elvis
Colin Farrell in The Banshees of Inisherin
Brendan Fraser in The Whale
Paul Mescal in Aftersun
Bill Nighy in Living
This race is increasingly looking like a fight to the finish between Austin Butler and Brendan Fraser. And gun to our head, we would admit it's too close to call. We ultimately give a slight edge to Butler here because he convincingly transformed himself into one of the most beloved rock stars in history, and the Academy gave Rami Malek an Oscar for less, courtesy of the abysmal Bohemian Rhapsody. Still, the comeback narrative around Fraser is strong.
One other reason we give Butler the advantage, too, is because our personal pick for this category, Colin Farrell, may cancel Fraser out. Both Farrell and Fraser have been in the industry for decades, doing great work that some might want to finally recognize with al little gold man. And personally, Farrell's simultaneously hilarious and heartbreaking turn in Banshees is the more impressive of the two. It's also remarkable given what a stellar year (or five) Farrell's been having.
Best Actress
Cate Blanchett in Tár
Ana de Armas in Blonde
Andrea Riseborough in To Leslie
Michelle Williams in The Fabelmans
Michelle Yeoh in Everything Everywhere All at Once
In a complete reversal on our logic in the Best Picture category, Cate Blanchett's performance in Tár will be where the movie is recognized. And she is absolutely astonishing in the role. It truly is one of the most complex and satisfying character creations in recent memory.
However, Blanchett has two Oscars to date and has been offered fascinating roles like Lydia Tár for the more than 20 years that've passed since Elizabeth (1998). Conversely, Michelle Yeoh also just did career-defining work in Everything Everywhere with a performance that requires her to tap into drama, comedy, and a stunning physicality via martial arts. It's the best role she's had in an American movie since Crouching Tiger Hidden Dragon (2000), which says something about the industry in these past two-plus decades. After such a major achievement, she should have her moment on the Oscar stage, particularly since Blanchett has already announced a growing indifference to awards during her win for Tár at the Critics Choice Awards.
… It would also be nice to have the award go to a non-white woman for the first time since 2002.
Best Supporting Actor
Brendan Gleeson in "The Banshees of Inisherin"
Brian Tyree Henry in "Causeway"
Judd Hirsch in "The Fabelmans"
Barry Keoghan in "The Banshees of Inisherin"
Ke Huy Quan in "Everything Everywhere All at Once"
Ke Huy Quan, the bright child talent in Indiana Jones and the Temple of Doom (1984) and The Goonies (1985), had given up on an industry that mostly abandoned him in adulthood. Then came the marvelous role of Waymond Wang in Everything Everywhere All at Once, a heartbreaking showcase that is sweet, funny, and kick-ass, depending on which universe we're in.
It's a beautiful acting turn with a beautiful story behind it.
Best Supporting Actress
Angela Bassett in Black Panther: Wakanda Forever
Hong Chau in The Whale
Kerry Condon in The Banshees of Inisherin
Jamie Lee Curtis in Everything Everywhere All at Once
Stephanie Hsu in Everything Everywhere All at Once
Angela Bassett had a showstopper of a speech about her grief as a mother and a queen in Black Panther: Wakanda Forever. It's one of the best moments of acting in the entire Marvel Cinematic Universe, and indeed will likely become the first performance in one of these flicks to win an Oscar. Still, I prefer the entirely unexpected brittle ferocity (and wounded wit) of Kerry Condon in The Banshees of Inisherin.
Best Original Screenplay
The Banshees of Inisherin
Everything Everywhere All at Once
The Fabelmans
Tár Written by Todd Field
Triangle of Sadness
The original screenplay category is where the Academy can recognize The Banshees of Inisherin and Martin McDonagh's astute study of human behavior. It's easy to imagine the vote splitting between this award and Best Picture by individual Academy members. Nevertheless, only one of these movies made hot dog fingers seem plausible, so…
Best Adapted Screenplay
All Quiet on the Western Front
Glass Onion: A Knives Out Mystery
Living
Top Gun: Maverick
Women Talking
The Academy is rightly going to come under fire for failing to nominate any women in the Best Director category this year, despite nominating Women Talking for Best Picture. It's the kind of embarrassment that should make them extra aware of how poignant Sarah Polley's script is for the same film. Although it's still possible for them to use this as the one above-the-line category to reward All Quiet on the Western Front. And personally, the one of these five scripts I most enjoyed was Rian Johnson's Glass Onion.
Best Film Editing
The Banshees of Inisherin
Elvis
Everything Everywhere All at Once
Tár
Top Gun: Maverick
Did you see how many Evelyn Wangs that Everything Everywhere had to splice together in fractions of seconds while keeping the viewer completely engaged and sure of what's going on? Yeah, so did the Academy.
Best Animated Film
Guillermo del Toro's Pinocchio
Marcel the Shell with Shoes On
Puss in Boots: The Last Wish
The Sea Beast
Turning Red
Stop-motion animation is a delicate art that is in desperate need of nurturing and protection. Guillermo del Toro did both with his gorgeously wrought animated film for all ages. He truly appeals to the adult mind as much as the child's in this melancholic reimagining of a little wooden boy's adventures.
Best International Feature Film
All Quiet on the Western Front
Argentina, 1985
Close
EO
The Quiet Girl
The Academy is going to clearly give this award to All Quiet on the Western Front. Which I suppose they have to… after failing to nominate the arguably superior Decision to Leave from master Park Chan-wook for no discernable reason. Also the category is inherently flawed this year since RRR, another very worthy choice to win Best International Film, was made ineligible before ballots were even submitted.
Best Cinematography
All Quiet on the Western Front
Bardo, False Chronicle of a Handful of Truths
Elvis
Empire of Light
Tár
What a strangely miffed category. Top Gun: Maverick should win this award, and it's not even nominated. Meanwhile Greg Fraser's moody and evocative lighting in The Batman also goes ignored. And not even Janusz Kamiński for The Fabelmans or Linus Sandgren for Babylon?!
The category's a mess, and it feels completely obligatory to pick one. I suppose the Academy's sudden love for All Quiet on the Western Front will give it the award, though based on this line-up, we might be inclined to give it to Roger Deakins who made what was a somewhat dry affair exquisitely beautiful to look at in Empire of Light.
Best Original Score
All Quiet on the Western Front
Babylon
The Banshees of Inisherin
Everything Everywhere All at Once
The Fabelmans
It's a bit of a risk to predict Justin Hurwitz's haunting and epic score for Babylon will win Best Original Score when the polarizing movie was so roundly ignored in other categories like Best Picture, Best Actress, and even (ahem) Best Cinematography. However, there really is not a single score this year that compares to Hurwitz's jazzy, hypnotic, and ultimately unforgettable ode to the agonies and ecstasies of moviemaking. I suppose though the smart money is on Banshees.
Best Original Song
"Applause" from Tell It like a Woman
"Hold My Hand" from Top Gun: Maverick
"Lift Me Up" from Black Panther: Wakanda Forever
"Naatu Naatu" from RRR
"This Is A Life" from Everything Everywhere All at Once
It will absolutely  be thrilling when "Naatu, Naatu" wins for Best Original Song for RRR, a movie which itself should've received far more nominations. It'll be even better, however, seeing it performed live on the Dolby Theatre Stage. Even so, if I'm being honest, I much preferred as a song Lady Gaga crying "hold my hand!" to the heavens.
Best Production Design
All Quiet on the Western Front
Avatar: The Way of Water
Babylon
Elvis
The Fabelmans
All Quiet on the Western Front is the one to beat in the technical categories, but the opulence and decadence on display in Babylon is going to go unfairly overlooked in this one.
Best Costume Design
Babylon
Black Panther: Wakanda Forever
Everything Everywhere All at Once
Mrs. Harris Goes to Paris
After winning the Oscar for Black Panther, Ruth Carter appears poised to repeat via Wakanda Forever. In the sequel, she continues to imagine and elevate Afrofuturism in a blockbuster setting, but she now she also brings in a fascinating consideration of what Mayan culture and aesthetics might've looked like if it had flourished for another 500 years… under the sea.
Best Visual Effects
All Quiet on the Western Front
Avatar: The Way of Water
The Batman
Black Panther: Wakanda Forever
Top Gun: Maverick
I didn't love Avatar: The Way of Water—at all—but it really made you think you were watching a space whale glow bioluminescence under translucent waves. That's worth some type of an award.