Features
The Biggest Snubs at the Oscars 2023
The Oscar nominations are in, and with them a new spate of snubbed and ignored achievements, including Tom Cruise, James Cameron, Margot Robbie, Viola Davis, and more!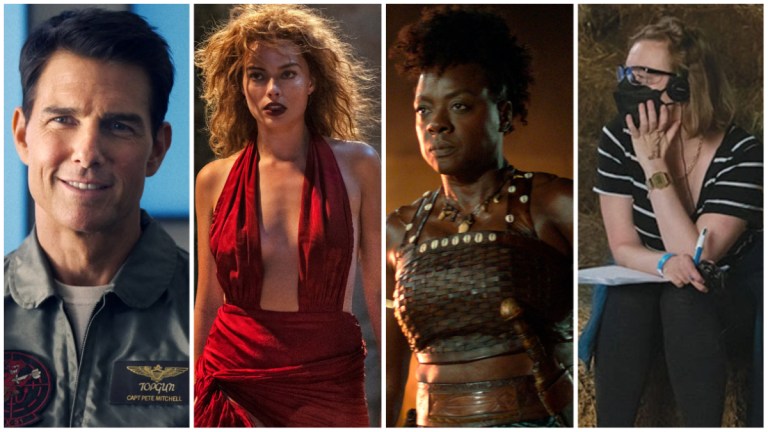 It was a morning full of surprises in Hollywood. Few in the Oscar prognostication pool predicted that Netflix and Edward Berger's All Quiet on the Western Front would score an astounding nine nominations, dominating not just in the Best International Film category, but also appearing to be a real contender in Best Picture following a string of technical awards. Similarly, after earning a notoriously mixed reception—culminating yesterday in a Razzie nomination for Worst Picture—Andrew Dominik's Blonde is still an Oscar-nominated film, with Ana de Armas pulling out a surprise nomination for Best Actress.
So for many folks, especially those at Netflix, waking up Tuesday morning is a glorious thing. However, every Oscar season also brings the infamous Oscar snubs, and this year saw some of the biggest movies of the year slighted or at least partially ignored.
Perhaps the most billboard-sized is that after half a year of being championed by studios and producers, Tom Cruise was not nominated for Best Actor for his work in Top Gun: Maverick. While Cruise has been praised regularly for chaperoning that legacy sequel into a genuine pop culture event (including by holding its release for two years until moviegoing was healthy enough to lay the condition for a massive box office run), it seems his toothy and old-fashioned movie star turn did not win over voters in the Academy of Motion Picture Arts and Sciences.
With that said, the snubbing seemed strongly possible after Cruise was similarly ignored in the Best Actor category at the Screen Actor Guild Awards. Still, even then they passed over Cruise in favor of Adam Sandler in Hustle (bizarre after Sandler was himself snubbed by SAG three years ago for his magnificent turn in Uncut Gems). In the Oscars' case, however, Cruise was passed over in favor of Paul Mescal's work in Aftersun. Still, the bigger shock might've been Top Gun: Maverick also being snubbed in the Best Cinematography category, an award many pegged the summer blockbuster as likely to win due to its innovative success of putting 70mm IMAX cameras inside actual Navy jet cockpits. And yet, Maverick and The Fabelmans were snubbed in that category in favor of All Quiet in the Western Front and Bardo. While Maverick got a Best Picture nomination, we think the narrative of it being able to dark horse its way to the top prize of the night is out of gas.
Speaking of The Fabelmans though, Steven Spielberg's semi-autobiography about his youth and parents did mostly as expected—with nominations for Best Picture, Best Director, Best Original Screenplay, and a Best Actress nod for Michelle Williams—however in a bit of a surprise Judd Hirsch got into the Best Supporting Actor category due to his brief role in the film… and Paul Dano did not. For many, Dano appeared locked in the category after Ke Huy Quan and Brendan Gleeson. Yet it seems Hirsch—who hasn't been nominated for an Oscar since 1981's Ordinary People—may have canceled Dano out, especially since Brian Tyree Henry pulled a surprise nomination in the category due to his work in Causeway.
The Best Actress category saw similar unexpected turns, with de Armas becoming an Oscar nominated performer due to her interpretation of Marilyn Monroe. The surprise may have had fallout for other contenders too. While Margot Robbie increasingly looked like a long shot despite giving a ferocious turn in Damien Chazelle's Babylon, it was not until the SAG nominations that most began predicting she'd be passed over for de Armas in an even more divisive depiction of old Hollywood.
More shocking still is that Andrea Riseborough was nominated for To Leslie, apparently based almost exclusively on a grassroots campaign of friends and colleagues championing the performance. But while Riseborough's success is feel-good, it's somewhat shocking that two incredibly impressive performances by Black women (with one seeming to be a lock) went entirely overlooked. The first and more showy was Viola Davis' impressive transformation into an African warrior in The Woman King, however it's frankly stunning that Danielle Deadwyler's heart-wrenching turn as Mamie Till-Mobley went entirely ignored in Chinonye Chukwu's Till. In this critic's mind, it's a performance every bit as worthy for the prize as the categories' frontrunners.
Meanwhile the Best Director category would seem to court other familiar criticisms, with not one woman nominated in the category. This is additionally striking since the Academy awarded two women for the coveted prize in the last two years: Chloé Zhao for Nomadland and Jane Campion for The Power of the Dog. But it's not as if 2022 did not offer several wonderful showcases from female filmmakers, including Gina Prince-Bythewood for the aforementioned The Woman King, or frankly Maria Schrader's disappointingly overlooked She Said. Most striking, however, is the Academy nominated Sarah Polley's Women Talking for Best Picture and Best Adapted Screenplay… but not for directing.
James Cameron was also notably snubbed for directing Avatar: The Way of Water, even as that special effects bonanza crossed $2 billion this past weekend. It might suggest a drop in admiration by the Academy since Cameron was considered one of the two frontrunners in this category in 2010 for the first Avatar.
Still, Avatar: The Way of Water was nominated for Best Picture, a category which mostly played out the way we expected. Nonetheless, there remained some passionate advocates for Chazelle's Babylon who had to be disappointed it didn't get a Best Picture nod despite support from below-the-line Academy members (who saw it nominated in a slew of technical categories, including Best Production Design, Costumes, and Original Score). However, the movie was a box office flop and a divisive one at that. Notably, Brad Pitt was also snubbed in the Best Supporting Actor category, joining Robbie and the movie itself as receiving the cold shoulder above the line.
Also while fans of international cinema must be pleased to see All Quiet on the Western Front and Triangle of Sadness in the Best Picture race, the Cinderella story around S.S. Rajamouli's RRR sadly never came true. The Tollywood epic was at least nominated for Best Original Song, and for the barn burning "Naatu, Naatu," no less. Alas, after India failed to submit it for consideration in the Best International Film category, the movie is doomed to be slighted with only that single nomination. Then again Park Chan-wook's stunning Decision to Leave was also inexplicably snubbed in the Best International Film category, so who knows what the Academy is thinking these days.
The full list of nominees is below.
Best Picture
"All Quiet on the Western Front"
"Avatar: The Way of Water"
"The Banshees of Inisherin"
"Elvis"
"Everything Everywhere All at Once"
"The Fabelmans'
"Tár"
"Top Gun: Maverick"
"Triangle of Sadness"
"Women Talking"
Best Directing
"The Banshees of Inisherin" Martin McDonagh
"Everything Everywhere All at Once" Daniel Kwan and Daniel Scheinert
"The Fabelmans" Steven Spielberg
"Tár" Todd Field
"Triangle of Sadness" Ruben Östlund
Best Actor in a Leading Role
Austin Butler in "Elvis"
Colin Farrell in "The Banshees of Inisherin"
Brendan Fraser in "The Whale"
Paul Mescal in "Aftersun"
Bill Nighy in "Living"
Best Actress in a Leading Role
Cate Blanchett in "Tár"
Ana de Armas in "Blonde"
Andrea Riseborough in "To Leslie"
Michelle Williams in "The Fabelmans"
Michelle Yeoh in "Everything Everywhere All at Once"
Best Actor in a Supporting Role
Brendan Gleeson in "The Banshees of Inisherin"
Brian Tyree Henry in "Causeway"
Judd Hirsch in "The Fabelmans"
Barry Keoghan in "The Banshees of Inisherin"
Ke Huy Quan in "Everything Everywhere All at Once"
Best Actress in a Supporting Role
Angela Bassett in "Black Panther: Wakanda Forever"
Hong Chau in "The Whale"
Kerry Condon in "The Banshees of Inisherin"
Jamie Lee Curtis in "Everything Everywhere All at Once"
Stephanie Hsu in "Everything Everywhere All at Once"
Best Costume Design
"Babylon"
"Black Panther: Wakanda Forever"
"Everything Everywhere All at Once"
"Mrs. Harris Goes to Paris"
Best Sound
"All Quiet on the Western Front"
"Avatar: The Way of Water"
"The Batman"
"Elvis"
"Top Gun: Maverick"
Best Original Score
"All Quiet on the Western Front" Volker Bertelmann
"Babylon" Justin Hurwitz
"The Banshees of Inisherin" Carter Burwell
"Everything Everywhere All at Once" Son Lux
"The Fabelmans" John Williams
Best Adapted Screenplay
"All Quiet on the Western Front" Screenplay by Edward Berger, Lesley Paterson & Ian Stokell
"Glass Onion: A Knives Out Mystery" Written by Rian Johnson
"Living" Written by Kazuo Ishiguro
"Top Gun: Maverick" Screenplay by Ehren Kruger and Eric Warren Singer and Christopher McQuarrie; Story by Peter Craig and Justin Marks
"Women Talking" Screenplay by Sarah Polley
Best Original Screenplay
"The Banshees of Inisherin" Written by Martin McDonagh
"Everything Everywhere All at Once" Written by Daniel Kwan & Daniel Scheinert
"The Fabelmans" Written by Steven Spielberg & Tony Kushner
"Tár" Written by Todd Field
"Triangle of Sadness" Written by Ruben Östlund
Best Live-Action Short Film
"An Irish Goodbye" Tom Berkeley and Ross White
"Ivalu" Anders Walter and Rebecca Pruzan
"Le Pupille" Alice Rohrwacher and Alfonso Cuarón
"Night Ride" Eirik Tveiten and Gaute Lid Larssen
"The Red Suitcase" Cyrus Neshvad
Best Animated Short Film
"The Boy, the Mole, the Fox and the Horse" Charlie Mackesy and Matthew Freud
"The Flying Sailor" Amanda Forbis and Wendy Tilby
"Ice Merchants" João Gonzalez and Bruno Caetano
"My Year of Dicks" Sara Gunnarsdóttir and Pamela Ribon
"An Ostrich Told Me the World Is Fake and I Think I Believe It" Lachlan Pendragon
Best Animated Film
"Guillermo del Toro's Pinocchio"
"Marcel the Shell with Shoes On"
"Puss in Boots: The Last Wish"
"The Sea Beast"
"Turning Red"
Best Original Song
"Applause" from "Tell It like a Woman"
"Hold My Hand" from "Top Gun: Maverick"
"Lift Me Up" from "Black Panther: Wakanda Forever"
"Naatu Naatu" from "RRR"
"This Is A Life" from "Everything Everywhere All at Once";
Best International Feature Film
"All Quiet on the Western Front" Germany
"Argentina, 1985" Argentina
"Close" Belgium
"EO" Poland
"The Quiet Girl" Ireland
Best Makeup and Hairstyling
"All Quiet on the Western Front"
"The Batman"
"Black Panther: Wakanda Forever"
"Elvis"
"The Whale
Best Production Design
"All Quiet on the Western Front"
"Avatar: The Way of Water"
"Babylon"
"Elvis
"The Fabelmans"
Best Cinematography
"All Quiet on the Western Front"
"Bardo, False Chronicle of a Handful of Truths"
"Elvis"
"Empire of Light"
"Tár"
Best Visual Effects
"All Quiet on the Western Front"
"Avatar: The Way of Water"
"The Batman"
"Black Panther: Wakanda Forever"
"Top Gun: Maverick"
Best Documentary Feature
"All That Breathes"
"All the Beauty and the Bloodshed"
"Fire of Love"
"A House Made of Splinters"
"Navalny"
Best Documentary Short Subject
"The Elephant Whisperers" Kartiki Gonsalves and Guneet Monga
"Haulout" Evgenia Arbugaeva and Maxim Arbugaev
"How Do You Measure a Year?" Jay Rosenblatt
"The Martha Mitchell Effect" Anne Alvergue and Beth Levison
"Stranger at the Gate" Joshua Seftel and Conall Jones
Best Film Editing
"The Banshees of Inisherin"
"Elvis"
"Everything Everywhere All at Once"
"Tár"
"Top Gun: Maverick