Features
New Netflix Christmas Movies in 2021 Ranked from Best to Worst
The Christmas season of 2021 is here, and with it Netflix brings a bag full of goodies. But which are real Yuletide treats and which are lumps of coal?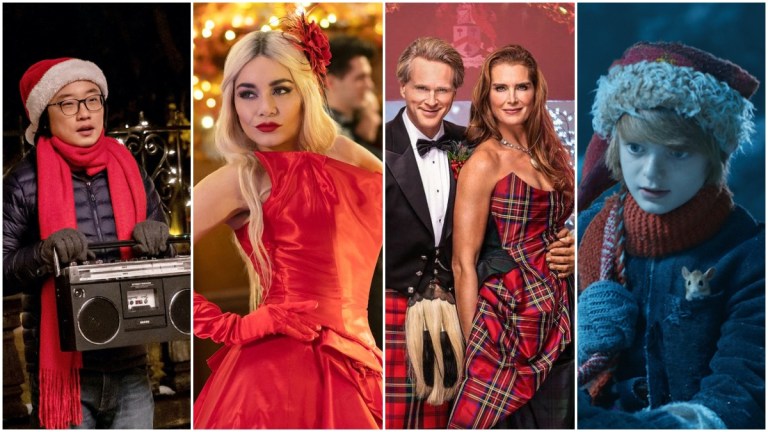 Tis the season for kicking back, relaxing, and watching something silly or sweet, and filled with holiday spirit. For that reason, Netflix has invested heavily in holiday entertainment, bringing even more movies, shows, and specials than ever before to your home this year.
So we've taken on the holiday cheer required for breaking down their new original Christmas movies, from the fun and cheesy romances to the familial fairy tales, and everything in between. Fan favorite franchise The Princess Switch returns as well as a buzzy new romance starring Brooke Shields and Cary Elwes. Thankfully there's only one real stinker in the lot, but if you like to keep your on-screen confections sweet, there are a couple that might be dark enough to be worth skipping. Read on for our take, from best to worst, of the holiday movies Netflix has released so far this year.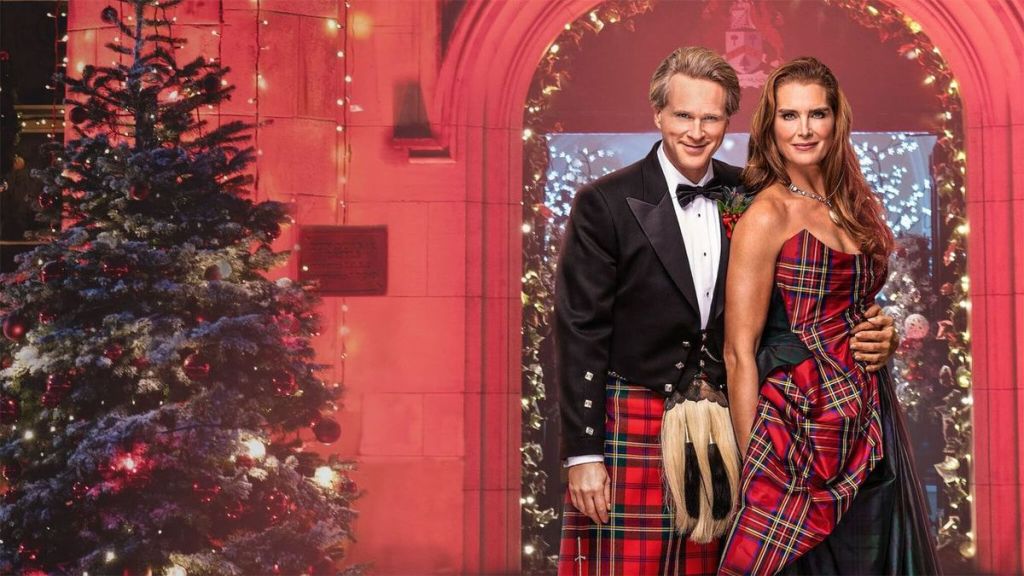 A Castle for Christmas
Available now
Brooke Shields and Cary Elwes look damn good leading a holiday romance that truly raises the bar on the genre. Shields is a successful romance novelist at a crossroads after killing off the leading man in her latest book. Divorced and soul-searching, she heads to Scotland for a break and to check out a castle with a connection to her deceased father. There she meets the castle's grumpy owner when he's in financial distress. A delightful entry in the enemies-to-lovers canon, A Castle for Christmas has a great ensemble, including local townsfolk to round out the cast and make viewers fall in love with Scotland, even if Elwes' accent leaves something to be desired.
On-screen pairings with a couple over 40, and one where both halves are similar in age, are unfortunately still a rarity. A Castle for Christmas does both while still bringing all the heart-fluttering magic of a meet-cute, misunderstandings, the grumpy-sunshine dynamic, and a snow-covered Scotland at Christmas.
The Princess Switch 3: Romancing the Star
Available now
Vanessa Hudgens and her royal Christmas rom-com doppelgangers are back for a third Princess Switch movie–and this one is a heist! Truly the only way to make these films better was to add a heist element. Once again, Hudgens (now an executive producer–get it, girl) and the creative team behind the Princess Switch franchise know exactly what these movies are all about: V-Hud vamping around in amazing clothing, seeing beautiful men in knitwear, and slipping in a reference to the NCCU (Netflix Christmas Cinematic Universe) for fans to find. 
Hudgens is clearly having the time of her life making these movies, and they're the perfect way to spend a night during the holiday season. You can pay attention if you want, but if you're prepping for a party or chatting with friends, you won't exactly lose the plot. The only real disappointment here is that (spoiler alert!) there is no surprise fourth Vanessa Hudgens. Here's hoping Princess Switch fans get their/our wish for a fourth film, featuring a royal baby or three.
A Boy Called Christmas
Available now
When it's at its best, A Boy Called Christmas is a magical little fairy tale full of adventure, wonder, and whimsy. The movie calls on beloved traditions like the unwanted babysitter and an older relative telling a story to young children. The dark moments of this movie are definitely dark–a mix of Dickensian down-on-their-luck circumstances transposed to Scandinavia and an attempt to bring a modern awareness of things like democracy and the need for healthcare to fairy tales built around the imagery of benevolent kings. But a talking mouse and the beloved reindeer Blitzen getting imbued with magic as a Christmas origin story unfolds makes up for it.
Things become a little bogged down in elf politics, however, and this movie is one where you'll have to pay more attention. We're going three levels deep in terms of worlds-within-worlds, people. It's also worth noting that this movie grapples with the death of parents rather intensely.
The children listening to the story are being watched by their aunt because their mother has passed away, and they are upset at being told the story of a child whose mother has also died–I can't blame them! The holidays can be hard if you're grieving, so some might find a story that incorporates that to be a comfort, while others might want to pass or steer their children away from a film which involves three dead parents, including one on-screen bloodless death.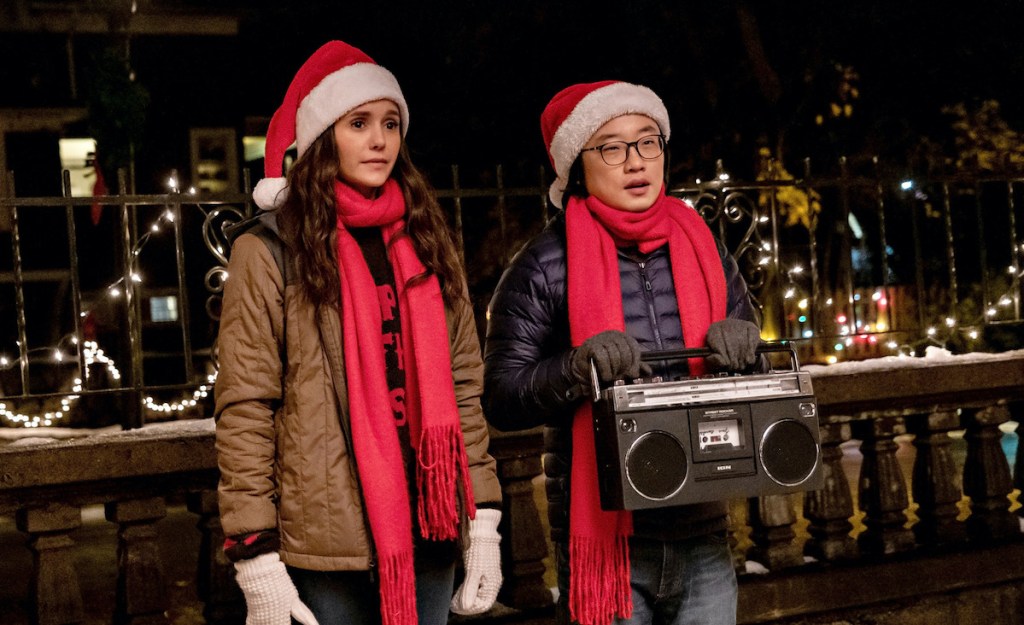 Love Hard
Available now
Nina Dobrev (The Vampire Diaries) and comedian Jimmy O. Yang star in this fun modern rom-com about a disaster dating columnist who thinks she's finally fallen for the right guy, only to turn up at his house semi-uninvited for Christmas and discover she's been catfished. This warm, silly holiday romance reveals everything good about using tropes. And it can pivot at the drop of a hat from girlfriend meets the folks to Cyrano, beginning with the family of Josh (Yang) being overjoyed he finally has a girlfriend, and changing gears when Natalie (Dobrev) sees the guy whose photos Josh used to catfish her is in his town irl.
The film walks a fine line with this premise. It would be easy to fall into a trap of stereotyping or discounting all East Asian men. Instead it offers multiple Asian hunks (including Never Have I Ever star Darren Barnet in a more age-appropriate role) and crucially acknowledges Jimmy O. Yang's good looks.
The movie makes the point that Yang's character isn't actually overlooked for being unattractive so much as he's bad at dating apps and has insecurities thanks to family dynamics. It's in the specificity of Natalie and Josh's relationship–and the members of Josh's family, including James Saito as his father, his unhinged brother played with glee by Harry Shum Jr, and his delightful grandmother (Althea Kaye)–that Love Hard separates itself from standard goofy Christmas romances.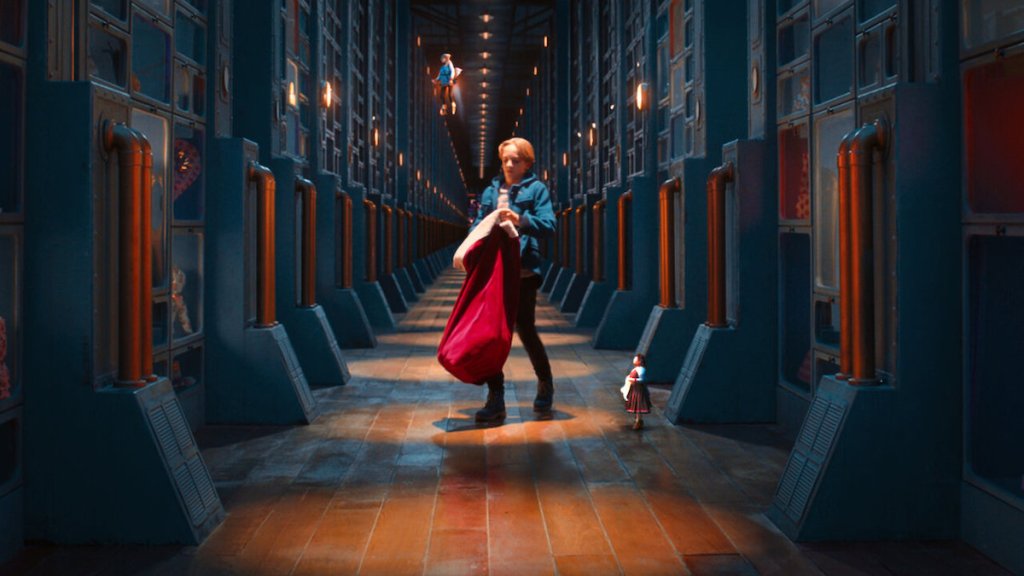 The Claus Family
Available now
A Dutch take on how Santa gets the job done, this family film is part fairytale, part dour drama, and has a hard time resolving the tonal shift between the two. Another movie that revolves principally around the death of a parent, 11-year-old Jules hates Christmas thanks to his father's death the year before. It doesn't take long for him to discover that his grandfather is Santa, and it turns out he needs help. A fun side-plot involving the aptly named "Christmas Cookie Revolution" straddles the tonal divide between silly pocket-sized elves and the otherwise main arc of Jules angrily processing grief better. Perhaps these elements could have been better integrated to make the movie feel less dark and disjointed.
The heavier subject matter and the use of Dutch language with subtitles means that casual viewing isn't really an option for speakers of other languages, although dubbing is available in several languages.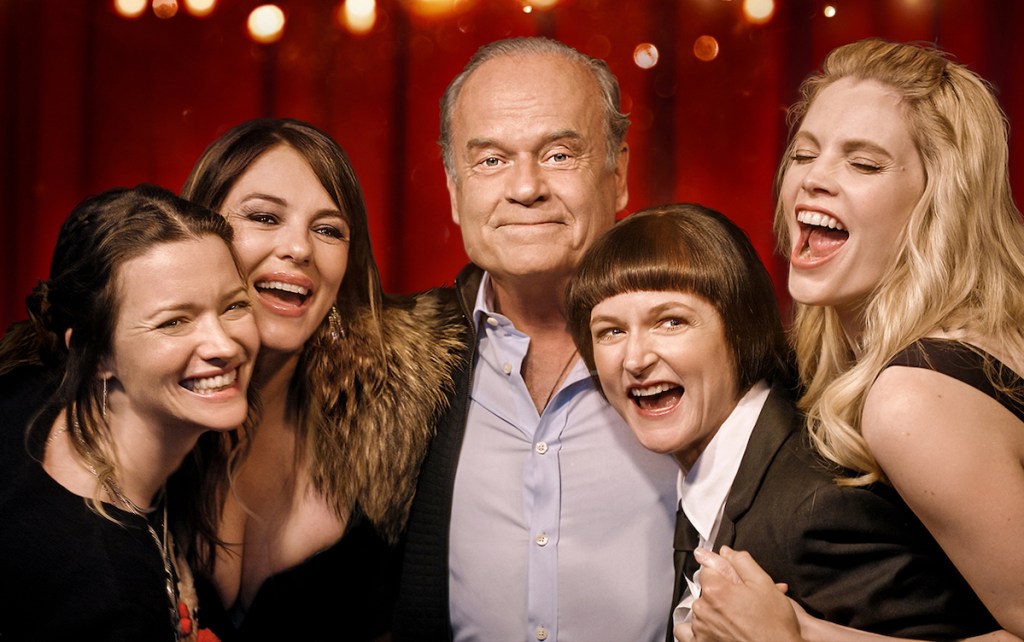 Father Christmas is Back
Available now
This ensemble comedy stars Kelsey Grammar as a titular father, whose last name is Christmas. The patriarch abandoned his family on Christmas day years earlier, and now returns on–you guessed it!–Christmas. Tropes make the holiday genre go round, but this movie wears them down to a nub in a way that can feel cruel to its own viewers, playing up the "demanding harpy who insists on Christmas perfection but fails" angle, and repeatedly making the hardworking mothers who create all of this Christmas magic (and watch so many of these movies) the butt of the joke.
The clear dud of the mix, Father Christmas is Back doesn't give its star-studded cast a whole lot to do during its bloated two-plus hour runtime. A reheated British family movie that feels like the TV version of something you've seen before, viewers will recognize the guy from Love Actually who went to America and Elizabeth Hurley playing a commoner version of her vamp-y character from The Royals. The biggest mistake this movie makes is never committing to any one mode of holiday flick–it's never fully schmaltzy or sarcastic, cute or funny. Better to find something else to leave on while making your gingerbread house.