News
Guide to the Transformers in Transformers 2
If you were too young for the toys and cartoons, or can't tell one big smash-ey robot from another, this could help...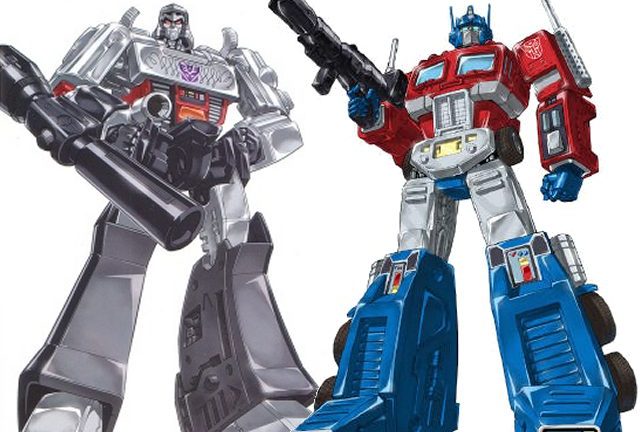 A whole host of information has spilled forth regarding the new Transformers film, Revenge Of The Fallen, and along with this is a selection of Transformers who will feature in the second, live action adaptation.
Amongst the roster are most of the first film's cast, and these will be accompanied by an extended army of robots where there's more than meets the eye.
So, to enlighten the uninitiated who may be too young to remember the '80s Transformer craze, we thought we'd take a brief look at some of the announced combatants, both heroic Autobots and evil Decepticons, and see how they've changed in the transition from comic/cartoon/toy to live action film.
AUTOBOTS
Optimus Prime
Optimus Prime is the Autobots leader and 'the greatest Transformer of them all'. He's the most courageous, powerful and compassionate of the Autobots and will sacrifice anything to preserve life.
Optimus Prime (called Convoy in Japan) has been altered several times since his Generation One incarnation. Originally he was able to transform into a 'cab over' style truck (similar to an 84 freightliner), complete with trailer and miniature buggy-shaped pal, Roller.
In subsequent revisions made over the various Transformers series, Prime has transformed into other styles of truck, such as bull-nosed rigs, and has also been able to transform into a gorilla in his Beast Wars era.
Prime, despite being killed by Megatron in the animated, Transformers: The Movie (1986), has been a steady presence throughout the Transformers universe, and will once again return in Transformers: Revenge Of The Fallen, still with his red and blue truck cab vehicle form. Peter Cullen, who has voiced Prime ever since the original Generation One cartoon series, will also return to voice his alter ego. It's also been reported that Cullen will have a live, onscreen cameo in the new film.
BumbleBee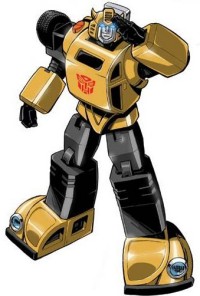 Another important Autobot who saw plenty of prime time in the comics and cartoons, Bumblebee was a close friend of Spike, the first human teenager to come into contact with the Transformers in G1 (whose surname was also Witwicky, and is surely the character Shia LaBouf's role is based on).
In his original outings, Bumblebee's vehicle form was that of an iconic yellow Volkswagen Beetle (on Cybertron, the Transformer's home planet, it was a strange UFO-style hover car), and he was usually the smallest of all the Autobots in size when in robot form, to identify him as the youngest. Eventually, Bumblebee was retooled into Goldbug, a more mature character, who was stronger, but still retained the Volkswagen Beetle vehicle form (albeit a gold one).
Bumblebee was always the character to bridge the gap between the adult Transformers and the younger characters (and by extension, the audience), a role which Michael Bay has retained in the films, as his version of the character, now able to transform into a Chevrolet Camaro (obviously, a 'bug' wasn't deemed cool enough), was the one to befriend Shia LaBeouf's role, Sam Witwicky.
Ironhide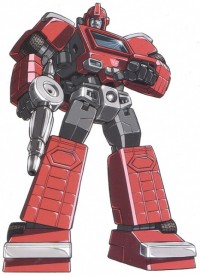 Another original, G1 Transformer, Ironhide was the tough-talking, and just as tough-doing Autobot who could transform into a red transit van (a Nissan Onebox). He was always portrayed as a hard-case soldier, and was one of the most battle-hardened of the team, with perhaps only Prime being more effective in combat. In fact, his actual role was that of Prime's bodyguard, and he often took on the role of a senior officer, leading others when Prime wasn't around.
Ironhide was a constant central character in the original series, and another Autobot to become greatly attached to their human allies. However, he was killed-off in Transformers: The Movie by Megatron aboard an Autobot shuttle bound for Earth. He has, of course, appeared in several spin offs and series in other forms, and returns in Transformers: Revenge Of The Fallen with his alternate GMC Topkick form, where he reprises his role as the Autobot weapons specialist.
Ratchet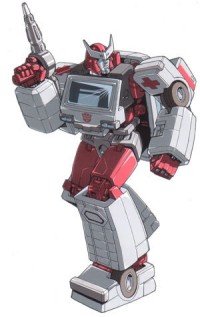 Ratchet, like Ironhide, appeared right from the beginning, and, also like Ironhide, was able to transform into a Nissan Onebox van. His vehicle form however, was white, and equipped as an ambulance. In his Autobot capacity, he acted as the team's medic, and so was rarely seen fighting.
Although his form resembled Ironhide's, he was not as strongly armoured as his tougher ally, and so when the Decepticons attacked the Autobot shuttle in Transformers: The Movie, he was killed quickly, while Ironhide survived the first volley of fire.
As well as a medic, Ratchet was also responsible, with the help of fellow Autobot, Wheeljack, for creating new Autobots, including the team of Dinobots.
An interesting Trivia morsel: Ratchet was named as such in a nod to Nurse Ratchet from One Flew Over the Cuckoo's Nest, and not simply as a work tool, to denote his mechanical repair abilities.
In Michael Bay's Transformers movies, Ratchet returns, still retaining his medic role. Here though, he transforms into a Hummer H2 ambulance.
Arcee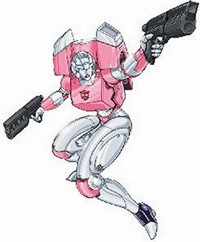 One of the most famous female Autobots, Arcee (pronounced 'R' 'C') was first seen in
Transformers: The Movie
, where she played a central role alongside other newcomers, Hot Rod, Kupp and Blaster.
Strong willed, and compassionate, Arcee cared greatly for human life, especially Daniel, Spike Witwicky's son and main human character of the film.
Arcee's vehicle form took the shape of a pink futuristic sports car.
In Transformers: Revenge Of The Fallen, Arcee is featured, but doesn't retain her sports car form. Instead, she will be able to transform into three separate motorbikes, which can function independently. These robots are apparently set to have names, one of which is reported to be Chromia, another nod to G1 Transformers. Chromia was a female Transformer who Ironhide fell in love with.
Sideswipe
One of the original G1 warrior Autobots, and one or Prime's core fighters, Sideswipe was a fast, often rash combatant. He had a twin brother, Sunstreaker, who was a little more effective in combat, due to Sideswipe's tendency to take too many risks.
His vehicle form was originally a Lamborghini Countach (red, Sunstreaker was yellow), and has also been able to change into a Lamborghini Diablo and a Dodge Viper.
In Revenge Of The Fallen, Sideswipe ditches his traditional red colour scheme in favour of a silver coating, and transforms into a Chevrolet Corvette (I'm guessing Michael Bay has some kind of sponsorship deal with Chevrolet, given the amount of vehicles they've crammed into the films).
Jetfire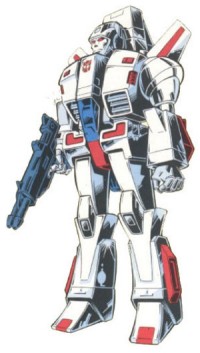 Without a doubt, one of the most sought after G1
Transformer
toys of all time, Jetfire (also known as Skyfire) was a powerful Transformer, and was originally allied with the Decepticons. He later allied with the Autobots, after realizing that the Decepticons were a force of evil.
Jetfire, although powerful, was primarily concerned with scientific discovery, and was originally a scientist. His alternate form has changed over time, as with all the other Transformers, but his original form was a VF-1 Valkyrie (he shared the same design as Macross vehicles). He eventually took on the form of real-world fighters, such as the F-14 Tomcat and SU-27.
In the upcoming Transformers: Revenge Of The Fallen, Jetfire makes a return, but this time as an older, almost geriatric Autobot. His vehicle form this time is that of an SR-71 Blackbird.
Mudflap and Skids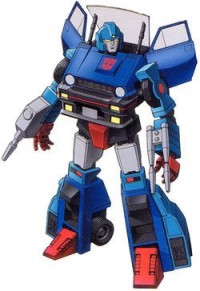 Mudflap is an odd one, having switched allegiances between Autobot and Decepticon multiple times, often varying depending on the medium his story is presented in (comics, cartoons etc). Usually his alternate form is that of a construction vehicle, but this has also changed depending on the series.
In some guises, Mudflaps has shown disdain for humans, leaving the Autobots to join the Decepticons. In The Revenge Of The Fallen, he's an Autobot with the alternate form of a Chevrolet Trax.
Skids is an Autobot whose primary role was that of a scientist, and so he disliked battle. He was also prone to daydreaming, and was forgetful. His vehicle form was a Honda City Turbo.
In Revenge Of The Fallen, Skids is also an Autobot, but this time he transforms intoa Chevrolet Beat.
Mudflap and Skids are presented as an argumentative duo in the film, with Skids believing he's the superior of the two.
Wheelie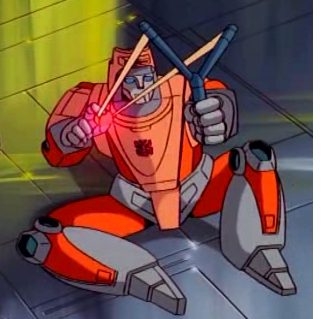 First seen in the 1986
Tranformers: The Movie
, wheelie was a youthful Autobot who Hot Rod, Kupp and the Dinobots encountered on the planet Quintessa, home of the twisted Quintessons.
He was a fast talking, spirited young boy who can transform into a small, fast futuristic car. Although he was initially seen as an enemy by Grimlock, he soon bonded with the Dinobot leader, and became an ally.
In Revenge Of The Fallen, Wheelie is apparently going to take the form of a small radio-controlled monster truck, who will ally with the Decepticons in fear of them. He will most likely join the Autobots at some point, however.
DECEPTICONS
Megatron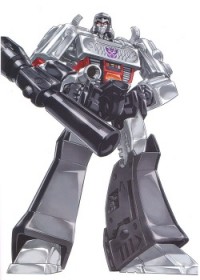 Megatron is the leader of the Decepticons, a position he's held through the
Transformers
saga, in one form or another. He's both extremely powerful, and downright evil, showing no regard for any form of life, human or otherwise. He's the only Transformer who's a match for Optimus Prime (even if he often resorts to underhanded tactics), and successfully killed Prime in
Transformers: The Movie
, but was also mortally wounded during the battle.
He was then changed by the nomadic, allegiance-free planet-sized Transformer, Unicron, into Galvatron (voiced originally by none other than Leonard Nimoy – Unicron was voiced by Orson Welles), and after killing the traitorous Starscream, became new leader of the Decepticons.
His original non-Cybertronian form was that of a Walther P38. In this form, Megatron was reduced in size to fit into another Decepticon's hand (oddly, this was usually Starscream, even though he hated his leader). When in robot form, the Wather's scope formed his characteristic, hugely powerful arm-mounted fusion cannon. As Galvatron, his alternate form was a sci-fi style tank, and the barrel forms his arm cannon in robot form.
Michael Bay's re-imaging of Megatron was a little, erm, odd, but seemed to be some form of jet. In Revenge Of The Fallen, his Decepticon allies rebuild him into a Cybertronian tank, more akin to Galvatron's vehicle form. Megatron will be voiced once again by Hugo Weaving.
The Fallen
Not seen too much in the previous
Transformers
universe, The Fallen was first introduced in the comic books, and is portrayed as one of the first thirteen Transformers, created by Primus. Instead of siding with his creator, however, he formed an alliance with Primus' dark twin, Unicron. His original form was a Cybertronian tank.
In Revenge Of The Fallen, his character will retain his evil affinity, being the one responsible for turning Megatron into the being he's become, and will transform into a Cybertronian aircraft of some form.
Starscream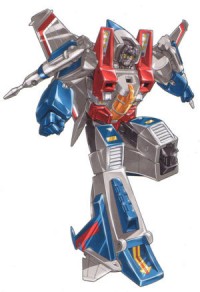 This treacherous, cruel and evil Decepticon functioned as Megatron's air commander in the original series, and was one of the most powerful and dangerous of all Decepticons.
His hatred of the Autobots was matched only by his desire to usurp Megatron and become the Decepticon leader, a feat he managed more than once, most notably in Transformers: The Movie, where he cast a dying Megatron into space, and assumed the role of Decepticon leader (only to be killed later on by the rebuilt Megatron in his Galvatron guise).
His original form (and that of most series) was an F-15 Eagle, but in Michael Bay's first film he could change into an F-22 Raptor. He's set to keep this form in the Revenge Of The Fallen, but will apparently have more onscreen time and more dialog this time, as he assumes leadership of the Deceptions in Megatron's absence.
Barricade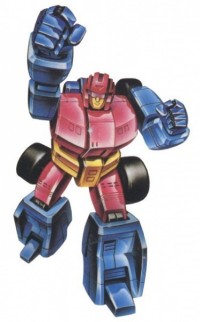 Originally one of the G1 Decepticons, as a minor warrior, Barricade could transform into a Formula One race car. He was depicted as an unruly, and tough character, and a no-nonsense team leader. In the original story, Barricade was a bit of a street punk, and learned to look after himself, streetwise-style, by joining some of Cybertron's recing gangs. In his Decepticon capacity he took control of the Rack Track Patrol, a team of high octane warriors.
In the new films, Barricade instead takes the form of a Saleen police Car, perhaps a nod to original Autobot Prowl, who was also a law enforcement patrol car. Instead of the words 'To protect and serve', his embossed slogan reads 'To punish and enslave'.
Scorponok
Now here's one where Mr Bay decided to make some big changes, which isn't actually that much of a problem, as Scorponok has changed radically over the course of the Transformers Saga.
His original form was that of an enormous, city-sized robot that could transform into, yes, a city! He could also change into a city-sized scorpion, and was originally the leader of the 'Headmasters' a sub-group of the Transformers.
In subsequent appearances, Scorponok has been reduced in size and has changed into just a scorpion. He also appeared in Beast Wars as a more animalistic scorpion.
In the Michael Bay films, Scorponok resembles a giant mechanical scorpion, and reprises this role in Revenge Of The Fallen.
Soundwave & Ravage
Surely the single, coolest Transformer ever, if only for his characteristic monotone robotic voice, this original series Decepticon also has one of the most memorable forms.
Soundwave was always loyal to Megatron, and served as the communications officer, amongst other things. He could jam enemy transitions and undergo covert operations.
His alternate from was a cassette recorder, and so, in battle he wasn't the most useful Decepticon. However, he offset this by his own miniature army of followers.
These took the form of cassette tapes he could eject from his chest (which was the tape deck itself). The tapes transformed into smaller Decepticons. These warriors took different forms, including humanoid, feline and bird-like. The most famous of these characters were Laserbeak, Rumble and Ravage (Bird, Cat and humanoid in that order).
In the first Michael Bay film, many thought the character of Frenzy was, in fact, Soundwave (as he changed into a tape player), but this was incorrect. Soundwave was actually altered into the role that became Blackout (the MH-53 helicopter seen transforming at the army base at the beginning of the film).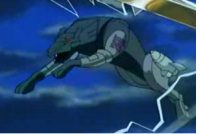 In
Revenge Of The Fallen
, Soundwave is set to appear, but not as his original cassette tape player form. Instead he's going to change into some form of Cybertronian assault craft, and possibly, when on Earth he'll take the form of a, wait for it, Chevrolet Silverado.
Ravage is also ready to rock and roll in the film, and will keep his feline form, and will be depicted as a Cyclops Jaguar.
Devastator / Constructicons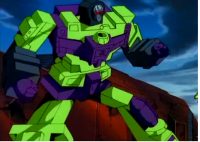 The Constructicons were a departure from the norm in the G1 series, and were the first group of Transformers who could combine into a larger, more powerful force.
The group was composed of Bonecrusher (bulldozer), Scavenger (excavator), Scrapper (Shovel, front loading), Hook (crane), Long Haul (dump truck) and Mixmaster (cement mixer).
The Constructicons worked as a team, and when needed, could combine to form Devastator, a huge, humanoid Decepticon that towered above all other Transformers.
The Devastator seen in the first Michael Bay films was a tank, but was not supposed to be the same Constructicon character. In Revenge Of The Fallen, the proper Constructicons and Devastator are due to appear.
The members of the team in the film will be Demolisher (a Terex O&K excavator), Hightower (a Kobelco crane), Long Haul ( Caterpillar dump truck), Mixmaster (Mack concrete mixer), Rampage (Caterpillar bulldozer) and Scrapper (Caterpillar scoop loader).
Sideways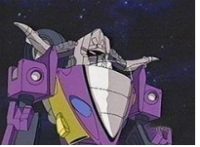 Sideways isn't an original G1 Transformer, and was first introduced in the
Transformers Armada
series. Chaotic, and wired, he delighted in causing trouble, and was, despite appearances, a powerful and intelligent warrior, and was working for Unicron.
His original transformation was to turn into a motorcycle, but in Revenge Of The Fallen, he transforms into an Audi R8.
Alice
Alice is a character to be introduced in Revenge Of The Fallen. She is a Decepticon 'Pretender'. The Pretenders were a subset of the Transformers (on both Autobot and Decepticon sides) that could hide their robotic nature by using a bio-organic skin to appear organic. Alice will be a humanoid who is tasked with trailing Sam Witwicky.