Features
Guardians of the Galaxy 3 Wastes Its Biggest Cameo
Marvel's Guardians of the Galaxy 3 has some great cameos, but the biggest one does leave you wondering what might have been.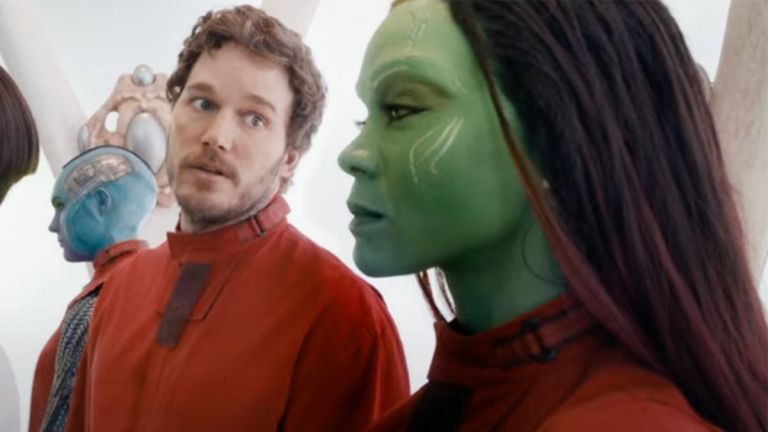 This article contains Guardians of the Galaxy 3 spoilers
When it comes to cameos in James Gunn's Guardians of the Galaxy Vol. 3, the franchise overlord put the "awesome" in Awesome Mix. We blasted off into the Marvel Cinematic Universe's cosmos for what's supposed to be a final hurrah for the team first assembled in 2014, and it was a who's who of returning favorites and new faces in this new offering.
As with any MCU outing, Guardians of the Galaxy Vol. 3 was stuffed to bursting with Easter eggs and cameos. Alongside the welcome return of Sylvester Stallone's Stakar Ogord and Seth Green's Howard the Duck, there's even a role for Gunn's wife and Peacemaker star, Jennifer Holland. Still, there's a sense that Marvel ultimately wasted one actor that really could've had major potential.
Those up on Gunn's back catalog will know his rotating roster of frequent collaborators includes two big names who've appeared in all of his movies. From 2006's Slither to 2021's The Suicide Squad, Nathan Fillion and Michael Rooker have always found a place. The former may have just missed out on 2017's Guardians of the Galaxy Vol. 2, but he did appear via a mixed Easter egg!
Who Does Nathan Fillion Play in Guardians of the Galaxy Vol. 3?
While Rooker briefly cameos as a posthumous Yondu Udonta to teach Kraglin (Sean Gunn) how to use his whistling arrow in Guardians of the Galaxy Vol. 3, Fillion gets a more substantial role as Master Karja, and you'll have been likely asking, "Who?" The Guardians team up with Gamora (Zoe Saldaña) and her Ravagers, and they infiltrate the Orgoscope to try and retrieve the kill switch bypass needed to save Rocket Raccoon (Bradley Cooper). Donning their best Among Us suits, the "sus" crew breaches OrgoCorp HQ and crosses paths with Karja, leading to some fun – if trifling – banter.
Aside from roles in Desperate Housewives, Buffy the Vampire Slayer, and holding up eight seasons of Castle, Fillion is no stranger to sci-fi thanks to his beloved performance as Malcolm "Mal" Reynolds in Firefly. Master Karja has the same alpha presence as Mal, but is left behind once the Guardians escape the Orgoscope. The role was revealed just days before the movie via a promo, however, our fears that it'd be a fairly negligible performance by the actor were soon confirmed.
There's no denying that the comedy of Master Karja being a block-headed doofus with a hatred for his own underling does fit the aesthetic of Vol. 3, while his presence is a neat Easter egg similar to Sam Raimi putting Bruce Campbell in Doctor Strange in the Multiverse of Madness as Pizza Poppa. But unlike Pizza Poppa returning for MoM's divisive post-credit scene, Karja gets an underwhelming farewell that at least leaves the door open for his return, unlike Vol. 3 killing Elizabeth Debicki's Ayesha in the blink of an eye.
The MCU Already Missed Out On Nathan Fillion
The problem with Fillion's wasted cameo here goes back to Guardians of the Galaxy Vol. 2. It's complicated, but back then, Fillion posed for a series of in-universe posters as Simon Williams. In Marvel Comics, Williams is an arrogant actor and everyday alias of the antiheroic Wonder Man.
Gunn confirmed the cameo via Facebook in 2017, explaining that a cut flashback to Earth was going to feature a Simon Williams film festival with some of his movies. This included a meta take of Fillion playing Williams as Tony Stark for a biopic about the brainy Avenger. Expanding on how he'd once had plans for Williams, Gunn added, "I really do love the character of Simon Williams/Wonder Man in the comics – a sometimes douchey actor/superhero – and could see Nathan clearly in that role (not because he's a douchebag but because he's great at playing one)."
As a founding member of the West Coast Avengers and sometimes member of the mainline Avengers, Wonder Man is something of a big deal who Gunn clearly had plans for. In an Instagram post celebrating that Fillion and Rooker have appeared in all his movies, Gunn even mentioned how Fillion's Wonder Man cameo was scrapped. It's not just Gunn's MCU exit that's nixed Fillion's future as Wonder Man, though. One of the upcoming Disney+ projects is a Wonder Man series with Aquaman's Yahya Abdul-Mateen II playing Williams.
There's a small chance Fillion could still play Williams in a sort of Mandarin/Trevor Slattery capacity for the Wonder Man series. After all, Ben Kingsley is coming back! Then again, Fillion's brief dalliance with Wonder Man being such a deep cut in the first place means we don't see it happening, and it's likely we'll just be left wondering what might have been.
At least playing Master Karja in Guardians of the Galaxy Vol. 3 is a step up from Fillion's voice cameo as "Blue Alien Prisoner" in the first movie, and with his character of TDK possibly surviving the bloodbath of Gunn's The Suicide Squad, we could see him in a mythical sequel. Either way, we fully expect to see Gunn squeeze Fillion (and Rooker) into his upcoming DC film, Superman: Legacy.