News
Guardians of the Galaxy 3 Star Reflects on "Upsetting Ordeal" of James Gunn Firing
Exclusive: Guardians of the Galaxy Vol. 3 star Karen Gillan teases the end of a Marvel era, and reflects on the film's rocky path to the screen.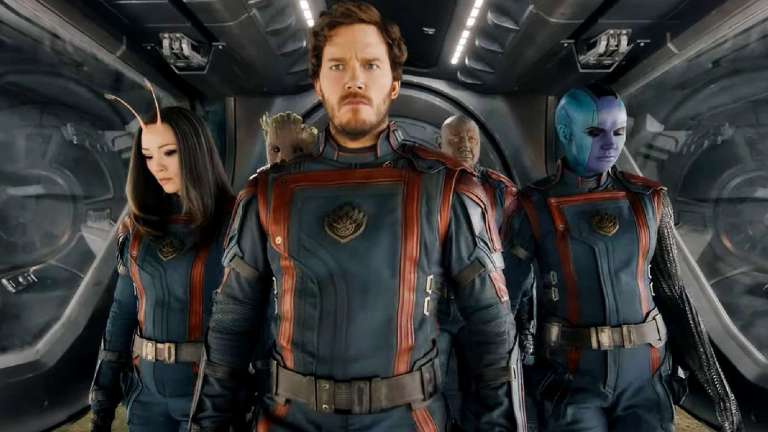 The behind the scenes drama of the MCU usually stays behind the scenes, but one of the most dramatic talent exits from Marvel's Cinematic Universe happened in public.
In 2018, director James Gunn was fired from the helm of the third Guardians of the Galaxy movie after some past unpleasant tweets were unearthed online by conservative commentators. Walt Disney chairman Alan F. Horn stated that the "offensive attitudes and statements" on Gunn's Twitter feed were "indefensible" and "inconsistent" with the studio's values, while Gunn said he took "full responsibility" for the way he conducted himself in the past.
The Guardians cast wasted no time in jumping to Gunn's defense, and Marvel fans signed an online petition asking for him to be reinstated. Marvel Studios also began trying to find a way for him to be rehired as Guardians of the Galaxy Vol. 3's director. Eventually, he was.
Guardians of the Galaxy Vol. 3 star Karen Gillan has been reflecting on the "upsetting ordeal" of Gunn's firing and rehiring in a new interview at SXSW while promoting her new film Late Bloomers, saying that when she heard Gunn would be returning to the blockbuster franchise it was "the best day ever."
"It was a really upsetting ordeal for us to go through when he was let go from the film," she tells Den of Geek. "We were all like, 'we can't do this without him.' These films are his identity. It's his sense of humor, his taste in music, his writing. It's everything. It's him. So we were like, 'I don't know how we could even proceed without him.' And I don't think anyone was very enthused to do it without him."
Gillan, who has portrayed blue-skinned alien warrior Nebula in the MCU across the Guardians of the Galaxy films, and in both Avengers: Infinity War and Avengers: Endgame, says that when Gunn was rehired "it was just such a joyous celebration, and it just felt like everything was right again," adding that they not only got to make the movie, but "it's really good!"
The actress says "it felt totally natural" to be back with Gunn and her co-stars when making the final film in the trilogy, but also very emotional. "It is the closing of a chapter for the Guardians, and so it felt like the end of an era. There were some tears shed in scenes, but they were real tears because we were really saying goodbye to this particular era."
Last year, Gunn told EW that Gillan's character arc in the Guardians of the Galaxy trilogy had been set from the start.
"I remember talking to Karen Gillan when she first came into the office, and I showed her some of Andy Park's designs for Nebula," he recalled. "I said, 'In this movie, she's a bad guy. She's a minor character, but she's going to go on to become a Guardian of the Galaxy. She's going to be a major character, and she's going to actually be a really good character who we're going to love.' In some ways, I try not to tell actors things like that because things change, but it's all come to fruition. Everything we planned for Nebula is there. And honestly, being very frank with you, she's one of people's favorite characters in Vol. 3. She's so good in that movie, and it's because she's developed and changed. She hasn't stayed the same."
Guardians of the Galaxy Vol. 3 stars Gillan alongside Chris Pratt, Zoe Saldaña, Dave Bautista, Pom Klementieff, Vin Diesel, Bradley Cooper, Sean Gunn, Chukwudi Iwuji, Will Poulter, Elizabeth Debicki, Maria Bakalova, and Sylvester Stallone. It will be released on May 5.