News
Thor 4 "Took a Bullet" for Guardians of the Galaxy 3 at Marvel
The potential team-up between the Guardians of the Galaxy and Thor may have excited a lot of people, but director James Gunn was not one of them.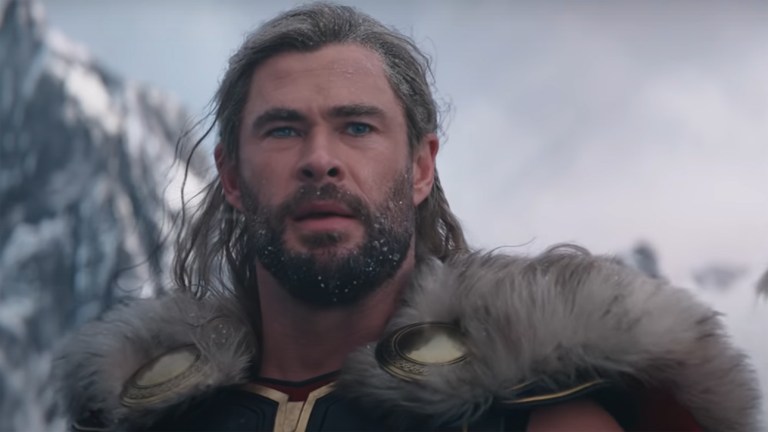 Remember Asgardians of the Galaxy? No, not the pretty okay comic series that spun out of the Thor-centric Marvel event War of the Realms. We mean the MCU team set up at the end of Avengers: Endgame, which seemed to suggest that Thor would be joining Peter Quill and co. to go on ribald space adventures.
Thor's time with the Guardians was a big part of the advertising of Thor: Love and Thunder, but the movie quickly discarded the heroes to set the god of thunder on his own adventure. Some people may have been disappointed by this missed opportunity, but not James Gunn.
"What the fuck am I gonna do?" Gunn asked himself after seeing Thor join the Guardians at the end of Avengers: Endgame. Talking to Rolling Stone, Gunn recalled the panic he felt when he realized that his plans for the third and final Guardians of the Galaxy movie may have changed during the filming of Endgame. "They chose to have that ending in editing," Gunn revealed.
By that point, Gunn had already written an early draft of Guardians of the Galaxy Vol. 3, having been reinstated by Marvel after being getting fired when Disney gave into pressure from right-wing pundits reposting tasteless jokes Gunn made on Twitter in the late 2000s. "Endgame came out right after I decided to do Guardians again," he explained. "So I didn't have much say in what was in Endgame."
Fortunately for Gunn, Kevin Feige had another director in mind, Taika Waititi. "I said, 'Thank God!" Gunn confessed, because he had no intention of using Thor. "I was just gonna start up and there's no Thor." So, by putting the Guardians in Thor: Love and Thunder, even for a few minutes, "Taika took a bullet for me," said Gunn.
While some fans might mourn the loss of a team-up between the Marvel favorites, Gunn worried that the presence of Thor would derail his intentions for the close of his trilogy. The director plans a heavier and more dour closing for his heroes, something signaled by his choices for the movie's signature soundtrack. "It doesn't start with 'Mr. Blue Sky, it doesn't start with 'Come and Get Your Love,'" said Gunn, contrasting the movie to the intros in his previous two entries. "It starts with Radiohead's acoustic version of 'Creep.'"
That matches what we've learned thus far about Guardians of the Galaxy Vol. 3, which appears to adapt the Roy Thomas Adam Warlock stories from the early 1970s. In those stories, Adam Warlock becomes the protector of Counter-Earth, a planet populated by humans and human/animal hybrids created by High Evolutionary. Not only will Gunn's movie bring in Will Poulter as Warlock and his Peacemaker collaborator Chukwudi Iwuji as High Evolutionary, but it will explore the tragic origins of Rocket Racoon. The new material gives Rocket's voice actor Bradley Cooper an opportunity to find new depths to his character, says Gunn. "This is the best he's ever been. There's some stuff in there that's just chilling."
If audiences agree that Guardians of the Galaxy Vol. 3 reaches the emotional depths Gunn teases here, depths that could not have been achieved with Chris Hemsworth's Thor being all handsome, then maybe Taika Waititi really took a bullet for all of us.