Features
Christmas Movie Streaming Guide: Where to Watch All Your Favorite Holiday Classics
We look at where all your favorite Christmas movies are streaming this holiday season.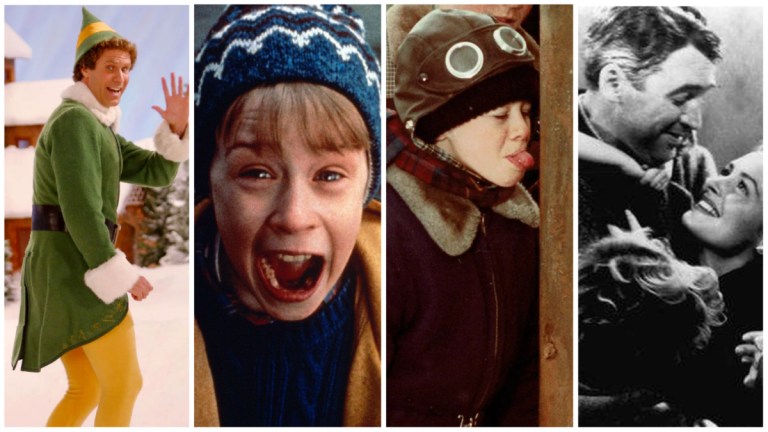 December is not quite here yet, but for some of us, it's already beginning to look a lot like Christmas. Thanksgiving is over, and the grimness of Black Friday too. So with the passing of those uniquely American traditions, the biggest holiday event for millions of film lovers is on the horizon. And some want to start celebrating now.
For that reason, we've collected the below streaming guide of holiday favorites, old and new, so you know exactly where to find your favorite Christmas movies this year. We've generally based this on where they're available to watch without an additional surcharge on top of a subscription. In other words, we're leaving off that most of these movies will be available to rent on demand for a fee from Amazon, Apple, or your other preferred video on demand platform. We also have based this list on American streaming service libraries. Enjoy.
8-Bit Christmas (2021)
HBO Max
If you feel a little too familiar with A Christmas Story these days, HBO Max has a great alternative—and no, we don't mean that bland nostalgia bait sequel they just put out. For a better Yuletide experience, check out last year's cleverer and more merry update via 8-Bit Christmas, which is essentially a 1980s Christmas story. In the film, modern parent Jake (Neil Patrick Harris) recounts to his daughter the trials and tribulations he endured in order to attain his dream Christmas present as a child: the original Nintendo Entertainment System!
The film is awash in '80s nostalgia for director Michael Dowse and screenwriter Kevin Jakubowski, but both also offer a genuinely warm and thoughtful update to the Christmas Story formula, especially thanks to how the movie handles the relationship between young Jake (Winslow Fegley) and his father John (Steve Zahn). – David Crow
A Christmas Carol (1984)
Amazon Prime Video
There are many A Christmas Carol movies, but perhaps outside of Alastair Sim's 1951 classic, this is the best one—at least for those who want more of Charles Dickens' bite than the muppets can provide. Produced as a television movie, the 1984 version endures because it was shot on English locations and features a delightfully cantankerous performance by George C. Scott. Leaning into Ebeneezer Scrooge's ruthless sense of cruelty, there is a hammy and irresistible gallows humor to how Scott interprets the Christmas-hating miser.
There is also a palpable ideological struggle between his Scrooge and the ghosts, be they of Christmas Past, Present, or Future, or even poor Jacob Marley. These spirits judge Ebenezer with a barely masked layer of disdain, which makes his reclamation have real stakes, particularly when the Ghost of Christmas Present introduces Scrooge to the faces of Want and Need. The film also features an ebullient score by Nick Bicât and strong supporting work by David Warner and Frank Finlay. – DC
A Christmas Story (1983)
HBO Max
Some classics are classics for a reason. When A Christmas Story first premiered in 1983, it didn't immediately look like it would change the holiday season forever. But that's nothing that constant airings on cable television couldn't fix. Adapted from semi-fictional anecdotes in Jean Shepherd's 1966 book, In God We Trust: All Others Pay Cash, A Christmas Story delivers on what the title promises: a story about Christmas.
Central character Ralphie Parker narrates a series of vignettes of a particular Christmas season in December 1940. All the little lad wants is a Red Ryder Carbine Action 200-shot Range Model air rifle but his mom, his teachers, and even Santa himself are adamant that he'll shoot his eye out. Though A Christmas Story is set in the increasingly distant past, every year it feels distinctly recognizable for audiences experiencing their own latest Christmas stories. – Alec Bojalad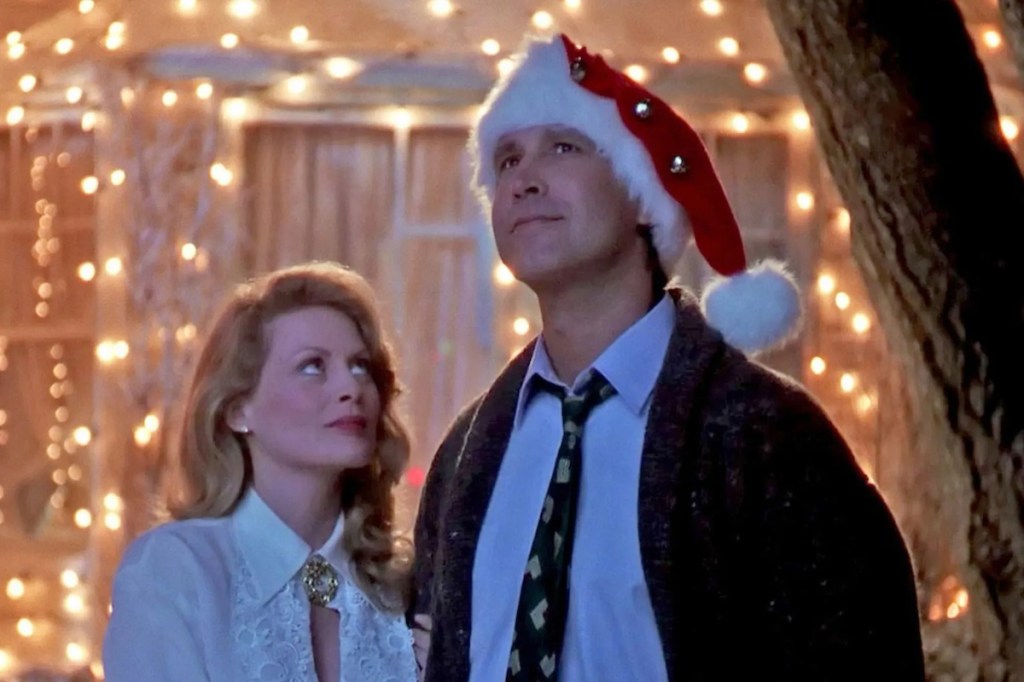 Christmas Vacation (1989)
HBO Max
After heading off to Wally World and Europe in National Lampoon's Vacation and National Lampoon's European Vacation, respectively, there was only one place left to go for the Griswold family: Back home for Christmas. National Lampoon's Christmas Vacation works because it understands that sometimes the most hellish vacations aren't when you head off to visit family but when they come to visit you.
Sort of like A Christmas Story before it, Christmas Vacation operates as a series of Christmas vignettes and joke setpieces, as an advent calendar leads up to the big day in question. Throughout it all, Clark Griswold (Chevy Chase) finds a comically big tree, destroys his home with said tree, then ruins his, his family, and the neighborhood's life with increasingly preposterous trapping of Christmas. It all, of course, culminates in a felony kidnapping as most Christmases should. – AB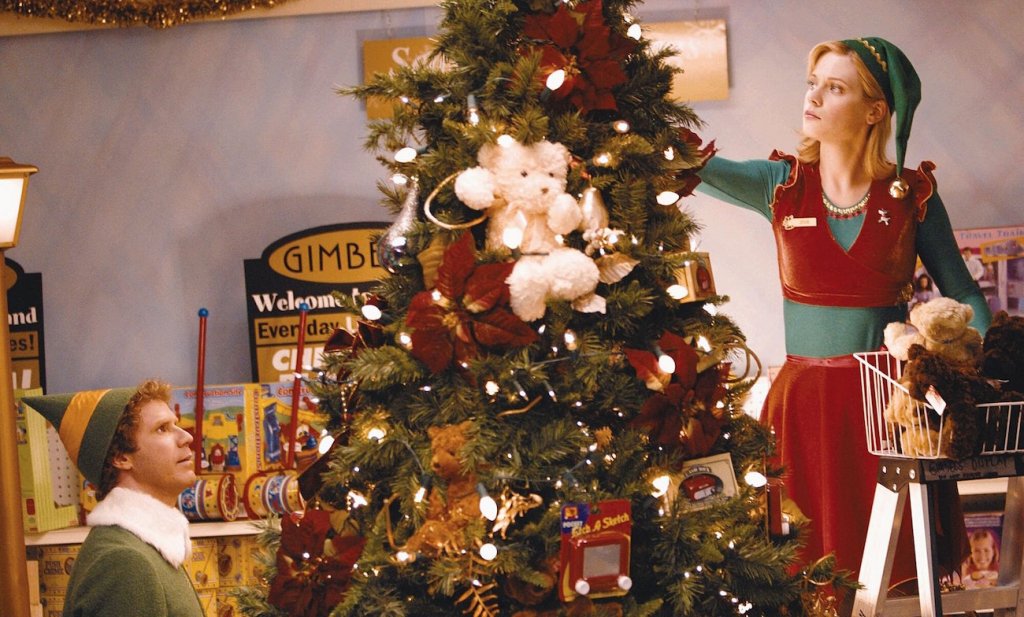 Elf (2003)
HBO Max
Elf is easily one of the best Christmas movies of the past 20 years, if only because it doesn't drown in sentiment, it's got an original, delightful premise, and it benefits from excellent casting and a punchy script. Will Ferrell is perfect as Buddy, the human raised by elves as one of them at the North Pole. After becoming a thirtysomething adult, he leaves the safe confines of Santa's workshop to find his human dad. The latter, a publisher of children's books, is played with caustic zest by James Caan, and his gradual change of heart from cynicism and bitterness to warmth and love is the core of the movie.
Kudos also for great turns from Ed Asner as Santa, Zooey Deschanel as Jovie (Buddy's love interest with a sultry singing voice), Bob Newhart as Buddy's adopted elf dad, and Peter Dinklage as a children's author who is about as lovable and caring as a bucket of spit. Director Jon Favreau balances the holiday spirit, romance, and comedy wonderfully, and the use of forced perspective and other in-camera effects gives Elf a hand-crafted feel throughout. It's become a modern staple. – Don Kaye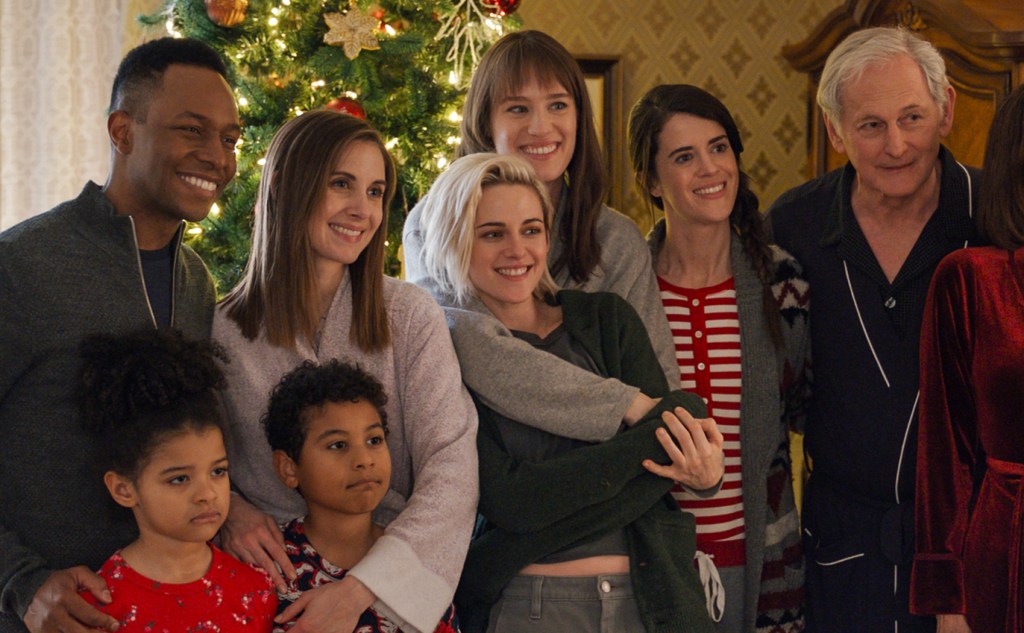 Happiest Season (2020)
Hulu
Clea DuVall arguably made the first Christmas movie in the streaming era worth unwrapping. Ostensibly a Meet the Parents situation set during the holidays, Happiest Season features an acutely modern awareness since its outsider coming home for dinner, Abby (Kristen Stewart), is forced to reluctantly reenter the closet because her girlfriend Harper (Mackenzie Davis) hasn't come out to her politically conservative parents (Victor Garber and Mary Steenburgen).
There is a tense anxiety in this movie that speaks with awareness to the modern LGBTQ+ experience that will not be for all audiences looking for just fun-loving hijinks, but there is also a sweetness to Abby's ability to endure and persevere in this uncomfortable game. Plus, much of the supporting players offer guffaws, including Alison Brie as Harper's Type-A older sister and a scene-stealing Dan Levy as the flamboyant BFF who is having a ball with how the WASPs think he is just Abby's tall dark boyfriend. – DC
Home Alone (1990)
Disney+
Macauley Culkin became a child star and Joe Pesci delivered one of his best comedic performances in this classic from writer John Hughes and director Chris Columbus. While the plot—little boy is accidentally left behind at home by his parents at Christmas, so devises traps to foil a pair of inept burglars—stretches the bounds of plausibility to their absolute breaking point, Culkin is cute and savvy enough to make it palatable, while Pesci and Daniel Stern provide the biggest laughs with their slapstick efforts.
Even though Home Alone has a traditional Christmas message about family in the end (buttressed by a still timeless holiday musical score by John Williams), the movie defies the usual holiday movie conventions by being sadistic and smartass enough to make it a refreshing Yuletide distraction. – DK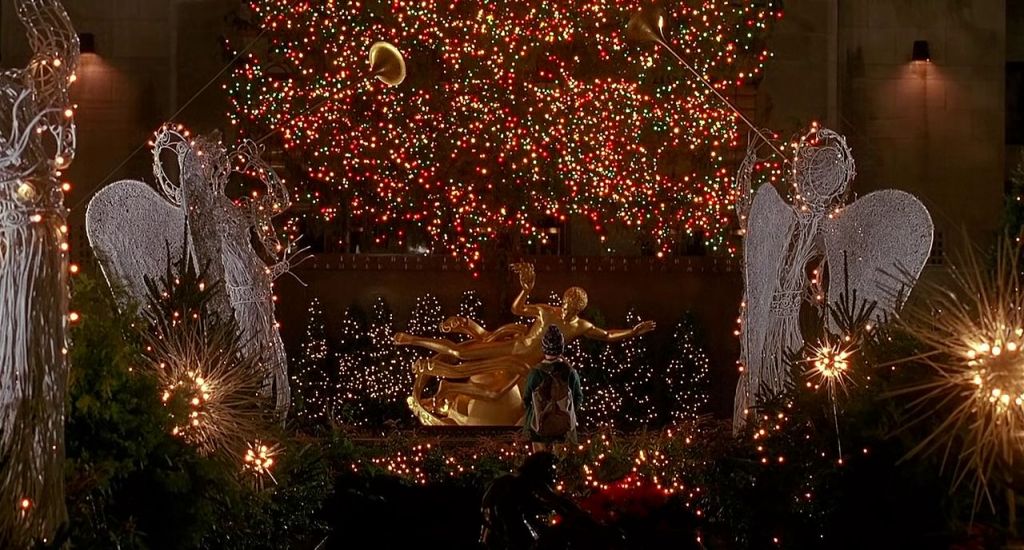 Home Alone 2: Lost in New York (1992)
Disney+
If you can only watch one Home Alone movie for Christmas… this is by no means it. But if the 1990 classic is so good that you need to keep the party going, the sequel still has a Yuletide sincerity that trumps its admitted unoriginality. In this one, Kevin McCallister (Macaulay Culkin) gets lost in New York City for a change, although Harry and Marv (Joe Pesci and Daniel Stern) conveniently show up as well to be his torture victims. The reason the movie is worth seeing though are the early festive NYC sequences with Kevin as a tourist on the town (and with his father's credit card). That and his war with the Plaza Concierge (a deliciously snooty Tim Curry) never gets old. – DC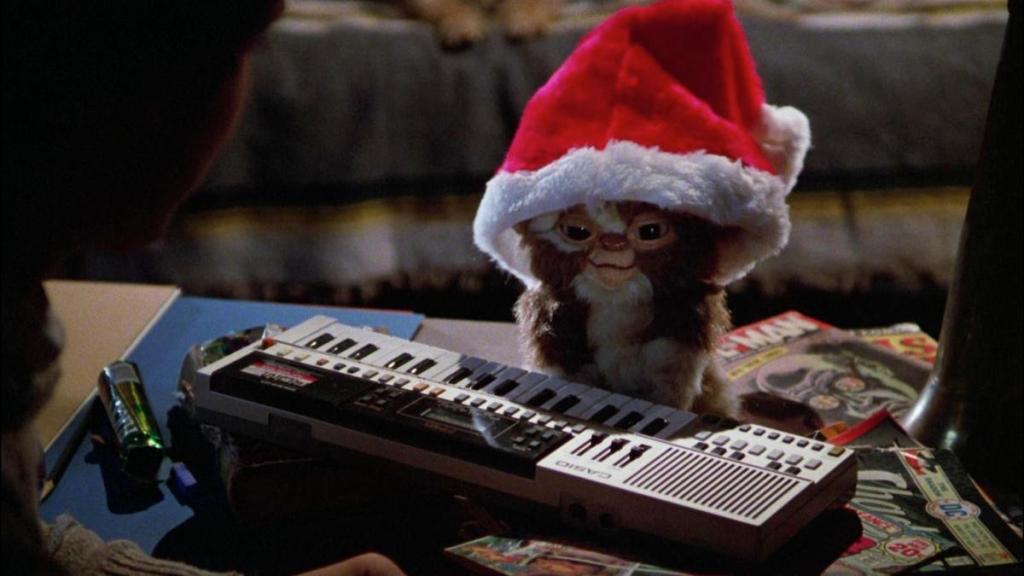 Gremlins (1984)
HBO Max
Though it was originally released in June, Joe Dante's black comedy horror is primarily set on Christmas Eve and is a wonderful festive watch if you don't mind your holiday viewing soaked in grue. It's the story of Billy (Zach Galligan) who gets the greatest Christmas gift ever (a Mogwai) but fails to heed the three strict rules and unwittingly unleashes an army of destructive monsters with razor sharp teeth on his neighborhood.
Though there are some deaths, quite a bit of gore, Mogwai-meanness, and the most harrowing Christmas story ever via Phoebe Cates' memory of her father slipping down the chimney dressed as Santa and breaking his neck, this is actually a lot of fun. The music is playful, the critters are dispatched inventively, and there's an important Christmas message to be discussed, namely what exactly do you mean by "after midnight?" – Rosie Fletcher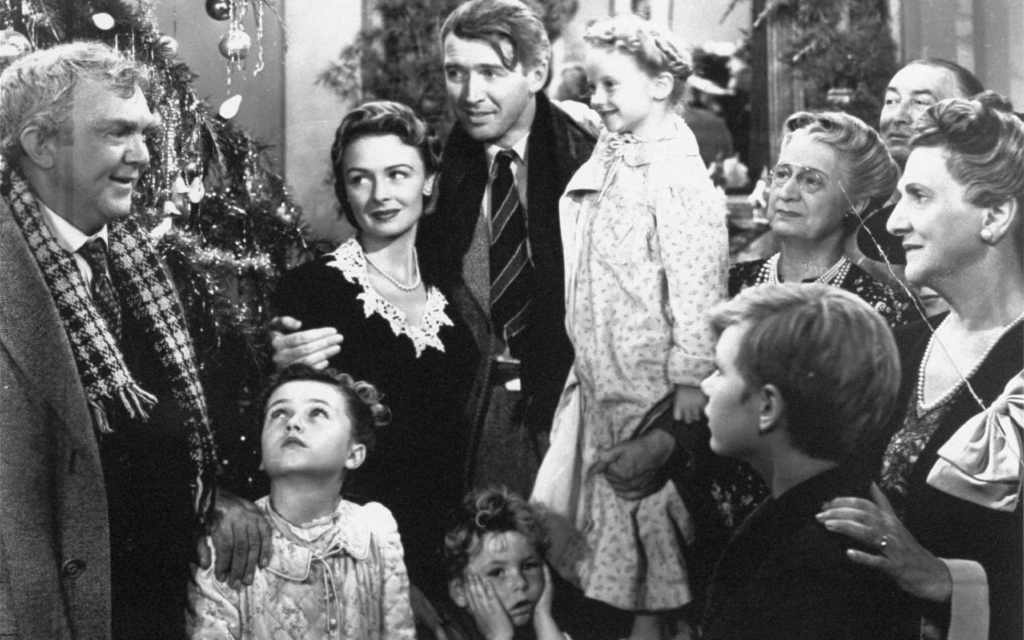 It's a Wonderful Life (1946)
Amazon Prime Video
A classic never goes out of style, and for nearly 80 years It's a Wonderful Life has been a classic. Given the fact that the movie entered the public domain after its production company, Liberty Films, went bankrupt, it's also become ubiquitous with the season, playing on nearly every television channel and then every streaming service each December. For that reason, some have become cynical and complacent about this post-World War II slice of feel-goodness.
We say don't listen to those Scrooges. Director Frank Capra and star James Stewart crafted a genuinely moving and even occasionally brooding work. Stewart's own real-life war experiences grace George Bailey's haunted face, which might be why after he embraces life thanks to the machinations of the heavens above, It's a Wonderful Life features one of the most feel-good ending movie history. – DC
Little Women (1994)
Amazon Prime Video
While Greta Gerwig's bold revisionist take on Little Women is excellent, and exceedingly popular nowadays, there are those of us who still prefer Gillian Armstrong's equally masterful (and far more faithful) 1994 adaptation of the Louisa May Alcott novel. Set during the tribulations of the American Civil War, Little Women remains a timeless classic about the ties that bind, particularly between sisters during the wonder years of adolescence.
Armstrong adapts the warmth of Alcott's prose and avoids the treacly schmaltz that sank all previous film adaptations before 1994. She also assembles a legendary cast that includes Winona Ryder, Claire Danes, Kirsten Dunst, Trini Alvarado, Susan Sarandon, Gabriel Byrne, and Christian Bale at his most charming and ebullient. When these genuinely good, endearing folk gather by candlelight during multiple Christmas eves, it's downright magical. – DC
Miracle on 34th Street (1947)
Disney+
There are countless reasons the original Miracle on 34th Street is a perfect movie, but if you need any reasons to watch it particularly early in the season, look no further than how the movie starts: at the Macy's Thanksgiving Day Parade. Long seen as the "official" kickoff of the season, Miracle on 34th Street uses it as the event that gets all the other events of the movie rolling when a drunken, hired Santa has his place taken by the real one. Or is he?
If ever there's a movie designed to make you want to believe in Santa Claus, one completely free of cynicism but not knowing worldliness, it's this one. Edmund Gwenn is to screen Santas as Christopher Reeve is to Superman, a spectacularly warm presence who draws you in with his own unshakeable self belief and appeals to our own better nature. It's a performance so perfect, so natural that it manages to outshine luminaries like Maureen O'Hara and William Frawley, not to mention Natalie Wood in a wise-far beyond-her-years performance. – Mike Cecchini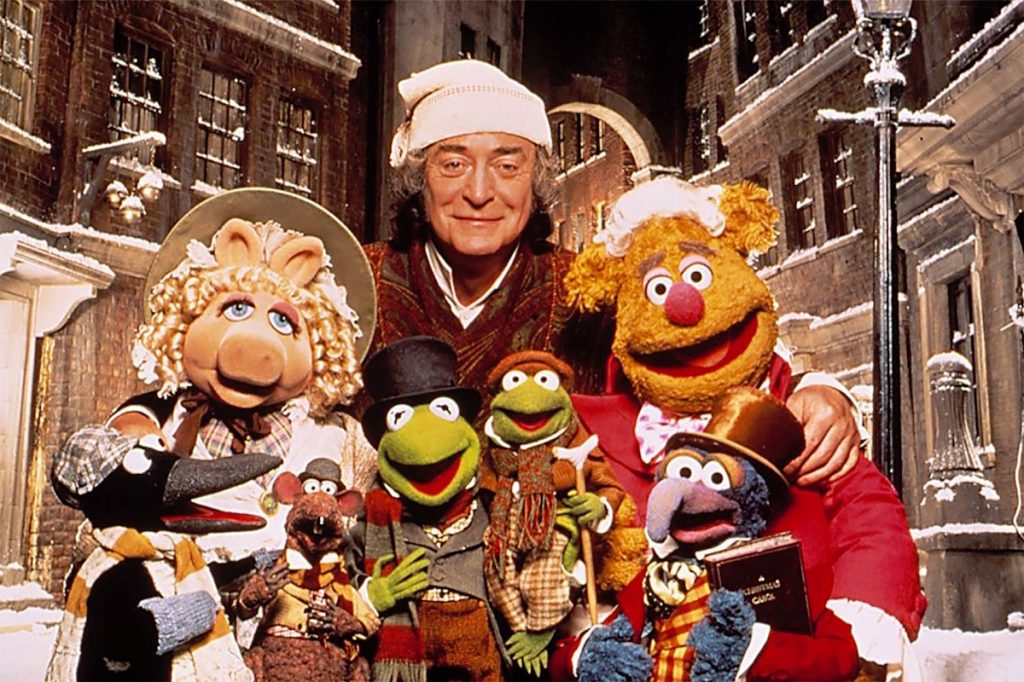 A Muppet Christmas Carol (1992)
Disney+
Tis the season to be jolly and joyous, fa la la! The Muppets' take on the Charles Dickens classic is surely one of the warmest, purest and best versions (also boasting singing mice and banging tunes). Michael Caine plays the miserly Scrooge with Kermit as his long suffering clerk, and the usual roster of Muppets take on the key roles, including Fozzie Bear as Scrooge's former employer Mr Fozziwig (who owned a rubber chicken factory). It's very funny and if Robin the Frog doesn't pull on your heartstrings as Tiny Tim, then we don't even know you. – RF
The Nightmare Before Christmas (1993)
Disney+
Jack Skellington, sung by Danny Elfman and acted by Chris Sarandon, is a seasonal icon so large it takes two performers to play him, and two holidays which claim him. Based on a poem Tim Burton wrote and illustrated backwards, The Nightmare Before Christmas turns Christmas and Halloween on their sides. The Pumpkin King from Halloween Town ventures to Christmas Town where the notorious Sandy Claws holds reign and reins deer. Catherine O'Hara's Sally, the rag doll, is the emotional center of the movie, and more in tune with Christmas Town than even Jack.
Director Henry Selick's stop motion animated feature is more than a ghost of a Christmas present or a sack of candy. It is the full package—Lock (Paul Reubens), stock, and barrel. Elfman's songs are so catchy and the performances so much fun, you want to boogie down with Oogie Boogie. The film has everything except a solo song from William Hickey's Doctor Finklestein. – Tony Sokol
The Santa Clause (1994)
Disney+
Whatever you think of Tim Allen, his very first The Santa Clause remains a holiday classic because of a winsome premise: a selfish schlubby divorced dad (Allen) accidentally kills Santa. Then because he puts on the big guy's red and white furs, he is now transforming into Santa himself. It's like body horror for six-year-olds but played for laughs. Also David Krumholtz as Bernard, the North Pole elf by way of the Bronx, has aged far better than anything else here.– DC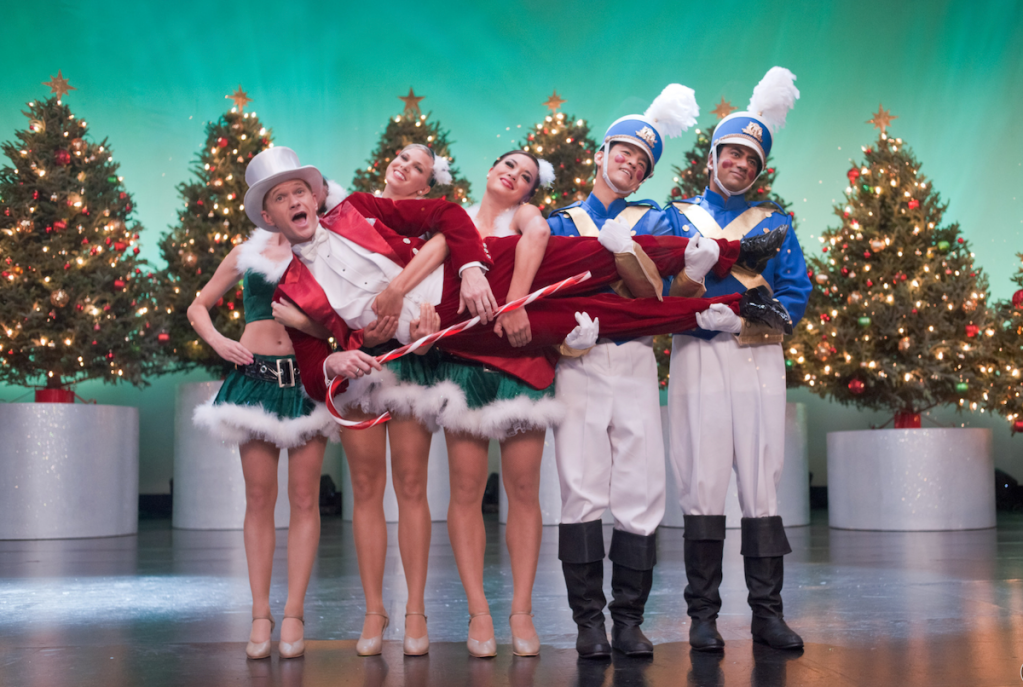 A Very Harold and Kumar Christmas (2011)
HBO Max
Yes, A Very Harold and Kumar Christmas is a very good time, if perhaps more for the adults than the younguns' (although we imagine some kids would really dig this too). The silliest and most asinine of the Kal Penn and John Cho stoner trilogy, the third Harold and Kumar flick is also the funniest with the characters surrendering to the cartoonish quality of the series while on a legendary request to find the last 10-foot Christmas tree on Christmas Eve. Along the way they run into everything from a Wafflebot to Neil Patrick Harris leading a toe-tapping Christmas spectacular! – DC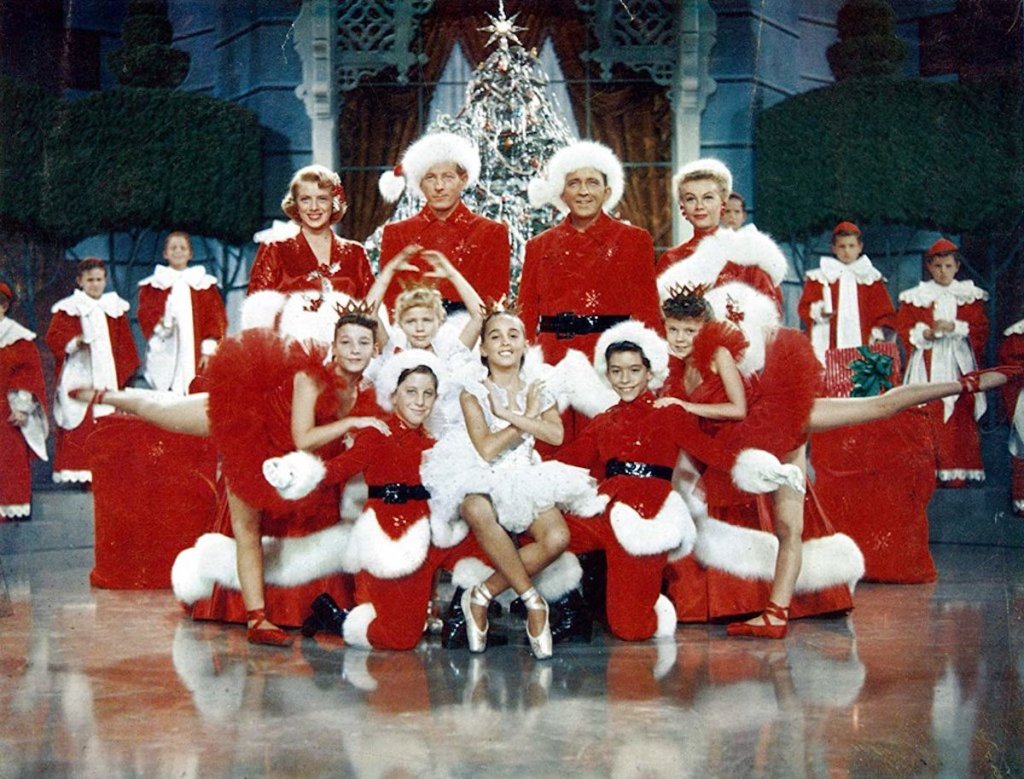 White Christmas (1954)
Netflix
White Christmas is not the first movie where Bing Crosby sung the titular song, but it's probably the most popular. This is due to director Michael Curtiz's command of Technicolor charm. The story—in which Crosby and Danny Kaye are a couple of WWII vets who team up with a sister act to save their impoverished general's B&B—is 100 percent Grade-A balderdash. But who cares when the musical sequences are as good as Vera-Ellen strutting her stuff to "Mandy," or Crosby crooning "White Christmas" at its most stripped down and wistful while on a WWII battlefield? – DC