Features
The Nightmare Before Christmas' Sally Was Almost Very Different
Despite filming on The Nightmare Before Christmas having already begun, the character of Sally had an unfamiliar sexy look, no story and no song.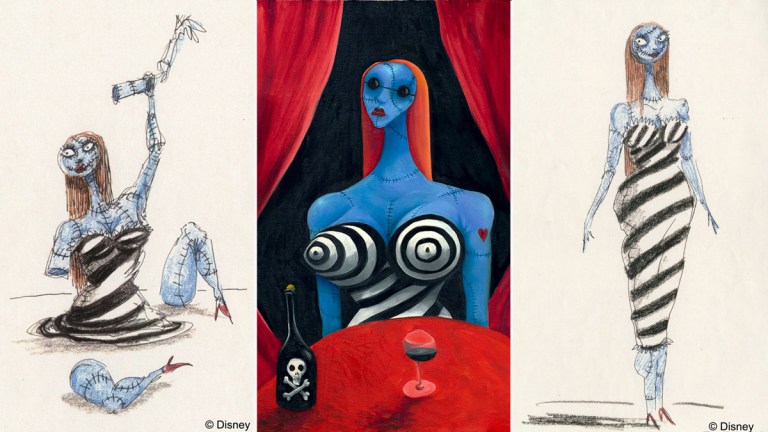 This Halloween, pop star Billie Eilish wore a patchwork dress and painted stitch scars to sing in front of a sold-out crowd at LA's Banc of California stadium. The song wasn't hers, but a Danny Elfman composition from the 1993 soundtrack to animated feature Tim Burton's The Nightmare Before Christmas. 'Sally's Song' is a broken-hearted lament written for a broken character – a Frankensteinian stitched-together rag doll brought to life by an evil scientist in the town of Halloween.
In 2021, Sally really needs no introduction. From October to December each year, she and paramour Jack Skellington are everywhere, from trick or treating costumes to theme park rides to a mountain of ever-increasing Disney merchandise. Like the film that made them famous, they're also not only a kid thing – just Google 'Jack and Sally wedding cake' for evidence. Those two have been #relationshipgoals for decades, their status as emo sweetheart icons certified in the 2000s by a gold-selling Blink 182 record, and a cover version of 'Sally's Song' by Evanescence's Amy Lee.
In the film and on the soundtrack release, 'Sally's Song' was performed by Catherine O'Hara, the actor who voiced the character and who'd worked with creator Tim Burton in Beetlejuice. Her first take on Sally, O'Hara told E! at the time of the film's release, was a characterised broken voice, "as stitched up as her body," but director Henry Selick preferred a more natural sound. O'Hara told E! that she initially found 'Sally's Song' scary to perform, by her own admission not being a professional singer. "I excused it by saying Sally's not that well-formed so it's okay that she can't sing that well," O'Hara joked. She's regularly performed the song since at Elfman's annual The Nightmare Before Christmas live concerts, always to a rapturous reception.
Sally's is a lilting, melancholic song that yearns with as-yet-unrequited love for Jack the Pumpkin King, and with fear that his plan to take over Christmas is doomed to fail. Compare it to the strident marching chant of 'This is Halloween' and 'Making Christmas', the hyper-excitement of 'What's This?' or the New Orleans boogie-woogie of Oogie Boogie's Song, and it's the soundtrack's most poignant and emotional beat. You could call it the heart of the film – one that The Nightmare Before Christmas came very close to missing out on.
A film without a script
Three writers are officially credited on A Nightmare Before Christmas: Tim Burton for the story and characters, Michael McDowell for the adaptation, and Caroline Thompson for the screenplay. McDowell had previously written the 1988 Burton-directed Beetlejuice, Thompson had previously written the 1990 Burton-directed Edward Scissorhands, and McDowell originally got the Nightmare gig. Until that is, struggling with addiction and health problems that led to his death from an AIDS-related illness in 1999, McDowell failed to deliver. "The problem with the prior script was that there was no script. None. Not a word," Thompson explained to Script Apart's Al Horner in October 2020. Adaptation might be a generous way to describe what McDowell turned in, which according to Thompson was simply a reformatted version of Danny Elfman's song lyrics.
Elfman describes here his writing process for The Nightmare Before Christmas songs, most of which were inspired by sketches and in-person descriptions from Tim Burton. Burton would talk Elfman through a character and situation taken from a parodic version of 'The Night Before Christmas' poem that Burton had written years earlier (and which is widely cited as the film's source material though screenwriter Thompson says she never read it and calls it just another part of this cult film's mythology.) Elfman would go away and come up with a song, which he wrote largely in Thompson's Burbank home as the pair were a couple at the time.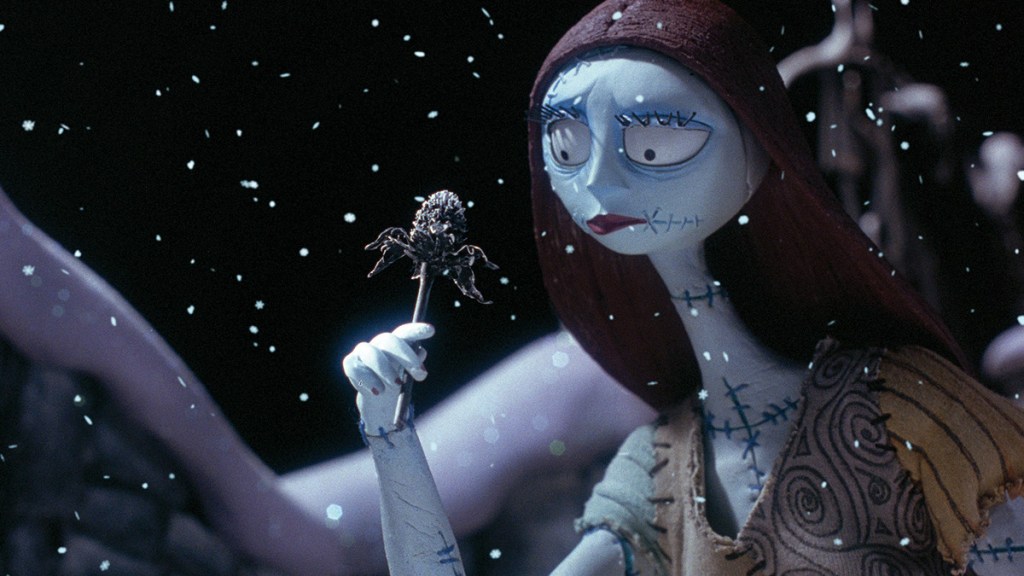 With Elfman's songs in place and characters built out from Burton's sketches, filming started without a script in place. It was an "insane" thing to do, as director Selick told The Hollywood Reporter in October 2018. "We knew the story well. The first songs came in, and we basically just blindly, but very confidently, went into production."
It was only after filming began with teams led by Selick, production designer Rich Heinrichs and storyboard artist Joe Ranft, that the script issue was addressed. Writer Caroline Thompson was asked to step in at this late stage, not by Tim Burton, but by then-Disney Motion Picture Group president David Hoberman. Thompson knew Elfman's songs, and that they more or less told the whole story as it stood. "The songs were finished but the narrative was not," she told Jog Road Productions in 2014. "Danny pretty much told the story in the songs so it's like okay, what's left? And what's left is Sally's story."
From vamp to misfit
To write Sally's story, Thompson was given two of Tim Burton's concept sketches for the character, showing a stitched-together blue woman with long red hair, wearing a low-cut, figure-hugging black and white striped dress, and red high-heeled shoes (Above, left and right). The character is smiling, vampish and buxom. In Netflix's 'The Holiday Movies That Made Us' The Nightmare Before Christmas special, Thompson describes the original Sally design as a zaftig "femme fatale", closer in look to the titular Corpse Bride from her later collaboration with Burton. Speaking to Jog Road in 2014, Thompson recalled thinking "I was like, well, I don't understand that kind of girl. I kind of get The Little Matchstick-style girl, so we redesigned her."
Anybody who saw the 2009 MoMA exhibition of Burton's artwork might draw a comparison between those initial Sally sketches and a recurring blue character, as seen in 1997's 'Blue Girl with Wine' (above, middle). The Wired profile caption for one of the 'Blue Girl' series created between 1992 and 1999 describes how "Burton had some drawings he wanted to bring to life, so he grabbed a Polaroid for the first time and convinced his office mate Leticia Rogers and his costume designer Colleen Atwood to have a little fun with him. Some of the fun inspired the Sally character from The Nightmare Before Christmas."
Sally was redesigned away from the Elvira-ish va-va-voom of those early concepts into the more waifish, sackcloth figure we're familiar with. She kept the stitches, red hair and blue complexion, but swapped the cleavage and high-heels for her now-familiar raggedy dress, black shoes and stripy socks. With her look in place, Sally still needed a story, and a song.
By the time Thompson came aboard, Danny Elfman had written all of the film's songs but Sally's and had "nailed" the character of Jack, she told Script Apart, which made the underdeveloped Sally character her focus. Elfman felt a real affinity for Jack's extreme highs and melancholy lows, he explains here, as was also growing "weary with the sound of screams" as the front man of celebrated band Oingo Boingo, which was by then nearing its end. Thompson too, put a little of her own experience into the character of Sally. Disappointed not to have been initially offered the script gig on Nightmare after Edward Scissorhands, Thompson describes having felt "a sense of being left out, which later informed Sally enormously." Her first version of the 45-page screenplay was reportedly drafted in a week, then finessed through a series of tweaks made with storyboard artist Joe Ranft.
Sally's rebellion
Sally is Jack's love interest but Thompson also wrote her separate goals from wanting to be with him. Sally's a misfit rebel who pursues freedom from her dastardly scientist creator, who wants to keep her locked up and under his control. She plots escape by drugging Dr Finkelstein's food, leaping from the balcony and reassembling her limbs like the seamstress she is. "She's growing up and she's changing and she's seeking independence," Thompson told Script Apart. "That's another reason why children especially are drawn to that part of the story, because a kid chafes against restriction. As much as a kid wants to be included, a kid also wants freedom."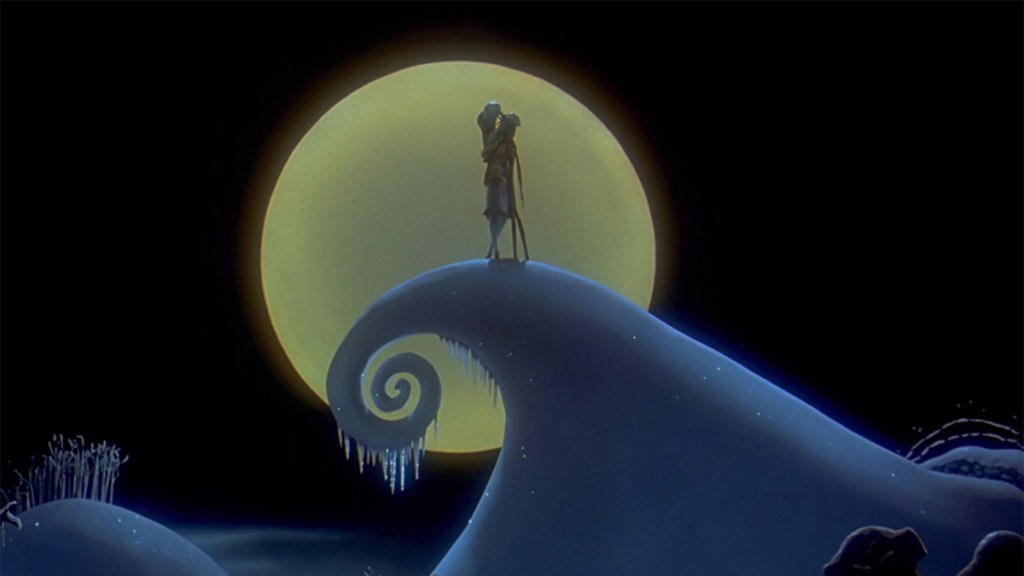 A kid is also more likely, perhaps, to relate to the redesigned Matchstick Girl Sally than the hourglass bombshell she started out as. They're certainly more likely to be allowed to dress up as her for Halloween, as Thompson's seven-year-old granddaughter does every year, she told Traversing the Stars. "Not because of anything I've pushed on her! Her three-year old sister goes as Zero the dog."
If she were writing the character now, Thompson said to Al Horner, she would give Sally even more of her own self. With the ending in particular, she feels she let the character down somewhat. "I felt like that's where I kind of threw her under the bus as a less-than character, where she was sort of enmeshed and enslaved in her adoration for Jack. I wouldn't have used those words at the time but in retrospect I think that's what I was feeling."
If there are reparations owed to Sally's character, perhaps they'll come via new Young Adult book Long Live the Pumpkin Queen, written by Shea Earnshaw and due to be published in 2022 by Disney. The book is described as a coming-of-age story written from Sally's point of view and set shortly after the film ends. It will see her travel through the holiday tree doors on a journey to save Jack and the town of Halloween. Sally's belated sequel and her enduring popularity shows that almost 30 years since Sally first uncorked that frog's breath and plotted her escape, the character as Thompson wrote her was simply meant to be.
The Nightmare Before Christmas is available to stream on Disney+