News
Blumhouse Horror Movies Update: Halloween Kills, Insidious 5 and More
Blumhouse president Jason Blum updates us on the status of some of the company's upcoming projects.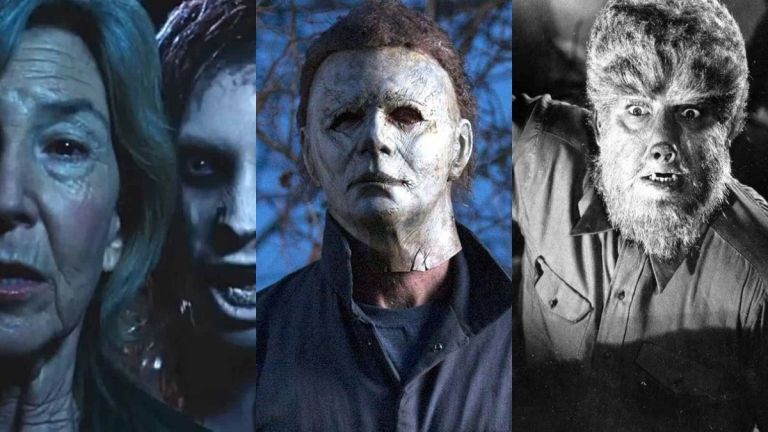 One of the most prolific production companies of recent times has been Blumhouse, which spent the better part of the past 15 years delivering low-to-mid-budget quality genre entertainment — mostly horror, some of it in other genres like sci-fi and thriller — to eager audiences watching at the movie theater or on TV (the company has also been behind dramas like Whiplash).
Like every other entertainment entity out there, Blumhouse has been impacted heavily by the coronavirus pandemic. Not only has the company shuffled release dates and moved films either onto premium VOD or out of 2020 completely, but production of new titles came to a virtual standstill for the better part of eight months.
Blumhouse, however, is finally ramping up production and development on a number of new titles, and during a round of recent press interviews for the company's new movie, Freaky (which will arrive in theaters later this week even though movie attendance is still down or unavailable), we asked president Jason Blum about a handful of movies on the company's always crowded slate.
Halloween Kills
Blumhouse recently staged an online fan event called Blumfest, where news about several projects was unveiled. That's where a first, brief look at Halloween Kills — the sequel to last year's acclaimed reboot of the classic horror series — was launched in a 30-second teaser that featured glimpses of several returning legacy characters.
We ask Jason Blum whether the return of these characters makes the new film almost a celebration of the franchise.
"Yeah," the producer agrees. "It's aptly titled. There are a lot of kills in it, and there are some characters that come back for sure. But it fits neatly into what happens after our first Halloween that we did last year."
Insidious 5
Revealed as a new project was the fifth chapter in the popular Insidious franchise, which director James Wan and writer Leigh Whannell launched in 2010 with one of the more frightening films of the past decade. While Whannell has continued to guide the franchise, writing the four films to date and directing the third, Blumhouse revealed that series star Patrick Wilson (Aquaman) would direct the new movie.
After confirming that Whannell is still involved with the Insidious films, we ask Blum who came up with the idea of Wilson directing.
"I don't know if it was him/us or us/him," Blum says. "One of us was talking to him and he said, 'Maybe I might do this.' So we saw a little opening, drove a truck through it, and really encouraged him to do it. Short of James or Leigh directing, I think he definitely has all the requirements that you need. He knows the franchise so well. I think he'll be a great director. We've had a lot of luck with first-time directors who are actors, even Jordan Peele (Get Out) or Joel Edgerton on The Gift."
Vengeance
Speaking of actors turned directors, Blum confirms that former The Office star (and occasional episode director) B.J. Novak is making his feature directorial debut on a Blumhouse film called Vengeance. Novak also stars in the film, along with Issa Rae, Boyd Holbrook, Analeigh Tipton and Ashton Kutcher.
Describing the movie as a "thriller," Blum adds, "It's a cool, offbeat movie, and we started shooting before…COVID happened in the middle, so we're finishing up. We're almost finished shooting what we didn't get before we got shut down by COVID, and hopefully the movie will be out sometime next year."
Untitled John Ridley Paranormal Project
John Ridley, the Oscar-winning screenwriter of 12 Years a Slave, has joined forces with Blumhouse to develop what's being called an "untitled paranormal project." The use of the word "paranormal" immediately has us wondering if it was connected in any way to the Paranormal Activity franchise, which of course put Blumhouse on the map back in 2007.
"It isn't, no, it's not connected in any way," says Blum. "It just happens to have some paranormal activity in it, but it's not connected to the movies."
Wolfman
Blum doesn't have much to say about Wolfman, the next classic Universal Monster reboot to be written and directed by Leigh Whannell following his successful take on The Invisible Man. Ryan Gosling will star in the title role, but plot details beyond that remain a mystery. Asked if Wolfman will begin shooting soon, Blum says he's not entirely sure.
"I don't know," he admits. "We have a handful of movies lining up for next year and Wolfman is one of them. There are three or four there. Wolfman is one. So we'll see. I don't know, but I certainly hope to shoot Wolfman next year."
Freaky is in theaters this Friday (November 13).