Features
The Suicide Squad: Inside James Gunn's DCEU Supervillain War Movie
We went behind the scenes of James Gunn's The Suicide Squad to bring you the inside story of the wildest, weirdest DCEU movie yet.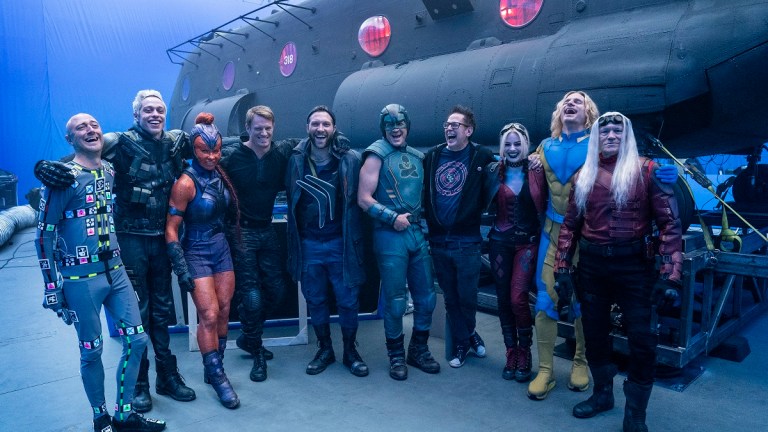 In November 2019, I found myself in the middle of a war zone. Well, the closest approximation of a war zone I've ever found myself in during my time visiting the sets of blockbuster movies. If I had been brought to this particular set in Atlanta on a sunny autumn afternoon without knowing what movie it was that I was supposed to be getting a peek at, the scene presented to a group of journalists probably would have convinced me that this was some new war movie or straight up action blockbuster, and not one that features a collection of DC villains and antiheroes at its core.
The set in question is called "Jotunheim" and it's apparently an objective Task Force X needs to conquer in The Suicide Squad. But for all intents and purposes, this could be the kind of Nazi fortress that the gritty characters of movies like The Dirty Dozen or Where Eagles Dare need to conquer, whether or not they get out alive. That's no accident, according to director James Gunn.
"A lot of the film is within the genre of war caper films," Gunn tells reporters later that day, specifically referencing The Dirty Dozen, Kelly's Heroes, and others. "It's not really something that's existed for a long time, but in the late 60s that was one of the most vibrant genres of the world. [We wanted to] kind of … add on to it with The Suicide Squad."
There's no sign of Margot Robbie's Harley Quinn, Idris Elba's Bloodsport, or any of the other oddball DC characters at the center of Gunn's newest movie as we stroll the Jotunheim set. Whatever wild action took place here seems to have been resolved long before our arrival. But the evidence is everywhere and it must have been one hell of a fight.
From the decrepit guard tower and busted fence at the perimeter to the entrance of Jotunheim (which has a massive hole blasted in it) is probably a distance of 100 meters or so. And virtually every inch of that shows the scope of whatever took place here: burnt out bunkers, overturned and semi-destroyed jeeps, sandbagged guard stations, and so much debris, a mixture of real rocks and carved foamcore and plywood "masonry."
"It's a giant construction project" producer Peter Safran jokes about the number and scale of practical sets that have been built for The Suicide Squad. "The idea is to do as much practically as we possibly could."
That reliance on practical sets and effects wherever possible is a theme that keeps coming up throughout the day as we tour sets and look at production artwork, scale models, weapons, and more.
"We built literally three football fields of a set and that's so unusual in this day and age," production designer Beth Mickle says of Jotunheim. "You just never do that. We wanted to have real rubble behind them in the battle sequences, and we wanted to see the building that they're attacking. For that scene to exist in a film today is just highly unusual. And we've done that set and then a dozen others of that scale, so it's incredible."
Both the war movie vibe and the love of practical effects are very much in evidence on another set, a convincing indoor recreation of a jungle with a guerilla camp nestled in the middle of it. There's dirty laundry hanging, filthy pots strewn around, a crumpled pack of cigarettes, and a half empty bottle of watery beer…and what appear to be bloody chunks of skull and assorted viscera littering the grass. Like Jotunheim, something went down here, and whatever it was, it wasn't pretty.
The Characters of The Suicide Squad: Meet Task Force X
It all stands in almost stark contrast to the wacky assortment of brightly-colored characters that make up the actual team. The concept art and costume tests for these characters were suitably colorful and wildly offbeat, and it's almost hard to make this line up with the gritty, war movie vibes of the Jotunheim and jungle sets. But storyboards reveal a nighttime action sequence on a beach, with the Squad invading the fictional nation of Corto Maltese, and were it not for the colors and unique designs of the characters wreaking havoc, this too would be evocative of just about anything other than a superhero movie.
A production office is papered with life sized posters of Harley Quinn (Margot Robbie), Captain Boomerang (Jai Courtney), Peacemaker (John Cena), King Shark (performed by Steve Agee and voiced by Sylvester Stallone…although we don't know that at the time), Blackguard (Pete Davison), Savant (Michael Rooker), Mongal (Mayling Ng), Weasel (Sean Gunn), The Thinker (Peter Capaldi), Ratcatcher 2 (Daniela Melchior), Javelin (Flula Borg), Amanda Waller (Viola Davis), Rick Flag (Joel Kinnaman), TDK (Nathan Fillion), and Bloodsport (Idris Elba).
Looming large is also Idris Elba's ominous, armored character who we now all know as Bloodsport, but who the studio remained cagey about identifying during this set visit for some reason, leaving reporters to speculate on the identity of the badass in blue, black, and gold. Between the color scheme, the armor, and an impressively intimidating assortment of weapons left out on a table for reporters to ogle as it's explained that each weapon transforms into or folds out of each other, speculation about Bloodsport ends up occupying a fair amount of the downtime between interviews.
So what exactly could possibly hold such a motley crew together?
"You have to remember that all either have been wrongfully accused or done horrible, morally wrong things," John Cena says. "You can see the good in people, you can also see the evil in people… All of these people have real bad personality problems. So I think when you get that type of group together, that's what makes it fun. Everybody is kind of different. But I think criminals see criminals, they just size everybody up. I think every one of them is like, 'how is this person going to stab me in the back?' That's the world they come from."
Cena is playing the authoritarian Peacemaker, a character who sees himself very differently than many other members of the Squad do. But the actors behind two of the stranger characters in the film, offer some additional perspective on the team dynamic.
"There's people in this story that really want friendships, and people that don't want anybody near them, just like all of us," says David Dastmalchian, who plays Polka-Dot Man. "I think all of us have felt at times like we are totally disposable to either our employers or society or you name it. So that's been interesting, in the relationship [between the characters] with the dynamic that starts to build or break down."
"These are all characters that for the most part, probably don't even know the existence of the other ones," Steve Agee says. "Some of them do, and it's the story of The Suicide Squad. They are forced to be together, and do this task, this mission. So, part of the story is just watching these people adapt to being around each other."
Flula Borg (who gave journalists a rambling, uproariously funny interview about his character which you'll see more of on DoG soon enough) spoke about how his character relates to Viola Davis' team leader, Amanda Waller.
"Judging from all the relationships that Javelin has I would say poor, non-existent, unhealthy, crosses lines, should consider not interacting with other humans," Borg says. "Javelin doesn't worry about how people treat him. He treats them … What's the golden rule? He has the Javelin rule, which is like 'suck it, I'm cool.' I think that's his rule." 
Even here with the characters, the commitment to practical effects is strong, especially in areas where you'd fully expect them to rely on CGI. For example, Daniela Melchior, who plays Ratcatcher 2, has a little helper rat named Sebastian. While the hordes of rats the character is capable of commanding will necessitate CGI, at least some of the rats are real.
"We have three female rats [that play Sebastian]," Daniela Melchior says about the um…practical rats that the movie is using. "It's a little bit distracting sometimes because I have to act lazy and tired like I don't give a shit about whatever is happening… and I'm just like, 'come here.' But she doesn't want to come, she wants to find new places and go, so we're like, 'okay, we'll try one time with the rats, we'll see what happens.'"
And when one of the rats playing Sebastian doesn't want to do as they're told, only then does the movie revert to CGI to get the desired "performance" from the furry co-star.
"I don't know if I can say this," Melchior says conspiratorially. "But actually, [some of the cast] are a little bit afraid of rats…I'm always trying to say 'look, she's so sweet, she wouldn't hurt you.'"
From Suicide Squad 2 to The Suicide Squad
Like the characters themselves, The Suicide Squad has something of a rough past. The first movie failed to become the surefire franchise-starter the studio hoped for in 2016, and while a Suicide Squad 2 was put into development almost immediately, it wasn't until Gunn became available that the project finally solidified.
"There was no plan before James," Safran says. "There were other writers that had worked on various Suicide Squad scripts over the years, but… this was starting from ground zero, starting from scratch. All the characters that he selected were just characters that he was a fan of and wanted to play with. I think, in typical fashion for James, he picks more obscure characters…he liked the idea of being able to take these characters and imbue them with whatever characters he really wanted, or characteristics that he really wanted to play with."
One of the "characteristics" Gunn wanted was to truly tap into the spirit of DC's long-running and beloved Suicide Squad comics of the 1980s, which were co-created and stewarded by Jon Ostrander.
"I don't think of it so much as an interpretation of what Ostrander wrote but I do think of it as a continuation of what he did," Gunn says. "It's very much in line with that. When he was first putting this team together, he was only able to get certain characters. For him, it was the fun of taking these characters that weren't as well-known and developing them in a real way. And it's one of the greatest superhero runs of any comic book series."
(Gunn also notes that Ostrander has a cameo in the film.)
As for whether or not The Suicide Squad is a sequel to or a reboot of the previous film, all involved are both diplomatic and evasive. The official line is that any characters that were together in the previous film do already know each other, but as for the actual events of the 2016 movie, that's where things get murky.
"We just don't address it any tangible form," Safran says. "Yes, they're the characters and actors that played them in the first movie, but we really wanted to make sure that this stands on its own two feet. It's not a sequel, but there are some characters that were in the first movie, so it's not really a full reboot either. So we just call it James Gunn's The Suicide Squad."
Inside Jotunheim
Later in the day, journalists are taken inside Jotunheim via soundstage, an indoor construction that appears almost as sprawling as the outdoor set. As we saw outside, the remnants of what was likely a furious battle are all around. A stuntman in full Peacemaker gear is hanging around as we see Robbie's Harley, Dastmalchian's Polka-Dot Man, and Agee as King Shark ("the studio is trying to play down the whole Polka-Dot Man/King Shark universe they're building," Dastmalchian jokes) make their way through the rubble. Elba's Bloodsport isn't visible, but we're assured he's part of the scene.
While it's Sylvester Stallone voicing King Shark in the film, it's Agee on set here, wearing a grey mo-cap suit with the kind of padding you see on MLB umpires and somewhat shark-shaped wire headgear. He also appears to be holding a skull.    
Harley, however, is wearing the ornate red dress glimpsed in the trailer (although it's somewhat the worse for wear at the moment). As she navigates the carnage in Jotunheim, Gunn calls out for Robbie to "hum a little tune." She does just that, conjuring exactly the kind of aimless musical free-association you'd expect from a mind like Harley Quinn in the midst of battle.
"Harley's been through some things as you can see by this point in the film," Robbie says to reporters between takes. When it's noted that Harley's baseball bat, a fixture in the previous film, is nowhere to be found in this scene, she jokes "My baseball bat is back home in LA, next to my bed, in case anyone breaks in…I've got other weapons in this one."
We don't get to see these Squad members engaged in any combat during the shooting of this scene, and it's not clear if this is the interior from the same "entrance" that had seemingly been blasted into the outdoor structure, or somewhere else inside the fortress. But the clues all point to one thing: like everything else in this movie, where The Suicide Squad goes, destruction and chaos follow.
The Suicide Squad opens in theaters and on HBO Max on Aug. 6. We'll have more from our set visit in the coming days.