Features
Marvel's Moon Knight and the Importance of Egypt to the Story
Marvel's latest TV series is steeped in Egyptian culture and mythology, and director Mohamed Diab has been waiting for this moment.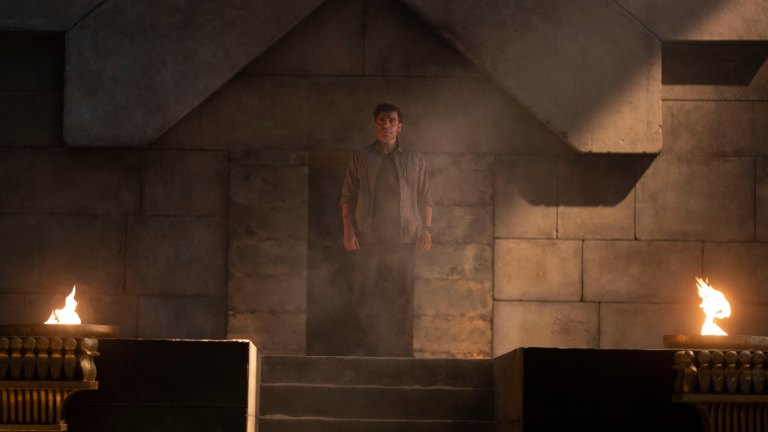 This article contains Moon Knight episode 2 spoilers.
At the end of Marvel's Moon Knight episode 2, "Summon the Suit," the man known alternately as Steven Grant and Marc Spector (Oscar Isaac) finds himself in a hotel room, throws open the curtains and shows us that he's in the land where the show must inevitably lead: Egypt.
As fans old and new know, Grant/Spector is the earthly avatar of the Egyptian god Khonshu, tasked with carrying out the deity's mission of delivering justice for those who are denied it. Grant has only recently found out that he is sharing a body with Spector, and understandably resents the fact that Spector carries out violence and murder in Khonshu's name. But in order to stop a greater evil in the form of Arthur Harrow (Ethan Hawke), who wants to awaken the Egyptian demon goddess Ammit, Grant must temporarily let Spector – and Khonshu – take the reins.
The Egyptian mythology has long been part of Moon Knight's comic book history, and bringing it onto the screen as part of the TV series lets Marvel once again explore a new corner of its universe (or, should we say, universes). Yet at the same time, Egyptian director Mohamed Diab, who helms four of Moon Knight's six episodes (but not "Summon the Suit," which is directed by Justin Benson and Aaron Moorhead) tells us that he's long awaited a chance to properly represent the culture and folklore of his people and country onscreen for mainstream Western audiences.
"It was as equal of importance as the drama itself," says Diab when asked about doing just that. "It was very important to be the Egypt police. Because so many times – and this is not only my point of view — Egyptians don't like the way we are portrayed in the movies. We are usually being portrayed through a lens that sees us as exotic people, sees our women as submissive, our men as bad, all those tropes."
The Song in the End Credits
Diab says he's proud of every aspect of the show that is taken from Egyptian culture, right down to the music (you can check out the tune that plays over the end credits here). "The songs are Egyptian and they're so cool," he enthuses. "A lot of people are telling me that they're Shazaming them and love them. That brings people together, when you see that there's something interesting and likable about those people that you didn't know about, which makes it easier to connect."
Layla
Even in the case of Layla El-Faouly, Spector's wife and partner in adventure (portrayed by Egyptian-Palestinian actress May Calamawy), Diab says the intention was to shatter those stereotypes about Egyptian – and Middle Eastern – women, even if gender inequality is still an obstacle that a number of countries in that part of the world have yet to surmount.
"Portraying Layla the way she is, as a fierce woman — my mom is strong, my wife is strong," says Diab. "So yes, the situation might not be perfect in our part of the world, but actually that makes women stronger, not weaker. So again, we want to just be seen the way we are, not better, not worse, and I think helps the world connect more."
Egypt
Naturally, Diab wanted to shoot the series on location in Egypt – a move that would make sense given that a portion of it takes place there – but timing and difficulty in getting permits made it unworkable. So instead, the production recreated Egypt, or more specifically the capital city of Cairo, in Budapest, Hungary, where Diab and his team set out getting the look of the scenes there just right.
"It was very important for me to bring in Egypt and I was so scared about that," he admits. "But I had a great team in production designer Stefania Cella and costume designer Meghan Kasperlik, who both promised me that we would not make mistakes. If I didn't tell you, you wouldn't even know that it's not Egypt. I'm proud that there was a moment when we had four blocks built in the middle of Budapest. It felt so much like Egypt that some Egyptian dude walked up and told me, 'I feel like I'm home.'"
You'll be seeing more of Diab's recreation of Egypt and delving deeper into the mythology behind Moon Knight in the weeks to come – let's just say there's a lot more out there than just Khonshu.
Moon Knight is streaming now on Disney+, with new episodes premiering on Wednesdays.