Features
How the 1994 Fantastic Four Movie Lived On (Despite Marvel's Plan to Kill It)
Long before Warner Bros. Discovery swung the ax on Barbara Gordon and company, a Roger Corman comic book movie suffered an even stranger fate.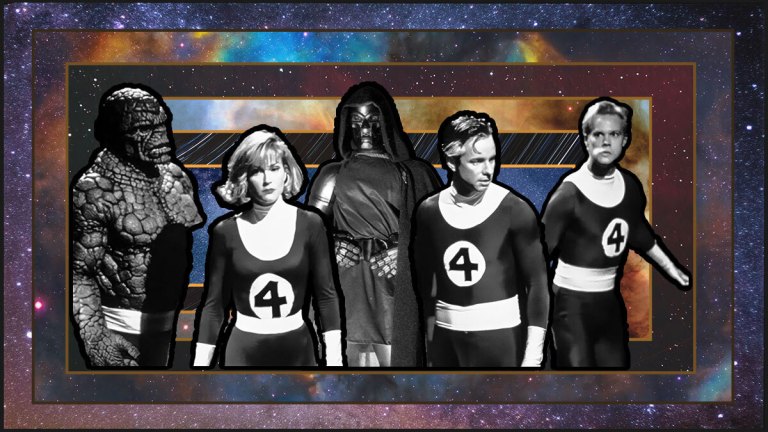 When Warner Bros. Discovery announced its much-anticipated Batgirl movie would be shelved, the news sent shockwaves through Hollywood. While the studio eventually expressed concerns the work done by directors Adil El Arbi and Bilall Fallah failed to live up to "spectacle that audiences have come to expect from DC fare," the final decision to leave the film unreleased, despite reportedly having spent upwards of $90 million on it, felt unprecedented in the ever-expanding age of superhero movies.
It was heartbreaking on multiple levels. Adil & Bilall had already proven themselves adept big budget filmmakers on the brilliant Bad Boys for Life while the eye-catching cast included J.K. Simmons getting another go as Commissioner Gordon, Brendan Fraser continuing the "Franaissance" as villain Firefly, and Michael Keaton donning the Batsuit for the first time in nearly two decades. Arguably the saddest aspect, however, was the fact it robbed Leslie Grace of a potentially star-making turn as Barbara Gordon, with the In the Heights actress in danger of being forever associated with the most infamous superhero movie to never see the light of day.
But while Batgirl may well go down as the biggest caped movie to get unceremoniously shelved, it certainly isn't the only superhero movie to suffer such indignities. Back in 1994, a Marvel movie made similar headlines, albeit in distinctly different circumstances: the first Fantastic Four movie ever produced.
It all started back in 1986 when a German film producer by the name of Bernd Eichinger obtained an option to create a movie based on the Fantastic Four with his company Constantin Film, shelling out a reported $250,000 for the rights. However, with several major studios balking at Eichinger's $40 million vision for the project, plans for a Fantastic Four movie ended up stuck in development hell. By 1992, Eichinger was facing something of a dilemma: in order to retain his option he would need to go into production on a new Fantastic Four movie posthaste.
That was when he hit upon a novel idea: Approaching Roger Corman, he tasked the legendary B-movie producer with creating a low-budget version of the Marvel favorite—and when he said low budget, he meant really low budget with Corman claiming in an interview for the book Comic Books: How the Industry Works that the movie was made for as little as $1.4 million.
Once Corman was on board, it was time to cast the iconic quartet in roles that, on paper, should have looked like a big break.
Rebecca Staab had already made the successful transition from modeling to television acting with roles in shows like Dark Shadows and Beverly Hills, 90210 by the time she got the call to read for the role of Sue Storm, aka the Invisible Woman. And when speaking with Den of Geek, she admits she knew little about the characters prior to getting the call telling her she would be auditioning.
"There wasn't Google or anything like that then, so I went to a comic book store and grabbed a couple of issues of Fantastic Four," Staab says. "My initial reaction was 'oh my god, this is great. I look just like her.' So, I felt confident. I thought it would be fun."
It was a slightly different situation for Jay Underwood, the actor cast as her onscreen sibling, Johnny Storm, aka The Human Torch. Underwood, who was best known for his work in films like The Boy Who Could Fly and Uncle Buck, says his manager at the time sold him on the idea.
"He was a huge comic book fan and just thought it was beyond awesome when I got the audition," Underwood recalls. "I was excited for it, but the thing that struck me was that this wasn't being made by 20th Century Fox. This was Roger Corman, the King of B-Movies. So how was it going to work?"
Staab was also under no illusions about the nature of the project. "It was kind of a given that if it's a Roger Corman movie, it's going to be low budget," she says. "It just felt more like an experiment. Like to us, it was, 'Oh, they just want to see if this is gonna work.'"
Underwood concurs that, on some level, this made sense given the way comic book movies were regarded at the time.
Says the actor, "Batman had come out, and all the Superman movies had come out for DC. But even so, comic book movies were not proven commodities." Staab and Underwood were joined by Alex Hyde-White as Reed Richards and Michael Bailey Smith, who was cast as Ben Grimm with stuntman Carl Ciarfalio standing in as The Thing. Meanwhile Joseph Culp was cast as iconic villain Victor von Doom for what was essentially an origin story.
While the phrase "no expense spared" is often associated with modern superhero blockbusters, the opposite was true here. Producer Corman went to great pains to ensure every possible expense was spared on The Fantastic Four. "We filmed it in this wreck of a studio in Venice, California, which was in the middle of this industrial area," says Underwood.
And Staab recalls of the set that "it was literally torn down like a week later because it had already been condemned for demolition. We moved in there with all of the sets that were from some other production. They kind of scotch taped and stapled different things together so that it would fit our narrative."
Underwood recalls some other challenges on set, as well.
"There were rats running around, and there were ants and cockroaches in the dressing rooms," Underwood says. "It was dirty and disgusting. But in that we all bonded together, we realized what we were up against."
They both recall a sense of camaraderie on-set that saw everyone rolling their sleeves up to make the film work.
"Anything you see Sue Storm wearing in the film was my own clothes because there wasn't much of a wardrobe budget at all," Staab says. "Even the Fantastic Four seals had to be hand stitched onto the blue leotards we wore—you can even see the stitches on film."
While a modest amount of funds were allocated for special effects make-up, composers David and Eric Wurst reportedly paid $6,000 of their own money to draft in a 48-piece orchestra to complete the movie's soundtrack. But despite that lack of budget, Staab echoes Underwood's sentiments on the togetherness of the cast, recalling how filming on the project took place over Christmas 1992 and bled over into the New Year holiday.
"That was the first year in my life that I didn't go home for Christmas," says Staab. "I was living in L.A. with my family out in the Midwest. But it was a thrill and I think it really brought everyone together because we were each other's family that year."
Underwood attributes the unique team spirit to the efforts of director Oley Sassone. Best known for his work directing music video promos like the Mr. Mister hit "Broken Wings," it was Sassone who rallied the troops early in production.
Underwood recalls Sassone delivering a pep talk in which he explained some hard truths. With their limited budget, they would be hard pressed to create the effects they would prefer to have. Thus it would be up to the cast and crew to excel at the elements they could control without fancy visual trickery: character development, fidelity to the source material, and telling a compelling story. "Make them as true to the comic as possible," Underwood recalls the director saying.
The limited budget also forced them to stick to the ever-effective mantra of "less is more" when it came to showcasing the quartet's capabilities. John Vulich and Everett Burrell worked wonders to get anything close to resembling The Thing onscreen while their version of Dr. Doom is as close to the comic books as any film version has been to date.
Even the effects for the Human Torch were effectively managed in the circumstances. Yet crucial to the film's underlying success was an undeniable chemistry and enthusiasm that pervaded all of the action. That had been Sassone's aim from the start and he achieved it with little in the way of oversight.
In contrast to the experience of those making Tim Burton's Batman, The Fantastic Four's lack of budget proved a blessing in disguise with the team left to work on the movie without the danger of studio interference.
Says Staab, "It was just a low budget film, but instead of that being a negative for us, it was a chance to be super creative. Our focus on that movie was really the audience. Our focus was the comic book fans that knew the story. We worked really hard to be true to them."
When filming wrapped, the cast felt confident that they would be delivering a version of The Fantastic Four that fans would be proud of. By then there was already some buzz around the movie. Underwood even recalls how reporters from the magazine Film Threat visited the set, subsequently running a report expressing excitement at what lay ahead.
By 1994, Underwood and the rest of the cast were gearing up for the film's premiere and promotional tour. That was when he received a call from Sassone who simply told him: "It's gone. It's done."
"I was like, 'What are you talking about?'" Underwood remembers. "He goes, 'It's shelved. They shelved the movie. It's not gonna happen.'"
Staab says, "We never suspected anything. We'd already done some publicity, gone to a couple of conventions and were all ready for the film's release." By then a trailer had even been created and featured on VHS rental copies of another Corman film, 1993's Carnosaur. However, it appeared that the powers that be had had a change of heart. The cast were hit with cease and desist orders while the film's negatives were seized.
"Nobody knew why, initially, nobody had any clue," Underwood recalls. "That began the process of the 'why.' Trying to figure out why this movie got shelved."
In the years that followed, the cast found themselves continually questioned over what occurred. Underwood recalls countless casting directors pursuing his credits only to have their interest piqued by mention of The Fantastic Four.
"It kind of became the stuff of Hollywood legend," he says. Yet when they asked what happened, Underwood was unable to explain it.
The truth would eventually emerge via a 2005 report in Los Angeles Magazine, which revealed that Marvel executive Avi Arad had gotten wind of Eichinger shopping a low-budget version of Fantastic Four around town and intervened.
Eichinger told the reporter: "Avi calls me up and says, 'Listen, I think what you did was great. It shows your enthusiasm for the movie and the property…Let's do a deal.'" And according to Eichinger, that "deal" involved Arad paying him and Corman the initial outlay they had spent on the film on the proviso that they would "not release it."
"He really didn't like the idea that a small movie was coming out and maybe ruining the franchise," Eichinger surmised.
Arad confirmed as much during a 2002 press junket for Spider-Man, telling an unnamed reporter he bought the film "for a couple of million dollars in cash and burned it." A deal was eventually made that saw Eichinger named as a producer on the 2005 adaptation directed by Tim Story and starring Chris Evans and Jessica Alba.
But while Arad appeared to make light of his actions, his intervention at the time had left The Fantastic Four cast understandably stunned.
"Initially there was just a sense of bewilderment," Underwood says. "There was anger.
Especially as you know you put your heart and soul into it. The whole point of making a movie is for people to see it. So to find out it was never going to be seen was like a punch in the gut."
"For me, it hurt because I really wanted to do more," says Staab. "We were a great team, and there was this belief that if we showed we could make it on that kind of budget, maybe they would let us make another one with more money."
Slowly but surely, however, the film began to find its way to fans. Quite how that happened is unclear. Underwood recalled that Sassone, who by then had been locked out of editing, had a workprint of the movie on tape and made a point of making copies for each of the cast so they could at least see it for themselves. To Underwood's way of thinking, it's conceivable that whoever made those copies out in some video lab in L.A. may have made an extra one for themselves.
Whatever the truth, he still recalls the shock and excitement he felt when he first laid eyes on a bootleg version at a convention in Stockton, California. "I was like 'Oh my word! This is our movie!'" Since finding its way onto the bootleg market, the movie has filtered onto video platforms like YouTube and Dailymotion, garnering a positive response in the process with the cast becoming popular fixtures at comic book conventions.
"The feedback I typically get is that the film stays the closest to the original comic, right down to the look and feel of it," says Underwood. "I've personally always likened it to the old Batman television series. I'm not going to say our film is some incredible, 'top 100 films of all time' kind of thing. It's a low budget superhero movie but it has a lot of heart."
Meanwhile Staab muses that "of all the Fantastic Four movies, ours was like the best buddy film… Our intention of making the film for the fans and being accurate for the fans actually ended up serving us best in the long run. Because it's the fans that have kept this film on the backburner, no matter how much somebody wants to bury it."
Underwood even recalled how Dr. Doom star Joseph Culp likened the continued difficulties in establishing the Fantastic Four as viable big screen commodities as something akin to a "curse" that can only be lifted if their film gets an official release.
"I certainly think they could release it on Blu-ray or DVD, even if it's just a bonus addition on another Fantastic Four disc set," Underwood says.
Whatever the future holds for The Fantastic Four, or Batgirl for that matter, both Underwood and Staab stress the importance of moving on.
"Try your best not to be bitter," Underwood advises. "Bitterness can be an ugly thing and it can hurt careers as well. We're involved not just in making movies because it's an art form or because we are artists. It's very much a business and so in some sense, it's sad to say, those things happen in business."
"It's such a hard working industry to be in," Staab adds. "You have to be resilient…I'm sure it's crushing to [Leslie Grace] because it would have been a star vehicle. But I think she has the capacity to supersede it, to use it as a launching pad for exhibiting endurance and self dignity. She's more than this movie."
Staab continues to appear in a variety of roles across film and TV while Underwood also serves as Pastor-Teacher in Burbank, California. More importantly, they and the rest of the Fantastic Four cast, remain firm friends.
"We still to this day are friends," Underwood says. "We still talk even though we're doing all different things and we still stay in touch because the movie is still talked about."