Features
15 Bold Video Game Predictions For 2023
Surprise Super Mario and Zelda games, a Sega Dreamcast Mini, and a few other truly wild things we just might see in 2023.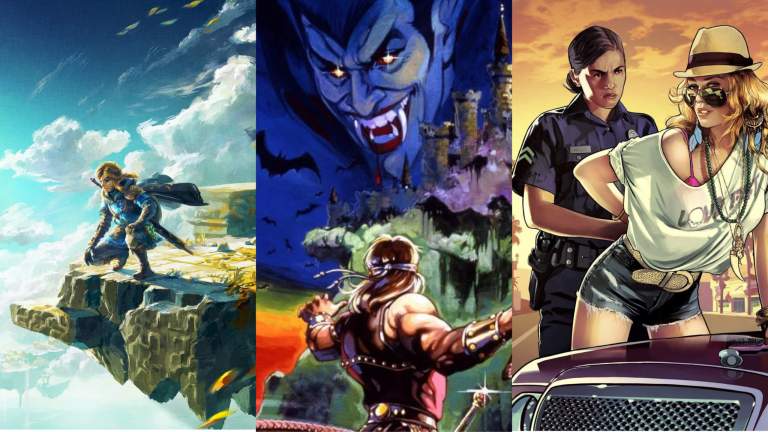 "Expect the unexpected" has certainly been the motto for the entire video game industry over the last few years. You'd have to be a fool to think that you have any idea about where gaming is going in 2023. So…here we are.
Since there's roughly a 100% chance that anything I predict now will be wrong in the near future, I've decided to lean into the fun of the whole thing by making a few truly bold predictions about what may happen in 2023. Even still, many of these predictions are based on trends, leaks, and which way the wind is blowing. So as crazy as some of them may sound, don't be too surprised if a couple of these big swings actually hit.
Nintendo Reveals Mario Kart 9 As the Switch's Swan Song
This one is a bit of a double-whammy prediction, but it all starts with Mario Kart 9. 
While Nintendo could honestly just keep pumping out Mario Kart 8 updates for the next few years and be fine, it's hard to imagine them not releasing a new Mario Kart game in the relatively near future. As you can see, I think they finally reveal that new Mario Kart game in 2023. 
However, the timeline of that prediction means that Mario Kart 9 could be released around the same time as Nintendo's rumored "Switch 2" console. As such, I think that Mario Kart 9 ends up being both the Switch's swan song title and a Switch 2 launch game. Even if that timeline is a little off, I still suspect that the next Mario Kart game will be made available to the Nintendo Switch's massive fanbase of rabid Mario Kart fans.
Nintendo Announces New 2D Super Mario and Zelda Games
Sticking with Nintendo for a bit, I must say that I've been somewhat disappointed thus far by the Switch's lack of games that would have previously been released on handheld consoles like the DS. Specifically, I'd hoped that the Switch would still support those more "retro-inspired" entries in Nintendo's famous franchises that we used to regularly receive via the company's handheld hardware.
I think that Nintendo addresses that shortcoming later this year by revealing new 2D Zelda and Super Mario games for the Nintendo Switch. While a new Super Mario game in that style seems more realistic given the upcoming movie (more on that later), I'm willing to guess that Nintendo simply goes all out and potentially gives the Switch a couple of big retro-style releases before the hardware is sunsetted.
The Microsoft/Activision Blizzard Deal Goes Through
There was a time when Microsoft's acquisition of Activision Blizzard seemed inevitable. At the very least, there was a time when we all just kind of accepted that Microsoft had purchased Activision Blizzard. However, the reality of the situation is that numerous global organizations are reviewing (or simply opposing) that deal on the grounds that it would give Microsoft a new monopoly. 
However, I think this $70 billion acquisition eventually goes through. It's historically rare to see deals of this size stopped in their tracks (even when they should be), and Microsoft has been willing to make numerous concessions designed to address the most prominent concerns regarding the implications of this acquisition. By the end of the year, I expect the largest deal in video game history to be in the books.
A Legend of Zelda Movie Is Finally Revealed
I was going to predict that the Super Mario Bros. Movie will end up being a global blockbuster in 2023, but that seems too obvious. Instead, I'll predict that the success of that movie will lead to Nintendo finally revealing a Legend of Zelda adaptation. 
Given just how many video game adaptations are currently in development, it's a little odd that a gaming franchise as big as The Legend of Zelda has been left out of the fun. However, I think that Nintendo ends up replacing that canceled live-action Netflix adaptation that was reportedly in the works a few years back with an animated Zelda movie that will (hopefully) make fans happy. 
Hogwarts Legacy Is the Best-Selling Game of the Year
Just how bold this prediction really is kind of depends on how closely you've been following this game. Those in the know will no doubt be able to tell you that there has been a ton of controversy surrounding Hogwarts Legacy, largely due to Harry Potter author J.K. Rowling's baffling crusade to torpedo her own legacy via bizarre anti-trans tirades. Though Rowling was reportedly not personally involved with the creation of Hogwarts Legacy, her views have led to some calling for a general boycott of the upcoming title.
However, early metrics suggest that Hogwarts Legacy is racking up the kind of pre-order numbers typically reserved for new installments in long-running franchises. While it would take a lot for Hogwarts Legacy to beat some of those franchises in sales this year, I believe that the controversy of this title is only going to be amplified by its eventual sales success.
PlayStation Acquires Square Enix
I usually throw a bit of cold water on the idea of PlayStation acquiring Square Enix. It's not that the deal doesn't make sense but rather that Square Enix and PlayStation have such a close relationship that PlayStation almost doesn't need to buy them to benefit from Square Enix exclusives.
However, it is starting to seem like Square Enix may be fishing for a potential buyer. If they do give PlayStation a strong indication that they're looking to sell, I suspect that Sony will realize that they should be the ones to acquire the company before someone else swoops in and steals them.
Xbox Series X/S Outsells the PS5 in 2023
To be honest, my real prediction here is that the Xbox Series X/S closes the sales gap with the PS5 in 2023. However, these predictions are meant to be bold, so bold we will go.
The Xbox Series X/S posted massive year-over-year sales growth in 2022. Mind you, Xbox accomplished that feat without a notable exclusive game to their name. As Xbox looks to make up for that shortcoming in 2023, it's really not that unreasonable to suggest that the appeal of Game Pass and the Series S could help them make this the closest console war (from a sales perspective) in years.
Microsoft Raises the Price of Game Pass and the Xbox Series X
Though this does somewhat contradict my previous prediction (at least in theory), I truly believe that 2023 will be the year that Microsoft follows Sony's lead and raises the price of the Xbox Series X hardware in many major markets. Furthermore, I think this is the year that they finally raise the price of Game Pass, though that almost seems inevitable at this point.
However, I think that the Series S' price stays right where it is. The Series S has been a secret weapon for Xbox, and I think that they'll keep the console's price low in order to make it more appealing this deep in the next-gen console generation.
World of Warcraft (Controversially) Goes Free-to-Play
You may have heard that Blizzard recently ended its publishing deal with NetEase. Among other things, that means that the ongoing availability of Blizzard games in China is now very much in doubt. While Blizzard will almost certainly try to find a way to ensure its games remain available in that lucrative region, I think they have to look at that incident as confirmation that the gaming marketplace in China will likely be significantly more unstable than it has been in recent years.
Among other things, I think that eventually leads to Blizzard finally making World of Warcraft a free-to-play game in order to attract more users. While that probably seems like a good thing on paper, the fact of the matter is that Blizzard is going to want to find some way to make up for the revenue lost from those abandoned monthly subscription fees. That could mean the beginning of a controversial new era of WoW dominated by microtransactions and similar monetization strategies.
We Finally Get a Grand Theft Auto 6 Teaser Trailer
Nobody really needed those recent leaks to know that Rockstar is working on Grand Theft Auto 6, though those leaks did show that the game's development appears to be coming along quite nicely. In fact, it's starting to look like Rockstar may actually reveal something official about GTA 6 in the near future.
While Rockstar could certainly choose to wait until closer to GTA 6's eventual release to reveal anything about the game, I think that they will finally cave into public pressure and release a GTA 6 teaser trailer sometime this year. That teaser likely won't tell us much about the game beyond its release year, but it will at least give us something to talk about.
Konami Reveals New Castlevania and Metal Gear Games
If you've been following the gaming industry over the last decade or so, you probably know that once-celebrated publisher Konami has fallen from grace. Following a very messy breakup with acclaimed creator Hideo Kojima, the company abandoned making major new games in favor of focusing on other monetization opportunities involving its biggest properties. Naturally, that has left some of gaming's biggest franchises in an extended holding pattern.
I think 2023 is the year we finally see some of those dormant series receive new installments. Konami kickstarted this initiative by revealing a wave of outsourced Silent Hill projects, which is interesting considering that Silent Hill has never been a best-selling franchise. I think this year will see the confirmation of upcoming Castlevania projects, and we might even get an update on those long-rumored Metal Gear Solid remasters/remakes.
E3 2023 Will Be a Bust
I've been something of an E3 doomsayer in recent years, but even I have to admit that I'm excited about E3 2023's return to a live format. However, serious questions remain about whether or not this year's E3 will draw the presenters, reveals, and games needed to live up to the show's legacy.
My worry is that E3 2023 is not going to be nearly as big as people are hoping it will be. Even Xbox (the show's biggest presenter by some distance) has hinted that we should expect a smaller showcase from them at this year's event. Expectations are high for the "return of E3," and I'm starting to think the reality of the show is going to clash with those expectations in a big way. 
Armored Core 6: Fires of Rubicon Is Delayed to 2024
Like many, I was shocked to see that FromSoftware announce Armored Core 6 at The Game Awards 2022. I was even more shocked to see that that game is currently slated for release in 2023.
I just don't see that happening. While I'm not entirely sure how long Armored Core 6 has been in development, it would be stunning to see FromSoftware release their next major game just one year after Elden Ring: the studio's most ambitious title to date. Other 2023 delays would be more surprising than this one, but this is the potential delay that may generate the most buzz
Sega Reveals the Dreamcast Mini
While Nintendo has seemingly pumped the breaks on their "mini" retro console release plans following the success of the SNES Classic, Sega still seems to be quite enthusiastic about the idea of repacking their retro hardware. So far, though, they've only stuck to the Genesis library.
However, I think that Sega finally reveals the "Dreamcast Mini" in 2023. While it might be tricky to license some of the Dreamcast games fans will want most, the potential appeal of this retro hardware release should be too tempting for Sega to ignore for long.
PlayStation Announces a New Line of Handheld Hardware
The Switch is a historic hit, the Steam Deck has proven to be shockingly successful so far, and Microsoft has been pushing the mobile capabilities of their cloud technology for quite some time. So far, though, the PlayStation team has been relatively quiet regarding their plans to expand their mobile options beyond their own, currently limited, cloud streaming technology. 
Maybe it's time that PlayStation bites the bullet and releases another piece of handheld hardware. While PlayStation may opt to expand their cloud technology instead (or let the Steam Deck support more of their PC ports), there's an argument to be made that the growing popularity of hybrid gaming is now too obvious for PlayStation to continue to ignore.