News
Jedi Survivor Release Time: When Can You Download the Game?
Here's when you'll be able to play (and install) Star Wars Jedi: Survivor.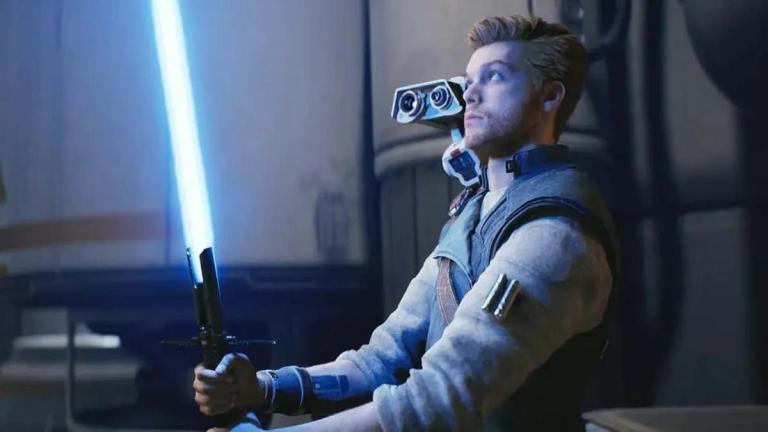 Star Wars Jedi: Fallen Order is arguably one of the best Soulslike games out there and is an excellent example of how to produce a licensed title. Thanks to Fallen Order's reception and sales, a sequel was a foregone conclusion, and now the wait for Jedi: Survivor it is almost over.
EA officially announced Star Wars Jedi: Survivor barely a year ago with a trailer that, among other things, teased a release window of 2023. Fast forward to the official reveal trailer, which not only includes some gameplay and Clone Wars-era B1 Battle Droids but a release date of April 28. When does the game actually release on April 28? That depends on where you live.
According to EA's Twitter account, Jedi: Survivor's release time is tied to the Eastern time zone. The game will officially launch when the clock strikes midnight EST. That means, for instance, gamers in the UK will have to wait until 5 am. Meanwhile, gamers in Japan, Australia, and New Zealand will get the short end of the gaffi stick. They won't get to play the game until 1 pm, 2 pm, and even 4 pm in their respective time zones. Conversely, audiences on the West Coast of the United States will technically receive Jedi: Survivor on August 27th. Yes, Los Angeles gamers can technically start playing the game at 9 pm one day before everyone else (though not really wiht the differences in time zones.
If you need a little more info on how the whole thing works, here's a full breakdown of the Jedi: Survivor release time map: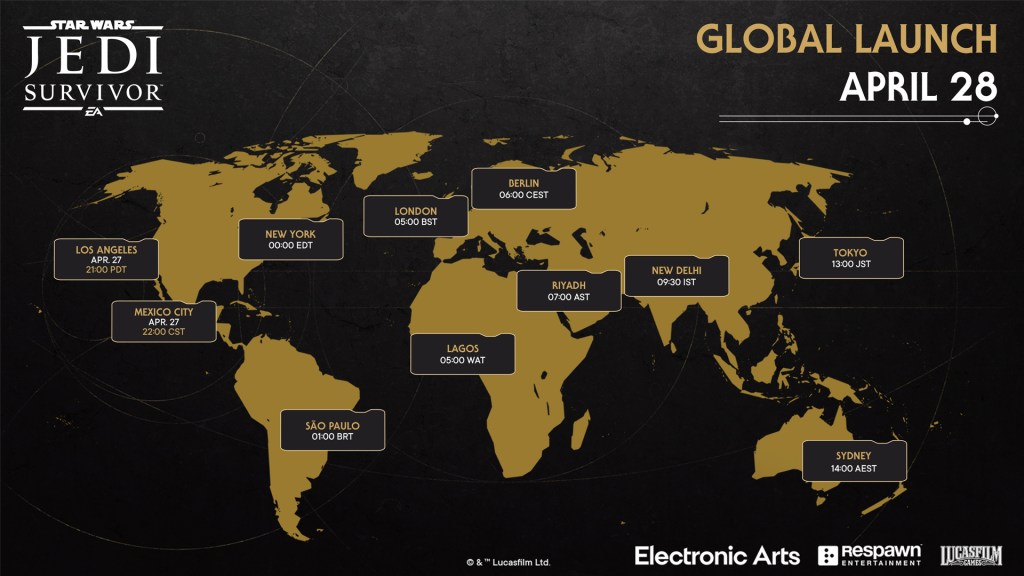 For those wondering, this release time schedule means that you will not be able to use the old New Zealand trick to play the game early. The only people who will be able to play Jedi Survivor "early" are those who received a review copy of the game or were fortunate enough to secure a copy of the title from a retailer that broke the street date.
These release times only apply to digital copies of the game. Anyone who pre-ordered a physical copy will either have to wait for it to arrive in the mail or for a retailer to open on the 28th. Even though Jedi: Survivor releases digitally on the evening of the 27th, gamers on the West Coast probably can't walk into a Target at 9 pm and hope stores shelves are stocked with physical discs. However, no matter what version you buy, you will have to sit through a huge install, so to start playing as soon as you can, you might want to forgo the physical disc (heresy, I know) and pre-order the digital version.
While many gamers anticipated Jedi: Survivor, the game recently acquired the wrong type of attention thanks to the news it would eat up 155 GB of space. Comparatively, Star Wars Jedi: Fallen Order is 1/3 of that size at only 55GB. Not only do Jedi: Survivor's Sarlacc-sized files necessitate an SSD, thus precluding Xbox One and PlayStation 4 versions, but depending on your internet speed, a Sarlacc might actually be able to digest you before the game is finished installing. This is where pre-loading comes in. EA opened up the pre-install floodgates on April 25, and now everyone who pre-ordered the game can download it on PlayStation 5, Xbox Series X/S, and PC.
That's about everything you need to know about Star Wars Jedi: Survivor's release. We'll have much more to say about the game once more of you have actually had the chance to play it.