News
Yellowstone Season 5: Could New Castings Link to 1932?
Yellowstone creator Taylor Sheridan is weaving more historical threads into the Dutton family tapestry, as recent casting news confirms the returns of Younger John, Young Beth and Young Rip.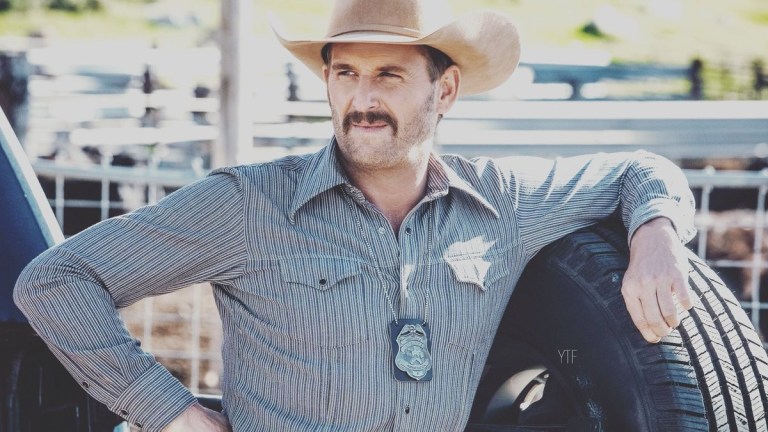 Paramount Network announced a plethora of guest stars who will feature within the highly anticipated fifth season of Yellowstone. Fans of the Yellowstone universe which includes prequel anthology series 1883, and the forthcoming 1932 have plenty to be excited about with some familiar names being added to the list. 
Yellowstone chronicles the Dutton family, led by John (Kevin Costner), who controls the largest family-owned ranch in the United States. The dramatic twists and turns of this powerful family creates a story full of shifting alliances, unsolved murders and hard-edged cowboys. The Duttons can never rest as they are in constant conflict with cut throat business rivalries, an encroaching expansion of the local town, and even fellow family members. 
The critically-acclaimed ensemble cast includes Oscar winner Kevin Costner, Luke Grimes, Kelly Reilly, Wes Bentley, Cole Hauser, Kelsey Asbille, Brecken Merrill, Jefferson White, Forrie Smith, Denim Richards, Ian Bohen, Finn Little, Ryan Bingham, and Gil Birmingham.
With the recent announcement that fan-favorite Teeter (Jen Landon) and Jimmy's beloved Texan cowgirl Emily (Kathryn Kelly) have been promoted to series' regular this upcoming season, the announcement also revealed the production has decided to elevate other key actors to their rightful spots among the top cast. Mo (Mo Brings Plenty) and Governor Lynelle Perry (Wendy Moniz) have been upped to series regulars. Plenty and Moniz have been important players within the show since the very first season.
What is notable regarding the announcement is Josh Lucas is set to return as a younger John Dutton, a version of Costner's character which has been shown in a series of flashback vignettes throughout the series. This undoubtedly means more flashback to a period in time we've already visited within the show, approximately thirty years ago. Certainly confirming the suspicion, the return of young Beth (Kylie Rogers) and her lifelong love, Rip (the teen version played by Kyle Red Silverstein) both reprise their roles as the younger models of Kelly Reilly and Cole Hauser's power couple. This carries with it the guarantee that audiences will learn more about the love story between Beth and Rip and possibly enrich an already lavish love story.
Knowing Sheridan's writing patterns, it may also be a safe bet that these flashbacks will somehow tie into the next anthology chapter in the Dutton story, 1932. The show, which announced its own blockbuster casting news with the addition of Harrison Ford and Helen Mirren is scheduled to run almost concurrently alongside season 5 of Yellowstone. The first episodes of the latest prequel debuts in December of 2022, only one month after Yellowstone gets started.
Considering that Sheridan has invested so much into this television universe, and Paramount has been masterfully marketing the popularity of the Dutton family story, it seems likely that they will cross-market much like they did when 1883 was released. This means a series of flashbacks that will feature characters from the 1932 chapter audiences have yet to meet. With Lucas being brought back, Sheridan could easily feature flashbacks that have both younger versions of the contemporary characters, and older versions of the ones we will meet in December.
Another notable return is Jacki Weaver who plays Caroline Warner, one of the only business women that seems like she could be a worthy nemesis to the business savvy of the Duttons. In another typical Sheridan touch, Dawn Olivieri is set to play a new character, Sarah Atwood, a confident, corporate shark and a new arrival to the Dutton home state of Montana. Olivieri is the most recent addition to the Sheridan pool of actors which the creator dips into as often as he can, as she played yet another strong willed Dutton woman, Claire in 1883.
To round out an established and strong ensemble, Kai Caster (American Horror Story), Lainey Wilson, and Lilli Kay (Your Honor and Rustin) will join the cast as well. Caster, who was also part of previous Yellowstone flashbacks as Young Kacey, joins as a new cowboy on the ranch who simply goes by the name 'Rowdy'. Wilson is set to play a musician named 'Abby', while Kay seems to be playing a more prominent part as Clara Brewer, the new Dutton assistant. As any fan knows, anyone coming into the Dutton world is bound to encounter the aforementioned danger and drama, regardless if they're wearing jeans and boots or a well-tailored suit, but we'll simply have to wait and see what their fate might be. What is clear, is with so many new characters and returning favorites, Sheridan has a massive season planned for all viewers.
Season 5 of the cornerstone of the Dutton saga, Yellowstone, has recently begun production, and is set to return to Paramount Network Sunday, November 13th.