News
1932: Harrison Ford and Helen Mirren Lead Cast of Yellowstone Prequel
1932 will bridge the gap between 1883 and Yellowstone. Now we have a better idea of when it might premiere and who will be in it.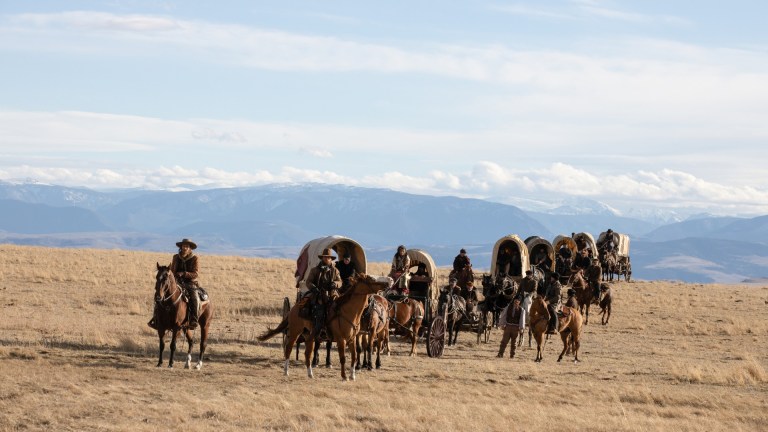 Paramount+ has announced that Academy Award winner Helen Mirren and Academy Award nominee Harrison Ford will star in the highly anticipated next chapter of the Yellowstone origin story, 1932 (working title). The latest installment in the Dutton family saga comes from perennial television workhorse Taylor Sheridan, whose work on Yellowstone, 1883 and Mayor of Kingstown has made him the golden ticket for Paramount Network and Paramount+. Yellowstone broke audience records for cable, only to be overshadowed by the performance of 1883, which became the most-watched title ever on Paramount+ worldwide. 
Here is everything we know about the series.
1932 – Yellowstone Prequel Cast
Aside from the blockbuster announcement of these two legends of the screen, Harrison Ford and Helen Mirren, no other cast members at this time have been officially announced. However, it is certainly safe to assume that Sheridan may once again dip into the pool of actors he has used before. 
James Jordan who has appeared in all of Sheridan's shows so far seems like a certainty in some capacity. Jordan appeared in Yellowstone as livestock agent Steve Hendon, 1883 as 'Cookie', and Mayor of Kingstown as prison guard Ed Simmons. Jordan seems primed to give us yet another memorable character in 1932.
As for the massive addition of Ford and Mirren, let the speculation begin as to who they may be. Considering the pull these two massive stars have, one can assume they are going to be the leads of the show and likely the elders of this generation of Dutton.
Ford would be a good fit as John Dutton I, who was previously played by 6-year-old actor Audie Rick in 1883. The timeline somewhat works, as John I would have been born in 1877, making him approximately 55-years-old in the 1932 chapter of the story. Somewhat younger than the currently 79-year-old Ford, granted, but Sheridan very recently used more mature actors to portray younger ages in 1883, which showed just how heavy a toll the world took on people in that era, and how much older we often looked over a century ago. Chances are he may be doing the same thing with the frontiersman turned patriarch, John.
In the same vein, it is easy to see Mirren playing the matriarch of the Duttons and likely someone who married into the family. Every generation of Dutton woman that audiences have had the pleasure to meet, whether they are a Dutton by birth or by marriage, has embodied the same fortitude the family is known for. It is easy to picture Mirren as yet another no-nonsense Dutton woman who portrays strength and beauty. 
1932 – Yellowstone Prequel Plot Details
Very little is known about the specifics of the next Yellowstone origin story, other than what the studios have revealed, and they seem to be tight lipped about this show, so far. In a press release, the only details given were that 1932 will introduce "a new generation of the Dutton family and explore the early twentieth century when pandemics, historic drought, the end of Prohibition, and the Great Depression all plague the mountain west, and the Duttons who call it home".
The struggle of the Duttons is well-known to fans at this point, so continuing that fight for their land and their legacy seems like a foregone conclusion. Another certainty is how much faith the studios and the fans have in Sheridan's continued vision. 1932 will undoubtedly fit seamlessly into that vision. Chris McCarthy, President and CEO of ViacomCBS Media Networks and MTV Entertainment Studios said "With the brilliant mind and gifted storytelling of Taylor Sheridan, we have created an entirely new world to explore with 1883 while expanding Yellowstone, and with 1932 we will open up a new chapter in this rapidly growing universe".
1932 – Yellowstone Prequel Release Date 
Following the precedent set by Paramount's hit 1883, it seems this next chapter in the Dutton anthology is set to be an amazing Christmas gift for fans of the Yellowstone Universe. As part of the announcement that saw Ford and Mirren join the Dutton family, MTV Entertainment Studios, 101 Studios and Bosque Ranch Productions have announced to expect 1932 in December of this year. 
It is not clear as to how far production status may be at this time, but knowing Sheridan's work ethic, he will likely stick to that deadline. Filming has just begun on season 5 of Yellowstone, but considering how much of that show had already been written, it may be easy for him to get the proverbial ball rolling on the current timeline of the Duttons, and shift in the next few months to begin production on 1932.