Features
Yellowstone: What It's Like to Join the Taylor Sheridan TV Family
Actor Rob Kirkland discusses being brought into the inner circle of one of television's most prolific creators with roles on Yellowstone and Mayor of Kingstown.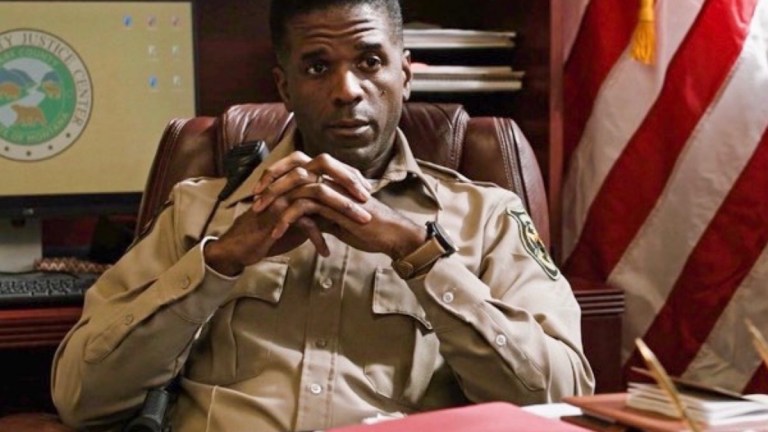 The acting profession is not an easy one. The public often sees only the glamor; the perfectly quaffed performers in designer clothing, paid millions of dollars to play pretend in massive summer blockbusters. Yet many creative sorts who choose this path in life struggle for years. It is a long road, filled with rejection, sleepless nights, insanely long hours and even longer stretches of time where these performers aren't sure they're ever going to work again.

Truth is, you have to be a workhorse in order to really make it anywhere in the acting game.
Rob Kirkland is a testament to that work ethic as the native son of Plainfield, New Jersey just knows you have to put in the work. Like many creative types, Rob focuses his energy not only through his acting, but his writing, marathon running, and training as a martial artist. So after countless hours of auditions or at the gym, it has to be one of the most warming sensations to know that you have been accepted in some small part of this massive industry. To be brought into the Taylor Sheridan television family must feel even better.
Kirkland was brought in as a featured player in one episode of Yellowstone a few years ago as Commander Bill Ramsey, and that could have been the end of things. It could have been simply another day job, another paycheck to help with rent for a few more weeks, but this was the beginning of a working relationship that has begun to shape Kirkland's career. In what he jokingly and lovingly deems the 'Sheridan Mafia', he now finds himself as a key player in a repertoire of talent that is responsible for some of the most-watched television programs of the last few years.
With Kirkland set to return to both Yellowstone and Mayor of Kingstown, we caught up with the actor to discuss the scope of these popular shows, and what it's like to be a part of the Sheridan family.
Taylor Sheridan seems like a very loyal showrunner as the same people have worked with him a lot in the past.
You know… they want to work with him again. Taylor's a great guy.
How did you first find out that not only Bill Ramsay was coming back to Yellowstone, but that you also got Captain Walter on Mayor of Kingstown?
I got a call from Taylor. He told me after season two that I would be back. He called me up and said "There's a new sheriff in town". So I kind of knew Ramsey would be back right then.
And to answer your question about Kingstown, the audition script had been released, I think around January of 2021. One of my friends had read it and he said "you've got to talk to Taylor about Kingstown" but I wasn't about to call him up and ask "do you have any more great roles for me?"
But I did. (Laughs) I called him up and asked, "What's up with this Kingstown situation"? And he said "yeah, we've got something in mind for you".

We talked a little bit more about what he had planned for Yellowstone, but it was more about Kingstown at that point – What the plan would be, the vision and the voice of the series, and for Kingstown, I was thinking, "Wow, this thing is going to be wild", because there wasn't really anything like that on television.
You've been in Yellowstone, you were a major part of Mayor of Kingstown, but you were telling me there was a good story about you being on the set of 1883.
[Flashforward] when I got to the Yellowstone set, even though [Taylor] wasn't directing that episode, I knew he was somewhere in Montana. So I was off that first day, and I went over to see him and got to meet Tim (1883 star Tim McGraw) and they were doing the first piece of 1883. Then Taylor and I talked during that week again, and he dropped little hints about what will be coming for [Ramsey] in season five.
And then you knew you were a part of the family (so to speak), right?
Yeah, and I didn't have to kill anybody (laughs) to get into the 'Sheridan mafia'. I'm pretty excited, pretty nervous. It's an intense fan base, man. You don't want to disappoint.
It's so funny you mentioned that because I know you've seen some of my interviews with other cast members and you see the hate that even the beautiful and talented Kelsey Asbille gets with Monica on Yellowstone.
Right? Nothing is by accident with what Taylor's doing with his show. There's a long game – Taylor already knows how the series is going to end, and he's putting things together. So people might hate certain characters, but I like Monica. I like the conflict that [she] creates. Isn't that what that good storytelling is? Empathy and conflict.
I see some of the stuff that some of the cast members get. I've even seen some stuff like that online for what Bill Ramsay has done. People that are big fans of John Dutton are already saying "I already don't like [Ramsey]. He seems to have an agenda. He needs to go to the train station". (Laughs)
Let's shift to Mayor of Kingston a little bit. I'm not sure about your specific scenes, but I know the show got to film in Kingston, Ontario and Hamilton.
Yeah. It was a lot of fun. They had been in Kingston for a while but for me, for Captain Walter, episode ten was in Kingston, and I did seven and eight in different parts of Hamilton. That was pretty cool.
I'm going to put you on the spot a little bit, but Kingston's known for a few things. The federal penitentiaries, Queen's University, and some of the greatest bands to ever come out of Canada. Can you name one of those famous Kingston bands?
Um, rhymes with stone? Headstones?
You got it. (NOTE: Mayor of Kingstown co-creator Hugh Dillion, who has also featured in several Sheridan projects as an actor, headlined an amazing Canadian rock band called Headstones.) So I'm not only curious about Taylor's voice but what Hugh specifically brought to Mayor of Kingstown?
Oh, great question. I don't think I've been asked that question yet. [Hugh and I] talked, in between takes and I remember that I asked him "Bro, how much of this… Is this true"? And he's like, "Oh, Kirkland… 90% of the stuff actually happened". Hugh grew up in Kingston, so a lot of Hugh is in the show. It is him.
Taylor can really channel other people's voices. He shows it when he creates Elsa's narration in 1883 or the shows that you've worked on. He treats First Nations people with respect, and the African-American characters in Kingstown, their way of life is never ignored. Was this part of the appeal of working on a Sheridan show for you?
One hundred percent. Because it goes hand in hand, right? If you're doing authentic storytelling, the more authentic of a person you are, the more authentic your storytelling is going to be. When you get a chance to talk with Taylor, he's very authentic, and that striving to be an authentic person transcends into being an authentic artist.
Taylor just has an idea of how his actors think and feel and talk. The first thing that he is addressing with his shows is [creating] an authentic human being having an authentic experience. Then you layer it with the environment that they're coming from, whether it's First Nations domain, or whether it's the inner city. But you have to have the patience, the empathy, and the courage to connect with humanity. And that's why these stories connect with so many people.
I can't say enough about him and his approach to it. I'm happy to have had the good fortune of working with a lot of great artists, actors, writers, filmmakers, and whatnot. Taylor is in that echelon, it comes down to the great ones always striving for authenticity.
Rob Kirkland's work can be seen on Mayor of Kingstown, streaming on Paramount+, and Yellowstone, streaming on Peacock.