News
Yellowstone: Every Upcoming Taylor Sheridan TV Project
The Yellowstone creator is one of the hardest working people in show business. Here's a list of all the upcoming Taylor Sheridan projects fans of his work can look forward to.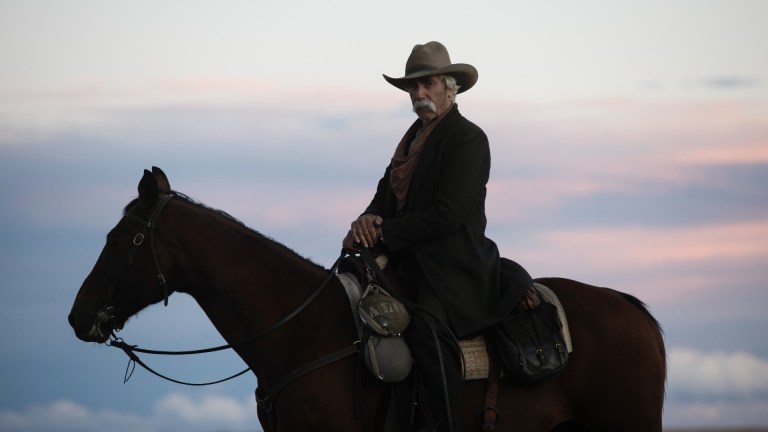 Taylor Sheridan is single-handedly making Paramount one of biggest success stories in television. The season 4 finale of Yellowstone (ironically, one of the shows' slower seasons), airing on Paramount Network, brought in a reported 9.3 million viewers to watch the Dutton family drama. Its prequel, 1883 debuted with over 6 million viewers, and gained so much momentum over it's 10-episode run, that when the show had its recent finale, its popularity superseded the numbers set by Yellowstone, becoming the most in-demand program on Paramount+.  
Paramount, through both its cable channel (Paramount Network) and it's streaming service (Paramount+) has firmly attached the franchise flag to both Sheridan and his Yellowstone universe, and yet the prolific cowboy-creator is trying to prove he is much more than a one-trick horse. Pun intended. 
Here's what fans of Sheridan's work can look forward to across Paramount Network, Paramount+, Peacock and other streaming services.
Yellowstone Season 5
While it seems to be an absolute certainty that Paramount Network will not mess with the formula of cable's biggest show, this upcoming season is a little different in terms of production. Paramount wants to ensure they keep Yellowstone fans glued to their television with a supersized 14-episode season 5. A typical season has been 10 episodes until now, and with that extra opportunity to expand the story, Paramount has decided to split the season into two halves. This model has worked for other networks such as AMC with shows like The Walking Dead, and this also potentially allows Sheridan to continue working on his other projects during the hiatus. 
The first 7 episodes, according to The Wall Street Journal are meant to air as early as this summer, but that seems unlikely as production on these episodes have not reached any notable state of principal photography at this time. 
Mayor of Kingstown Season 2 
Perhaps further proof that Sheridan currently has the Midas touch, his first foray outside Montana family dramas also did quite well for Paramount+, pulling in 2.6 million viewers when it debuted. While it may not have been as undeniably massive as Yellowstone, when the first season had finished its run, Mayor of Kingstown had steady viewership, and it wasn't long after its finale that Paramount confirmed a second season.

While nothing has been reported on the production status of the second season, one thing that does bode well for the show is Mayor was a collaborative effort of Sheridan's. Co-star of the show, and famous son of Kingston, Ontario, Hugh Dillon, was responsible for many of the main story beats of the show, basing much of it off of growing up in a city whose identity is defined by the presence of a large scale penitentiary. This partnership could mean that while Sheridan is no doubt integral to the show, its production is not dependent on him, and can concurrently move forward, should he be working on one of his other projects. 
1883/1932
Before 1883's inaugural season was finished, Paramount+ announced a new chapter in the Dutton family story with 1932. This newest chapter (or middle chapter, in terms of a linear timeline) will follow the story of a different generation of the Dutton family. However, the link between 1883 and 1932 remains a mystery. Originally, when Paramount ordered more 1883, fans assumed that meant a renewal, and therefore a completely new season. That wasn't the case. Sheridan himself has said the show that era's story is closed, yet Paramount has stated there is still more 1883 to come. Whether that means a made for TV film or a prologue to the new segment of the Dutton anthology remains to be seen. (Den of Geek wrote a full report on what the future might hold for 1883).

What we do know is that 1932 could be seen as the true origin story of the mountainous Montana empire the Duttons control in Yellowstone. It also makes perfect sense that we will see the second generation of the family, Spencer and John Dutton I who were both introduced as children in 1883 as the two kingpins of this future Dutton empire.
6666
Sheridan took a lot of screen time away from the main cast of Yellowstone during season 4 to introduce the other projects within the universe. There were a series of flashbacks to give glimpses of the late 1800's Duttons, and one of the major modern subplots of season 4 was that of cowhand Jimmy (Jefferson White) being sent to a Texas ranch to become a real, salt of the earth cowboy.

Sheridan is truly invested in this particular part of the Yellowstone universe (literally, in fact) as he recently became part owner of the real-life legendary Texas ranch. Paramount was excited to share a glimpse of the upcoming project, stating that "no ranch in America is more steeped in the history of the West than the 6666. Still operating as it did two centuries before, and encompassing an entire county, the 6666 is where the rule of law and the laws of nature merge in a place where the most dangerous thing one does is the next thing … The 6666 is synonymous with the merciless endeavor to raise the finest horses and livestock in the world, and ultimately where world class cowboys are born and made." Sadly, this statement sounds more like a tourist pamphlet than it serves to reveal any details about the show.

While Jimmy did in fact become a real cowboy, and while the reborn ranch hand returned to the Yellowstone ranch with his new fiancee, Emily (Kathryn Kelly), it should be noted that Kelly was recently announced as a regular cast member for season 5 of the show. This strengthens the argument that audiences will not get a full season, or even standalone 6666 content until both Jimmy and Emily's storylines within Yellowstone have reached an appropriate springing off point and foster a show of their own. At the very earliest, that could be the mid-season marker of season 5 of Yellowstone, but even that seems unlikely.
Tulsa King
 Escaping the cowboy strewn wilderness, but not Sheridan's hard-edged gritty story telling, Tulsa King features none other than Sylvester Stallone as an East Coast mobster who is ordered to relocate to Tulsa, Oklahoma, to pay a penance for past discretions and reestablish the mob's presence in the city. Realizing that his mob family may not have his best interests in mind, Stallone's character, Dwight Manfredi, slowly builds a crew to help him establish a new empire. The series marks Stallone's first starring television role, which continues the trend of Sheridan attracting major film stars to come into his television projects. 
David C. Glasser, CEO of 101 Studios, (which produces many of Sheridan's other projects), told Deadline, "Taylor is a prolific creator because of the multi-dimensional characters he creates and the complex worlds he builds. To be able to have the legendary, transcendent Sylvester playing one of these characters is truly a privilege."
While nothing concrete other than the star of the show has been announced, this is another project that doesn't necessarily need Sheridan's full attention, as co-creator Terence Winter, who previously worked on massive HBO hits such as Boardwalk Empire and The Sopranos, will be Tulsa King's showrunner. 
Tulsa King is planning a fall 2022 release date, available on Paramount+
Lioness
Yet another co-creation, Sheridan developed Lioness with actor-turned-creator, Jill Wagner. Wagner is best known for her role as Kate Argent in supernatural teen drama, Teen Wolf.

The story of Lioness follows a marine who is recruited into the CIA's 'Lioness Program', responsible for training undercover operatives. This marine is tasked with befriending a terrorist's daughter in order to bring down the dangerous organization.

Zoe Saldana has signed on to play a major role, as a tough CIA station chief, in charge of the recruits who become part of the program. Saldana has a dual role within the show's production, as she is also executive producer. Bringing in even more major Hollywood star-power, Nicole Kidman will also serve as executive producer to the show.

Lioness is scheduled to debut on Paramount+ in 2023.
Bass Reeves
Bass Reeves has been touted as merely a limited series, and currently only in the preliminary stage of development. Reeves, a Black cowboy and gunman, was known as one the greatest frontier lawmen in the history of the old west, and is also believed to be the inspiration for legendary characters such as "The Lone Ranger." The real life Reeves worked as a federal peace officer, capturing over 3,000 of the most dangerous criminals of the time, and legend states he did all that without ever being wounded once.

David Oyelowo, (Selma, Jack Reacher) has signed on to play the title character. Not much is known about production at this time, but it is reported that it will start at some point this year.
Land Man 
While this may seem familiar, as the show reportedly features a neo-western landscape and the story of clashing family-run empires, Sheridan got his inspiration for this show from an unlikely source. Based on the limited podcast Boomtown, Land Man has been reported as a "modern day tale of fortune-seeking in the world of oil rigs."

Perhaps a similar flavor to Sheridan's most popular work, it does promise to be an even larger scale than Yellowstone, focussing on how this oil conflict between 'wild' billionaires is reshaping the global climate and our geopolitics. Academy Award winner Billy Bob Thornton has signed on to play the lead, as a crisis manager for a massive oil company. This follows Thornton's brief but memorable cameo in Sheridan's 1883.

Production on Land Man will reportedly not begin until 2023.