Features
Yellowstone: 5 Theories On How The Show Could End
Co-Creator Taylor Sheridan has already mentioned he knows how the Dutton saga will conclude, but has he laid the groundwork?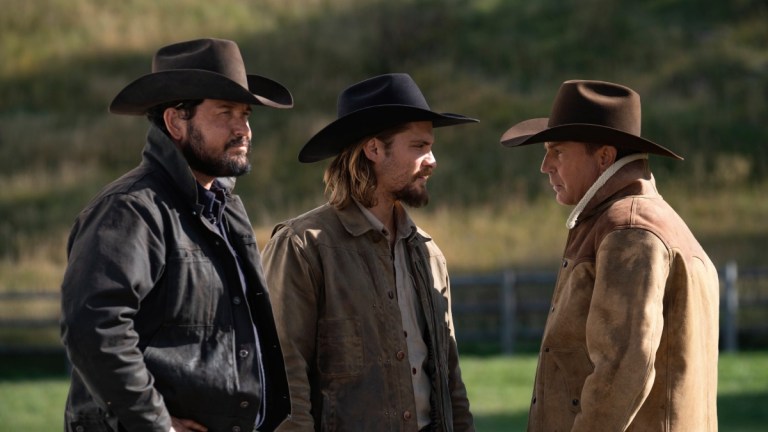 Whether diehard fans of Yellowstone choose to admit it or not, we are closer to the last episode of the show than we are the first. A shocking revelation to those who don't wish for Paramount's Golden Goose in Cowboy boots to end, but creator Taylor Sheridan has explicitly expressed he knows how the new-age cowboy-opera is likely to culminate. Paramount has not announced how many more episodes are to come after this year's upcoming fifth season, but the end is nigh. With some major loose threads needing to be tied up, and some even larger continuing story threads laid throughout the first four seasons, here are five theories on what the end of Yellowstone might look like.
Jail Time
This could be the best case scenario for the family. Yes, that is a bleak outlook right off the bat, but rest assured, one of Taylor Sheridan's major strengths as a writer is his ability to write poignant endings that are equal parts tragic and hopeful. One needs not look any further than his tragedy filled finale of the Yellowstone prequel, 1883. Audiences have to recognize, there will be a very heavy turn, and if that simply means that one or more of the Dutton family has to serve prison time, many audience members will take that trade over darker alternatives. But who could it be?
The most obvious case would be Rip (Cole Hauser) as he has committed countless sins in the name of the ranch and the family that has taken him in. But if Sheridan were to cage the Dutton beast, he might have a full revolt on his hands from viewers. Not only that, but Rip would be the most obvious choice. It's been hypothesized that Beth might be looking at real jail time as well to possibly set up a very dark season 5, but let's look even further into the future. What would be the perfect Sheridan moment; that perfect balance of tragic and fitting, touching and sorrowful? There is really only one answer… John (Kevin Costner).

Whether this is to keep the family on the land, Beth out of prison, or for other reasons discussed in the next theories, John can make the ultimate sacrifice to protect his family. John has never put himself in the line of fire even though he may have the family's best interests in mind, and this would be a fantastic ending for the character that the audience would have to respect.
The Yellowstone (As We Know It) Will Cease To Be
Many fans are picking up on the Easter egg that Sheridan laid in 1883, where there's a prophecy of the Dutton land being once again returned to the First Nations people who called it home generations ago. With that in mind, it makes the most sense that some kind of deal must be struck. That may mean John strikes a deal to keep the family on the land. Perhaps the budding romance between Avery (Tanaya Beatty) and Kayce is a new bond between the Duttons and Spotted Eagle (Graham Greene in 1883) that may allow the Duttons to at least share the Yellowstone. Another fitting ending that fits with the strong motifs Sheridan has written throughout Yellowstone in terms of respecting and trying to cohabitate with the native people of this land.
Fans have to realize that Sheridan planted this seed for a reason, most likely to reveal something unexpected in the final season. Throughout the show, Sheridan has hinted that as desperately as John and his family have held onto their empire, that land really doesn't 'belong' to anyone. Granted, no one wants to see Market Equities turn the ranch into a strip mall or a golf course, but if anyone understands the power and importance of the land, it's the Duttons. That likely means, they would rather see the land become public than in the hands of corporate America. Perhaps the fans should be prepared to let the ranch go, too.
A Death in the Family
Hell or High Water, 1883, Mayor of Kingstown – All Sheridan dramas, all feature a prominent death in the protagonist's family and extremely impactful moments. True fans once again have to realize that after the death of Lee Dutton (Dave Annabelle) in the very first episode of the series, the Duttons are due.
You would be hard pressed to convince any fan of Sheridan's work that the man isn't willing to kill prominent characters when it would have a major impact on the story. In the final season, or in all honesty, in any of the upcoming seasons, it truly feels like the proverbial sword is dangling over the head of the family. The Duttons are never short on mortal enemies, and we have to surmise that the final seasons are going to raise the stakes in terms of the danger the Duttons face.
If Sheridan were to kill a main character even midway through the final season, it might ostracize viewers. If you look at the pattern established in some of his previous shows, he typically bookends his shows with those major deaths, either in the premiere or in the finale.
The strong bet is on a character that would be impactful, yet wouldn't 'change the opening credits' so to speak. Monica (Kelsey Asbille) is just such a target, or Jamie's 'partner', Chrstina (Katherine Cunningham) would be impactful not necessarily for the viewers, (even though Monica is a fan favorite to many) but to the family dynamic. This could be a major moment where either Kayce (Luke Grimes) or Jamie (Wes Bentley) are pushed into a very dark and desperate place, and with Jamie especially, that could mean real danger as he has been pushed time and time again to the edge.
Closure for Jamie and Beth
This ending is one that many viewers have been waiting for; one that Sheridan has been laying the foundation for since the very first season. Will Beth and Jamie finally reconcile? Truth is, it could seemingly go two ways, yet there's a strong feeling in the air that either way this ends, it means the end of all ends for either Jamie or Beth.
Jamie has been pushed further and further to his breaking point as every season passes, so it could be an inevitability that he is finally pushed too far, and perhaps even more inevitable that Beth is the one to do it. Since we've already seen how Jamie has reacted when backed into a corner, could this mean Jamie ends up killing his adopted sister?
That would not be completely unexpected, but what is more likely is that if the danger is as high in the final seasons as you would expect, the Duttons are once again going to be fighting not just for their way of life, but their very lives. The upcoming season 5 could see the two siblings begin to reconcile, as Beth very much has Jamie in her pocket, which may lead to a return to what we saw in the first season.
Throughout all the fist fights and palpable tension between the two, there was a forgotten moment where Jamie picked up Beth after a day of drinking, and she joked about suicide. At the time, Jamie told her that if it helps her to hate him, that she could keep doing so. This is a bond not without love, and it would be perfect Sheridan formula to have Jamie once again fight for his sister. If that means literally taking a bullet for her as well, his story might be one of the best developed and tragic arcs of the entire show. It may also set up another massive gift that Jamie could bestow to Beth.
Another Dutton Baby
Let's focus on a possible happy ending, and to be clear, this particular ending doesn't mean the expected second child of Kayce and Monica. Asbille has said on different occasions that Taylor Sheridan, as much as he often doles out tragedy, is at heart, a romantic. This means someone in the family needs a happy ending, and the Duttons need a future. Things for Jamie are tenuous at best, especially the relationship he has with his adopted family. Chances are, he will not be the future of the Dutton family empire moving forward for a myriad of reasons, so it doesn't seem likely that he and Christina (who also have a tenuous relationship), will settle down and have another baby.
What's more likely to happen, is the Wheelers, Beth (Kelly Reilly) and Rip (Cole Hauser) could end up getting a happy ending. Both characters, as well as their surrogate stray, Carter (Finn Little) are fan favorites, and Beth and Rip specifically feel as if they are two characters who have truly earned a little happiness. Sometimes they bring misery upon themselves, but many would agree, they have done nothing but sweat blood for the Duttons in order to keep the integrity of the ranch and the family. It's hard to argue that they deserve a little break, and a little piece of their own paradise. Considering Beth's tragic backstory, and her inability to have children, many observant fans might be asking, how will this be possible?

If one of the other prophecies hold true, there could be a tragic end for one or more members of the Dutton family, and that could mean that Beth and Rip could end up being the adoptive parents of either Jamie's son or in what is yet another prediction, Beth's own half-sibling. In a previous Den of Geek article, it was surmised that John and his unexpected recent paramour, Summer (Piper Parabo) might have an even more unexpected bundle of joy on the way. If Jamie and Christina die, or if a very likely move, if John, the patriarch of the Duttons were to pass, it could easily mean that Beth and Rip become the parental figures Sheridan has slowly been setting them up to be.