Features
Why the Stakes in Marvel's Secret Invasion Are So Different
There's a secret war afoot in Marvel's new series and only a haunted Nick Fury can stop it.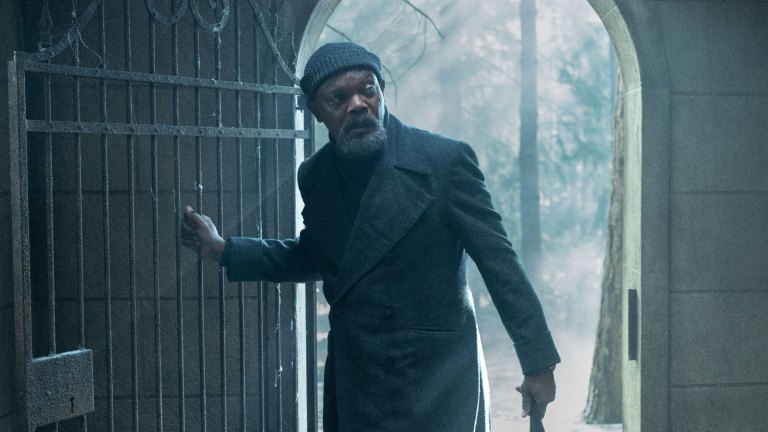 When we first meet Nick Fury (Samuel L. Jackson) again in Marvel's new Disney+ streaming series, Secret Invasion, he's a different man than when we last saw him.
Dressed in grubby street clothes as opposed to his usual sleek black tactical gear, his eyepatch missing, his beard grown out and his posture a bit slumped, the usually unflappable former head of S.H.I.E.L.D. finally seems old. Almost defeated. But that's what years of protecting the Earth from menaces both homegrown and otherworldly will do to you, right?
"Nick Fury [is] a human being, not a superhero," says director Ali Selim, who helms all six episodes of Secret Invasion, starting with today's (June 21) premiere. "He returns to Earth and puts his feet on the ground…he's aging, which is interesting to me, gaining wisdom, losing a step, finding purpose within a world that is changing."
Selim adds that he wanted to tell a "very human-scaled story," which is an interesting way to describe a tale in which a cadre of shape-shifting aliens is launching terror attacks and trying to infiltrate the highest levels of global power so that they colonize Earth for themselves.
The aliens in question are the Skrulls, first introduced into the MCU in Captain Marvel, who have been living secretly on Earth while Nick Fury and Carol Danvers have been supposedly working to find them a new homeworld of their own. However, a rogue faction of Skrulls, led by the malevolent Gravik (Kingsley Ben-Adir), are tired of waiting and taking matters into their own hands.
Stationed above the Earth on a S.A.B.E.R. space facility in the years since the events of Avengers: Endgame (and having been Blipped out of existence for five years prior), Fury has entrusted the supervision of the Skrulls to their leader Talos (Ben Mendelsohn). But a rise in terrorist activity and murder, apparently driven by Gravik and his followers, brings Fury back to Earth – where he must confront allies – some trustworthy, some not — enemies, and his own failures.
Unlike the comic book arc on which the series is loosely based, Secret Invasion is not telling a universe-spanning adventure in which every superhero in the Marvel canon may not be who they say they are. The events that unfold are seen through the eyes of Fury and a handful of other characters, making this a more intimate, darker telling of the Secret Invasion story.
"I think we're brought into the world through Nick, Nick's past, his mistakes, and his promises that he has left unfulfilled," says Selim. "So it's a lot of philosophical and psychological questions for the main character, as opposed to just an issue of good versus evil. [That] immediately makes it more personal and that, because of the questions that Nick is asking himself, it makes it puts us a little more in a gray area."
But, adds Selim, the narrower focus of the storyline doesn't make the stakes any less substantial. "The stakes are high in the show," he says. "And the stakes are recognizable — they're not [on]a fictional, alien planet somewhere. It's Earth and humanity. So I think we feel the stakes in a different way than we would in a superhero movie."
While Selim says he responded immediately to the "themes of distrust and suspicion and paranoia" in head writer Kyle Bradstreet's script, the director adds that his other major collaborator in bringing the story to life was Nick Fury himself, star (and executive producer) Samuel L. Jackson.
"Sam was part of the evolution of this story and how it came to be," Selim says. "Sam is older than he was when he started playing the character. It makes sense to tell the story from that perspective…I think Sam got it from his personal experience in life as an aging man, gaining wisdom, gaining experience. He also felt it from the evolution of Nick Fury. He's a great collaborator, great communicator, consummate professional [in] his ability to play the role for the story as the story needs to be told. None better."
Marvel's Secret Invasion is streaming now on Disney+.