Features
Where You Can Watch Suits Season 9
The final season of Suits may not be on Netflix, but here's where you can stream season 9 of the popular legal drama.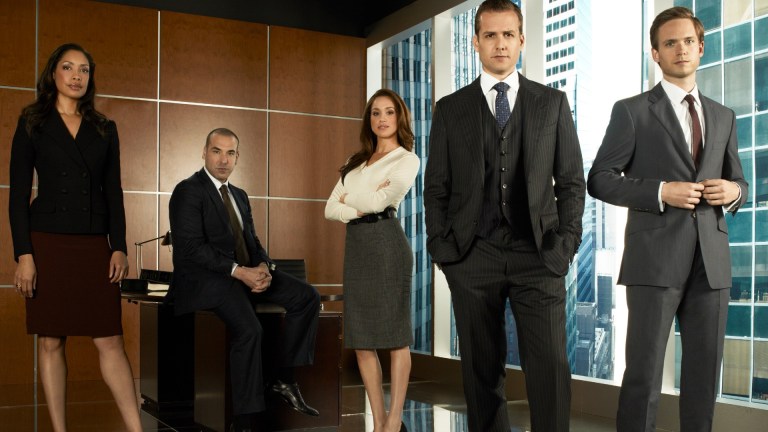 The USA Network legal drama Suits has seen a massive surge in popularity this summer, with around 18 billion minutes of the series viewed in July alone. Even though this isn't the show's first time on streaming, its arrival on Netflix in June has given the show a second life. 
When asked about Suits suddenly becoming so popular, executive producer Gene Klein applauded both the show's creative team and Netflix's reach, telling TVLine:
"I think there's two different things going on, one set of things that has to do with the show itself and another that has to do with the power of a particular platform. On the one hand, anecdotally, people reach out to me all the time, so I know it still finds new viewers here and there. But there's also something about the show that is rewatchable. There's people who've watched it all when it was coming out and find it very comforting to watch again. And it's also, I think, a unique enough show that it's very rewatchable. You discover new things as you're rewatching it. So there's an additional set of things about the show that reveal themselves watching it again. So it's a tribute to the show, creatively. But then it's also a tribute to the power of Netflix because it's been on Peacock for a while. There's a hat tip that needs to go to Netflix and the power of their platform because it's finding people"
While Netflix's reach is likely a key factor in Suits' current success, it's also important to note that despite the show gaining billions of minutes of views, the actors and writers that made Suits so likable aren't being compensated properly by the current streaming residuals system.
But even though Netflix has given more people a chance to find Suits, the streaming service oddly doesn't have the final season in its catalog. While there's no definitive answer thus far on why season 9 isn't on Netflix, here's what we know about where you can finish your Suits binge.
Why Isn't Suits Season 9 on Netflix?
Because Netflix advertised that the complete series would be available to stream starting June 17, viewers have been surprised to discover that Netflix only has the first eight seasons. There has been no official statement from Netflix explaining why season 9 is mysteriously missing and it's hard to find a straight answer elsewhere.
It seems likely that there's some kind of licensing agreement preventing Netflix from streaming the whole series, but even as an executive producer, Klein knows "nothing about the deal" and assumes that season 9 will arrive on the streamer at some point. Thankfully though, season 9 of Suits is currently available to watch on other streaming services so you don't have to worry about an incomplete binge if you'd rather not wait on Netflix.
Where to Watch Suits Season 9
Peacock is currently the only streaming service that has all nine seasons of Suits available for subscribers. This makes sense given that the show first aired on USA Network, one of NBC Universal's broadcast channels. However, Netflix is still the only service that has the extended 81 minute pilot versus the original 72 minute version that's on Peacock.
Season 9 of Suits is also available to watch with an Amazon Prime subscription, though it's the only season included in Prime Video as part of the subscription cost. Seasons 1-8 are technically available to stream as well, but you have to buy the seasons in order to watch them through Amazon.