Features
The Best Courtroom and Lawyer Movies Ever
All rise! It's time to look at the best courtroom movies ever made.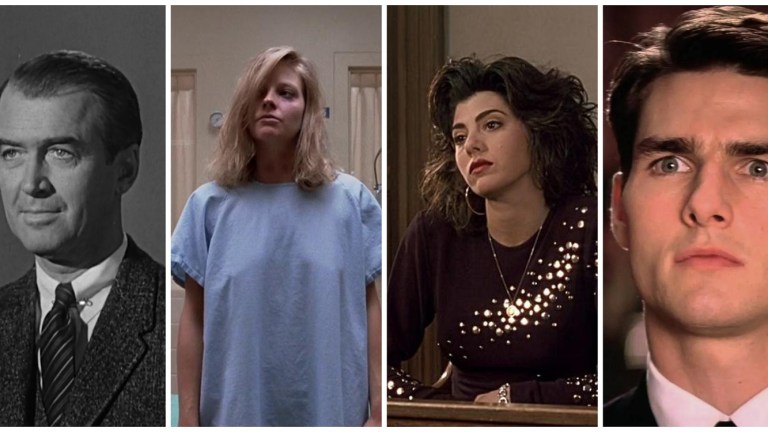 Courtroom movies tend to have a winning formula that appeals to our sense of justice. We never want to see innocent people sent down for crimes they didn't commit, so a reliable story can usually be built around the process of defending unlucky characters in a court of law. But because so much of that drama transpires on a single set, making a really good courtroom movie requires certain elements to work spectacularly.
You'll need a great, charismatic lawyer whose life, career, or reputation depends on winning the case. Then there are your defendants, who must be at least a little relatable. After all, any one of us can get mixed up in some unfortunate circumstances given the right series of events! Then there are the witnesses, who must be cajoled into telling the truth, and the opposing counsel, who is often as antagonistic as the injustice itself. Most importantly, you need exceptional dialogue, plotting, acting, and direction if you're going to create a classic of the genre.
Here are the best courtroom movies ever made…
To Kill a Mockingbird
1962's To Kill a Mockingbird, based on Harper Lee's bestselling novel of the same name, remains one of a few iconic courtroom movies that doesn't really set out to hit you with a happy ending, but it somehow manages to achieve one anyway. There is a striking level of human decency playing out, as lawyer Atticus Finch (Gregory Peck) attempts to defend a young African-American man accused of raping a Caucasian girl.
The man, Tom Robinson, is being tried in front of an all-Caucasian male jury, who are unable to see past their prejudices and realize Tom's innocence. Before the movie even gets to those stages, a lynch mob tries to kill Tom in jail. This is not a movie you will soon forget, and of course it has a message to deliver, but it's a powerful one that is consistently reassessed. Peck's performance has also become synonymous with the character of Atticus Finch in the many decades since the film's release. If you're looking for a real classic of the courtroom genre, you should arguably start here.
A Few Good Men
Before Sports Night and The West Wing helped us understand that most of Aaron Sorkin's characters all kinda talk the same, this 1992 adaptation of his Broadway play A Few Good Men was a revelation in character building and dialogue, most of which transpires during court proceedings.
In the Rob Reiner-directed flick, Tom Cruise is at the top of his game as lawyer and JAG Corps Lieutenant Daniel Kaffee, who would rather plea bargain relentlessly than bother building a case. But when two men are court-martialed and charged with the murder of a fellow Marine, he is dragged into a trial that will either expose a violent extrajudicial punishment and the people behind it, or destroy his career in the attempt. As Kaffee questions a star-studded cast of characters under oath until a final showdown with a scene-chewing Jack Nicholson, you will be on the edge of your seat.
My Cousin Vinny
Far from the seriousness of A Few Good Men but no less earnest about the consequences of innocent people jailed for crimes they did not commit, My Cousin Vinny features tour de force performances from both Scorsese favorite Joe Pesci as ambulance chaser Vinny Gambini, and Marisa Tomei, who would win an Academy Award for a rare comedic role as Pesci's fiancée, Mona Lisa Vito.
When two college kids drive through Alabama and stop at a convenience store they have no idea that following their brief visit a robbery and murder will be carried out at the same store. The crimes are pinned on the pair with circumstantial evidence, and it's up to the boys' fish-out-of-water cousin from Brooklyn to rescue them in court. Vinny is completely out of his element, but as the case comes together the film fills to the brim with unforgettable moments and characters, resulting in one of the most wholesome courtroom movies of all time.
Anatomy of a Murder
Jimmy Stewart is in fine form in this courtroom melodrama that pits his jaded, small town former District Attorney Paul Biegler against its current DA, who also happens to have a high-powered prosecutor from the Attorney General's office at his heel. The two meet in court over the murder of an innkeeper by a US Army Lieutenant who says the innkeeper raped his wife.
At almost three hours long, Anatomy of a Murder flies by despite most of its story taking place in court. It's a film that takes you through the basics of how an American court works, but spends less time on spectacle and drama, and more time focusing on the reality of local crime in all its fascinatingly average unpleasantness. Murders often happen in the heat of the moment, and we're asked to think about how much can be forgiven within the circumstances.
Primal Fear
This courtroom thriller put Fight Club and American History X star Edward Norton on the map, with his sweet altar boy character Aaron Stampler at the center of a court case involving a savagely slain Archbishop. The young man's lawyer ends up being an arrogant Chicago defense attorney (Richard Gere) who loves the spotlight and is defending Stampler pro bono in the hope that it'll draw even more attention to his fiery legal career; a decision he will come to regret.
Yes, the whole setup is going to utterly backfire, and we won't spoil exactly how that happens if you haven't had a chance to see Primal Fear yet, but it's fair to say you're in for a wild ride. Norton's incredible debut performance as Stampler is really the key to exactly how this movie stands out from the courtroom crowd and it's one that, although deeply problematic for a number of reasons, will help you understand why he was once thought to be Hollywood's 'next big thing'.
Suspect
Suspect has been largely forgotten since its release in 1987, when it was considered a bit of a flop. But it soon found a life on home video, when those intrigued by the combination of its famous leading lady (Cher) and its subject matter – a homeless, deaf Vietnam veteran (Liam Neeson) being tried for a murder he didn't commit – decided to investigate whether they had missed out on a classic of the genre.
While the movie is objectively flawed, it does make for a thrilling experience, thanks in no small part to the film's sound design and its Michael Kamen score, which does a lot of the heavy lifting for plot-related reasons; Liam Neeson's character Carl Wayne Anderson can't hear or really talk, and so struggles to defend himself against the accusations. Suspect blooms as Cher's lawyer Kathleen Riley finds herself in increasing danger. The film is helmed by the director of Bullitt, Peter Yates, but he doesn't need any car chases to rack up the tension here.
Wild Things
Featuring some truly wild performances that live up to its title, 1999's Wild Things follows high school guidance counselor Sam Lombardo (Matt Dillon) who is accused of rape by two female students, but a string of courtroom revelations are set to exonerate him. Dillon is fantastic as the sleazy Lombardo, as are Neve Campbell and Denise Richards as the highschoolers who are clearly way too old to be in high school. This is definitely the kind of courtroom movie to throw on when you want to consume some gold tier trash!
The film would go on to spawn three inexplicable direct-to-DVD sequels. They all tried (and failed) to capture the ludicrous magic of the original movie, but lacked the star power and the slight hand of director John McNaughton (Henry: Portrait of a Serial Killer) who somehow managed to pull the lurid plot out of the gutter and give the film a deliciously glossy sheen, despite its laughable twists and turns.
A Time to Kill
Based on John Grisham's novel of the same name, A Time to Kill received mixed reviews upon its release, but still managed to be a box office success, and that's because its story remains timeless and its all-star cast is simply spectacular.
Featuring Sandra Bullock, Samuel L. Jackson, Matthew McConaughey, Ashley Judd, and father-son acting legends Donald and Kiefer Sutherland, the film is a tale of two court cases. During the first, a ten-year-old African American girl is abducted, raped, and beaten by two local white men, who also try to hang her. When it becomes clear that there's a very real possibility that the pair will walk free, the girl's father (Jackson) takes his own vengeance, shooting them dead in the courthouse. Local lawyer Jake Brigance (McConaughey) decides to defend him, and it looks like there's no way he can win, given the public nature of the crime. You may find it all a little sentimental, but strong performances and excellent filmmaking craftsmanship put A Time to Kill a cut above.
The Accused
Jodie Foster won a Best Actress Oscar for The Accused, and it's easy to see why. Foster stars in this legal drama as a waitress called Sarah, who is gang raped by three men at a bar. Refusing to let the attack go unpunished, she employs lawyer Kathryn Murphy (Kelly McGillis) to help her prosecute not only the rapists, but the men who saw it happen and did nothing to help. The courtroom movie remains shocking and unsettling to this day, as it should.
The Accused was one of the first big movies to tackle themes of misogyny, slut shaming, and victim blaming in the mainstream, and features graphic scenes that put off many big actresses who were offered the part of Sarah. Foster took the role at a time in her career where she was thinking of retiring from acting, but the film's success and her accolades convinced her to stay in front of the camera for many years to come.
12 Angry Men
One of the best courtroom movies ever made takes place in an adjacent room, where a jury in a New York County Courthouse deliberates the case of a poor teenager who stands accused of stabbing his abusive father to death. If they find him guilty, he will get the electric chair, so the stakes are very high.
Sidney Lumet's 1957 black and white film 12 Angry Men is a masterpiece of storytelling, with all but three minutes of the film's running time taking place in the jury room set. The jury starts out fairly resolute, with all but one juror deciding the defendant is guilty. However, that particular juror believes there is reasonable doubt in the case. As the film progresses, the jurors' different personalities are laid bare, with each of them adding to the conflict in their own unique way. Though it seems like most of them should be able to find common ground in their discussions, their ages, origins, classes, values, and temperaments divide them to the point where they clash on key issues, leading to an unforgettable boiling point.
Have we missed any of your favorites? Let us know in the comments!