Features
What Will Happen in The Lincoln Lawyer Season 3?
Mickey Haller has won two of the biggest cases of his career in The Lincoln Lawyer. We know from the book series that there's more to come in season 3.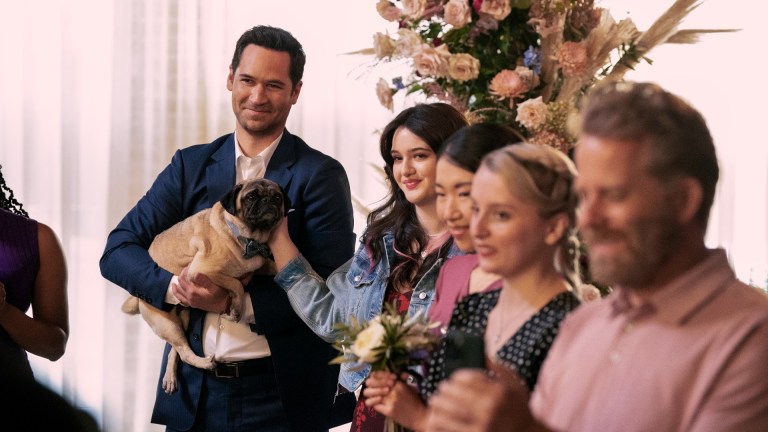 This article contains spoilers for The Lincoln Lawyer seasons 1 and 2.
It is a tumultuous time in Hollywood currently. The Writer's Guild of America has now surpassed 100 days of strike action, and SAG-AFTRA is showing solidarity right beside them. Many television and film productions have been put on hiatus, which begs the question – has The Lincoln Lawyer even been renewed at this juncture?
Ted Humphrey, showrunner for the Netflix hit, confirmed that he and his writing team had already been working on a season 3 before the WGA began their strike action. An official renewal has not been announced, and there may be a delay in production for obvious reasons, but chances still look good we'll see Mickey Haller (Manuel Garcia-Rulfo) and his team again. And thanks to the precedent set by the Mickey Haller book series, we have a good idea of what to expect from season 3.
Thus far, fans of Michael Connelly's Mickey Haller novels have been treated to fairly faithful, albeit abridged versions of two of the Lincoln Lawyer's more notable outings. Season 1 brought us the chilling, twist-filled adaptation of Connelly's sophomore effort, The Brass Verdict, where Mickey defends a video game mogul Trevor Elliot (Christopher Gorham) suspected of killing his wife and her lover. When the trial ends, Mickey has done his job admirably, perhaps even too well, as Elliot is found not guilty, only for it to be revealed that the video game creator actually did commit the crime. As Elliot begins celebrating the release of his newest work, he is shot dead in the street, something that Detective Raymond Griggs (Ntare Guma Mbaho Mwine) calls a "Brass Verdict."
While there were slight changes to The Fifth Witness, written in 2011, season 2 brought us the tale of Mickey defending yet another murder suspect, Lisa Trammell (Lana Parrilla). Things get even more complicated for Mickey than usual as not only was he briefly involved with Lisa romantically, but his very life is threatened because of the powerful people involved in this case. With all that in mind, here's what fans can expect from The Lincoln Lawyer season 3.
What Book Will The Lincoln Lawyer Season 3 Be Based On?
Humphrey spoke to TV Insider where he confirmed that season 3 would be based on the novel The Gods of Guilt, an ominous nickname Mickey likes to give the jury as they deliberate the fate of his clients. Much like audiences saw in the season 2 finale, The Gods of Guilt finds Mickey being hired by Julian La Cosse (Devon Graye) to defend him in the murder of a prostitute. In a shocking cliffhanger, Mickey discovers that the prostitute is Glory Days (Fiona Rene), a former client he was quite fond of, and someone Mickey attempted to help. Because of his fondness for Glory, and because he honestly believes Julian is innocent, Mickey has to eventually take on two dirty cops in a case that will have extensive consequences for Mickey and his associates.
The show has done well to introduce small story seedlings that grow into continuing threads throughout the series, and Glory Days became a central player in Mickey's defense during season 2. The two seemed to have an excellent rapport, with Glory even sending Mickey a postcard from Hawaii that seemed to indicate she was able to start fresh, as she had hoped. Her murder makes the case that much more personal for Mickey, and certainly creates a touch more emotional investment for the character and the show.
Will Mickey Relapse?
Mickey experienced quite a bit of emotional turmoil this past season, as the "one who got away", and first ex-wife Maggie (Neve Campbell) took a new position and moved away, interrupting their on again, off again romance. The decision for Maggie to leave might have had much more to do with Campbell leaving to work on Twisted Metal, but regardless, it left a bit of a hole in the show, and in Mickey's life. This is a crucial moment in the second season, as it may not have been the last time Mickey loses one of the women in his life. The Gods of Guilt, which is the fifth book in the series, sees Mickey and his daughter Hayley (played in the show by Krista Warner) have a significant falling out, and Hayley deciding she no longer wants to be a part of her father's life.
With Mickey having experienced quite a bit of personal loss, predominantly in the romance department, and having experienced some truly dark revelations, it may be a perfect time for the character to fall back into the spiral he experienced with his addiction. We've seen Mickey inch towards temptation again, and as a recovering addict, it is bound to happen sooner or later. If the newest season sticks to the novel, Mickey could find himself with no real support system. With his mother in Calgary, Maggie gone, and Hayley not wanting anything to do with him, the third season might be an excellent time to delve into those dark places again.
What Characters Will Return for Season 3?
The extensive consequences the novel promises with this new case may be piling on the misery, as there were a few loose ends from season two, other than Glory's death. Mickey has managed to anger some powerful people in the process of getting Lisa's acquittal. One of his key witnesses, and the lynchpin to his entire case was Alex Grant (Michael Goorjian), a construction company owner with possible ties to the Armenian mob. Grant is such an important figure in Connoly's fictional L.A., he was likely to head all major construction jobs for the 2028 Olympic Games hosted within the city. Mickey made him look like a fool on the witness stand, and possibly tie himself to the Armenians, something Grant had been able to keep a bit more hush prior to this high profile case.
One ally Mickey could have used in the future was FBI Agent Felix Vasquez (Hemky Madera), but once again, Mickey finds himself angering someone in a position that could certainly make the Lincoln Lawyer uncomfortable. Vasquez reluctantly was pointing Mickey in a certain direction in order to get Grant to implicate himself in criminal activities, but when Mickey had to make a bold move to win Lisa's case, it meant that the FBI had to hold back on their investigation of Grant. Vasquez was not happy about this, and promised they'd be watching Mickey closely in the future.
The Lincoln Lawyer season 3 promises to be perhaps the most tension filled. It would seem that everyone's favorite charming defense attorney is going to be feeling more and more alone in the third season, facing yet another high profile murder case, with the pressure of finding Glory's killer, the FBI leaning on him and an Armenian gangster possibly making a play on his very life.
All 10 episodes of The Lincoln Lawyer season 2 are available to stream on Netflix now.