Features
UK Christmas TV 2020: Your Guide to This Year's Festive Specials
Here are the UK festive specials announced to be airing this festive season so far…
If you're the kind of person who tuts at pre-December Christmas trees and moans about supermarkets simultaneously stocking mince pies and Halloween goodies (don't cross the streams!) then look away now, there's nothing for you here.
If, however, you're the sort of person who's gasping for end-of-year cheer like it's the last bottle of Evian in a hot, empty desert, then step this way. We've collected up all the festive TV specials airing in the UK over Christmas 2020, so you can start mentally circling the ones in your personal schedule.
It being early, there are still announcements to be made, so check back here for updates. Ditto for official air dates and times, which are thin on the ground until the channels lock in their schedules. We'll pop back and add those in as they're confirmed.
Starting with our top five picks, here's a list of everything on the way…
TOP FIVE PICKS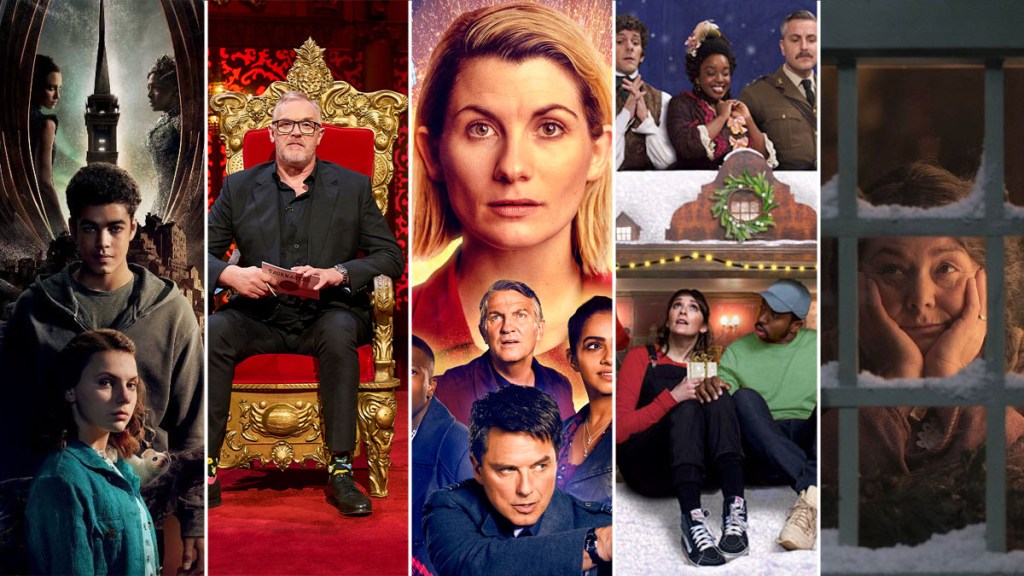 1. Doctor Who: Revolution of the Daleks
Companions Yaz, Graham and Ryan stumble upon a Dalek threat on Earth while the Doctor's far away and locked up in space prison. How do you fight the Daleks without the Doctor? With the help of an old friend… Festive special 'Revolution of the Daleks' is written by Chris Chibnall and directed by 'Spyfall Part 2' director Lee Haven Jones.
Air date: Friday 1st January, BBC One
2. Ghosts: Christmas Special
The Ghosts Christmas special is so good, there should be a new one every year. It's Christmas in Button House and Mike is determined to give his visiting family the perfect Christmas, if they'll let him. And if his other family – the houseful of historical ghosts only wife Alison can see and hear – behave. 1990s MP Julian is the Ebenezer Scrooge in need of a lesson on the true meaning of Christmas in this terrific family comedy.
Air date: Wednesday 23rd December, 8.30pm, BBC One
3. Taskmaster: Christmas Special
We don't yet know the identities of the five contestants competing in the very first Taskmaster festive special, but we know that they are all brand new to the 10-series comedy, and have been described as "experts in their respective fields"… Fingers crossed for Christmas-themed tasks.
Air date: Friday 1st January, 9pm, Channel 4
4. His Dark Materials Season 2 Finale: Æsahættr
Technically, there's nothing festive about His Dark Materials (unless the BBC/HBO adaptation takes a serious diversion from Philip Pullman's books and throws in a few elves) but there's something very childhood-bedtime and therefore quite Christmassy about this beautiful series. It ended strong in season one, and keeps getting better in season two. This finale is due to bring The Subtle Knife to a close, making way for the final part of the trilogy in the as-yet-unconfirmed (but come on, it's happening) third season.
Air date: Sunday 20th December, 7.10pm, BBC One
5. Roald & Beatrix, the Tail of the Curious Mouse
From the producers of Sherlock and Dracula, this festive family comedy-drama promises to be something quite special. It reimagines the real-life meeting of two of the UK's biggest names in children's literature: Beatrix Potter (played by Dawn French) and Roald Dahl, back when Potter was a recluse and Dahl was a child. Expect puppetry, animation, a host of guest stars and voices, and lots of snow, from Inside No. 9 director David Kerr.
Air date: Thursday 24th December, 8.15pm, Sky One
COMEDY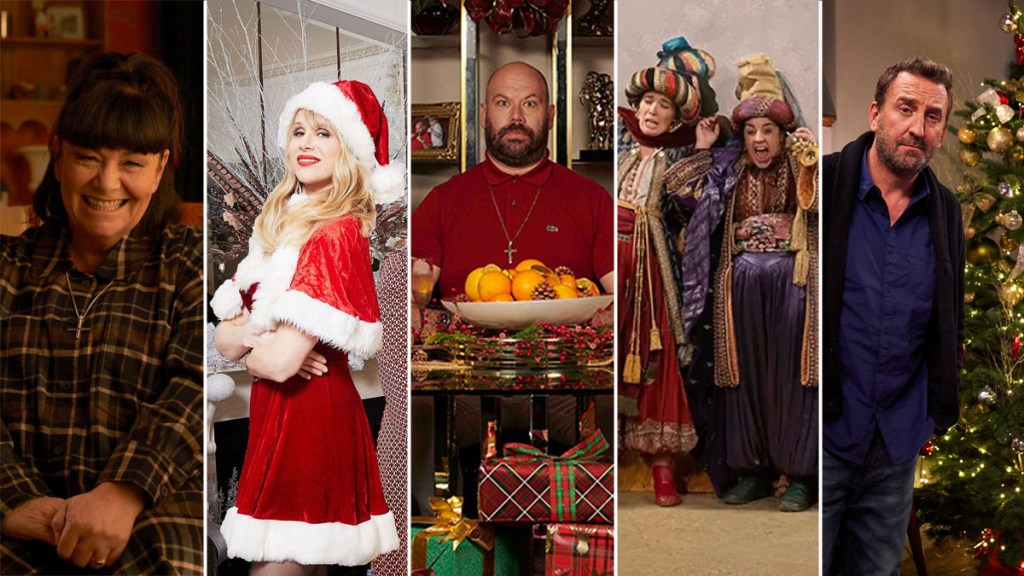 Motherland Christmas Special
Top BBC Two parenting sitcom Motherhood returns for a festive special ahead of its third series coming next year. You are cordially invited to Amanda's annual seasonal soiree… Anna Maxwell-Martin, Diane Morgan, Lucy Punch and Paul Ready star.
Air date: Wednesday 23rd December, BBC Two, 9pm
Upstart Crow: Tomorrow and Tomorrow and Tomorrow: a Lockdown Christmas 1603
The stage version of Shakespeare sitcom Upstart Crow fell foul of Covid-19 earlier this year, but that hasn't stopped the team putting together this festive lockdown two-hander special, set in London during the plague, and starring David Mitchell and Gemma Whelan as Shakespeare and Kate.
Air date: Monday 21st December, 9pm, BBC Two
Not Going Out Christmas Special
Lee Mack's long-running BBC One sitcom is back for another Christmas instalment, filmed under Covid-safe conditions this August. Expect a dedication to dearly departed cast member Bobby Ball.
Air date: Wednesday 30th December, 9pm, BBC One
Pandemonium
Katherine Parkinson and Alison Steadman star in this one-off BBC comedy about a family forced to cancel their dream holiday to California, who end up in Margate over the Christmas season.
Air date: Wednesday 30th December, 9.45pm, BBC One
Vicar of Dibley in Lockdown
Dawn French and James Fleet reprise the characters of Geraldine and Hugo in three 10-minute lockdown additions to The Vicar of Dibley canon, airing on BBC One after repeats of the original series (and then repeated later in one half-hour clump).
Air date: starts 7th December, BBC One.
King Gary Christmas Special
Tom Davis returns as Gary King, builder, father, B-B-Q haver, and lover of Terri (the brilliantly funny Laura Checkley) in the first ever King Gary Christmas special. Gary obsesses over making the Crescent's Christmas lights shine brighter than any others, while Terri tackles their son losing the festive spirit, and Gary's parents deal with some house guests from hell.
Air date: Wednesday 23rd December, 10pm, BBC One
Birds of a Feather Christmas Special
Filmed under special Covid-19 regulations, this extended ITV comedy special sees Tracey and Dorien living together in lockdown, while Sharon is stuck on a cruise ship. Les Dennis guest stars.
Air date: Thursday 24th December, 9pm. ITV1
Mrs Brown's Boys Christmas Specials
Two new lockdown-themed instalments from Brendan O'Carroll's comedy creation.
Air date: Friday 25th December, 10pm, BBC One
The Goes Wrong Show
This BBC comedy imported from the stage is fresh from its first full series and guarantees family fun. A nativity play from enthusiastic amateurs the Cornley Polytechnic Drama Society? What could possibly go wrong?
Air date: Tuesday 22nd December, 7pm, BBC One
DRAMA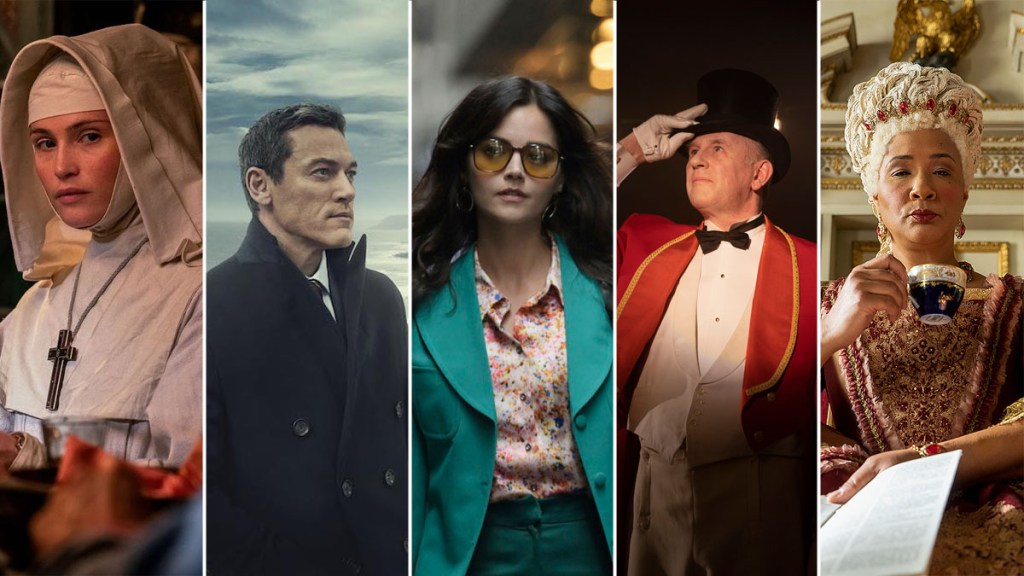 The Serpent
Jenna Coleman stars alongside Tahar Rahim in this eight-part globetrotting BBC-Netflix drama inspired by the real-life capture of murder suspects Charles Sobhraj and Marie-Andrée Leclerc.
Air date: Friday 1st January, BBC One, 9pm.
The Pembrokeshire Murders
Luke Evans stars in this three-part ITV true crime drama about the search for Welsh serial killer John Cooper.
Air date: TBC
Call the Midwife Christmas Special
The circus is coming to town in the Call the Midwife Christmas special, and its ringmaster will be played by former Doctor, Peter Davison. Set in 1965, it promises to be the usual mix of heart-warming goodness and flinty eyed comment on the absolute golden necessity of the NHS.
Air date: 25th December, 7pm, BBC One
Black Narcissus
Gemma Arterton and Diana Rigg star in a new BBC three-part adaptation of Rumer Godden's strange, atmospheric novel – famously adapted into a film in 1947 – about a group of nuns in a remote Himalayan outpost.
Air date: TBC
Bridgerton
Julia Quinn's hit book series set in Regency-era London get the glossy Shondaland treatment in this Netflix series, which can be unwrapped on Christmas Day.
Air date: 25th December
CHILDREN'S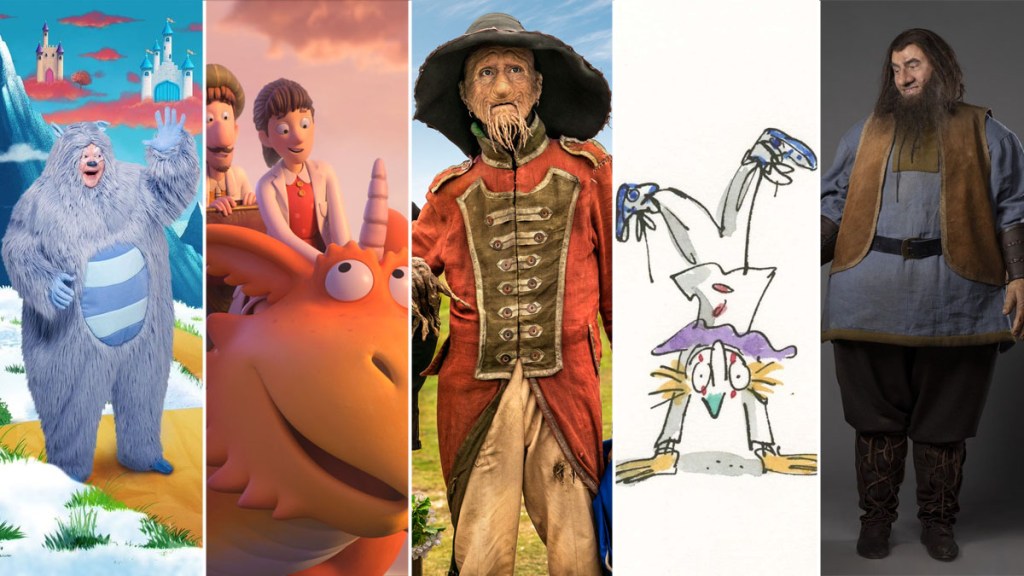 Worzel Gummidge: Saucy Nancy
Mackenzie Crook's reimagined version of the children's classic scarecrow stories continues with a new one-hour film, featuring Shirley Henderson as the titular Saucy Nancy (played by Barbara Windsor in the Jon Pertwee version), and Vanessa Redgrave.
Air date: Thursday 24th December, 5.55pm, BBC One
Zog and the Flying Doctors
Continuing from last year's utterly charming Zog, this is the fairy tale-bending story of a dragon, a princess and a knight, who all decide to choose a different path in life than the one set out for them. It's the seventh Julia Donaldon/Axel Scheffler/BBC Christmas adaptation, and promises to be another funny, adorable half hour of TV.
Air date: Friday 25th December, 2.35pm, BBC One
Jack and the Beanstalk: After Ever After
After last year's Cinderella sequel from David Walliams and Sky One comes the 'what happened next' for panto classic Jack and the Beanstalk. Walliams and Sheridan Smith star in this comedy special. There's a Hansel & Gretel: After Ever After next in the pipeline.
Air date: Wednesday 23rd December, 8pm, Sky One
Quentin Blake's Clown
Here's another lovely half-hour of quiet time with the kids from Channel 4, from the same people who made previous years' animations of children's classics The Tiger Who Came To Tea and We're Going on a Bear Hunt. It's the story of a discarded clown toy who comes to life and goes on an adventure to find a new home for him and his toy pals. Helena Bonham Carter narrates.
Air date: Friday 25th December, 7.40pm, Channel 4
Christmas in Storyland
The CBeebies gang is back for another Christmas story featuring a cast of favourites, singing, dancing and interactive fun for little ones.
Air date: Saturday 12th December, CBeebies, BBC iPlayer
ENTERTAINMENT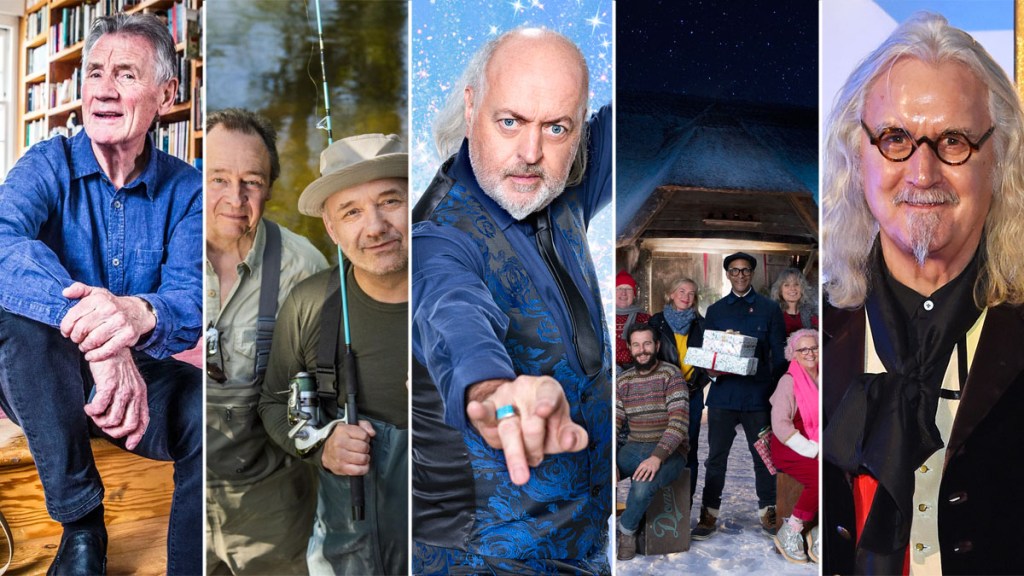 Mortimer and Whitehouse: Gone Fishing Christmas Special
Bob takes Paul up to his old stomping ground of Middlesborough to fish for grayling in the River Esk, while the pair hold a Christmas office party for two, and meet someone who works with people fighting loneliness at Christmas.
Air date: Sunday 13th December, 8.30pm, BBC Two
The Great Christmas Bake-Off
It's cakes. At Christmas. Plus Noel Fielding and Matt Lucas larking about on the theme of cakes. Two brand new episodes will each feature the return of four bakers from previous series.
Air date: TBC
The Great Christmas Sewing Bee
The judges will be setting festive sewing challenges to competitors vying for the Christmas crown.
Air date: Saturday 26th December, 7.45pm, BBC One
The Repair Shop at Christmas
Jay Blades and co. will be restoring cherished Christmas-themed items that have seen better days in this heart-warming word-of-mouth BBC hit.
Air date: Wednesday 23rd December, 7.30pm, BBC One
Billy Connolly: It's Been a Pleasure
To mark Billy Connolly's retirement from stand-up comedy, ITV has put together a send-off featuring new filming with the man himself in his Florida home, and contributions from a host of stars.
Air date: TBC
The Story of SM:TV Live
A bit of cosy nostalgia here, as ITV stalwarts Ant, Dec and Cat Deeley revisit their time presenting children's Saturday morning variety show SMTV: Live. Come for Wonky Donkey, stay for Friends spoof Chums.
Air date: TBC
Michael Palin: Travels of a Lifetime
Following the hit BBC Two series revisiting Michael Palin's travel series, he's back for a 90-minute festive special revisiting his trip through the Himalayas, with contributions from guest stars.
Air date: TBC
As well as: Top of the Pops New Year and Christmas Specials. A Strictly Come Dancing Christmas Countdown. A Christmas Would I Lie To You? Festive editions of cookery shows from Jamie Oliver, MasterChef and Mary Berry, festive game shows from The Wall, The Wheel, and a new version of Blankety Blank hosted by Bradley Walsh.