Features
The Best Thanksgiving TV Episodes
While Halloween and Christmas usually take precedence, Thanksgiving always has a welcome home on TV. Here are some of the best Thanksgiving episodes ever.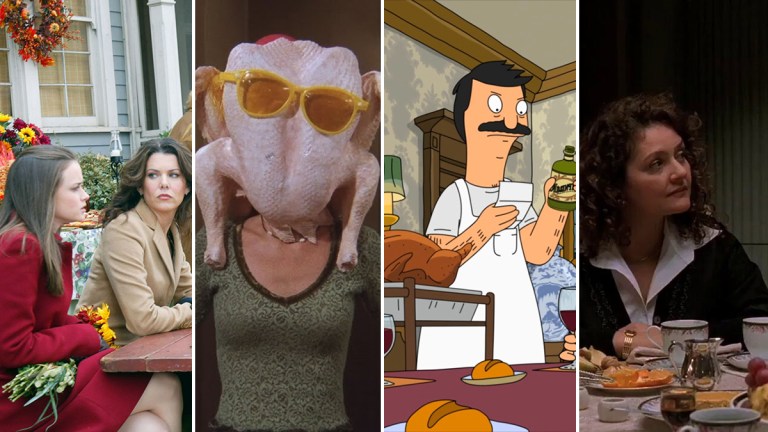 Halloween and Christmas are objectively the two best American holidays. One allows for us all to indulge in our gothic, spooky side, while the other comes along with family and cheer (forced or otherwise). There's another holiday between them, however, that is at constant risk of being overlooked.
Thanksgiving doesn't have candy like Halloween or presents like Christmas. What it does have, thankfully, is television. Just like its Halloween counterpart, Thanksgiving comes along in the fall at an important time in the TV schedule. Traditionally, the last week of November is when many network TV shows are looking for a quick boost of creative and commercial energy to get through the Christmas break. And what better way than to do so than with a Thanksgiving episode, where all characters are basically culturally required to get together?
Though Halloween and Christmas specials often get the most attention, there are many fascinating Thanksgiving-themed episodes of popular TV shows. Here are just some of our favorites.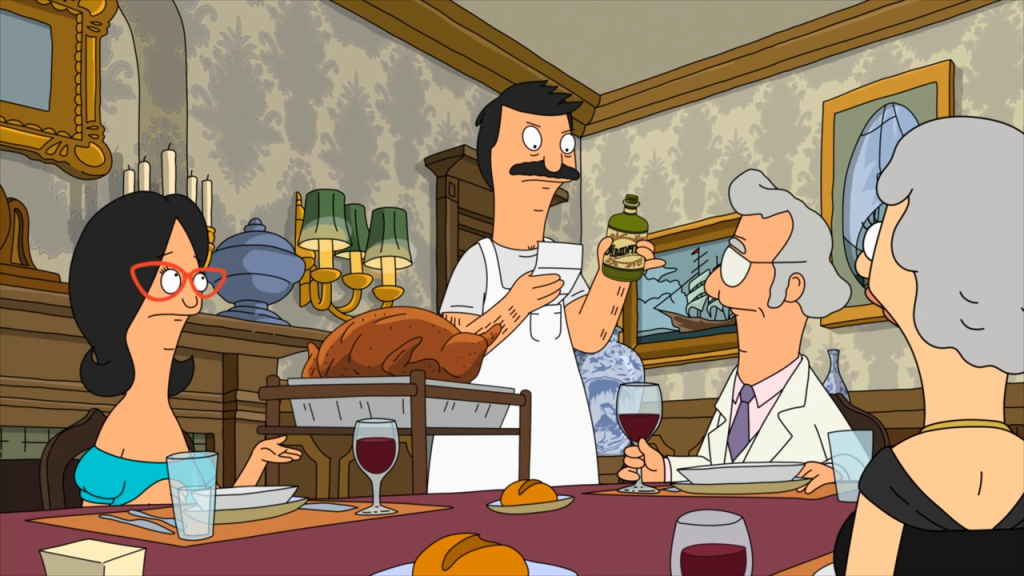 Bob's Burgers
Season 3 Episode 5 – "An Indecent Thanksgiving Proposal"
Fox's beloved animated series has staked its claim to Thanksgiving as its holiday of choice, which makes sense given that the Belcher clan takes their food quite seriously. Of the many Bob's Burgers Thanksgiving specials, season 3's "An Indecent Thanksgiving Proposal" is likely the best.
This episode finds Bob reluctantly agreeing to "rent out" his family to landlord Calvin Fischoeder (voiced by Kevin Kline) to pose as his family for Thanksgiving dinner while Bob poses as the family chef. While this is a strong enough set up to begin with, the episode excels at escalation and goes to some wild places – even indulging one of the series' favorite recurring gags of Bob losing his mind and befriending an inanimate object. Of course the inanimate object this time around is none other than a Thanksgiving turkey.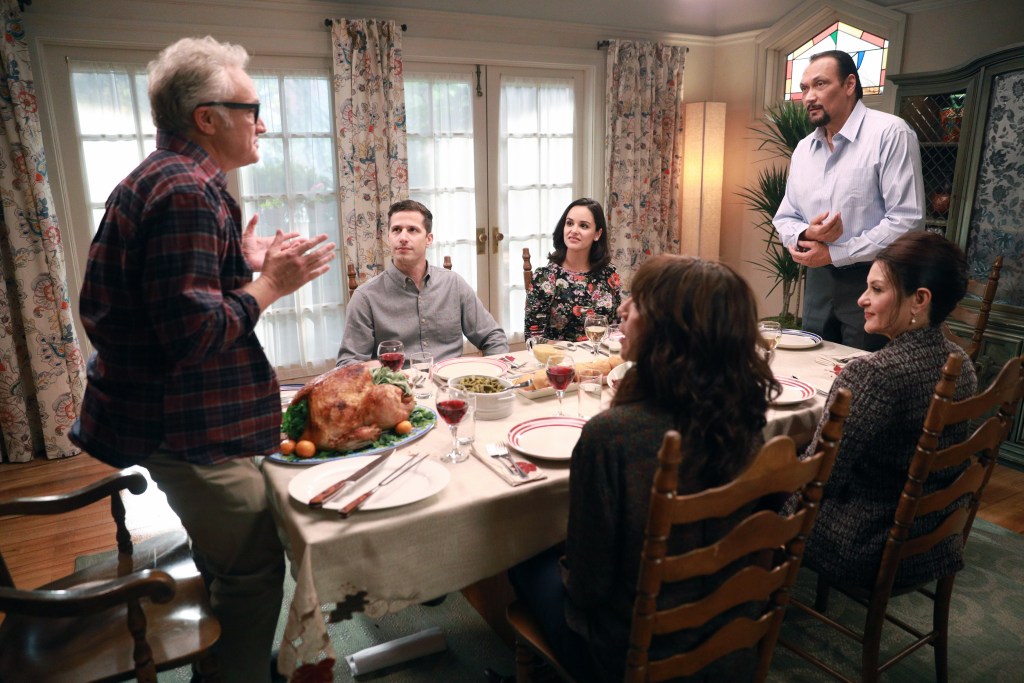 Brooklyn Nine-Nine
Season 5 Episode 7 – "Two Turkeys"
"Two Turkeys" is a prime example of what makes Thanksgiving such a creatively rich holiday for sitcoms and other serialized TV endeavors to exploit. Brooklyn Nine-Nine had already long established that both Jake (Andy Samberg) and Amy's (Melissa Fumero) respective parents were crazy. All that was left to do was to get them in the same room together.
That's just what "Two Turkeys" does. The whole family, including Jake's dad Roger (Bradley Whitford), Amy's dad Victor (Jimmy Smits), and Amy's mom Camila (Bertila Dama), decides to have Thanksgiving at Jake's mom Karen's (Katey Sagal) house. Quickly, dueling Thanksgiving turkeys are set up, competitive juices start flowing, and a thumb or two is lost. "Two Turkeys" is Brooklyn Nine-Nine's best Thanksgiving episode but "Mr. Santiago" in which Boyle intends to behead a live turkey certainly gives it a run for its money.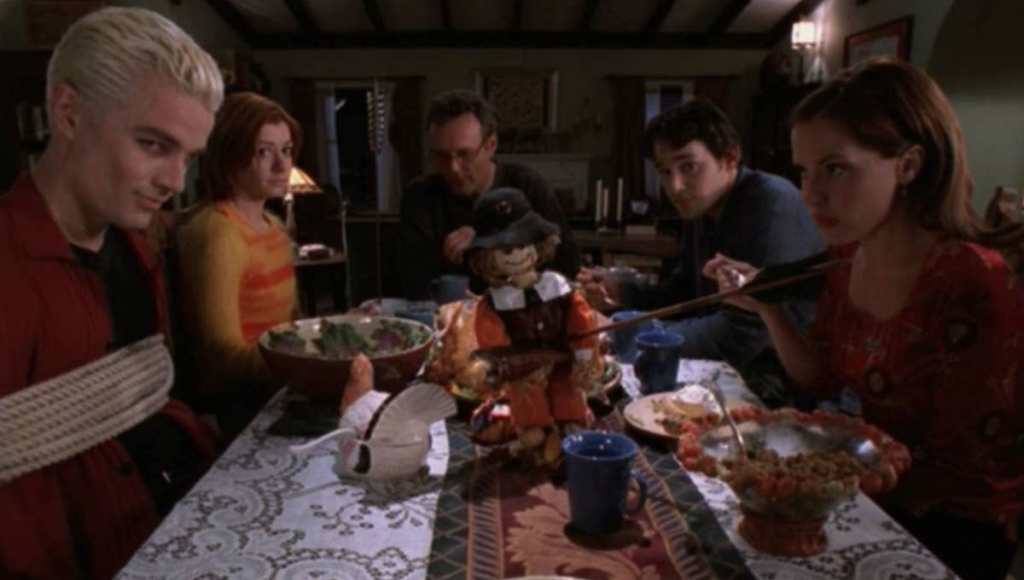 Buffy the Vampire Slayer
Season 4 Episode 8 – "Pangs"
Most TV Thanksgiving specials ignore the complicated origins of the holiday…and perhaps wisely so. For a long time, most sitcoms and network dramas lacked a real capacity to carefully discuss Thanksgiving myth-making while also addressing Native American genocide.
Buffy the Vampire Slayer, however, had no such misgivings and dives right in. "Pangs" is technically the beginning of a Buffy/Angel two-hour Thanksgiving event. It's got all the usual Thanksgiving episode trappings: food, friends, and family. It also has an army of Chumash Indian Warriors coming back from the grave to punish Sunnydale for its colonial sins.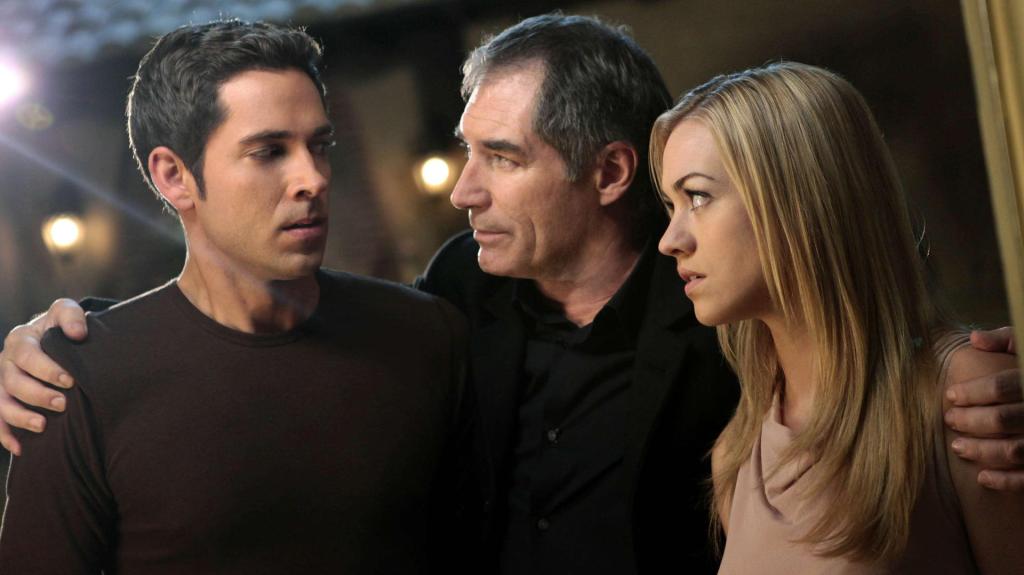 Chuck
Season 4 Episode 10 – "Chuck Versus the Leftovers"
This is cheating a bit as "Chuck Versus the Leftovers" technically takes place on the day after Thanksgiving. But Black Friday shopping and turkey leftovers are certainly a part of the Thanksgiving experience.
This episode finds Chuck's mom Mary (Linda Hamilton) and international arms dealer Alexei Volkoff (Timothy Dalton) coming over to Chuck's place for a day-after-Thanksgiving leftover feast. Meanwhile Chuck's friends at Buy More have to contend with the Black Friday shopping crowd. This is the definitive Chuck Thanksgiving episode as it highlights what the show does well. It balances the high-octane drama of Chuck's spy life with his supposedly tranquil home life. Getting to enjoy Linda Hamilton and Timothy Dalton going head to head is just icing on the Jell-O salad. 
Dexter
Season 4 Episode 9 – "Hungry Man"
Dexter season 4 is widely regarded as one of the Showtime serial killer series' finest hours. And it's largely due to satisfyingly thematic and entertaining episodes like "Hungry Man" a.k.a. The Dexter Thanksgiving episode.
Throughout much of this fourth season, Dexter finds himself looking up to fellow serial killer Arthur Mitchell a.k.a. The Trinity Killer as he's able to balance his home and "work" life better than he can. When crashing a tense Thanksgiving dinner at the Mitchell household, however, Dexter finally fully realizes he has the man all wrong. Meanwhile several other Thanksgiving dinners happen onscreen as well and it's just nice to see knives used on turkeys and not human beings for a change.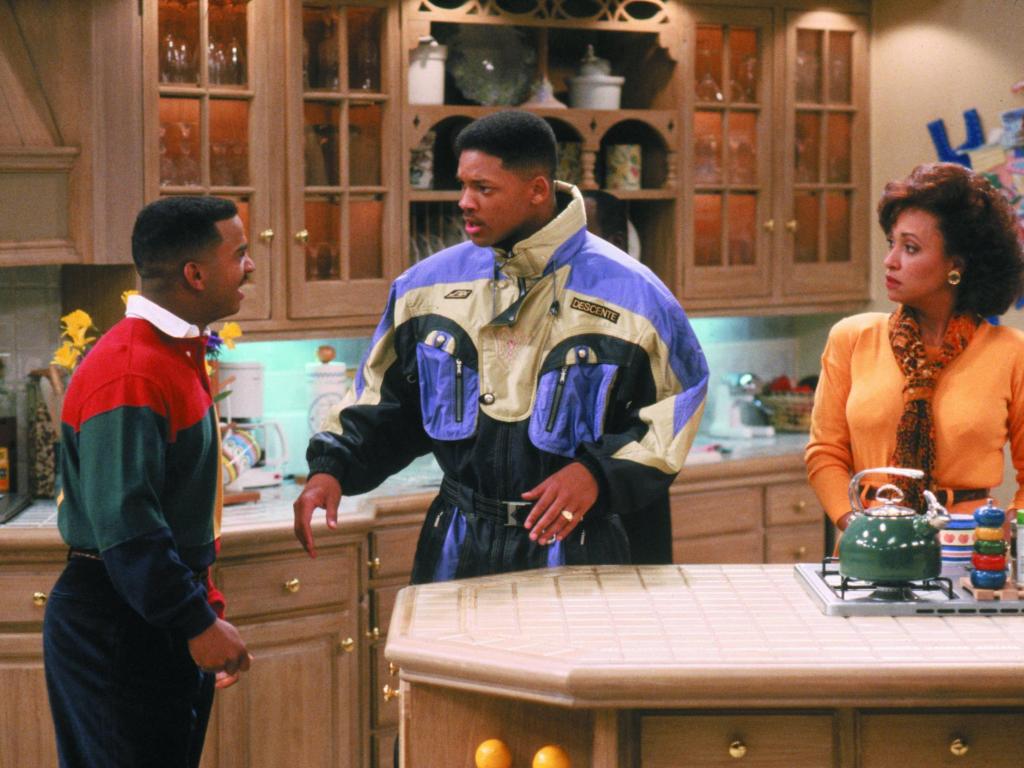 The Fresh Prince of Bel-Air
Season 1 Episode 12 – "Talking Turkey"
The Fresh Prince of Bel-Air features a few Thanksgiving episodes over its six season run but its first attempt remains the best. Will's mom Viola makes one of her rare series appearances here when she joins the Banks' household for Thanksgiving.
After the parents see how the kids mistreat everyone's beloved butler Geoffrey, the gang is forced to cook a Thanksgiving meal on their own. Predictably it doesn't go well. This is a big episode for all involved but for Viola and Aunt Viv in particular. It's fascinating to watch through a modern lens, given original Aunt Viv actress Janet Hubert's steadfast lack of involvement in all future Fresh Prince reboots and reunions.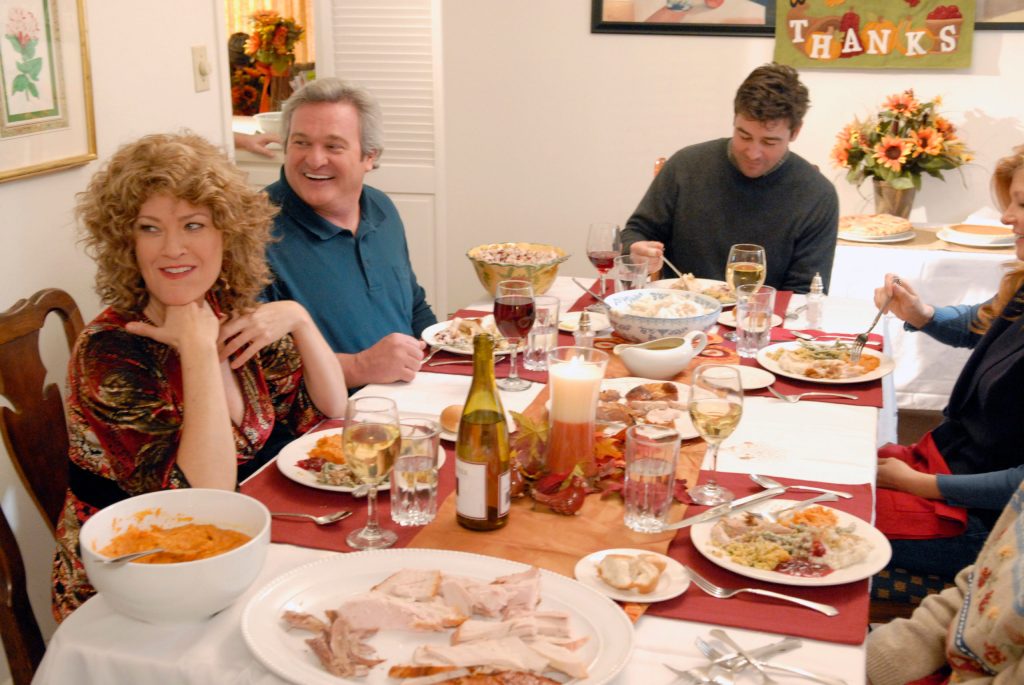 Friday Night Lights
Season 4 Episode 13 – "Thanksgiving"
So many of the best moments in Friday Night Lights happen at the Taylor family dinner table. How then could the show pass up an opportunity for a good-old fashioned Thanksgiving episode?
"Thanksgiving" is an excellent episode that also serves as its respective season's finale. This hour concludes Coach Taylor's first year with the East Dillon Lions in truly satisfying fashion. Before that there's still plenty of time for a heart-to-heart with QB Vince Howard and Buddy Garrity's attempts at frying a turkey.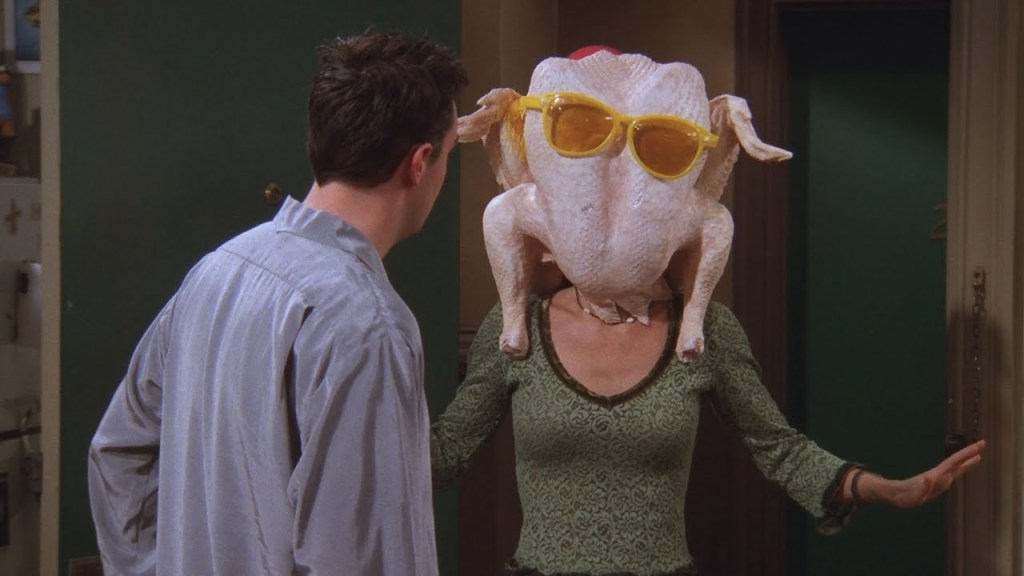 Friends
Season 5 Episode 8 – "The One With All the Thanksgivings"
Perhaps no series on television took the responsibility of Thanksgiving episodes more seriously than Friends. Friends has so many Thanksgiving-themed episodes that the entire list could essentially be made up of them. And that makes sense given the show's premise of friends as a found family in the big city.
For the purposes of this list, however, let's go with the aptly-named "The One With All the Thanksgivings." In this fifth season episode, Ross, Rachel, Phoebe, Monica, Joey, and Chandler flashback to all of the Thanksgivings they've shared together. Consider this a Canterbury Tales of Thanksgiving … that just happens to feature Monica with a turkey on her head.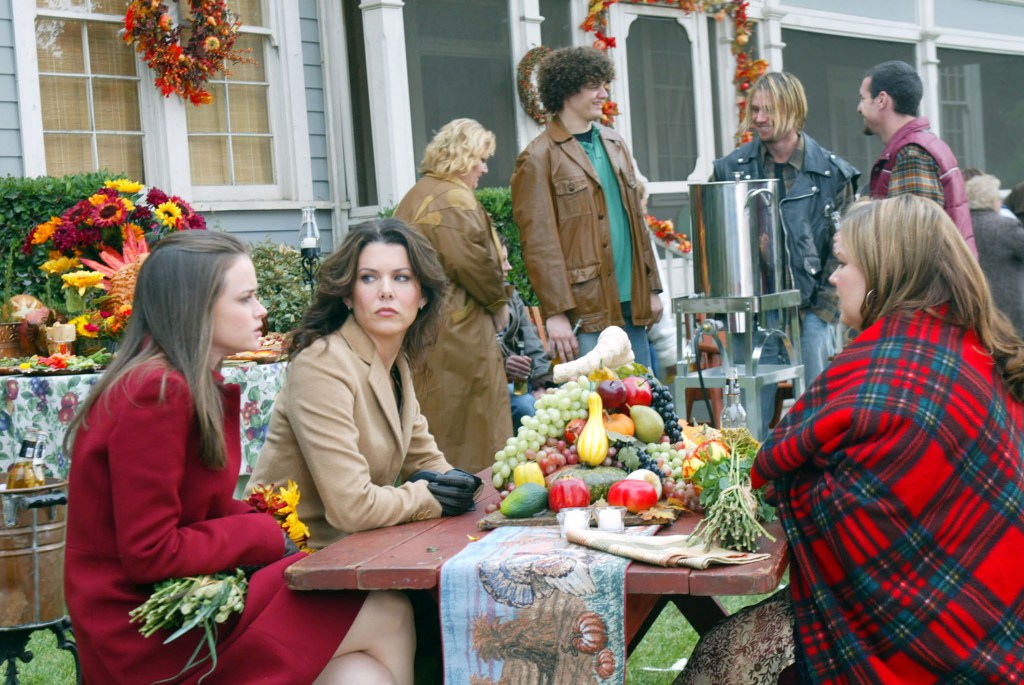 Gilmore Girls
Season 3 Episode 9 – "A Deep Fried Korean Thanksgiving"
Stars Hollow, Connecticut on Gilmore Girls just looks like a town itching for a good fall holiday. The New England hamlet is the kind of place that absolutely lights up with some fallen leaves and the warm aroma of turkey in the oven. Thankfully, the show agreed and rolled out a Thanksgiving-centric episode in its third season.
"A Deep Fried Korean Thanksgiving" adopts the tried and true "accepted too many dates to the ball" trope as Lorelai and Rory are pulled among four competing Thanksgiving dinners: Lorelai's parents, Sookie, Luke, and Lane. It's a jam-packed (and tofurkey-packed) episode that still somehow finds the time to introduce the beloved Cat Kirk.
How I Met Your Mother
Season 3 Episode 9 – "Slapsgiving"
In many ways, How I Met Your Mother was the natural sitcom successor to Friends. Like its NBC forefather CBS's comedy followed a group of friends living their best lives in New York City. Another area in which HIMYM picks up the Friends ball and runs with it is with its appropriately respectful treatment of Thanksgiving.
How I Met Your Mother loves itself a good Thanksgiving episode. None of them, however, are better than the season 3 installment "Slapsgiving." This episode finds the gang gathering at Marshall and Lily's house for their first Thanksgiving as a married couple. Meanwhile, Barney is living in mortal fear of the third slap Marshall owes him due to losing a "slap bet." That countdown to The Slap imbues an already excellent episode with a real fun sense of urgency.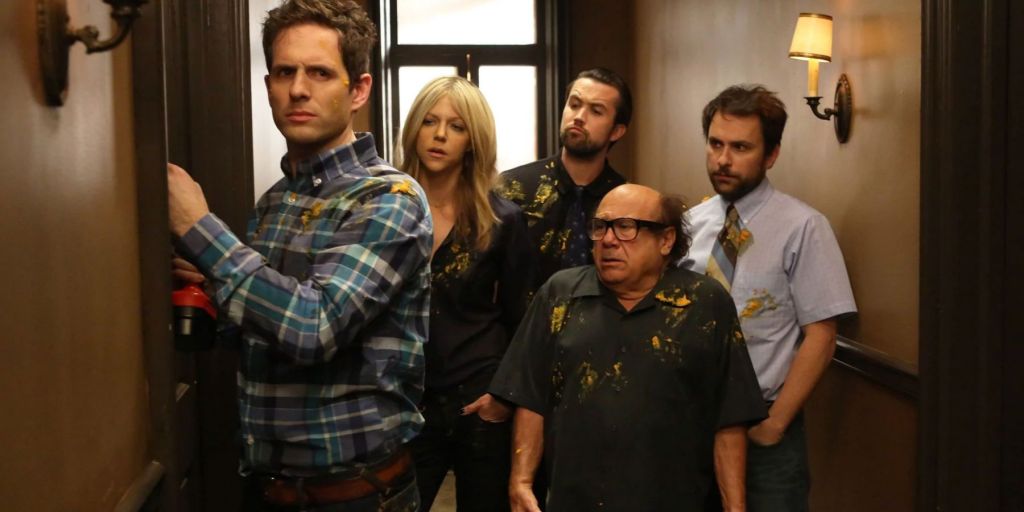 It's Always Sunny in Philadelphia
Season 9 Episode 10 – "The Gang Squashes Their Beefs"
Dennis, Dee, Charlie, Mac, and Frank have made a lot of enemies during It's Always Sunny in Philadelphia's very long, very creatively lucrative run. That's why for the show's ninth season finale, the gang decided to gather several of the folks they wronged together and get to squashing some beefs. And what better way to do so than with a nice Thanksgiving dinner?
This installment is a one big setup to a dinner table with the gang's rogue's gallery at the end and it is all well worth the wait. Some dry turkey and even dryer conservation is nowhere near enough to make nice with the McPoyles, Hwang, Cricket, Gail the Snail, or Bill Ponderosa, but bless the gang for trying anyway.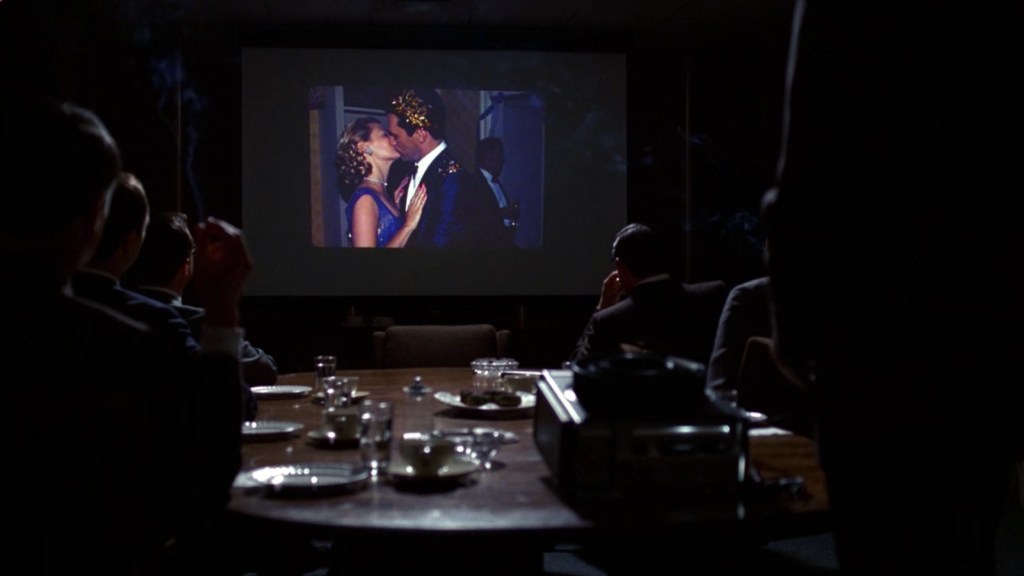 Mad Men
Season 1 Episode 13 – "The Wheel"
Not many Thanksgiving episodes can lay claim to being their respective series best hours, but then again AMC's all-time classic Mad Men isn't just any other series. Season 1 finale "The Wheel" is certainly among the best Mad Men installments ever and it just so happens to take place during the week of Thanksgiving 1960.
The Thanksgiving timeframe serves as an elegiac backdrop and Mad Men viewers are forced to confront what kind of man Don Draper really is. Don delivers the pitch of his lifetime to Kodak executives as he urges them to imagine their latest photo wheel creation not as a sleek, dispassionate time machine, but a carousel that can bring families back home to all the most important times of their lives. Then when Don returns home for Thanksgiving, he discovers what he probably already knew – those times are gone and no carousel can bring them back.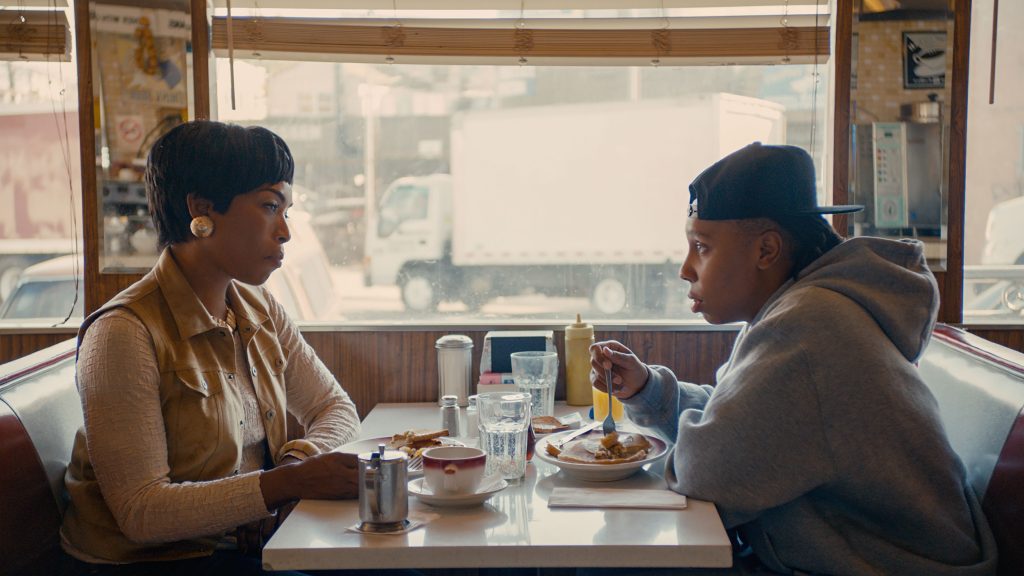 Master of None
Season 2 Episode 8 – "Thanksgiving"
OK, we know we just said that not many Thanksgiving episodes can lay claim to being their respective series' best but here is another contender. "Thanksgiving" is the eighth episode of Master of None's second season and it's a perfect example of everything the show does well.
This episode takes a break from Dev's (Aziz Ansari) storyline in the present to delve into the past of his friend Denise (Lena Waithe). Over several Thanksgiving meals throughout the years, Denise comes to realize her attraction to women, processes it, and does her best to communicate her identity to her mom (Angela Bassett). It's a touching saga made possible by the Thanksgiving season. It also serves as many viewers' introduction to the storytelling dynamo that is Lena Waithe, who would go on to lead Master of None season 3.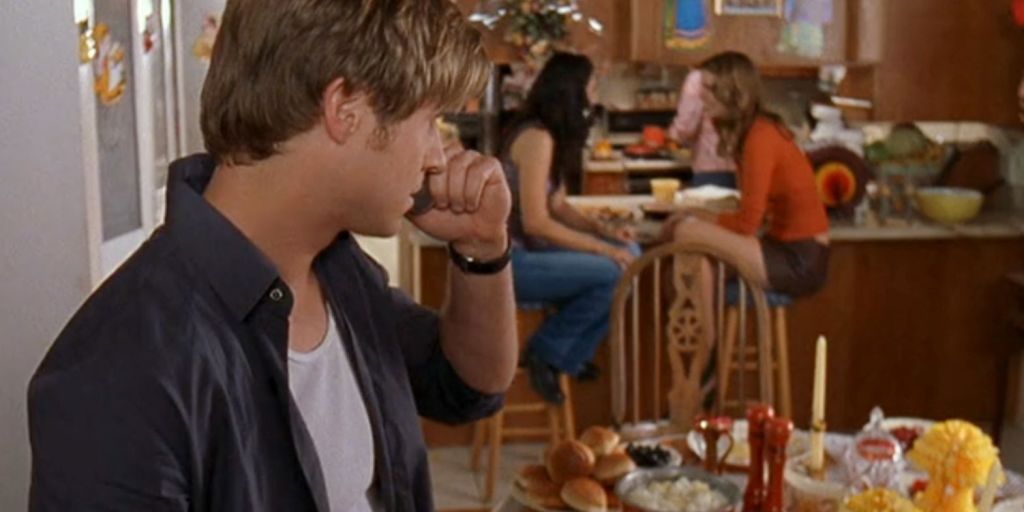 The O.C.
Season 1 Episode 11 – "The Homecoming"
Mid-2000s teen drama The O.C. always paid proper respect to holidays. Who could forget the Cohen family's dutiful observation of "Chrismukkah?" But the series' first Thanksgiving installment in season 1 might just be its best holiday offering ever.
"The Homecoming" is a wonderful example of everything that The O.C. does well. The plot splits itself in two with Ryan (Ben McKenzie) and Marissa (Mischa Barton) heading back to Ryan's hometown of Chino to meet Ryan's brother in prison. That sets up a ludicrous crime arc that would make even the Riggins brothers of Friday Night Lights jealous. Meanwhile, back at the Cohen household, Seth's (Adam Brody) inelegant juggling of the two women in his life comes to a chaotic head.
Orange is the New Black
Season 1 Episode 9 – "Fucksgiving"
Orange is the New Black's Thanksgiving episode debuted all the way back in 2013, when Netflix was just proving itself to be a spot for original content. So imagine viewers' surprise that in the streaming world, you can include the F-word in episode titles.
As is the case in every OITNB episode, a lot happens in this hour-long installment. But with Thanksgiving as the backdrop, there's a real festive air to the proceedings. Perhaps it helps that Taystee (Danielle Brooks) is set to be released and returned to the real world or that Pennsatucky (Taryn Manning) is praying for the rightful end of said real world. In any case, "Fucksgiving" passionate conclusion makes a convincing case that Thanksgiving is among the sexiest of holidays.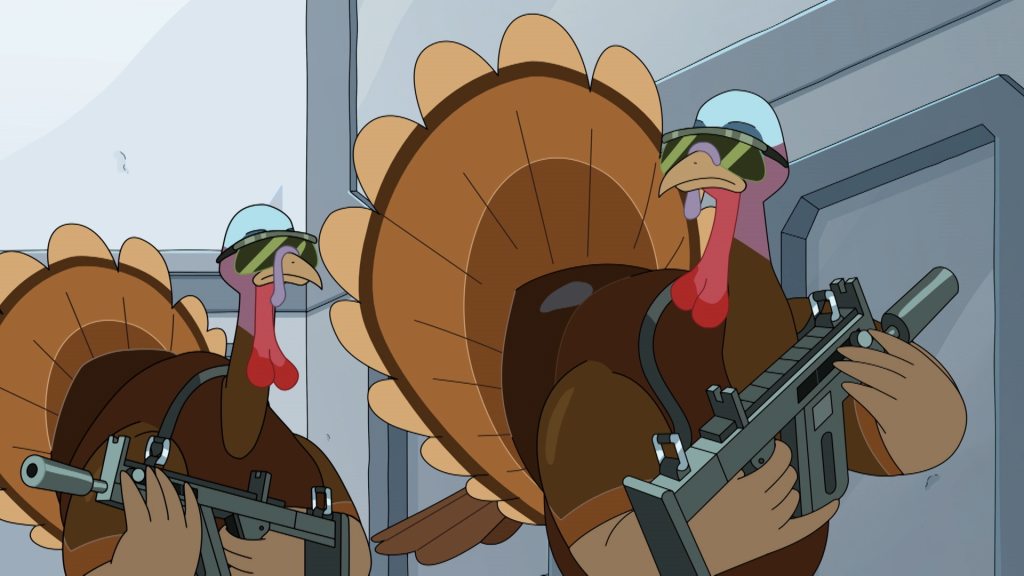 Rick and Morty
Season 5 Episode 6 – "Rick and Morty's Thanksploitation Spectacular"
Leave it up to Adult Swim's gonzo animated sci-fi fest Rick and Morty to have a Thanksgiving special in the middle of July. And make no mistake: "Rick and Morty's Thanksploitation Spectacular" is very much a Thanksgiving special…in Rick and Morty's own weird way.
When Rick and Morty break into The National Archives to get their National Treasure on and find a treasure map on the Constitution, they accidentally destroy the country's founding document and many other important American relics. Not wanting to run afowl (heh) his old nemesis The President (Keith David), Rick turns himself into a turkey with the plan of being the one turkey the president pardons that year, wiping his slate clean. Apparently this is a gambit that Rick uses often but things go horribly awry this time around and before you know it everyone is turkeys.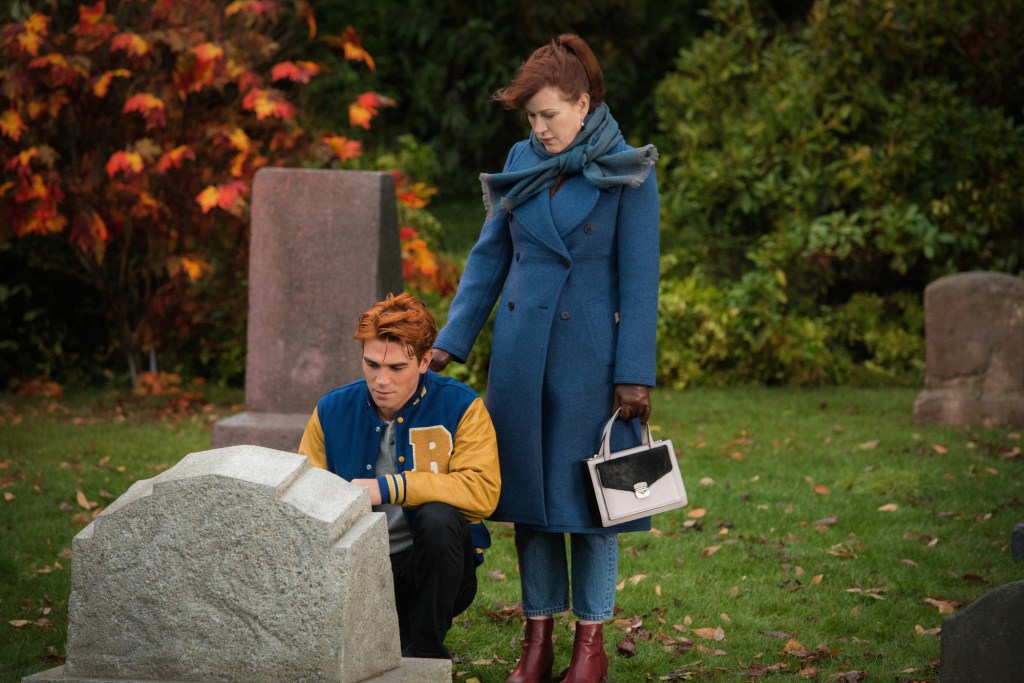 Riverdale
Season 4 Episode 7 – "The Ice Storm"
Riverdale's Thanksgiving episode is about just as insane as one would imagine a Riverdale Thanksgiving episode would be. "The Ice Storm" (which borrows its name and concept from Rick Moody's 1994 novel of the same name) finds Jughead and Betty stranded at Stonewall Prep due to an ice storm on Thanksgiving while Archie hosts a Thanksgiving dinner at the community center.
Of course this episode features cartoonish levels of scheming, but it also takes the responsibility of the holiday seriously. Riverdale spends the episode's opening once again addressing the tragic death of Luke Perry and his character, Fred Andrews. Amid all the plot twists, the show still excels at putting family first.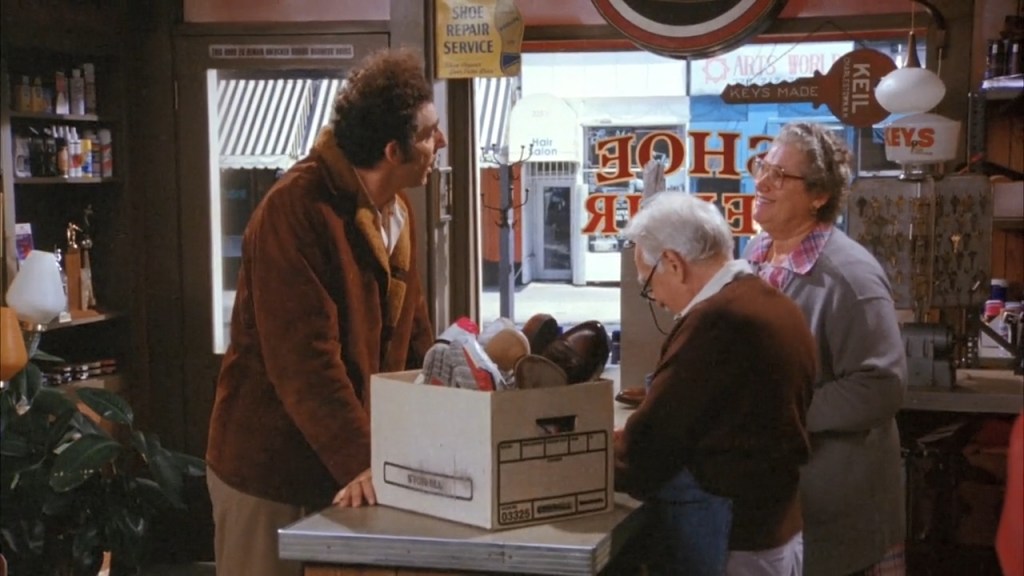 Seinfeld
Season 6 Episode 8 – "The Mom and Pop Store"
Many episodes of Seinfeld feature dense plotting, but even by those standards "The Mom and Pop Store" is a very busy episode of television. These 22 minutes feature Jerry getting tricked by a mom and pop shoe store, George trying to find Jon Voight, and Kramer having some major nosebleed problems.
But the Thanksgiving portion of the episode is what stands out as Elaine gets the invite to Jerry's dentist's (played by none other than Bryan Cranston, beginning his fruitful arc of Seinfeld guest appearances) Thanksgiving. Jerry is unsure if he himself is invited, but when dental issues begin to pop up, he decides that a Thanksgiving dinner full of dentists might be a useful place to stop by.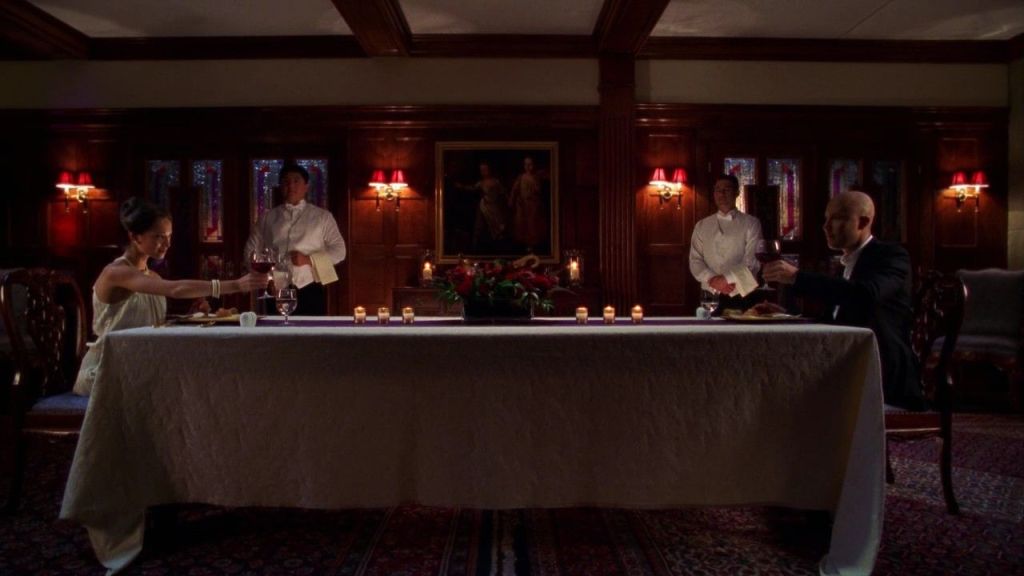 Smallville
Season 6 Episode 7 – "Rage"
While it was cruel for Smallville to wait until after the Jonathan Kent era to hold its first Thanksgiving episode, it's nice that it got around to it all the same. Granted, Thanksgiving doesn't factor much into "Rage." Instead much of the hour deals with Clark assisting his good friend Oliver Queen with his mysterious addiction.
But when the Thanksgiving table moment finally does arrive, it's a real winner. In terms of pre-Arrowverse WB/CW warm and fuzzies, it's hard to top a dinner featuring Clark Kent, Martha Kent, Lionel Luther, and Green-freaking-Arrow. And of course the presence of NXIVM's own Allison Mack as Chloe Sullivan just adds a strange glow over all.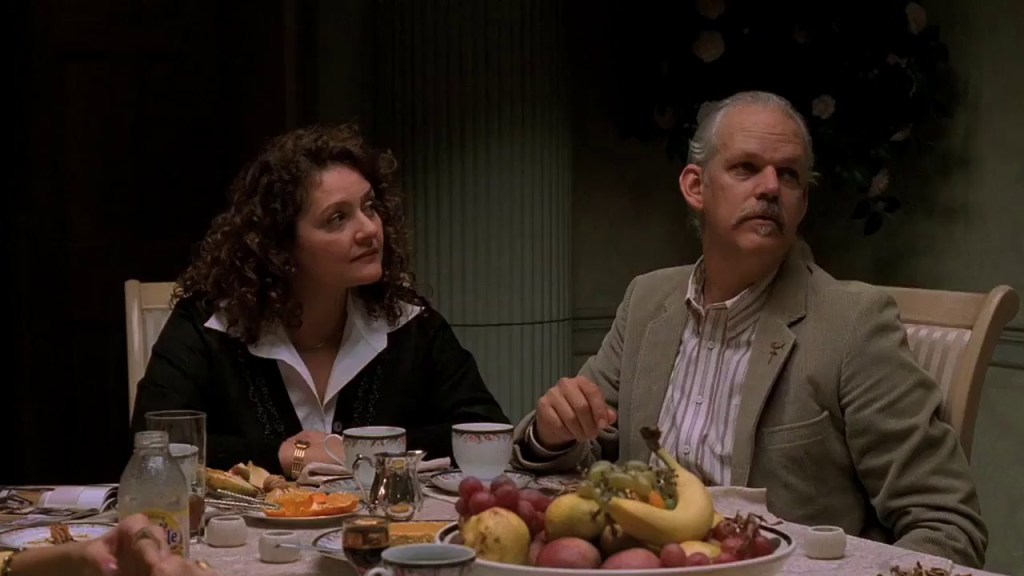 The Sopranos
Season 3 Episode 8 – "He Is Risen"
Many classic Sopranos scenes take place around the Sopranos family dinner table (mostly so Tony can yell at the insufferable A.J.). It's only natural then that the show would feature a Thanksgiving episode at some point during its classic six-season run.
That moment comes midway through the excellent season 3. Granted, Thanksgiving doesn't play a major role in this hour, aside from Janice's creepy elderly boyfriend muttering "he is risen" during dinner. But this episode is filled with classic Sopranos moments all the same: the introduction of Gloria Trillo, the death of Gigi Cestone on the toilet, and Ralph's continued seasons-long efforts to dig his own grave. All of those events will factor heavily in the episodes to come, for now, however, The Sopranos is happy to just pass the gravy (actual gravy, not red sauce).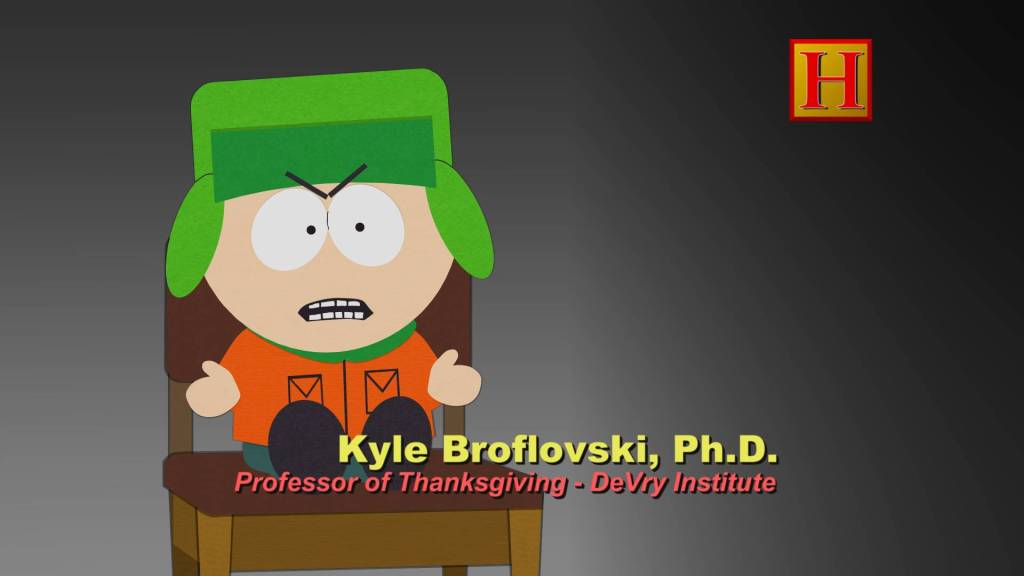 South Park
Season 15 Episode 13 – "A History Channel Thanksgiving"
Over the span of its staggering 25 seasons, South Park has revealed a real affinity for holiday episodes, particularly the Christmas ones in which the show can feature longtime characters Santa Claus and Jesus Christ.
In this season 15 episode, however, South Park turns its satirical eye to Thanksgiving…or the History Channel version of it more accurately and weirdly. After the boys are assigned a paper on the history of Thanksgiving, they watch the History Channel to discover that the holiday's origins are far more extraterrestrial than expected. Soon, Stan and company are involved in an interdimensional Thanksgiving adventure involving wormholes and Natalie Portman.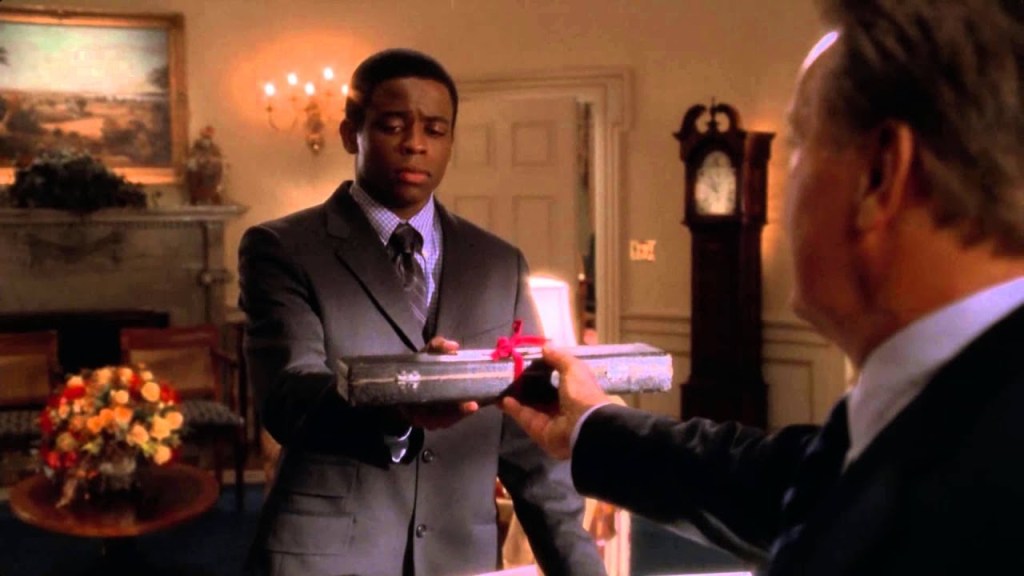 The West Wing
Season 2 Episode 8 – "Shibboleth"
A "Shibboleth" is a long-standing tradition or custom (often a phrasing or even a single word) that distinguishes one group of people from another. The best episodes of The West Wing seek to understand what the shibboleths of this strange country are…and "Shibboleth" is undoubtedly one of the series' best episodes.
It's the night before Thanksgiving at the White House and the West Wing staff are all facing decisions. CJ has been tasked with choosing between two turkeys to pardon; Toby, Josh, and Sam must figure out how to watch football on Thanksgiving day; and most seriously: President Bartlett has to decide what to do with a boat of persecuted Chinese evangelical Christians seeking asylum. It's a typically hectic day in the West's most powerful executive office, but the show explores how one holiday can bring all the chaos to a halt. For a little bit at least.