News
Doctor Who : Revolution of the Daleks to Air on New Year's Day, Trailer is Here
Revolution of the Daleks will air on BBC One on January 1st. Here's the first trailer...
Series 13 may still be some way off (filming recommenced on eight new episodes earlier in November after an enforced Covid-19 break), but there's not long to wait until Doctor Who is back on our screens. As teased at the very end of the series 12 finale, "The Timeless Children," festive special "Revolution of the Daleks" is confirmed to air on New Year's Day 2021 on BBC One. That's three years in a row that the BBC has opted to see in the New Year with the Doctor.
Revolution of the Daleks Trailer: 'Maximum Extermination!'
Also fresh from the BBC are a bunch of new images from the special, featuring newly announced guest stars joining the already confirmed John Barrowman, who's back as Captain Jack Harkness. Take a butcher's at the new pics below and you'll see that Barrowman isn't the only returning character in the Special. Chris Noth, who played unscrupulous business tycoon Jack Robertson in Series 11's 'Arachnids in the UK', is also back. "It's safe to say the Doctor and all those involved were less than impressed by his questionable actions," says the press release, but "viewers will have to wait and see just what brings him back this time…"
Making her Who debut will be Dame Harriet Walter, recently seen in Killing Eve and Succession, alongside Misfits and Utopia's Nathan Stewart-Jarrett.
Revolution of the Daleks Images: Will an Old Villain Get His Comeuppance?
And back in October at the online NYCC Doctor Who panel, we got our first look at a jumpsuit-ed Doctor inside that intergalactic prison, chalking up her days. Speaking at the NYCC panel, Jodie Whittaker told fans "Clue is in the photograph that I may have been there for a while!"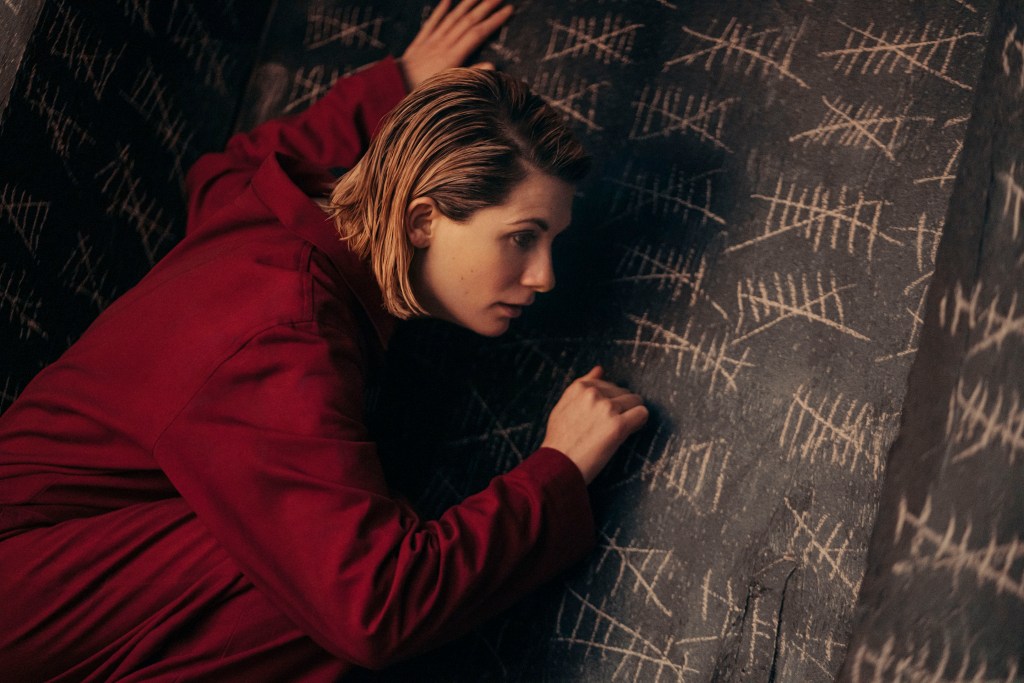 And here's her trio of companions, trying an admin-based approach to defeating space evil. Again, speaking at the NYCC panel, Mandip Gill provided a bit of context for what's happening: "We're back in Sheffield, not knowing where she's gone […] We don't know where the Doctor's gone, we don't know if we're now in Sheffield forever and if our journey with the Doctor is over […] Yaz is struggling with the idea of not being on the TARDIS anymore."
The companions stumble upon a plot that involves a Dalek, confirmed Gill and Bradley Walsh at the NYCC panel. "From way, way, way back, by the way," teased Walsh. "What happens next is extraordinary."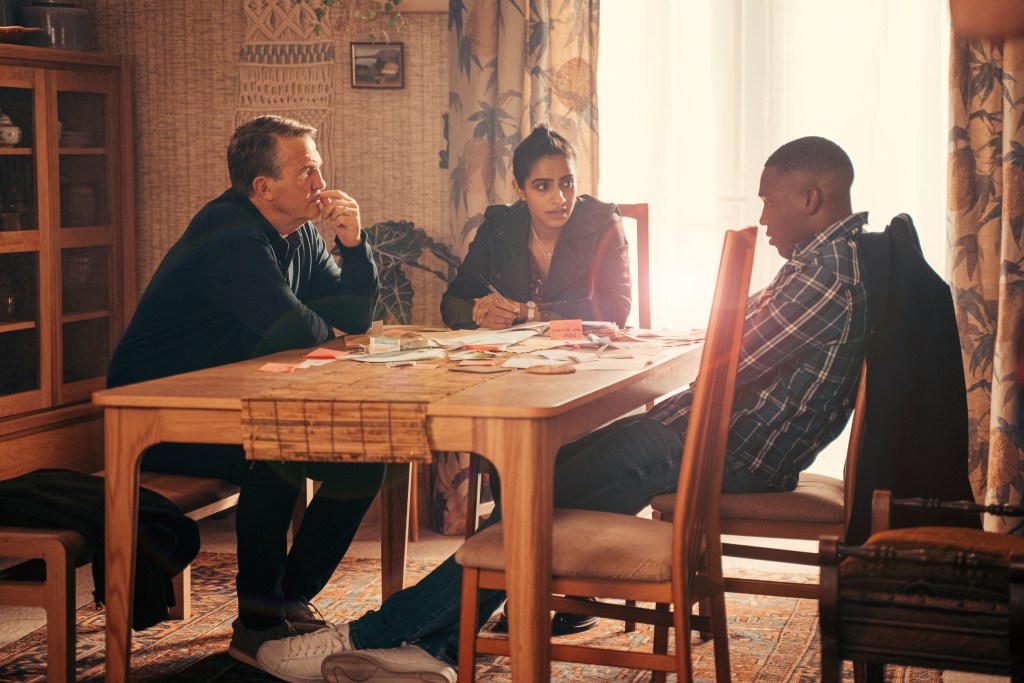 Revolution of the Daleks Air Date: January 1st 2021
We were told for months that "Revolution of the Daleks will air during the upcoming festive period on BBC One." Now we know for sure that means New Year's Day, the same as the previous two Jodie Whittaker-led festive episodes. The exact time slot is still to be confirmed.
Revolution of the Daleks Story: How to fight a Dalek without the Doctor?
Here's the official BBC synopsis:
The upcoming festive special will see the return of one of the Doctor's biggest and most feared enemies – the Daleks. The Doctor is locked away in a high-security alien prison. Isolated, alone, with no hope of escape. Far away, on Earth, her best friends, Yaz, Ryan and Graham have to pick up their lives without her. But it's not easy. Old habits die hard. Especially when they discover a disturbing plan forming. A plan which involves a Dalek. How can you fight a Dalek, without the Doctor?
Entitled "Revolution of the Daleks," the extended episode will see the Doctor once again go up against the mutant abominations. The race of foes last appeared in 2019 special "Resolution," which featured guest star Charlotte Ritchie possessed by a Dalek that wreaked havoc in the city of Sheffield before it was sucked into a vacuum corridor in space.
Previous to that, the Daleks also featured in Peter Capaldi and Steven Moffat's goodbye episode "Twice Upon a Time," the last in the new series' run of regular Christmas specials. Will either of those encounters have a bearing on the Doctor's next adventure?
Before the Doctor can face Skaro's most dastardly for the umpteenth time, there's also the small matter of – spoilers – her escaping from maximum security space prison, the tricky situation in which the Doctor was left in at the end of series 12. A wave of the Sonic, some reversal of the polarity, and a winning grin could fix that, surely?
Writing about that cliffhanger in the official press release, showrunner Chris Chibnall exclaimed, "We can't leave the Doctor there!
"Well, we did. But rest assured, the Doctor and her friends will be back for a one-off extended Special around Christmas and New Year. (I don't know when they're going to put it on yet, otherwise, we'd tell you!)."
Teasing what to expect from the next episode, Chibnall promised "There will be Daleks. There will be exterminations. Thrills, laughter, tears. You know. The usual."
He later added:
"We've crammed this year's Doctor Who Festive Special with an explosion of extraordinary acting talent. Where else would you get British acting royalty, a globally renowned US screen star, an (inter)national treasure of stage and screen and one of Britain's hottest young actors — just in the guest cast! Put those together with Jodie Whittaker, Bradley Walsh, Mandip Gill and Tosin Cole (and Daleks! Did I mention Daleks!) — and you get a cast to be exterminated for. And things will explode. Promise."
Revolution of the Daleks Writer and Director: Spyfall Part 2 director returns
Lee Haven Jones, who previously helmed part two of the series 12 opener "Spyfall" and "Orphan 55", directed the festive special, from a script by showrunner Chris Chibnall.
Revolution of the Daleks Cast: Graham, Yaz and Ryan report for duty
There'll be a complete roster of companions, with Bradley Walsh's Graham, Tosin Cole's Ryan, and Mandip Gill's Yaz all returning to join the Doctor after they arrived safely back in Sheffield following their Gallifreyan adventure.
Also listed on IMDb as appearing in the episode are John Barrowman as Captain Jack Harkness, Nicholas Briggs (obviously) as the voice of the Daleks, Dame Harriet Walter, Chris Noth, Nathan Stewart-Jarrett, Taggart and The Loch's Gray O'Brien, and one Guillaume Rivaud.