News
The Yellowstone Universe Doesn't Need Yellowstone Anymore
With the news that star Kevin Costner may be departing its flagship program, the future of the Yellowstone Universe faces more uncertainty than ever.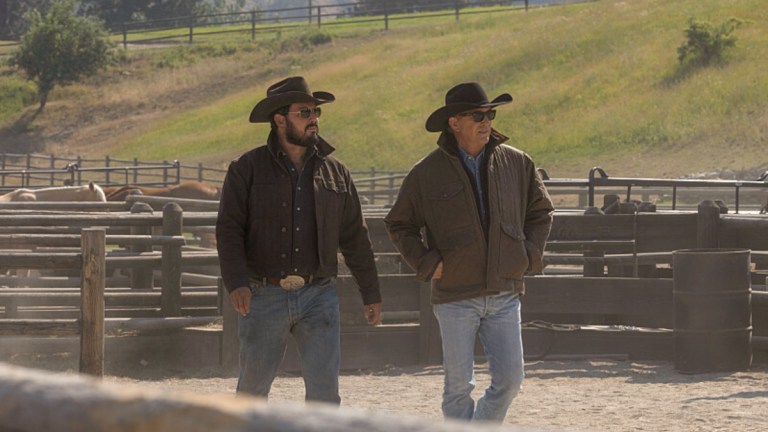 It would seem the bombshell cliffhanger that fans of Paramount's Yellowstone have been anticipating this season didn't come on screen, but behind the camera. 
Deadline is reporting that due to disagreements in regards to shooting schedules, and conflicts with other projects, star Kevin Costner is perhaps asking too much from Paramount. There are reports that Paramount Network has declined Costner's most recent proposal and is instead considering moving on to a spinoff, also set in the Yellowstone Universe, without Costner involved. That extension of the franchise is even rumored to be working on securing Matthew McConaughey for the lead, and could spell the end to Yellowstone at the conclusion of this current season, after the show returns from hiatus. 
Yellowstone tells the story of the Dutton family, led by John (Kevin Costner), who controls the largest family-owned ranch in the United States. The dramatic twists and turns of this formidable family creates a story full of shifting alliances, unsolved murders and hard-edged cowboys. The Duttons are in constant conflict with cutthroat business rivals, an encroaching expansion of the local town, and even fellow family members coming for their ranch, and their life.
For many fans, this news is perhaps surprising, but not completely shocking. It has been long rumored that Costner has had notoriously short shoot schedules. Within this current season, Costner had negotiated a mere 65 days of shooting for the production. This was undoubtedly because the star wanted to focus on his new passion project, Horizon, an epic Western set depicting the expansion of the American west. Costner would have been spread thin even if it were a typical film shoot, but the project, set to be distributed by Warner Bros. and New Line Cinema, is so massive, Costner has told sources he's looking to cast 170 speaking roles, and plans to make four separate films utilizing the premise. With a myriad of factors influencing him both personally and professionally, it seems that Yellowstone may no longer be Costner's priority. 
Co-creator and showrunner Taylor Sheridan may have also been sensing this, as many fans (including Den of Geek in our continued coverage this year) have noticed a specific thematic device used throughout this most recent season. For the majority of the first half of season five, Sheridan has constantly reinforced how this world is not built for old-school, grizzled cowboys like John Dutton anymore. Time and time again we've been reminded that the world is changing, and John is just another dinosaur awaiting extinction. There have even been hints that John may succumb to the cancer that was, so far, in remission, which would undoubtedly spell the end of the show in its current form.
As of now, it is all conjecture, as a Paramount Network Spokesperson merely told Deadline "We have no news to report." The press statement continues to reassure fans that "Kevin Costner is a big part of Yellowstone and we hope that's the case for a long time to come. Thanks to the brilliant mind of Taylor Sheridan, we are always working on franchise expansions of this incredible world he has built." 
While nothing is written in stone, there's a strong argument that this universe can, and certainly will survive with or without the lynchpin that started it all. Recently Paramount confirmed the second season of prequel 1923, and production on the continuation of the 1883 timeline, Bass Reeves is already well into filming. Regardless if Costner continues in this universe, fans can take some solace in the fact Taylor Sheridan is still on board. While that means the universe will certainly be in capable hands, it should still be noted that Sheridan has a lot on his creative plate. One of the busiest creators in television today may have to shift his cards within this franchise a little. The proposed Yellowstone spinoff, 6666, set in Texas, could certainly be the new contemporary flagship.
This is especially true if a talent like native-Texan McConaughey signs on. McConaughey more than proved himself in the critically acclaimed first season of True Detective, and the kind of gritty neo-Western Sheridan can create seems like a perfect fit. Sheridan has been able to attract the likes of Hollywood icons Sam Elliott, Sylvester Stallone, Helen Mirren, Harrison Ford, Nicole Kidman, and Morgan Freeman in his recent television projects, but again, the certainty of McConoghey's involvement is still pending. While a star of McConaughey's caliber would undoubtedly fit in the Sheridan catalog of mega-stars, Paramount is holding their cards fairly close, only stating "Matthew McConaughey is a phenomenal talent with whom we'd love to partner," at this time. 
Yellowstone season 5 is set to return summer 2023.