Features
Will John Dutton Die?: Questions Yellowstone Season 5 Still Needs to Answer
With the mid-season finale bringing us a strong cliffhanger, fans now have to wait until the summer for the conclusion of Yellowstone season 5.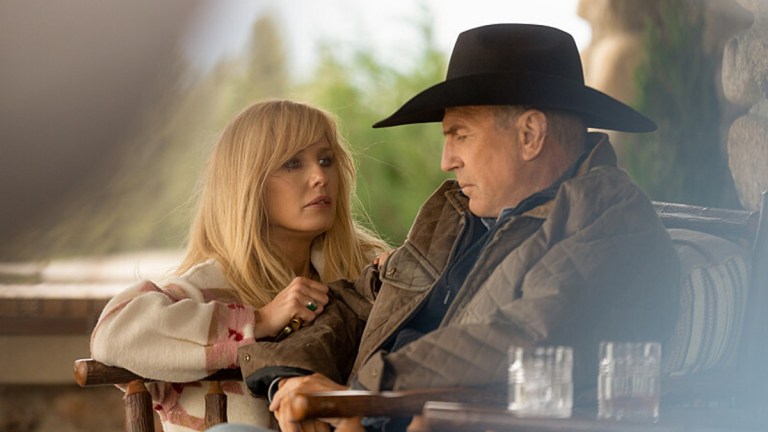 This article contains spoilers for Yellowstone season 5.
The first half of Yellowstone's supersized fifth season was full of untapped potential, which likely means a final half dozen episodes packed with mayhem. Den of Geek breaks down a few likely scenarios that audiences could see when the show returns.
Will John Dutton Die?
We teased this idea in a previous piece by predicting possible conclusions to the Yellowstone story, and the argument has only grown stronger in season 5.
If you've been paying attention to the subtext of this easy-going season 5, there has been one recurring message – this world is not meant for cowboys. To mirror that, show creator Taylor Sheridan has constantly reminded us of John's (Kevin Costner) mortality. John has been repeatedly reminded that the way his family has run Yellowstone is antiquated. He has to evolve or the Yellowstone will die.
But perhaps it's not simply the Yellowstone that's in danger of dying.
John is nothing if not a survivor – he has survived a violent attack against his family, where he was riddled with bullets. He's had ulcers erupt and cause major health problems, and of course, there was his colon cancer. The latter was a major scare early in the show's run, and has since been forgotten. Or has it?
John and Kayce (Luke Grimes), arguably John's favorite son, shared an awkward moment in the mid-season finale, where John hugged Kayce and told him he loved him. This rare outpour of emotion took Kayce aback, as his father, while not without warmth, is typically stoic. What if John knows something he doesn't want to tell anyone else – what if the cancer has come back?
If this is the case, the entire season has been John ensuring his family's legacy lives. Audience members mistake his indifference towards his new position as governor as the Dutton genetic attitude, but it could be John does not fear legal ramifications or push back because he won't be around.
There have been rumors that Costner may want to step away from the series, and while there is no definitive word as to how many more seasons Yellowstone has, perhaps season 5 is the end for Costner.
Will 1883's Prophecy Come to Pass?
True fans of the Yellowstone universe remember a promise made in 1883 when the first Dutton to set roots in Montana and James (Tim McGraw), struck a deal with Spotted Eagle (Graham Greene). The Duttons can keep the land for seven generations before returning it to Spotted Eagles' people. 
It seems almost inevitable that the Duttons are going to lose the ranch, or at least the ranch in its current form. John and Rainwater (Gil Birmingham) have always had an uneasy alliance, but there is certainly respect, and if John knows the ranch is doomed, could we see him give it to the Broken Rock reservation and Rainwater's guardianship?
If you're paying close enough attention, that seventh generation of Dutton's is Tate Dutton (Brecken Merrill), but there's a bit of a twist. Tate's mother, Monica (Kelsey Asbille), is a member of the Broken Rock community. That's where she, Kayce, Tate and her brother and his family lived for quite some time before moving back to the ranch.

This could mean that Tate, being at least half-native American, could be the cultural loophole so at least part of the Yellowstone remains with the Duttons. This might also explain why John is encouraging Kayce and his family to move to the East camp house, which may be the specific part that was originally under Spotted Eagles' purview.
Will There Be Another Dutton Baby?
Originally, we theorized that John's liberal paramour, Summer (Piper Parabo), would reveal that she was pregnant while she was still in prison. That announcement would then motivate John to get her released so that his son wasn't born behind bars.
However, Sheridan wasted no time getting Summer back into the light of day and into the embrace of John once again. In one of his first acts, the newly appointed governor pardoned all of Summer's crimes. This now means John and Summer are spending a large amount of time together. Coupled with her slow ingratiation into the family makes it seem like she might not be going anywhere. Could we see this unlikely romance give us a Dutton baby? If we were to lose John, a baby would be a touching but dramatic legacy.
There's also the possibility that history will repeat itself. In the first half of season 5, we've seen Carter (Finn Little), the "stray" the Duttons took in, sprout quite a bit. Carter already mirrors his surrogate father Rip (Cole Hauser) in many ways. They both have traumatic pasts. They were both taken in by the Yellowstone. They both have to fight for every scrap.
And recently, we've seen them both fall for a pair of beautiful eyes in cowgirl boots. Hailie (Orli Gottesman) and Finn have spent quite a bit of time together, and this could easily lead to them making the same choice as a young Beth (Kelly Reilly) and Rip, which could mean an unexpected pregnancy.

It would undoubtedly be a touch of beautiful karma if these two teenagers, not prepared for the pressure of parenthood, allow Rip and Beth to adopt the baby. It's been a storyline since the very first season that Beth cannot have kids, but clearly would want to have one with Rip, and this seems like a familiar path this family (and Sheridan) could walk down.
Are John and Jamie Working Together?
We all know that the drama between Jamie (Wes Bentley) and Beth is not over, but how far will it go? Beth threatened to take Jamie Jr. away from her adopted brother, but that seems unlikely. That would mean Beth's character would become practically irredeemable even in the eyes of those who don't like Jamie's character.
But what if it doesn't have to end in bloodshed?
One major inconsistency throughout recent seasons has been how John feels about Jamie. In the season 4 finale, he's almost in tears, worried Beth has done the unthinkable and killed Jamie. John practically weeps as he asks, "Have I lost a son?" Then the next season, he tells his assistant he "only has one son", bushing Jamie off completely.
This giant leap to concretize Jamie as the season 5 antagonist seemingly came out of nowhere, but perhaps, only for the viewer. Maybe John is putting on a bit of an act. There was a moment when Beth confronted John after learning what the Train Station truly is. Jamie let Beth know all the dirty little secrets that the Dutton family, including her husband, have literally buried off the side of a cliff, and when she finally went to her father, he begrudgingly reiterated what Jamie told her.
At that moment, Beth decided this may finally be the time to kill Jamie, and just as it seemed that John was listening. But there was an almost missable moment in the editing that led many fans to believe there was a serious conversation happening between father and daughter, and not one we were privy to. It could easily be that John is agreeing with Beth and plotting how they eliminate Jamie once and for all, or that John already had a plan.
Jamie has finally shown some fortitude this season, which for those who enjoy Bentley's layered performance was a treat. This unspoken moment between John and Beth could be the seed for Jamie's redemption story. We've seen Jamie reveal the truth about his son to Beth. We saw her threaten Jamie with taking Jamie Jr. away, and we almost saw Jamie kill Beth by flattening her with his SUV.
But he didn't.
What if, at that time, we didn't see Jamie snap into a bloodthirsty rage, but rather, into his first real moment of clarity?
Perhaps Jamie went to John, told him about his unknown "grandson" and spoke to his father man-to-man for the first time. It could be that Jamie finally became the man John wanted him to be, and they fabricated this entire rivalry to put the Dutton family in the strongest position.
A secret alliance between John and Jamie could mean they get dirt on Sarah Atwood (Dawn Ollivier), perhaps even pinning the attempted murder of Beth Dutton on her. It could be the plan all along to impeach John and get Jamie the governorship, if John now believes he can finally trust Jamie to do what's right. More importantly, this could finally mean that Jamie is accepted by his father, by his family, and perhaps… even by Beth. 
Yellowstone season 5 is set to return summer 2023.