Features
1923: The Newest Yellowstone Heartthrob on What Makes a Dutton Man Tick
1923 breakout star Brandon Sklenar discusses how Spencer fits the Dutton-Man archetype and what to expect from the show's return.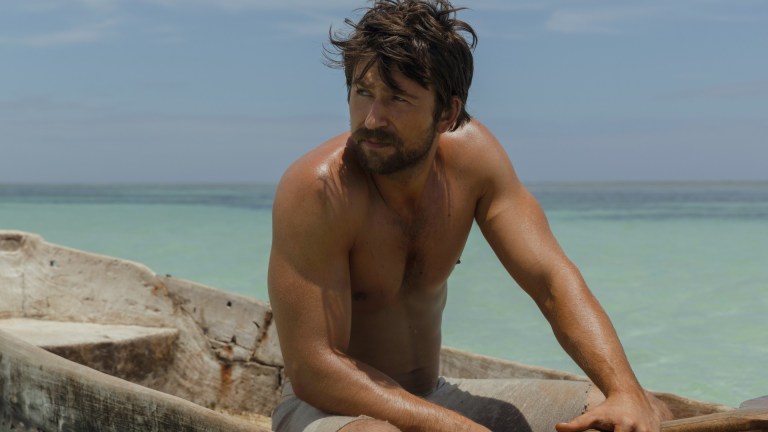 This interview contains spoilers through1923 episode 4.
Occasionally, the joy of watching your favorite television show or a new film is discovering an actor for the first time – enjoying their work so thoroughly that you bookmark their name or face in your mind. When you discover that other fans also enjoy that particular actor, it's almost like being the cool kid on the playground for a split-second. You have the knowledge that you discovered this person first, regardless of the fact you're only watching them on a television screen.
Taylor Sheridan's television universe, including the flagship Yellowstone, and the prequels 1883 and now 1923 has been responsible for this kind of revelation more than a few times, as there are almost never weak links within each ensemble cast. Most recently, audiences have fallen in love with the work of Brandon Sklenar and his character, Spencer Dutton, the last survivor of the original Dutton family from 1883. Spencer, like so many Dutton men, is a stoic poet. He's a man who drowns his inner demons in alcohol and blood, and a damaged man who certain audience members certainly dream about being given a chance to fix.  
Sklenar, no stranger to the screen, yet still a young actor in many respects, realizes this is his opportunity to become a bookmark and to be a talent that many will continue to look for as his career progresses. While thankful for the opportunity, Sklenar recognizes that a massive congregation worships at the church of Yellowstone, and knows there comes a tremendous responsibility to deliver.
"You definitely feel that pressure coming into it," Sklenar tells Den of Geek. "[Yellowstone] is such a large, sweeping fan base, and the fans are all pretty passionate about it."
Spencer, and in turn, Sklenar is a clear addition to the long list of Dutton heartbreakers within this universe, and it's largely due to how Sklenar has been able to balance the quiet unspoken feelings of Spencer, with the Tarzan-esque machismo audience's have come to expect from Dutton men.
"From the jump with Spencer, I felt like I resonated with him so deeply, and it's just been the most rewarding creative experience I've ever had as an actor."
When asked if there's a part of this dichotomous character he has more difficulty with, Sklenar once again just reiterates his appreciation for how the character is written, and how the long history of the Dutton clan is already ingrained in Taylor Sheridan's writing.
"It's just such a gift to put this puzzle together and see where you can layer in Elsa (Spencer's older sister played by Isabel May in 1883), because there's so much of her in [Spencer], and yet they never met each other. But he has that same quest for danger. He's also so unintentionally poetic. He's such a simple guy. Taylor's writing is so beautiful in that respect, and he has no awareness of how poetic and romantic he is. It's just fundamentally who he is. So there's something so endearing about that quality."
While Elsa's spirit may remain flowing through Spencer, as mentioned, that's only one piece of the puzzle. The Dutton history is now a rich tapestry, and with these shows, you can discover where the very fabric of the family came from, and the prevalent character traits that remain buried deep in the genetic code of the Dutton family. As Sklenar mentions, it is a puzzle and seeing how one piece links to the next transfers to the intrigue of studying a family of characters from generation to generation. So where does Spencer's piece fall?
"We never really spoke individually of any characters from Yellowstone or 1883," Sklenar clarifies. "But there was a discussion about how the men in the Dutton family communicate, and how they handle and compose themselves. There is this generational way of dealing with things and showing up as a man in the world. There's a nobility that I really love about Spencer. A throughline in a lot of these [Dutton men], is doing whatever they can to show up for their family, and the people they love. It's just a noble trait but there's [also] a very specific masculine presence or vibe, and you can tell that they're all cut from the same cloth."
What many fans recognize is that Dutton fabric is often stained with blood and Spencer especially has the lion's share of demons to fight. So many, in fact, that he is the first and only Dutton to distance himself from his family and their Yellowstone ranch. While Spencer may be the only one chasing his demons across continents, that stoic suffering has been seen in Tim McGraw's James Dutton in 1883, all the way to Kevin Costner's John in the contemporary Yellowstone.
So how does an actor convey so much, yet do so little on screen? As much as Sklenar once again credits the writing of Taylor Sheridan, as so many Sheridan actors have done in the past, it is a carefully crafted balance that the actor has adopted seamlessly into his performance.
"You have to keep everything so internalized and pick your moments in terms of when these colors are being revealed. So for me creating that inner monologue is the biggest thing. There is a life underneath [the surface]. Spencer is constantly pulling it back and restraining things. It's still captivating, and you're still telling a story without having to say anything. It's very much a "Dutton" archetype and I think that's what makes them appealing to watch."
Arguably the most anticipated story thread when 1923 returns on Feb. 5 is how much of an impact Spencer is going to have as he travels back home. His uncle and surrogate father is clinging to life, his brother is dead, and his Aunt Cara (Helen Mirren) desperately needs a strong presence back in Montana to fight off those who threaten the family.
The question becomes, what version of Spencer are fans going to see – the bloodthirsty wild man fresh off hunting man eating predators, or the soft spoken sweetheart, wearing a mask of Irish stoicism rather than letting his family back in? Sklenar explains, there is certainly room for both.
"There's a core base to him that is there, and that core base is what (love interest) Alex (Julia Schlaepfer) starts to bring out of him. As the season progresses, the walls start to come down. There's a vulnerability that comes out. There's a boyishness that comes out of him, and I think that's fundamentally who he is. He's kind of built up this sphere around himself to protect himself, physically and emotionally, but I do think that as it progresses, he does come home with that vulnerability."
Any fan of Sheridan's writing has to know, that eventually, the violence that follows the Dutton family is surely to rear its ugly head once again in 1923, and not to worry, fans – Sklenar promises that as much as his character will still show his softer side, the Montana-mayhem is certainly on it's way.
"Spencer comes home in a big way, and he'll potentially be making up for lost time," Sklenar says, settinging up just how much of that aforementioned sense of duty and family will linger. "Things definitely don't slow down, and don't get any easier for any of the characters, that's for sure. I think everybody's got a long road ahead of them. Hopefully people enjoy the next episodes half as much as they've enjoyed the first half."
1923 returns from hiatus with episode 5 on Sunday, Feb. 5 on Paramount+.