Features
Yellowstone Season 5: Dawn Olivieri is Ready for Sarah Atwood to Pop Off
Actor Dawn Olivieri discusses how her character could spell the real downfall of John, Beth, and the ranch in the second half of Yellowstone season 5.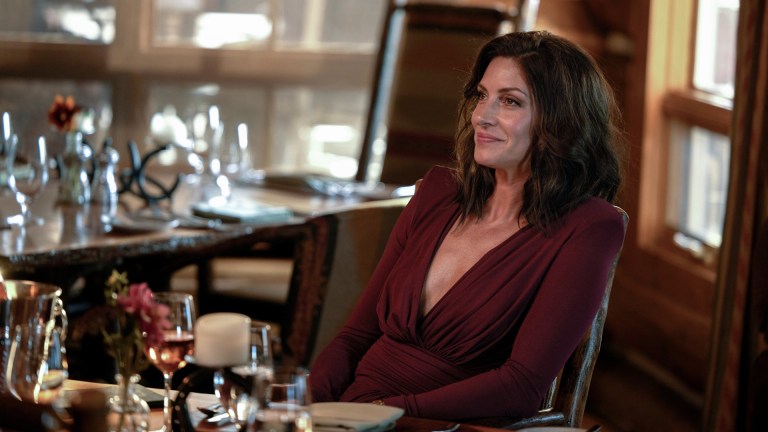 This interview contains spoilers for Yellowstone season 5 and 1883.
The Taylor Sheridan family, much like the television empire the Academy Award nominated writer is building, has grown extensively over the last couple of years. The creator has brought in some amazing talent to his shows, including icons such as Jeremy Renner (Mayor of Kingstown), Sam Elliott (1883), Harrison Ford and Helen Mirren (1923), and Sylvester Stalone (Tulsa King). Yet any fan of Sheridan's work knows that these stars are not necessarily the face of their respective series. In reality, it's all about the pool of experienced and diverse actors that populate them.
Dawn Olivieri, best known for her stint on House of Lies as Monica Talbot, is the kind of actor who has proven herself to come into a show and make a major impact, regardless of how much time she is given on screen. Her filmography includes recurring roles on The Vampire Diaries, Heroes, and SEAL Team, but it was recently the tiniest of appearances on Sheridan's 1883 as Claire Dutton that gave the Yellowstone showrunner the opportunity to see the exact impact Olivieri can have. Tragedy struck Claire, as it so often does with the Duttons, but even though her role as Claire was a short-lived character, Sheridan clearly saw something within Olivieri that made him want to bring her back for his flagship program, Yellowstone.
In this fifth and current season of Yellowstone, Olivieri has played Sarah Atwood, the unstoppable force butting heads with the immovable object that is the Dutton family. Atwood is a predator in every sense, one part shark, one part siren, and someone who can both seduce and destroy. Olivieri's performance is extremely grounded, as she had a firm grasp on what she needed to bring to this character from inception. Olivieri recognizes that both roles she has played within the Yellowstone universe, first with Claire Dutton and now with Sarah Atwood are a fairly easy transformation when you couple that with the television magic Sheridan can create.
"It's very easy, it's almost just written on the page for you. You really don't even have to do anything," Olivieri tells Den of Geek. "I think Taylor does most of the work by writing it and then casting the strongest females that he can find. And it's an honor to be one of those. He knows strong women, he knows how to write for us, so it just becomes a matter of saying the words".
Yet that is not giving herself enough of the well-deserved credit. Juxtaposing the character she has embodied in Yellowstone to her personal life, Olivieri purportedly prefers the simple pleasures in life. Her social media feed is filled with pictures of her property where she communes with her bevy animals in a cozy and quiet existence. She could not be further from Atwood, and yet, this self-proclaimed introvert is not challenged by presenting herself as a woman who shows pure strength and cut-throat business savagery, it's a much different challenge.
"I think the real question is, 'how challenging is it to be vulnerable as these women?'" Olivieri says. "That's the harder expression."
It speaks to the levels within the performance that fans may not always understand or see. It's easy to see the character of Atwood as nothing but a snake, ready to strike the Dutton family, but Olivieri is clearly bringing many more levels to the dangerous corporate tempress.
As mentioned, Atwood has been the major driving force of the season – she is the major thorn in the side of the Dutton family, and seems to be the one character that may come the closest to bringing their dynasty crashing down. When last we saw Atwood and adopted-Dutton son Jamie (Wes Bentley) in the mid-season finale, they confirmed themselves as the main antagonists coming for everything the Duttons have, despite the fact that Jamie claims he is doing it for the future of the ranch and ensuring the family legacy.
As a fan of the show before she was cast, Olivieri, hilariously, was somewhat disappointed with the scope of her character's interactions in the first half of the season.
"I was thinking about Wes and when I first got this invitation to come and play on Yellowstone." Olivieri recalls. "I thought, 'I'm only playing with his character?'"
It wasn't simply because Olivieri wanted to work with the rest of the extremely talented cast of the show, it's that she, like many, is not a fan of the often spineless Jamie Dutton.
"He's very victim-y. I am the complete opposite of that. But when I started working with Wes, he's an incredible actor. He said to me that playing Jamie is the hardest character he's ever had to play in his career, and it's going to be very cool to watch his character blossom in this relationship with Sarah."
She's absolutely correct as well. Watching Jamie as a character come out of his shell, and actually show fortitude is a catharsis for any fan of the character. His transformation into pure villainy, hand-in-hand with Atwood has been one of the major highlights of season 5, and one of the most consistently exciting and entertaining aspects of an otherwise undemanding season.
She also admits that she, like so many fans, trusts the Sheridan process, and knows that things will eventually reach the echelon of thrills and drama that has made the show so popular. With a smile still on her face, she simply states "Taylor knows what he's doing," but Olivieri mirrors how many fans feel about this current deliberately paced and character driven season – there is so much potential still left on the table.
As for what that potential might mean for Jamie and Sarah, whether it be impeaching John (Kevin Costner), or getting even darker and hiring someone to kill Jamie's sister, Beth (Kelly Reilly), Olivieri is noticeably buzzing with anticipation. In fact, she is issuing an unofficial challenge to Sheridan to bring some real explosiveness and grandioseness to Atwood.
"I built this character on what I know Taylor knows about me, which is in turn based on what I did on 1883. He knows where I can take [the character]. So if you know where I can take it and you know I can go pretty far with it, why would you not go there? It'd be very interesting." 
At this point, Olivieri simply has to sit back and wait like the rest of the fans of Yellowstone. At the time of the interview, production had not even started on the second half of season 5, which Paramount Network promises will arrive this summer.