Features
Yellowstone: Lilli Kay on the Show's Cross-Demographic Politics 
Clara has been a welcome presence in season 5, but actor Lilli Kay explains why she's come to expect a myriad of reactions from the Yellowstone audience.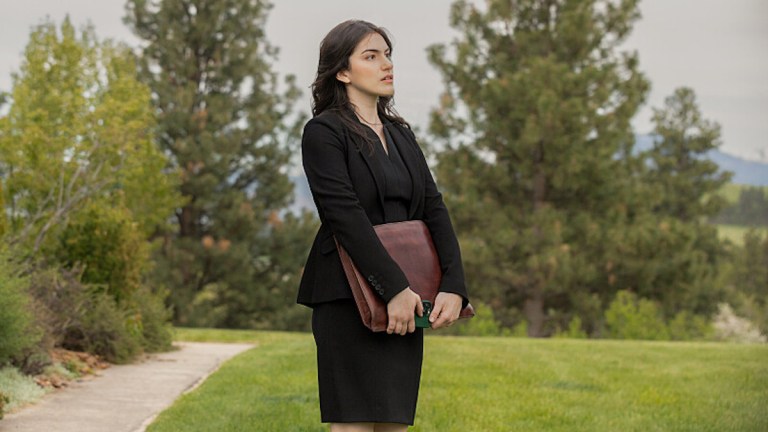 This interview contains spoilers for Yellowstone season 5.
Lilli Kay has earned it.

It wasn't enough that she was a massive fan of Yellowstone. It wasn't enough that her stepmother, Piper Parabo, had been cast as a recurring character for the past two seasons. It wasn't even enough that her father, Stephen Kay, has directed over a dozen episodes of Yellowstone, as well as a handful episodes of Mayor of Kingstown, all the while serving as executive producer for both shows. Lilli, for the longest time, couldn't even get to visit the set. 
"I didn't [visit] and that was a huge bummer, because it just never worked out. And I was so frustrated because that's the world I love." Kay explains. Her father seemingly ignored her pleas for quite some time – "I was begging to just come hang out, but I never got to go."
Eventually, Lilli was allowed on set, after she had been cast as John Dutton's (Kevin Costner) new assistant, Clara Brewer, who has been a useful addition to the cast in season 5. A circumstance that elicits Kay to chuckle as she admits she was only able to "sneak into this world" purely by chance. However, her work in this most recent season has proven that she deserves to be there. Many fans of Yellowstone have welcomed the young actor into the family, which is not an easy task as the fans of the show are about as trusting of newcomers as the territorial Dutton family. It speaks volumes in terms of Kay's ability as an actor to win over one of the more discerning fanbases in modern television.
After breakout performances in shows such as Chambers and more recently, Your Honor, where she has held her own opposite legendary performers such as Michael Stuhlbarg and Bryan Cranston, Kay goes into detail that a turn to show business was not inevitable. Growing up an only child, it would make sense that she was merely pushed into the business by her dad and stepmom, but nothing could be further from the truth, according to Kay. She reminisces that her parents once told her "if there's anything else you can do, and be happy, please do that. Do not be an actor." When Kay exhibited her love for acting, and wanted to do it professionally much to her family's early chagrin, Kay said they recognized how much she took it seriously and became nothing but supportive.
Yet Kay will even admit, if it weren't for her upbringing where television sets were a secondary classroom, she may not be the performer she is today.
"I was really invested in gaining tools, and taking acting seriously," she says. "I went to conservatory for four years before I started working, and I think that gave me a lot to use. But I think that I had such a massive privilege of growing up on sets. Not only watching incredible actors working, but also watching how that environment functioned, which was useful. So I definitely don't take that for granted."
Part of that responsibility, especially as someone who is a massive fan of the show, is that Kay recognized the Yellowstone female archetype, and knew she had to represent a fortitude within Clara that fans of the show have come to expect from the female characters. 
"Everybody's so invested in having these really nuanced and powerful women on this show. That's a huge part of the identity of the show. For me with Clara, I think she really is tough, and that's part of what appeals to John Dutton. She's pretty fearless. I was really excited to play someone that not only is smart and fierce in a political sphere, but also is physically able to embody the ranch [spirit]. That strength and that adaptability is something that I think women don't get to do very often on television."
There was another responsibility that recently came up when a simple on-screen kiss became a much bigger issue for some fans than necessary. Some fans were not comfortable seeing Clara, in the most fleeting of moments, share a kiss with another female character (who was in reality, Kay's real life partner) and were not afraid to voice their disappointment. Yet, this was a moment that Kay found profoundly important within the show, regardless of those who may be offended.
"It was cool to have a moment of simply [admitting] there are queer people, they're out there. That's it. There's no big conversation around it, which I think is a really important step in normalizing the fact that queer people are everywhere."
As a cable series about the pastoral life on a ranch, Yellowstone has a reputation for drawing conservative fans, both politically and culturally. But Sheridan has always walked the political tightrope to ensure the show has representation of marginalized groups, strong female characters, and often a balanced approach to more politically charged subjects.
To be expected, Yellowstone super-fan Kay recognizes not only that pattern, but again, the responsibility of this kind of representation. "In a world like this, and on a show that is so sort of cross-demographic, it's really awesome. I've enjoyed seeing people have reactions that I didn't expect. Somebody wrote to me and said, 'you know, I'm not one for woke TV, but this was really tasteful', because it's not about wokeness. It's about people existing as they exist in the world, and I think Yellowstone tries to do that in a lot of ways."
While the future of Clara remains to be seen, Kay has unquestionably earned her place within the cast, and many fans would argue, Clara has earned her place as well. After the mid-season cliffhanger, where Clara was becoming privy to the true darkside of the Dutton history, Clara has seemingly gone from mere assistant to trusted consigliere. Kay justifies this turn to the darkside within her otherwise innocent character in the same way many fans have become enamored with the show itself. "it was something that she didn't anticipate, but I think being around this family, learning the way that they live, she has fallen in love with that, and I think is willing to protect it."
Yellowstone returns from hiatus sometime this summer, on Paramount+.