News
1883 Season 2: What Does the Future Look Like for the Yellowstone Universe?
Fans have been getting mixed signals in terms of what to expect from the prequel series 1883 and the next chapter of the Dutton story.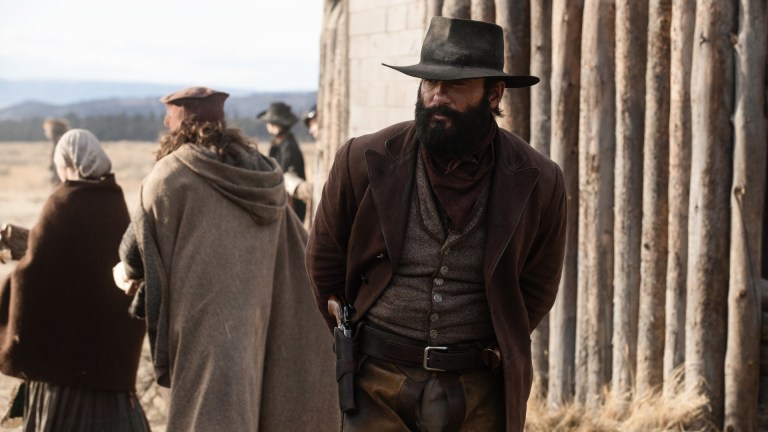 This past Sunday, 1883, the prequel to the immensely popular Paramount drama Yellowstone concluded its premiere season, and in what seemed to be a very definitive fashion. To avoid specific spoilers for those fans who still haven't seen it, approximately half of the major cast members had unconditional endings, whether their journey simply ended with the Dutton-lead wagon train, or if the journey ended somewhat more metaphysically. In Den of Geek's review of the episode, we wrote that this first season was 'better served as the only season' because of the undeniably conclusive arc Taylor Sheridan had written.
This left many fans wondering what was to come next, particularly because Paramount had announced weeks prior that new episodes had been ordered. What followed was a fury of news stories on websites akin to our own hypothesizing what the second season of 1883 might look like.
Then the finale aired, and everyone hypothesizing about the future of the show were suddenly left scratching their heads. How could there possibly be a second season? The emotional holes that were left after the finale could not possibly be filled. The entire fabric of the story, and indeed, the Dutton family of characters had evolved into something completely different. Enter creative cowboy-god and Paramount golden boy, Taylor Sheridan, who announced shortly after the finale that the 1883 chapter was in fact, closed.
In an interview with Deadline, Sheridan reassured fans that he "created this peek through time to show you this one specific journey". That he is "not someone who likes to tie everything up in a bow and explain how everyone lived happily after, or didn't. On to the next peek through the window". While the first season of 1883 was a definitive look through a large window, there were other keyholes audiences got to peek through. Sheridan included a series of short flashbacks of the Dutton clan in Yellowstone season 4. In those, audiences got to see the family years after 1883, as we saw a significantly older John, and his younger brother Spencer, who wasn't even a glimmer in James and Margaret's eye during the harrowing events of 1883. They had other priorities. 
Sheridan seems even more definitive with a particular section of his announcement, as he states "For me, as a storyteller [1883] feels close-ended. I'm going to peek through the window of a different era and see what I see then". He added, "We wanted to make a 10-hour movie that ended, and that's what we did". It seems undeniable that the aforementioned 'next peek through the window' may be the next chapter of the Dutton story, 1932, which could be the balm that ravenous fans need, and the answer they seek in terms of what the future may hold for the prequels.
Yet there is a series of conflicting announcements. Almost immediately following Sheridan's statement, Paramount double-downed on there being future 1883 content. However, there are some hints that may shine a little light on this back and forth ping pong match of information. Paramount has never stated that 1883 was in fact renewed for a second season. They merely announced "additional episodes," which could in actuality, take many forms. When reached for comment, Paramount+ communications reiterated what has already been made public, as they told Den of Geek that "1932 will be the continuation of the Duttons' story. More of 1883 has also been ordered but the creative is still being determined".
This changed the wording even further, carefully indicating that simply more of 1883 had been ordered. This perhaps means that there will be no more standalone episodes at all. Many fans were assuming that perhaps the start of 1932 would have a prologue, with a few introductory episodes taking place in the late 1800's that would link 1883 and 1932, and that may still be the case. It is also likely that Paramount and Sheridan could create a made-for-television 1883 film to serve the same purpose, something that would still help transition the two time periods, and give audiences the promised additional 1883 content.
For Sheridan to say he is finished with the 1883 chapter should not come as a surprise to any fan of the man's work as they must realize how busy he is. As it stands currently, the showrunner, writer, director and occasional guest actor is developing eight different announced projects. That includes writing for the next seasons of Yellowstone and Mayor of Kingstown, developing 1932, and continuing the expansion of the Yellowstone universe with 6666. Outside the Y–universe, he has the Sylvester Stallone-led Tulsa King, Lioness featuring Zoe Saldana, Landman with the great Billy-Bob Thornton, as well as the miniseries Bass Reeves, yet another cowboy story featuring David Oyelowo as the legendary Black-cowboy, Reeves. Bass Reeves is expected to go into production this summer, overlapping with the proposed production schedule of Yellowstone season 5.
Even those closest to the project are evidently unsure of the future of 1883. Star of the show, Tim McGraw, who plays original Dutton patriarch, James, has claimed in an interview with Variety that he is interested in doing more with James Dutton, and that timeline. He went on to praise his showrunner, telling Variety that "Taylor is such a brilliant writer that I can only imagine what he's going to come up with, and whatever I imagine is probably not even going to be close. So I don't have any idea. I'm as anxious as anyone to see what happens. We're sort of in limbo like everyone else". 
If the lead of the show has no idea what the future holds for 1883, then it is really anyone's guess.
It may not be the definitive answer diehard Yellowstone fans want to hear, but it seems that Paramount and Sheridan have simply not made up their collective minds as to what manner we will see the original Dutton clan again. Knowing that Sheridan is a man of his word, and a man that produces his stories with such clear vision, the only thing that does seem certain is that the next time we see James, Margaret, and the young Dutton brothers, it will likely complete the family's first chapter.