Features
The Walking Dead: Dead City Season 2 Will Have a Clear Mission
Maggie and Negan must finally settle their beef in The Walking Dead: Dead City season 2.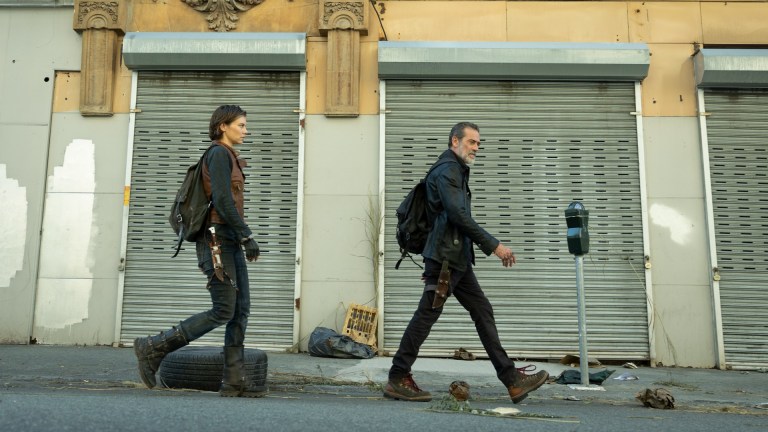 This article contains spoilers for The Walking Dead: Dead City season 1 finale.
My mom always taught me that the only thing that happens when you assume is that you make an "ass" out of "u" and "me." Well sorry, mother, but I assumed AMC's Maggie and Negan spinoff The Walking Dead: Dead City would be a one-season experience.
The Walking Dead franchise has been around for quite awhile now. First premiering in 2010, the flagship series ran for an impressive 11 seasons and gave way to Fear the Walking Dead (which will wrap up its eighth and final season later this year), The Walking Dead: World Beyond (which ran for two seasons), and many other spinoffs to come including The Walking Dead: Daryl Dixon and the Rick and Michonne story The Walking Dead: The Ones Who Live.
Suffice it to say, the zombie franchise based on Robert Kirkman, Tony Moore, and Charlie Adlard's comic series, seemed like it was primed for some more close-ended stories (not entirely unlike its recent Tales of the Walking Dead imprint). And a six-episode series continuing the story of reformed villain Negan (Jeffrey Dean Morgan) and the badass woman he widowed Maggie (Lauren Cohan) was the perfect fit. During AMC's Hall H presentation at this year's San Diego Comic-Con, however, the network announced that Dead City would be receiving a second season.
The announcement came before the Sunday, July 23 cable premiere of The Walking Dead: Dead City finale. So fans without AMC+ would have to wait a couple days to find out if The Walking Dead: Dead City season 2 was a cynical reaction to the spinoff's immense ratings success or a logically sound extension of the story. Now that the finale "Doma Smo" has premiered, we can say that the answer is undoubtedly the latter (though the superb ratings probably didn't hurt).
It appears as though The Walking Dead: Dead City has been confidently working towards a second season this whole time as all of its characters' arcs remain tantalizing incomplete at the conclusion of the first season. Perlie Armstrong (Gaius Charles) appears to be ready to turn over a new life by informing his authoritarian handlers that Negan is dead and no longer a problem. The Croat (Zeljko Ivanek) has given way to the reveal of another Walking Dead big bad in the form of the mysterious high society villainess The Dama (Lisa Emery).
But really, the end of Dead City season 1 comes down to Negan and Maggie as it was always meant to. The question of "how can Maggie Rhee and Negan Smith continue to co-exist in this post-apocalyptic world" remains unanswered and it sets the stakes for the show's second season quite clearly. I'll confess that The Walking Dead franchise has gotten far more storytelling mileage out of the tense relationship between Maggie and Negan than I ever anticipated. And that's because, to the various shows' writers' credit, they never ask either character to compromise themselves.
Throughout the back half of The Walking Dead's run and all of Dead City, Negan does plenty to prove that he's redeemed himself and no longer has any interest in reverting back to his bat-wielding psychopathic form. And yet…that side of him has never truly gone away. As he consistently tells Maggie, that leather jacket Negan was a character, yes, but a useful one. That version of Negan brought order to chaos and ended up creating a fairly functional microsociety in the middle of all the zombie entropy. Sure, it was a violent community and plenty of folks died – but isn't that always the case in nation-building?
Negan has proven willing to adopt that violent persona again when it suits him and those he seeks to protect as we see early on in Dead City season 1. Now, in the finale, he is presented with the opportunity to become his old self once more. The Dama, who appreciates good theater, wants the old Negan back to build her Manhattan Empire. Negan's path forward is clear: he will either re-embrace that life or reject it. There really is no middle path.
Similarly, there's no middle path for Maggie either. Once again: it's to this franchise's writers' credit that they never let Maggie truly get over her hatred of Negan. She can accept that she's a changed man. She can accept that his presence is a net positive for the world. She can even accept that his old dictatorial ways may have had their place. But she can still never forgive him for his one cardinal sin: killing the love of her life.
Her son Hershel understands that Maggie can never truly move forward with her life until she properly confronts that fact. It's time to make a decision. Can she live in a world with Negan in it? Or does he just finally have to go? Neither option is particularly appealing. Either she kills a redeemed man for her own sense of peace or she just lives the rest of her life constantly having to cross path's with her husband's murderer.
The Walking Dead: Dead City season 2 will have to finally delve into the impossible decisions facing both Maggie and Negan. They've walked the same path for awhile now and it's made for good drama. But it can't last forever…or even another 11 seasons.
All six episodes of The Walking Dead: Dead City are available to stream on AMC+ now.